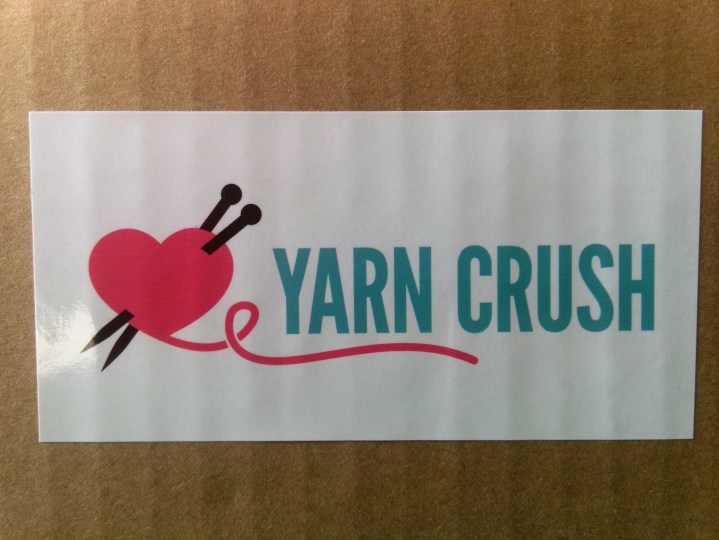 Yarn Crush is a monthly subscription box to feed your fiber addiction. It includes at least 100g of premium yarn (either one large skein or several coordinating mini skeins), a knit and a crochet pattern,  any notions necessary to complete your project, and most months will also include a bonus gift.
Underneath this pink tissue lies scrumptious yarn and related goodies.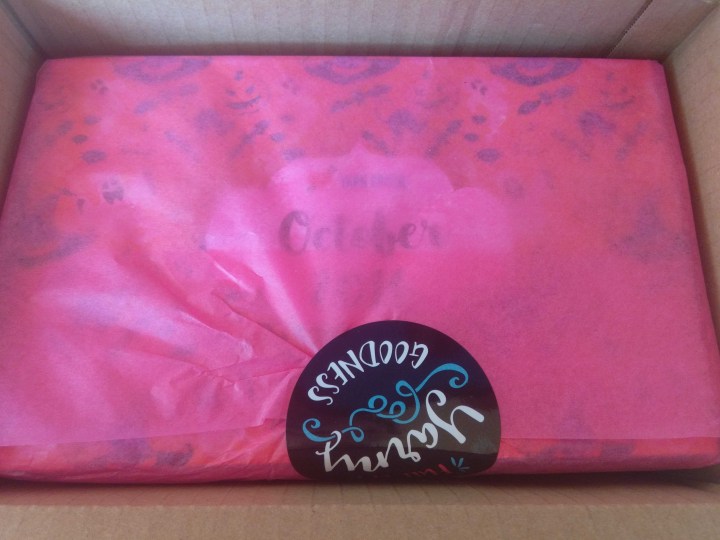 DEAL: If you'd like to give Yarn Crush a try, use coupon code HELLO to save $5 on your first box!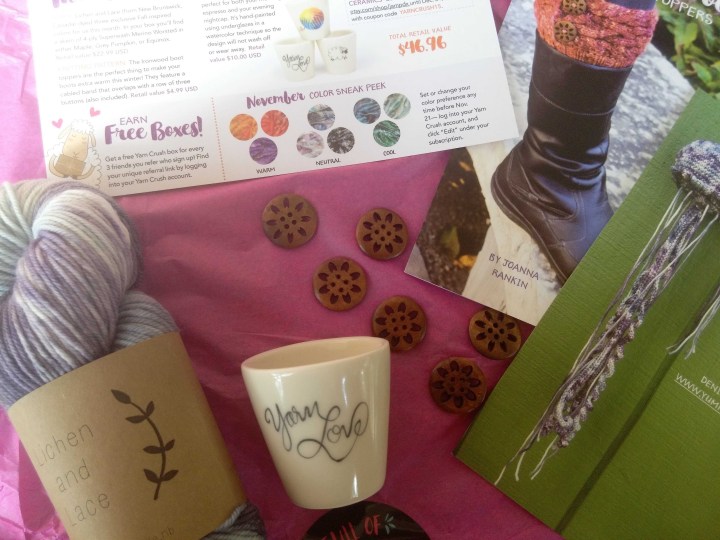 If you choose to subscribe to Yarn Crush month to month, the price is $32.99 per month. If you prepay for 3 months, the price is $32.00 per month and you get a free gift. If you prepay for 6 months, the price is $31.66 a month and you get the free gift. And, if you are totally committed to this box of swoon-worthy yarn, you can prepay for a full year and the price drops to $31.25 a month (you get the free gift of course). Shipping to the U.S. is $5 per box.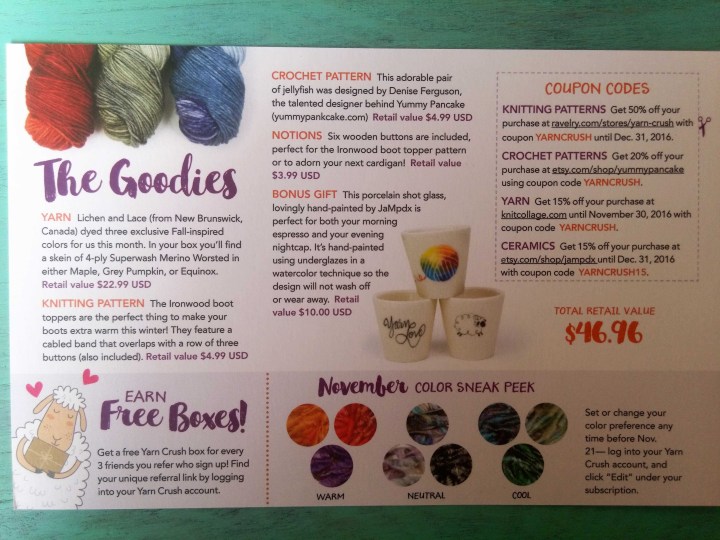 You also get to have some input to the colors that you get. You can choose between Warm, Cool, Neutral, and Surprise Me.
The flip side of the Yarn Crush card gives all kind of useful information about the included products including their retail price. There are also coupon codes for patterns and a referral offer from yarn crush. For every three friends that sign up using your referral link, you get a free box. Cha-ching! (You have to subscribe first and then log into your account to get your referral link).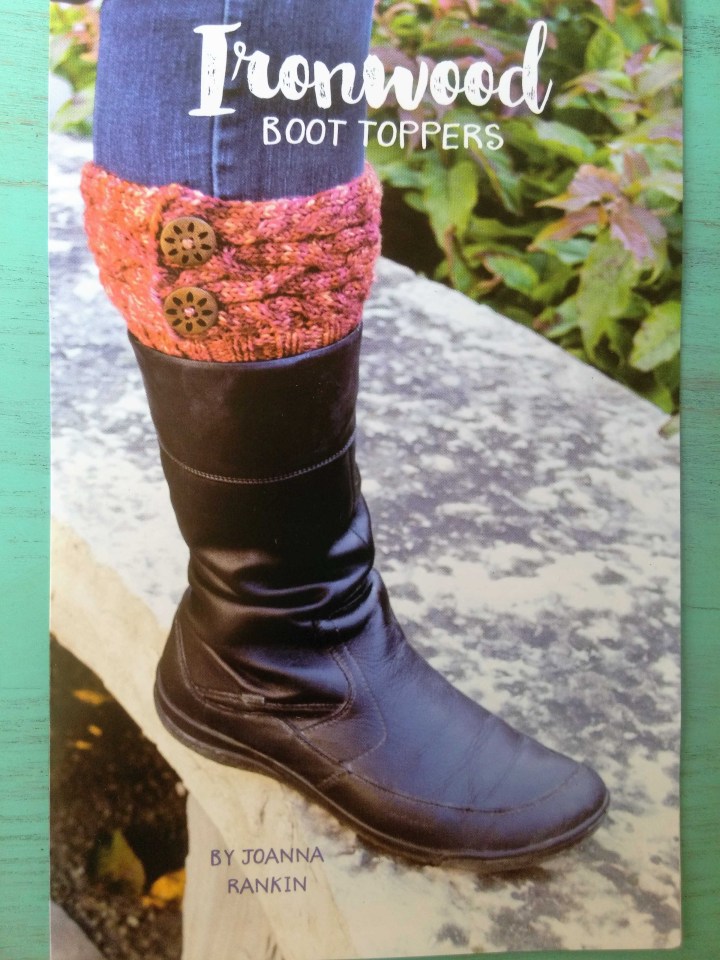 Be still my heart!!! Aren't these boot-cuffs by Joanna Rankin ($4.99) gorgeous!!! Alas, they are a knit pattern and I crochet, but I must have boot-cuffs!!! The knit pattern is entitled Ironwood Boot Toppers.
The knit pattern was nicely printed and had great color picture illustrations to help you complete the pattern.
The crochet pattern in this month's box was for this whimsical project entitled Dynamic Jellyfish Duo ($4.99) by Denise Ferguson.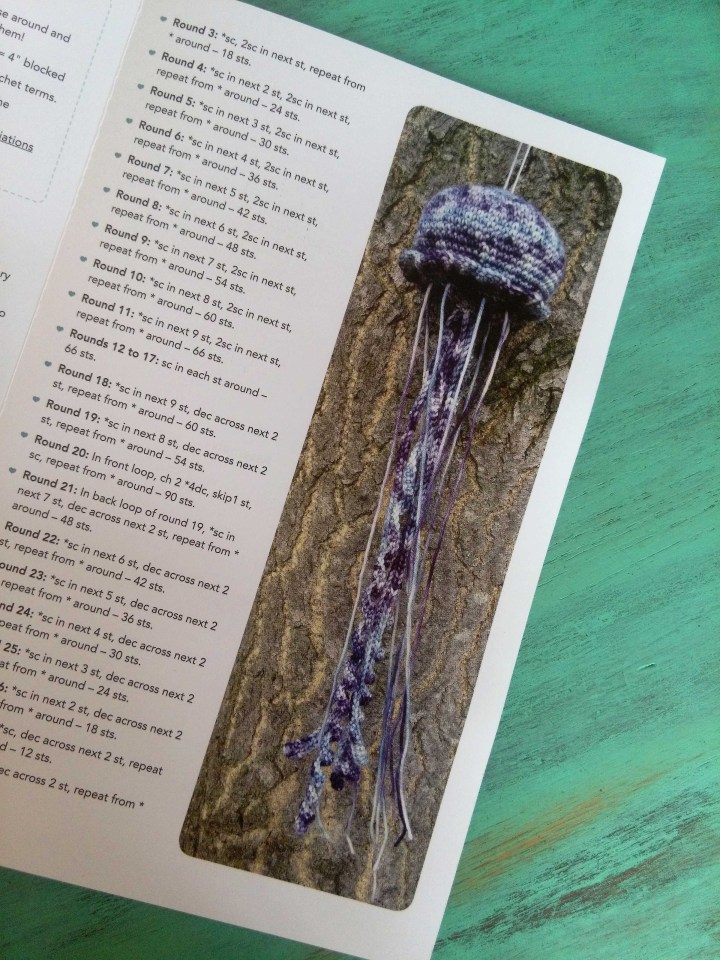 And, again the pattern was clearly written had great pictures to help you along. But, knitting pattern had me wanting boot-cuffs, so I decided to work off the cuff (pardon the pun) and make up my own crochet boot-cuffs. More about that in a minute.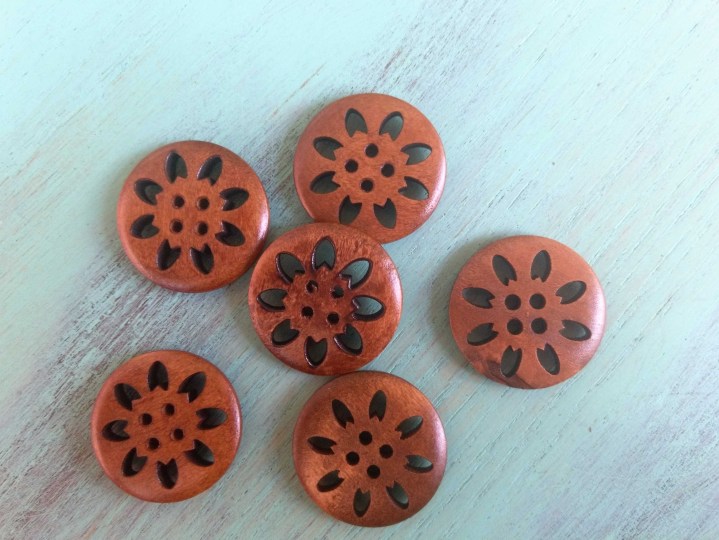 The notions for this box included these cute as a button, buttons. They included an ample supply at 6 wooden buttons ($3.99), more than enough to complete one pair of boot-cuffs or two.
This was this month's bonus gift. They call it a shot glass, I'm going to use it as a candle holder, is hand-painted by JaMpdx. ($10.00) It is painted using underglazes in a watercolor technique so the design will not wash off or wear away.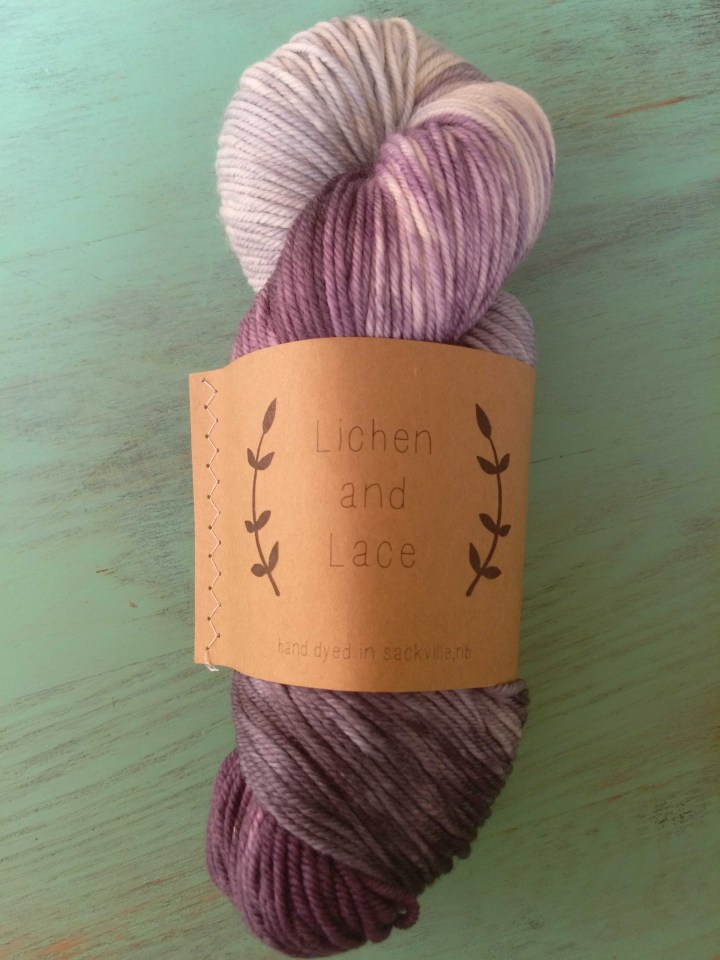 And, here is the beautiful fiber for this month's Yarn Crush box. "Lichen and Lace (from New Brunswick, Canada) dyed three exclusive Fall-inspired colors for us this month. In your box, you'll find a skein of 4-ply Superwash Merino Worsted in either Maple, Grey Pumpkin, or Equinox." ($22.99)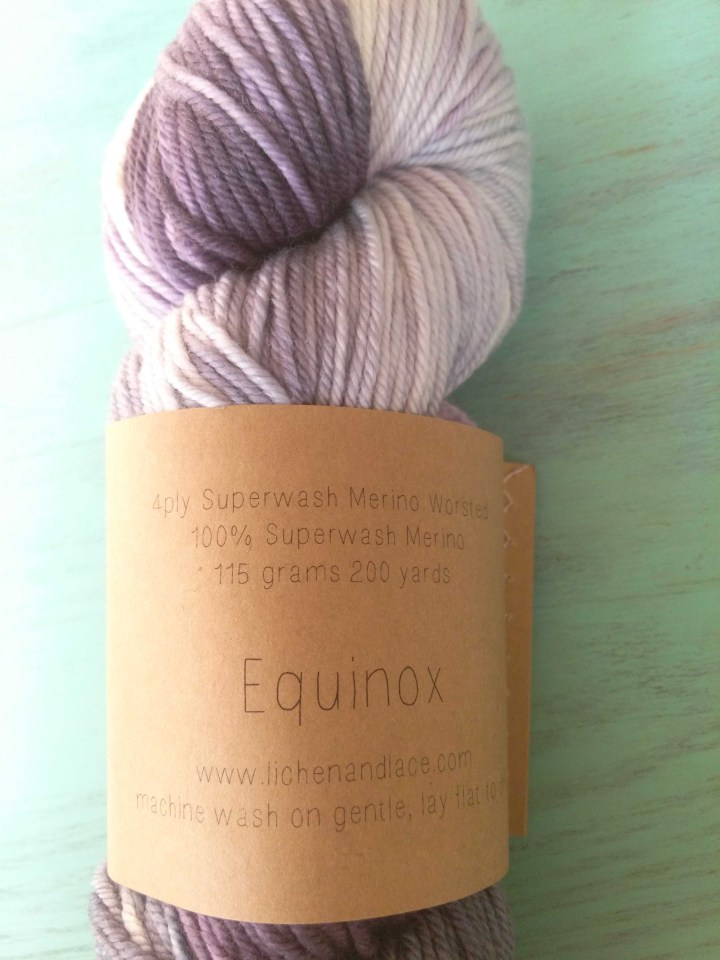 We received the Equinox colorway and it was lovely. The color flowed between purples, blue-grays, and lavenders.
The simple brown paper wrapper was elegantly zig-zag stitched together.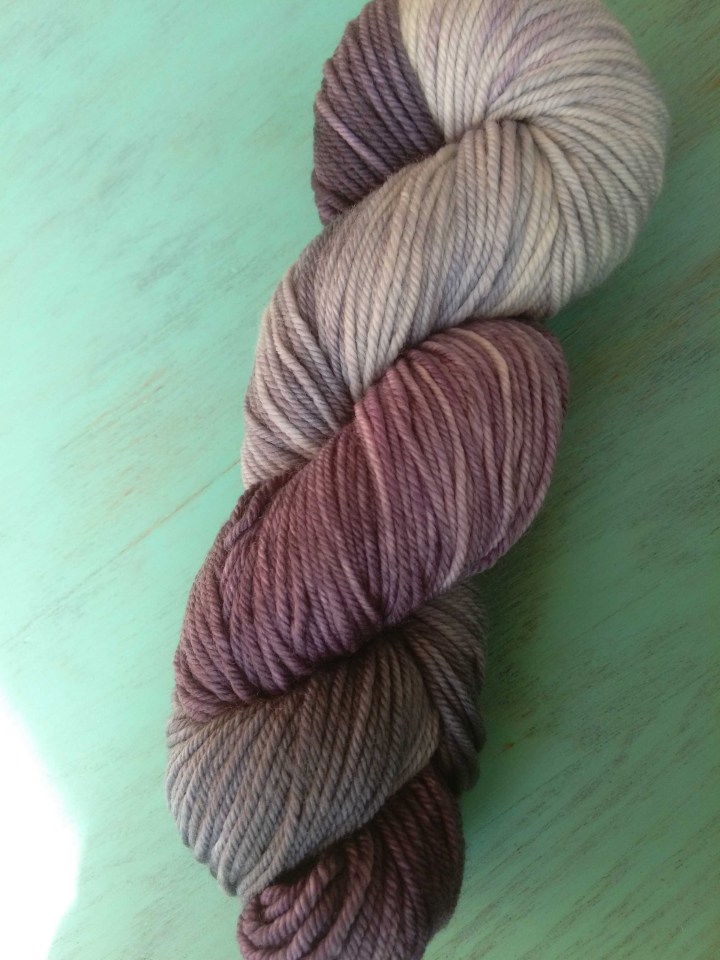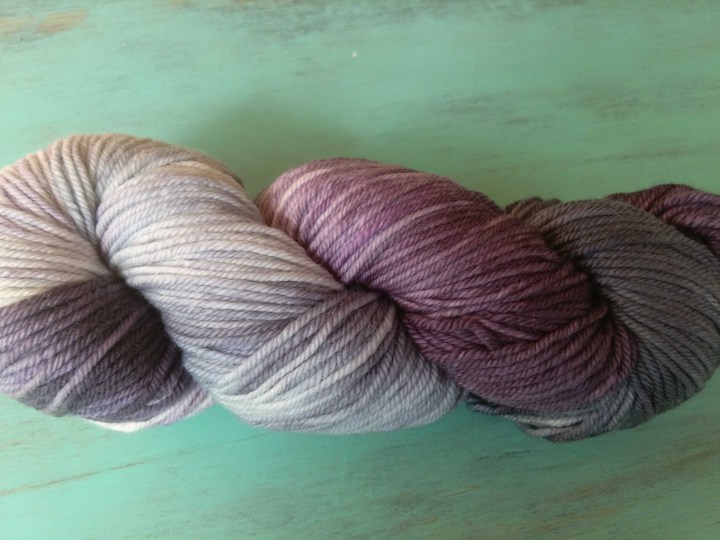 Isn't it beautiful?!!
So, here it is. I admit it. I am a yarn aficionado, and I do not own a ball winder. If you are like me and just never got around to purchasing one, try this little trick to hold the unwound hank as you wind the yarn into a ball by hand. Slip the circle of yarn from the unwound hank around two or three legs of an upside down chair and wind to your heart's content (be careful to not let the yarn pull off of the legs as you wind). Trust me, when I tell you not to try just laying the unwound hank out without chair legs or something (or someone) to hold it while you wind it. It will become an angry tangled mess!
Here is my neat ball of yarn ready to crochet.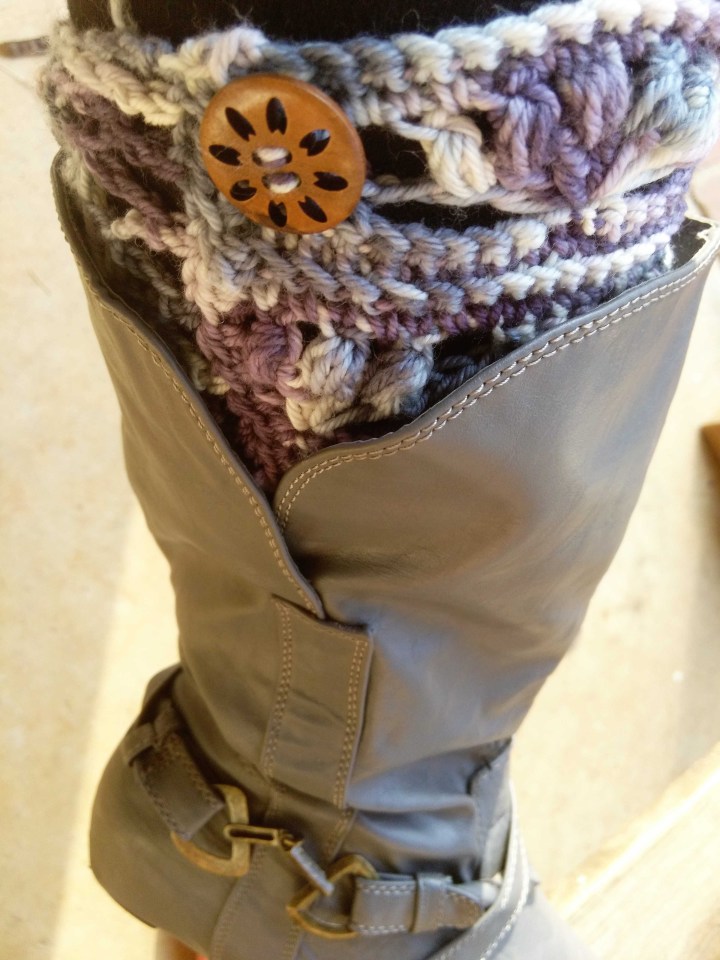 So, after the knit pattern left my mouth watering for boot-cuffs (so to speak), I decided to go off the cuff (so to speak) and make up (well mostly) my own boot-cuff. I used this Crochet Ripple Puff Stitch pattern from My Picot as the basis for my boot-cuff and then just free-handed the rest.
Yarn Crush monthly subscription box that will feed your fiber appetite. I love the beautiful high-end yarns that they choose each month. The colors and textures are simply amazing. You won't find yarn like this at Wal-mart or a big box craft store.
Did you order the Yarn Crush subscription box? Did you choose the Warm, Cool, Neutral or Surprise Me box? What color yarn did you get in your box?