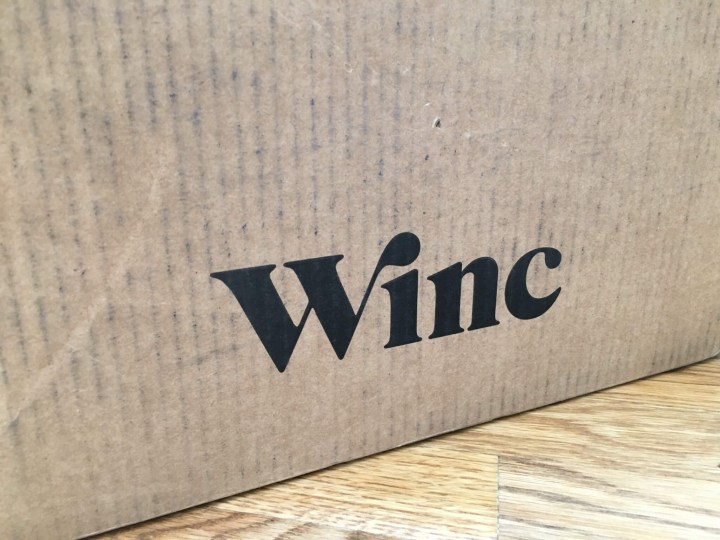 Winc (formerly Club W) is a wine subscription service that sends wine directly to you each month based on your personalized palate profile. A "global winery," Winc advertises that it has "direct relationships with vineyards and farmers to make exceptional small lot wines at prices impossible to achieve at retail."
If you're like me, you find yourself buying the same wines every time you go to the store – you've found those bottles you like, and it seems too risky and expensive to buy something else just to try it. Plus, those store employees are either clueless about wine or make YOU feel clueless about wine. Winc is the perfect solution! You fill out a quick survey about what tastes you like – black coffee, citrus, etc., and Winc makes a customized recommendation of 3 bottles that fits what you like. Then, for $6 flat shipping (or free if you pick a 4th bottle), it comes to your house!  What could be easier than that?
The packaging continues to be good protection for the bottles. I find the design of the internal holders fascinating.  Keep in mind that someone 21+ will have to sign for your box.
It's November – time to hang out with friends, avoid political discussions and enjoy falling leaves. And drink wine, of course. You can even put it in a copper cup or adorable oversized mug if you're going for that beautiful-life-on-social-media vibe. As usual, I had two reds and two whites to try.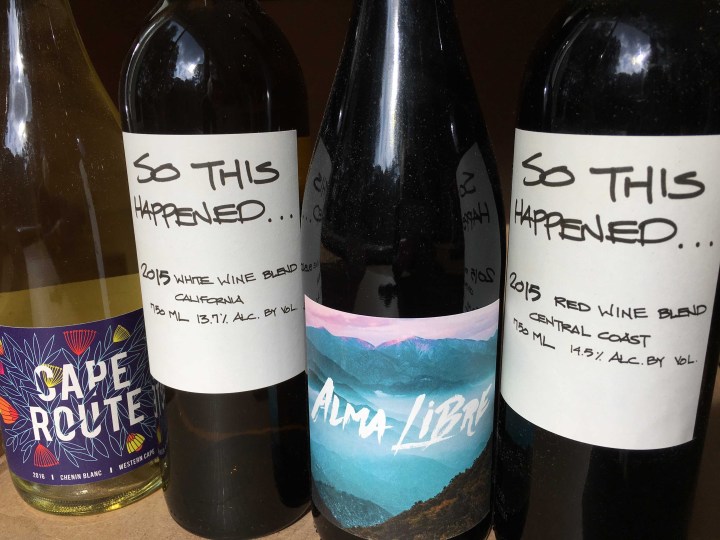 This month, instead of the information/menu cards, Winc sent a little magazine, the Winc Journal.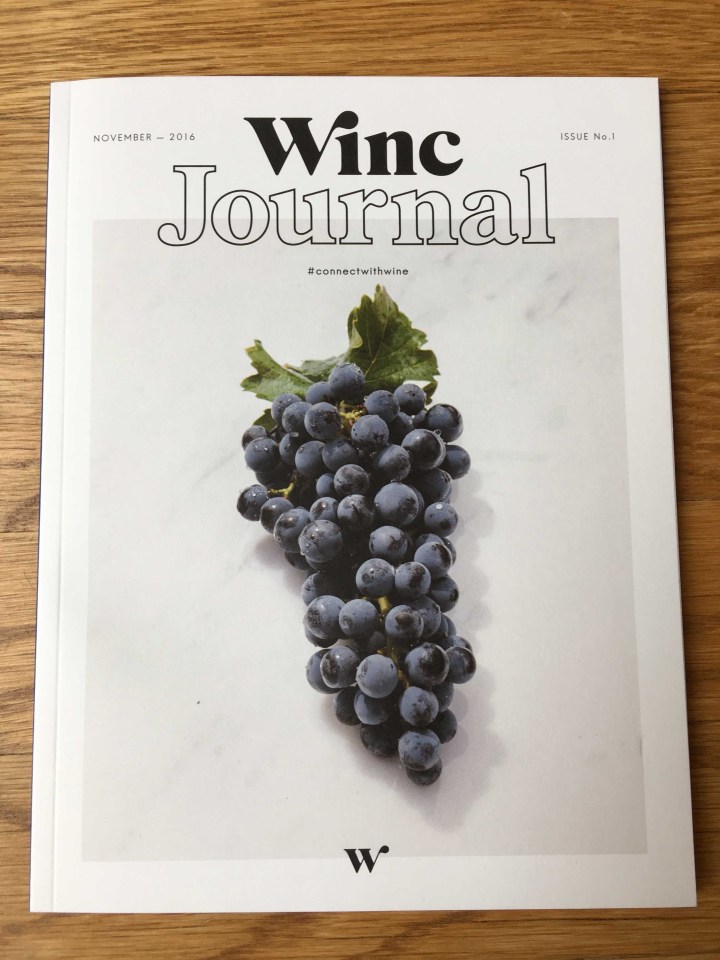 It's printed on heavy paper for that "authentic/rustic/artisnal" feel and contains articles about wineries, grapes, and food.  It also has all of the current wines in the back, with brief tasting notes and flavor profiles. Winc is obviously going for the "lifestyle" Millennial market, with its "candid" photos of pretty people having fun and hashtags and so forth. The magazine is pretty enough, but I think I prefer the old cards for convenience.
On to the wine. We brought these to our adult kickball league afterparty for everyone to try. We started with the 2016 Cape Route Chenin Blanc.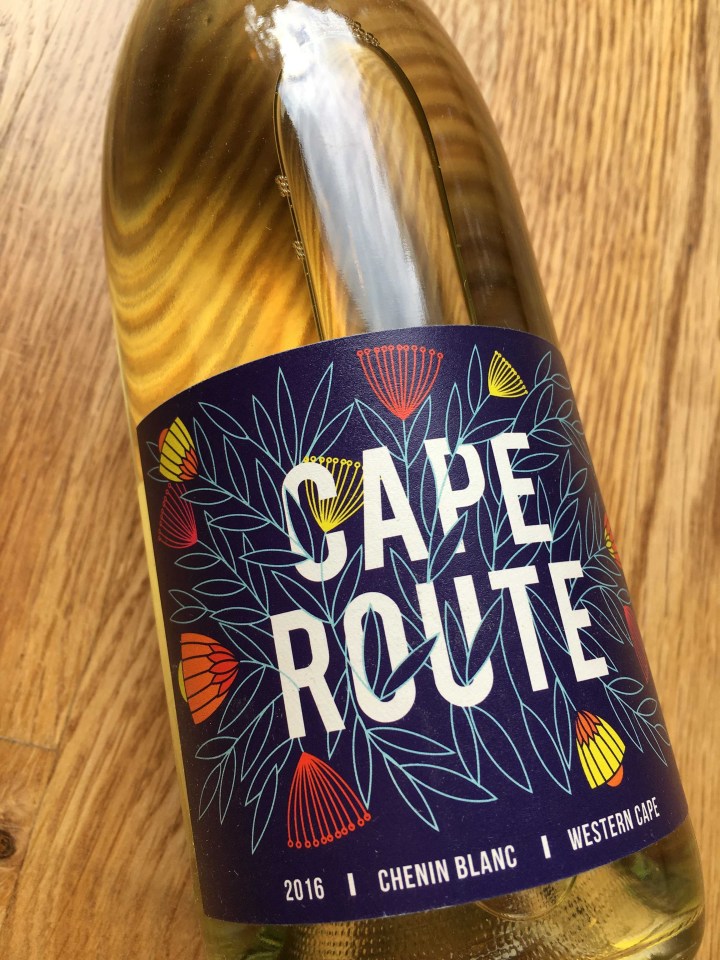 There is no reference to this wine on Winc's website, which is kind of weird. Chenin Blancs can come up sweet, but South African versions like this one are usually bright and mostly dry. Cape Route is a very light yellow in the glass with a bit of green pepper/produce smell that is not exactly off-putting but reminded me instantly of going to the small town grocery store with my parents as a kid. Whatever that means. The wine is definitely bright, with an almost effervescent spiciness and more of that peppery flavor. The finish is quick and clean. This is an interesting wine and not at all the fruity flavors I was expecting. This would be a good starter wine with friends, and suited our outdoor day-drinking pretty well. It would go well with any light food and would balance American barbecue (hot dogs/hamburgers), too. Drink it very cold.
The next white was the 2015 So This Happened White Blend.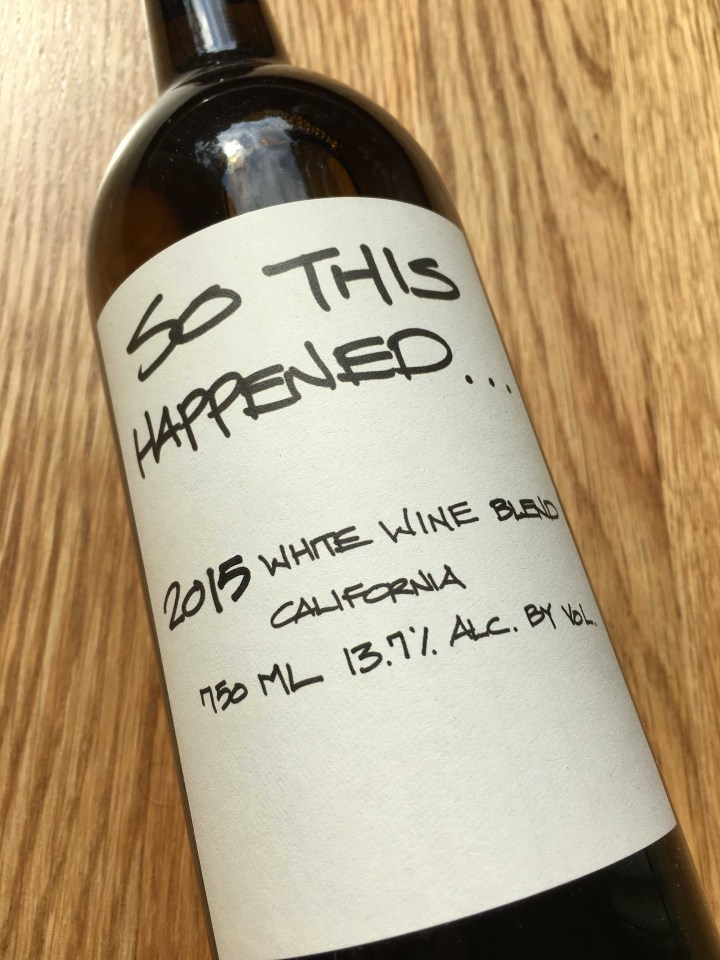 Okay, the label. Slapping a clever name on a bottle does not make the wine itself clever. Or drinkable, for that matter. According to the tasting notes, this is a blend of Malvasia Bianca, Muscat Canelli, and Chenin Blanc, all common grapes that go into lots of wine blends. The wine is straw-colored in the glass and sweet on the nose, like that swill you took to the beach in college that one time. It has a light mouthfeel and a simple melony flavor undergirded with an alcohol bite. It has a lingering sweetness that reminds me of KoolAid. Seriously, guys, it's not just I prefer a super-dry wine. This is an unbalanced mess that even the sweet-wine-drinkers in our group thought was too much. We tossed it out.
I can't say we had high hopes for our next wine, the 2015 So This Happened Red Blend.
Winc says the So This Happened Red Blend is mostly Cabernet Franc with some Valdiguie thrown in for fruitiness. Cab Franc is one of my favorite varietals these days, with a nice spiciness and dark fruit flavor that goes really well with food. This wine is red/violet in the glass with a strong nose of spicy fruit, but in an almost-cough-syrup way that is not super awesome. The body of this wine is extremely light, and the initial taste is of, no lie, watermelon bubble gum, which is bizarre. It was a funny scene of people going, "What is that flavor?" until someone called it, and then everyone freaked out in agreement. The Bubblicious flavor drops off quickly into a spicy alcoholic finish with no lingering aftertaste. A couple folks in our group thought this was okay, and everyone agreed it was better than the white blend. It didn't taste much like Cab Franc to me. I could see maybe serving this cold with Tex-Mex or Chinese food, but you can do better than this wine for the same price point. Unless you're super into vintage gum flavors, I guess.
Our last wine was the 2015 Alma Libre red blend.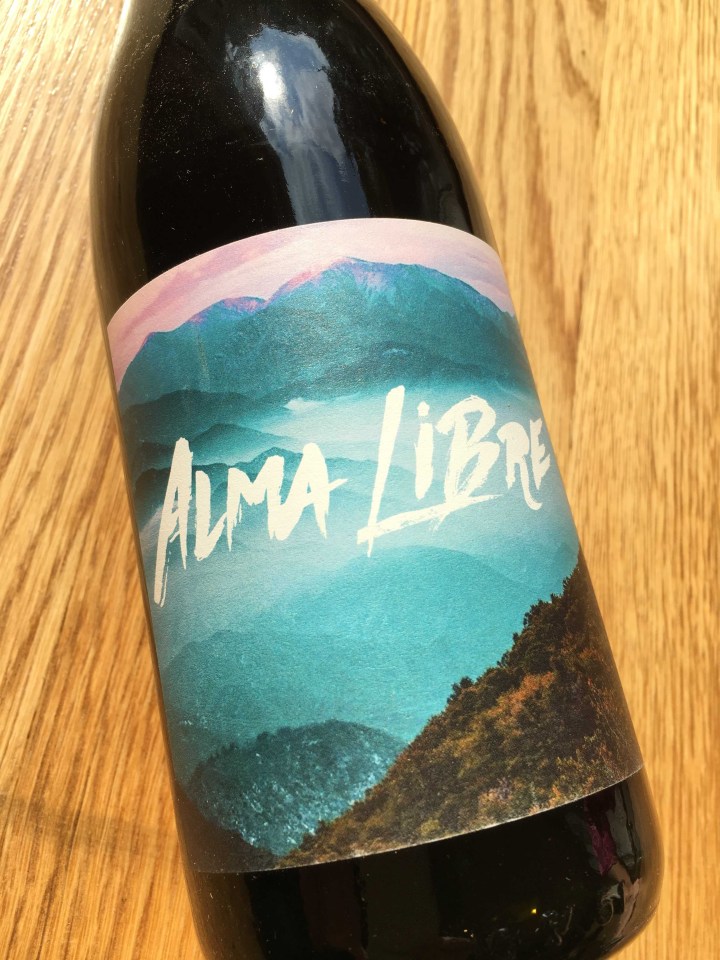 The Alma Libre has a label that is like an advertisement for Chile. Gorgeous. Chile, as you probably know, is making some great wines that are still excellent value for the quality. This wine is a Cabernet Franc/Carmenere blend with a touch of Merlot thrown in. It's cranberry-colored in the glass with an herbal/berry nose and a funny menthol hit in the back of the throat. It's a light/medium body with a woodsy, dark berry flavor with a spicy finish. You can definitely taste the Merlot. Here is the Cab Franc I failed to find in the So This Happened Red – it's herby and pleasant to drink and would go really well with lots of different foods, from grilled meats and burgers to pork roast or bean soup. It would be terrific with pasta. We drank this room temperature, but it would be equally good off-chill.  The Alma Libre was definitely our favorite of the wines this month.
And that's November! Much like a lot of things this month, our wine selections were weird. I'll be interested to see what we get in December!
Have you tried Winc yet? You can use this link for $20 off your first order – no coupon code required! ($25 total for 3 bottles, but you can grab an extra bottle and get free shipping!)
Visit Winc to subscribe or find out more!
The Subscription
:
Winc
The Description
: Each month Winc will make new recommendations for you based on your 5 question Palate Profile and previous wine ratings. Go with their suggestions or make your own selections from the ever-changing assortment. Winc works directly with wine makers. There are no middlemen, which means you get better wine for less.
The Price
: $45.00 per month