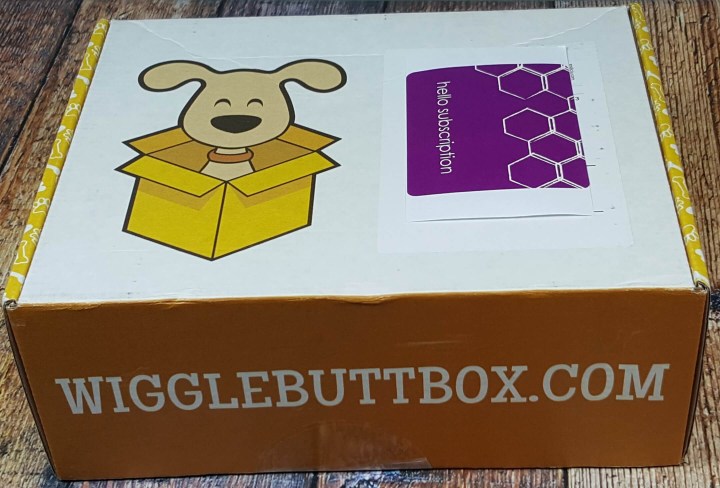 Wigglebutt Box is a subscription box of "yummy and fun surprises for you and your dog that are delivered right to your door every month." Each box contains a seasonal kerchief, a roll of poop bags, and a combination of 3-5 toys/treats/accessories. Boxes are tailored to your pet's size and toy treatment. Pet parents are not forgotten either; there's a gift included for you too! Plans start at $35/month, but you can increase your savings by choosing a longer subscription option (3 mo., 6 mo., and annual plans available). Plus, a portion of the proceeds from every box sold go toward an animal charity. I got the small dog/average play Wigglebutt box for my fur babies, Lily and Lexi.
The box came nicely wrapped and with a Halloween themed information card featuring the original Wigglebutts, Mia and April.  You can keep up with the girls by following them on social media.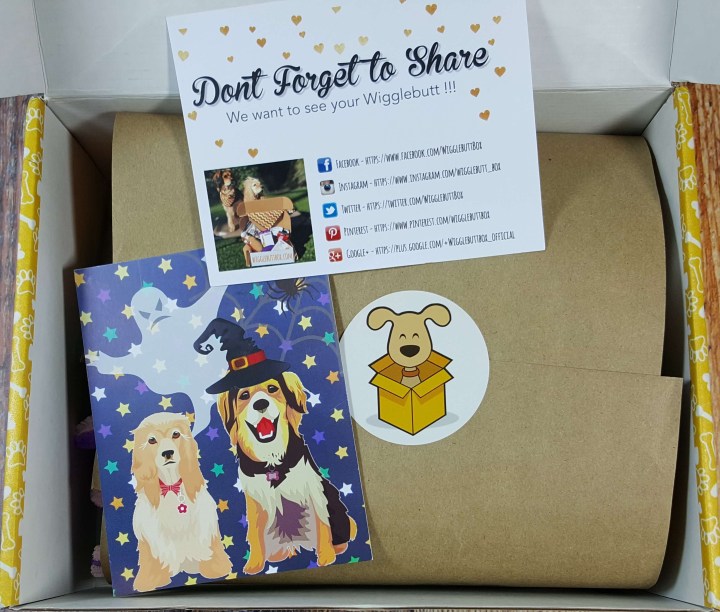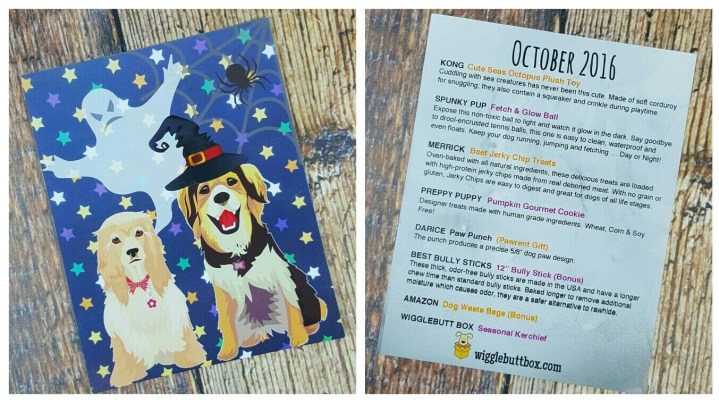 Happy Halloween!  The information card has a list of box contents along with a brief description.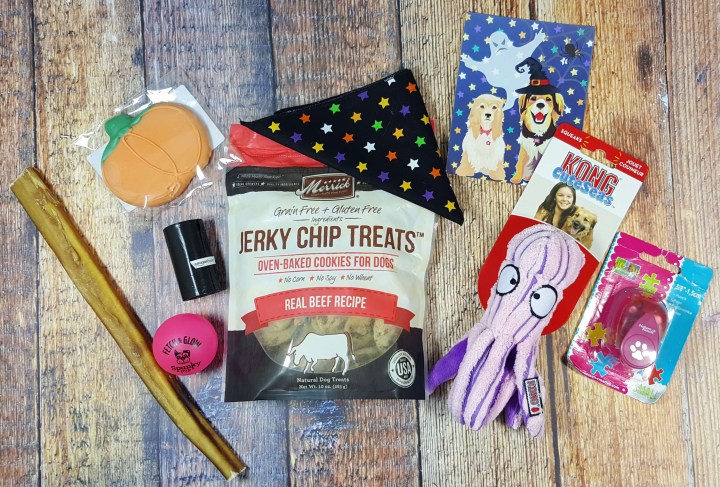 Everything in this month's box!

    
KONG Cute Seas Octopus Plush Toy – Small ($6.99): This is currently on sale at Chewy.com for $4.53. This toy is made of soft corduroy. It also has a squeaker and crinkle. The squeaker is a little hard for the girls to find and use – I even had some trouble finding it.  The small size is perfect for my girls and has become their new favorite shared toy. The tentacles make for a lot of tug o' war games.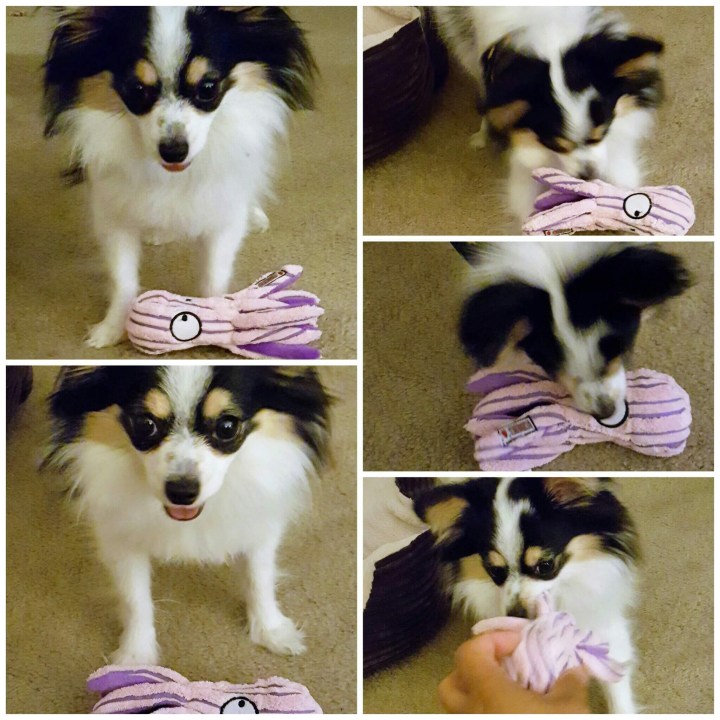 Here's Lily enjoying the new octopus.
SPUNKY PUP Fetch & Glow Ball ($4.90):  Expose this ball to light and it will glow! My Lexi loves to play with balls and this was no exception. The change from pink to glowing did throw her off at first but only for a few minutes. Here's where I was a mean mommy. While Lexi was playing with this, I took out her all-time favorite ball and threw it. Poor thing couldn't decide which one to go after and ended up laying down between the two balls to keep guard.
MINE!  I am the keeper of all balls in the house.
MERRICK Beef Jerky Chip Treats – Beef ($6.99): These are currently on sale for $5.03 at both Amazon.com and Chewy.com. These oven baked, gluten-free treats are loaded with high protein jerky chips. They reminded me of doggy-sized chocolate chip cookies. I had really high hopes for these as my girls like Merrick food and jerky. However, like other biscuit/cookie treats before, the girls only played with these.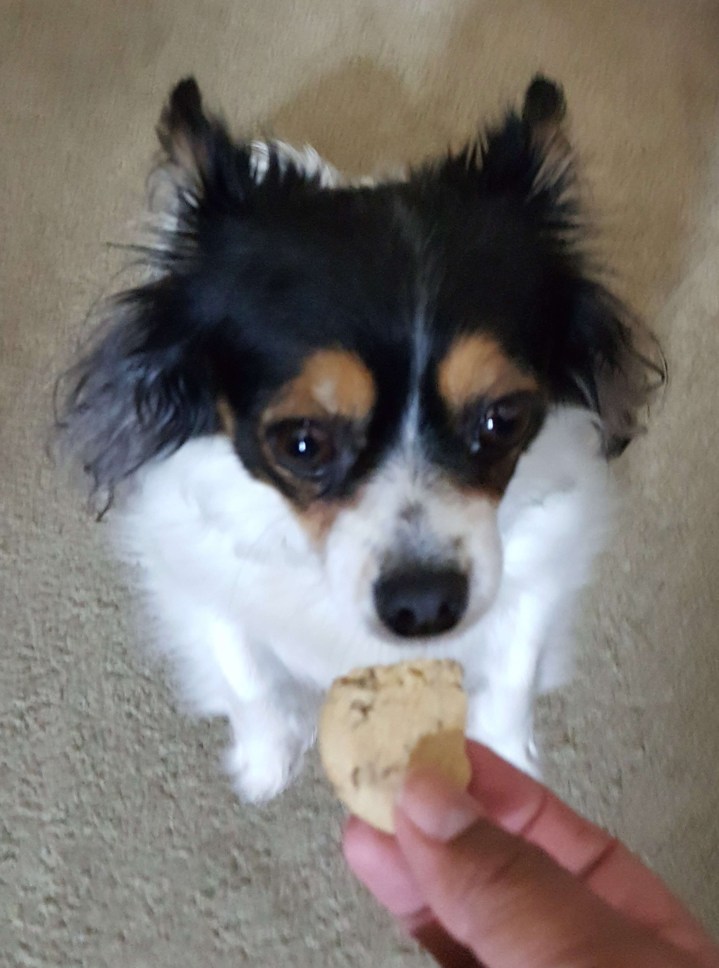 I need to stand and see what this treat is…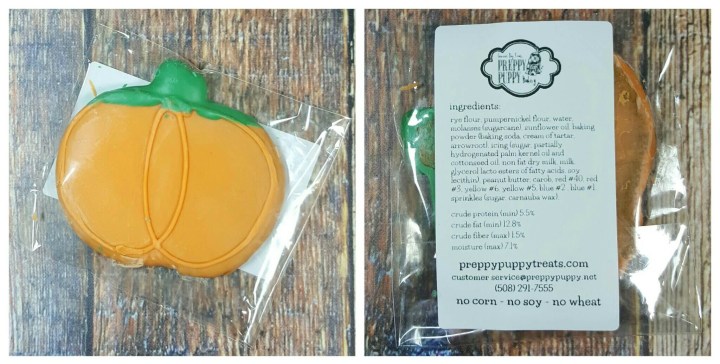 PREPPY PUPPY Pumpkin Gourmet Cookie ($2.50): How cute is that pumpkin!?! This cookie is molasses based and has one of my girls favorite treats – peanut butter. Made with human grade ingredients, these are also wheat, corn, and soy free. This cookie was a toss up with the girls. Lexi surprised me and ate her half, while Lily decided that she only wanted the yogurt-based frosting.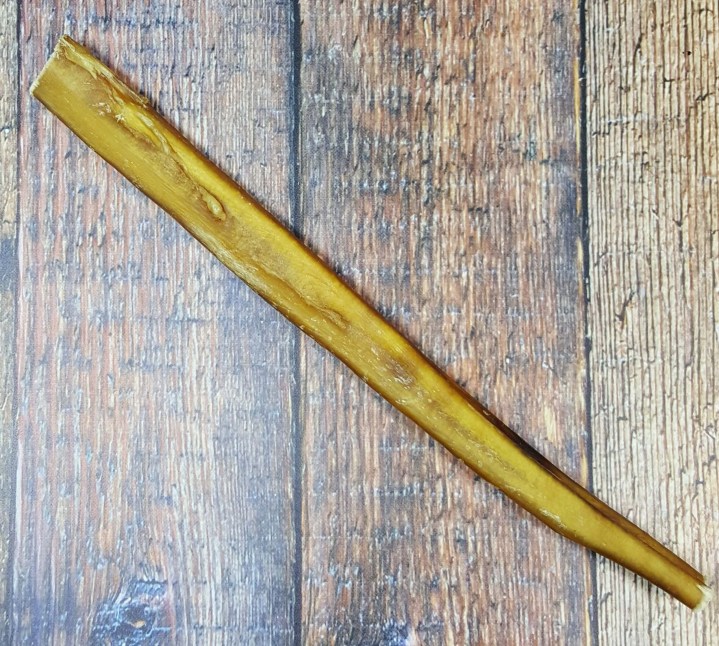 BEST BULLY STICKS 12″ Bully Sticks – Bonus ($2.85): These bully sticks are baked longer to reduce moisture which causes odor. They are a safer alternative to rawhide and help satisfy your dog's natural desire to chew. Bully sticks also promote healthy teeth and gums. The 12″ stick will provide my small girls a lot of chew time. I was surprised because until recently the girls wouldn't touch a bully stick.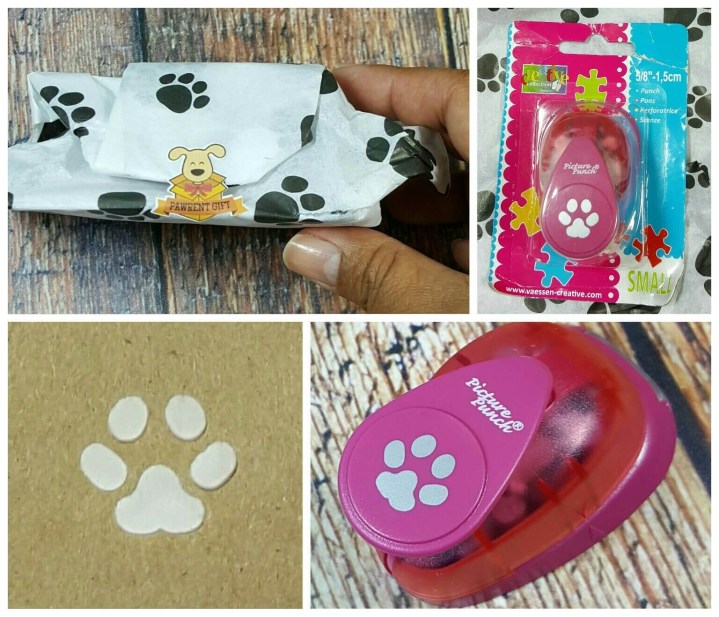 DARICE Paw Punch – Parent Gift ($6.03): This is a cute 5/8″ paw design paper punch. It is great for scrapbooking or card making.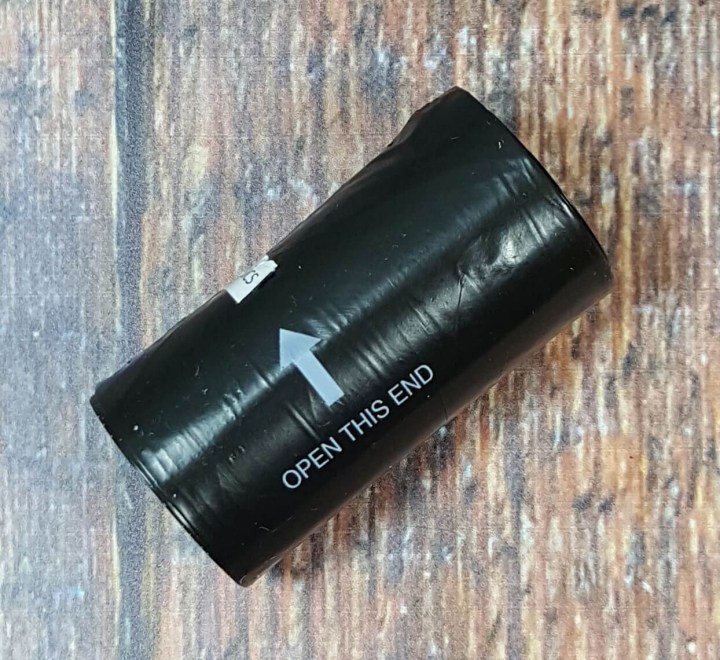 AMAZON Dog Waste Bags ($0.25): Poo bags can always be used, especially for an apartment dwelling pet mommy like me.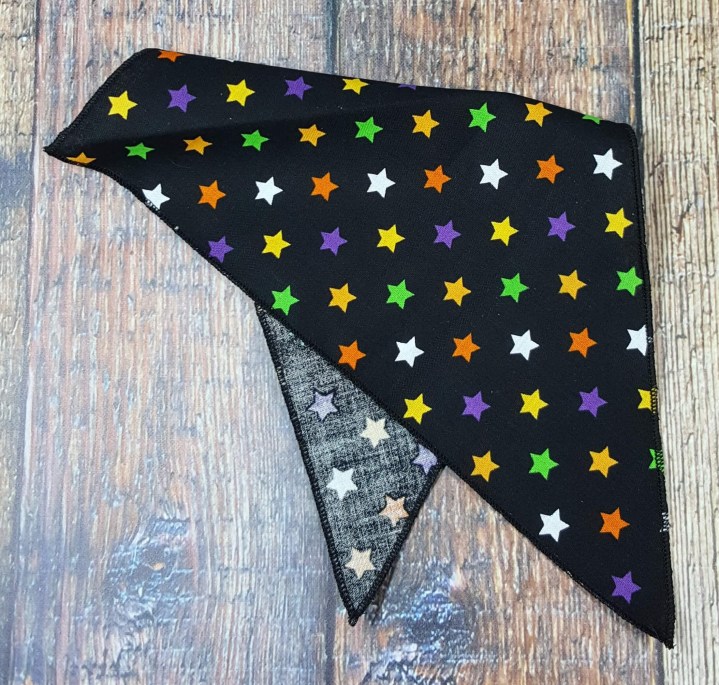 WIGGLEBUTT BOX  Seasonal Kerchief ($5?): This cute star printed scarf reminds me of candy confetti. It was a little too snug for Lexi, but perfect for Lily.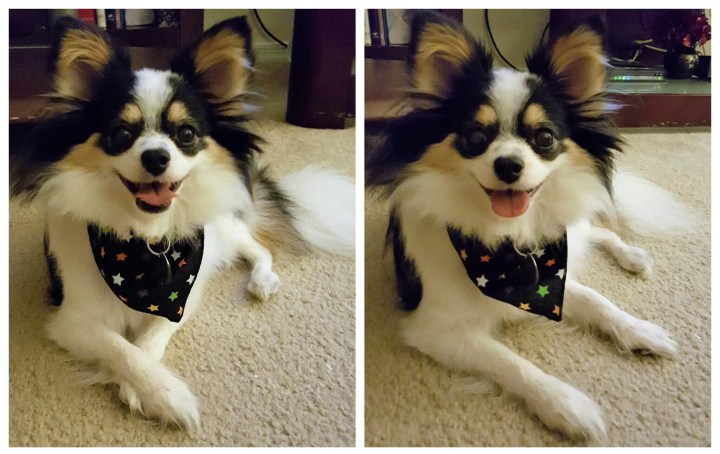 The first picture looks too posed?  OK, let me relax my paws and go for casual.
The October Wigglebutt Box contained a value between $30-$35, depending on whether or not you use sale prices.  I was happy that my girls liked the majority of the box, so the value didn't bother me too much.  I've gotten boxes before where product didn't last long or just didn't get used.  Plus, mommy was happy with her gift.  That said, I generally prefer that the contents of the box are worth a significantly higher amount than the cost of a single month's box (I am a bargain hunter and love a good deal).  In my opinion, check out Wigglebutt Box for yourself – see if you like the quality of the products and whether they work for your fur babies.