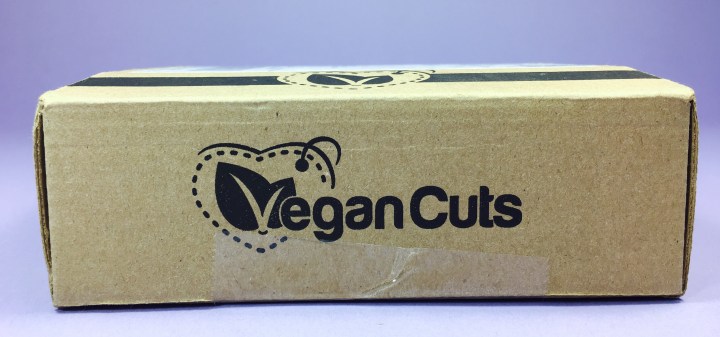 Vegan Cuts Beauty Box is a monthly beauty subscription service that sends 4-7 items ranging from unique cosmetics to luxurious skin care. Best of all, they are 100% cruelty-free! Monthly recurring shipments are $22.95 with free shipping in the USA (there is an additional charge for other countries). This sub is also available in 6 or 12-month terms that do not renew but that do earn you a discount.
Vegan Cuts doesn't offer customization and sends items that are suitable for almost everyone. They promise not to send foundation or other items that match a specific skin tone and instead send makeup items that are as inclusive as possible with possible variations in shades. They also promise a value of at least $30 but have sent boxes that are significantly above that mark. Vegan Cuts sends deluxe "travel" sized or full-sized products and rarely sends single use packets.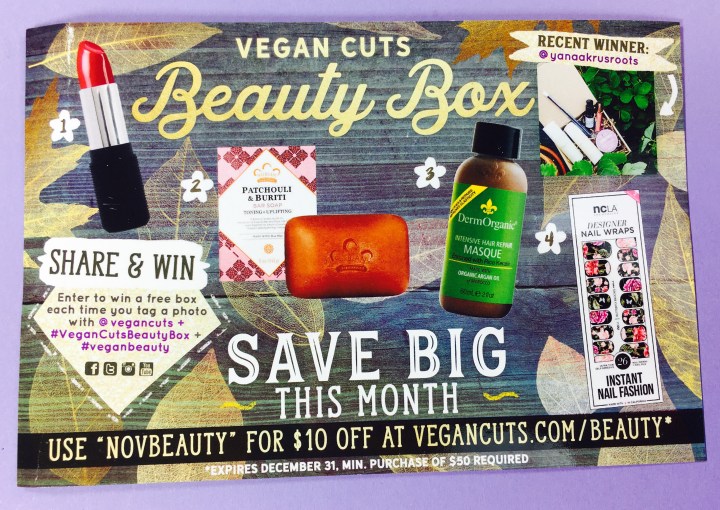 There was a product information card that included a coupon code for a shop purchase and info on how you can win a free box by sharing your box on social media.

The flip side of the card listed each item and the retail value. It also gave the theme, which for November was "Something to be Thankful For." It didn't give usage instructions so if you are unsure how to use an item you may need to do a little research. Or keep reading, cause I did the work for you!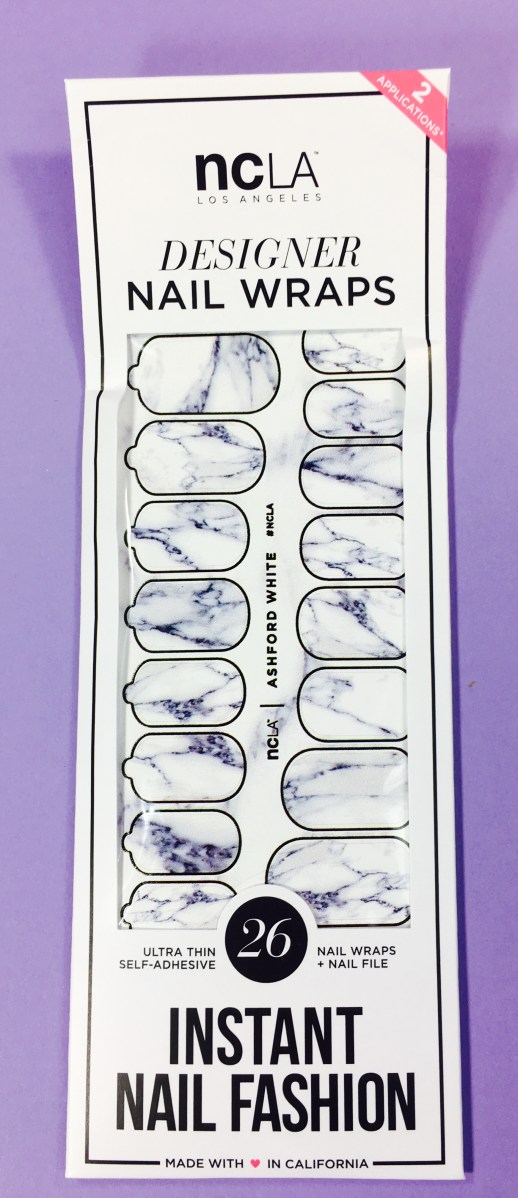 I have never tried nail wraps before but now I have my chance with NCLA's Designer Nail Wraps in Ashford White ($16). According to NCLA these nails wraps are "modern and sleek." These monochromatic nail wraps give off an icy yet playful vibe that will turn you into a stone cold fox."
I watched the following short video to learn how to apply my nail wraps easily:
As you can see these were a miss for me, not only because I couldn't get them right but the pattern and shade were not my style. Still, I had fun trying something new! Also, I appear to be in need of a professional manicure.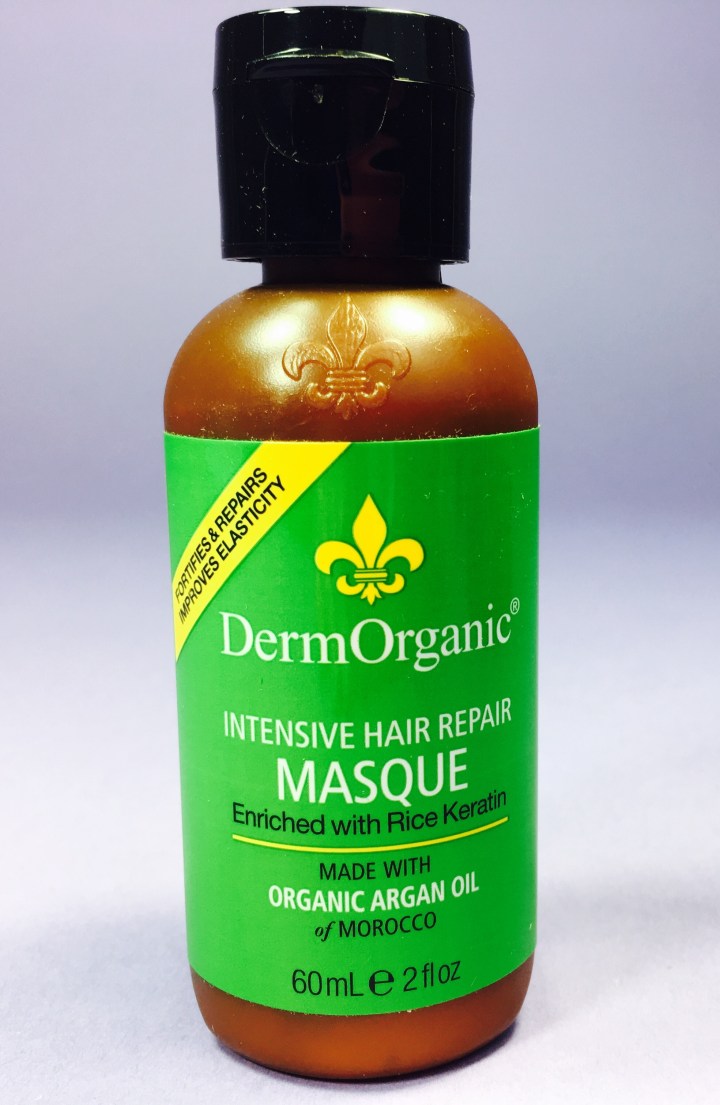 I used DermOrganic Intensive Hair Repair Masque ($4.32) on the weekend since my hair falls flat when I use hair masks and deep conditioners. The rice amino acids in this lightly scented masque are supposed to "replicate the keratin structure of human hair." As soon as I applied it I was able to run my fingers through my hair. It didn't weigh my hair down too much, either.
Red Apple Lipsticks ($23.50) are gluten- and allergen-free and have castor and jojoba seed oil, shea butter, and avocado oil along with plant-based waxes. There are 42 shades to choose from and I received Rebel!, a blue-based deep red. I liked the formula and found that I could apply it lightly to get a stain but can you imagine how it would look with a classic cat-eye? Meow!
Here's Rebel! swatched on my inner arm. Pretty and bold!
My husband loved the scent of Nubian Heritage Patchouli & Buriti Bar Soap ($4.99). I found it a bit too strong for my tastes but the formula was wonderful, it sudsed up well, and it rinsed clean.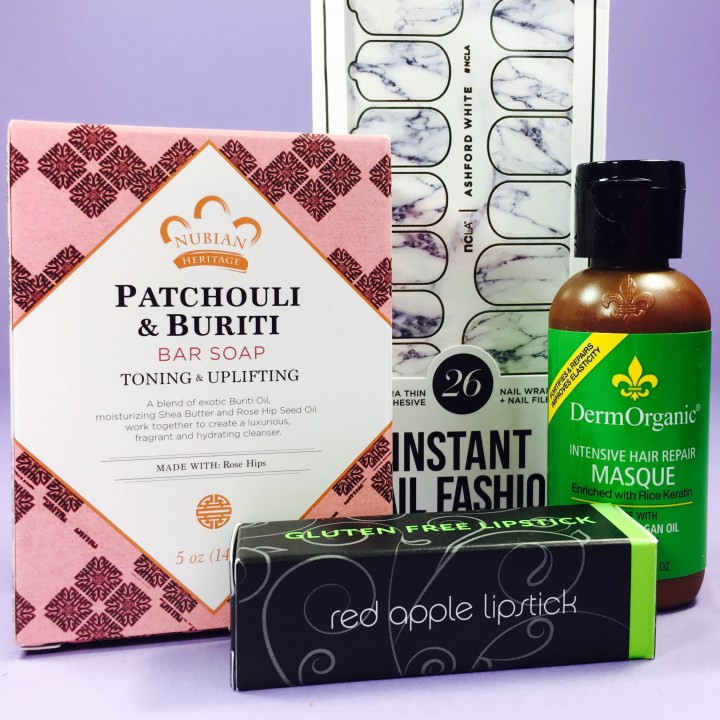 What a fun box this month from Vegan Cuts Beauty! Two of the products are perfect for the party season and the soap and conditioner are a luxurious take on the same old same old. I feel good knowing that "no bunny was harmed" in the making of these items, too! This box had a value of $48.81, which is well above the promised value of $30!
What do you think of the Vegan Cuts Beauty Box?