Treatsie is an artisan sweets sampler box. Each box includes amazing gourmet sweets from 3 – 4 small, independent confectioners, which change every month. Items you may receive include candies, chocolates, cookies, and other sugary delights!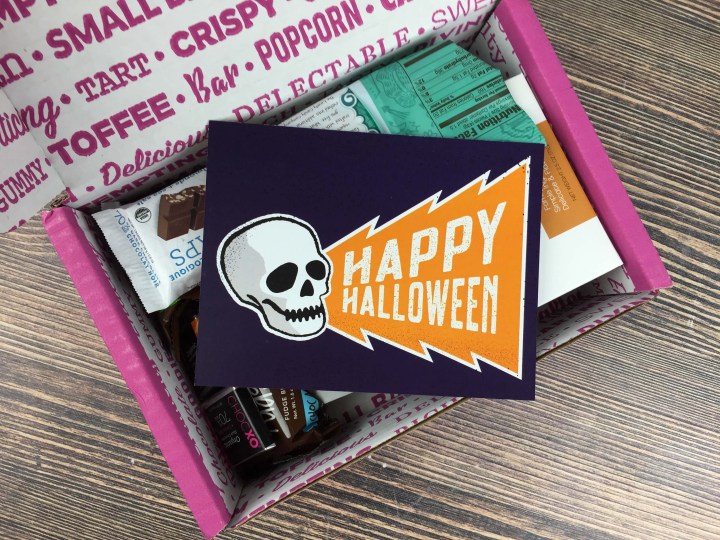 DEAL: Treatsie's gift deals are back (up to 3 free months!). Or if you want to try out one box there are two ways to save – get $10 off with FBSAVE10 or free double the sweets with coupon DOUBLESWEETS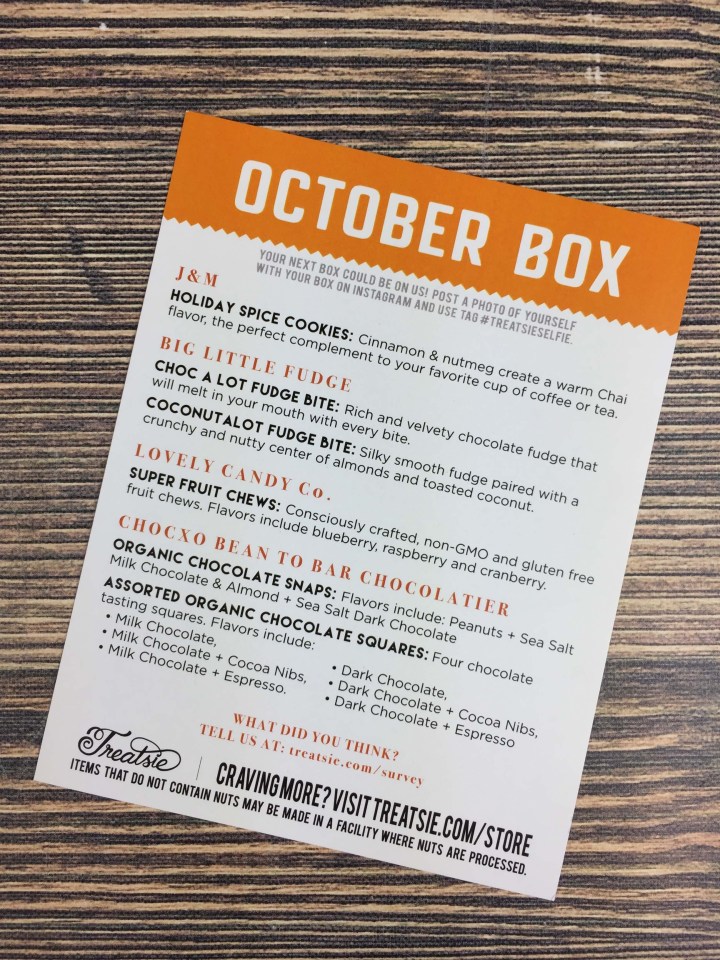 The information card gives brief details on each item. This box shipped really late – I received it on the last day of the month. They have had some warehouse issues but they seem to be recovering.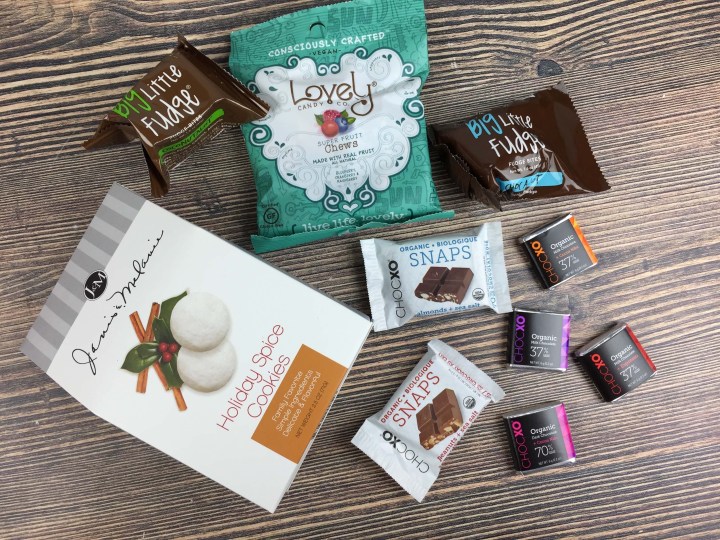 Everything in my October Treatsie Box!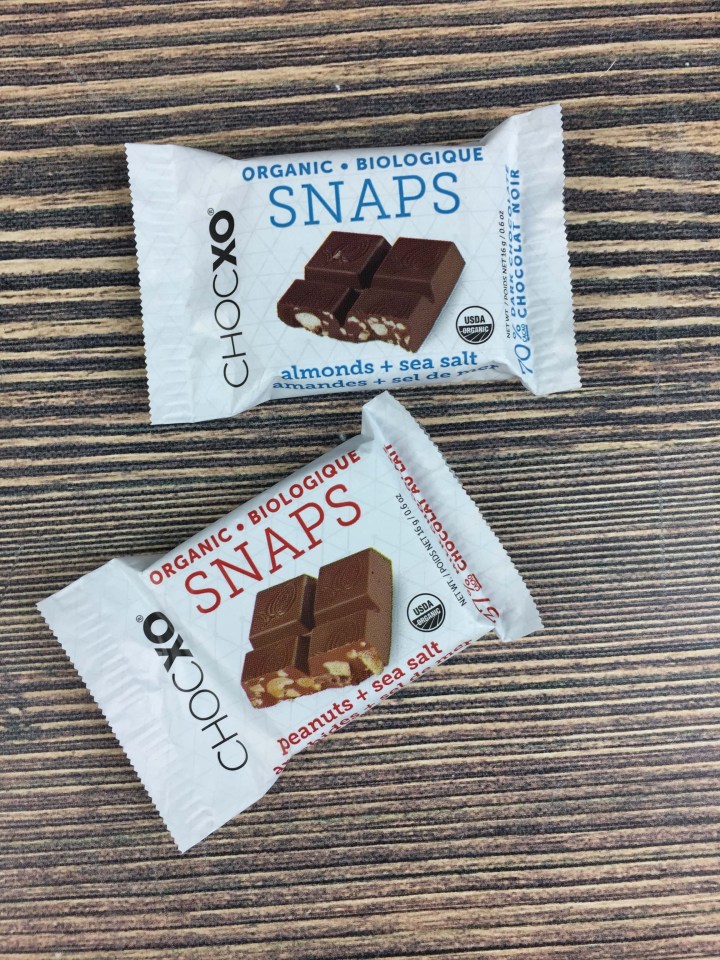 Chocxo Organic Chocolate Snaps in Almond + Sea Salt Dark Chocolate
Chocxo Organic Chocolate Snaps in Peanuts + Sea Salt Milk Chocolate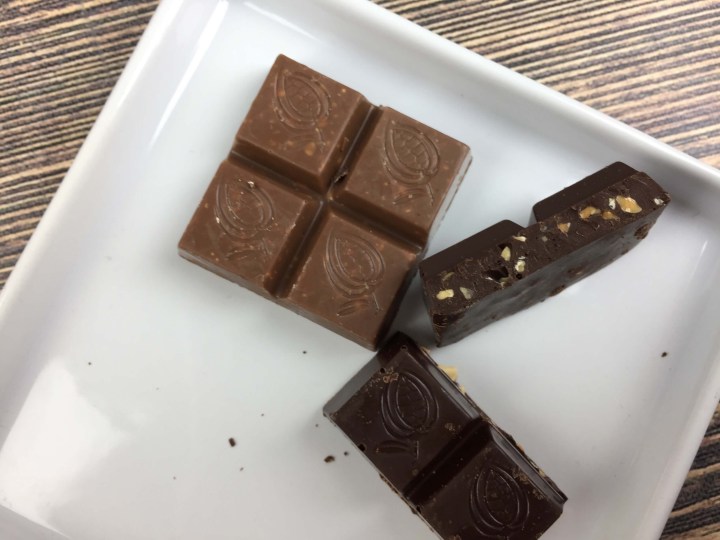 Organic, high quality salted milk and dark chocolate with peanuts and almonds (respectively). I loved how the milk one was a delicious version of Mr. Goodbar that you actually want to eat. These were great and you can snap them into four parts – if you can bear to leave the rest for later!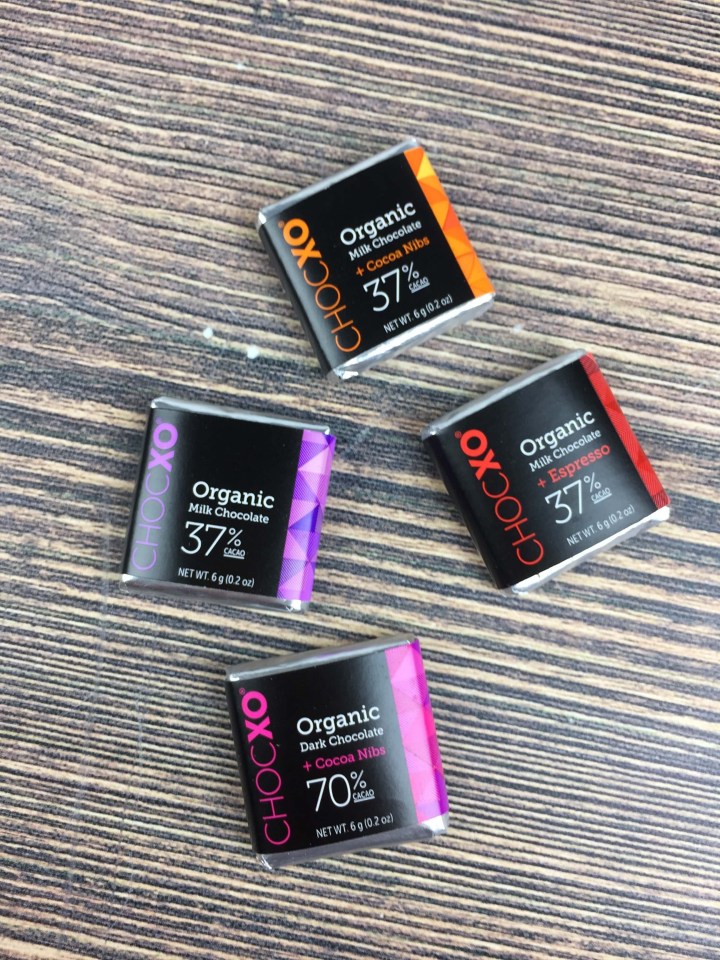 Chocxo Organic Chocolate Squares in Milk Chocolate + Cocoa Nibs, Milk Chocolate, Milk Chocolate + Espresso, Dark Chocolate + Cocoa Nibs
And some more treats from Chocxo! I love single serve wrapped chocolates and buy them often (I cannot have a whole bar around – I eat the entire thing way too fast!) but I love these bite size treats to savor for a daily chocolate fix. These were yummy and subscribers received a random variety. Think of them and Hershey bar mini substitutes.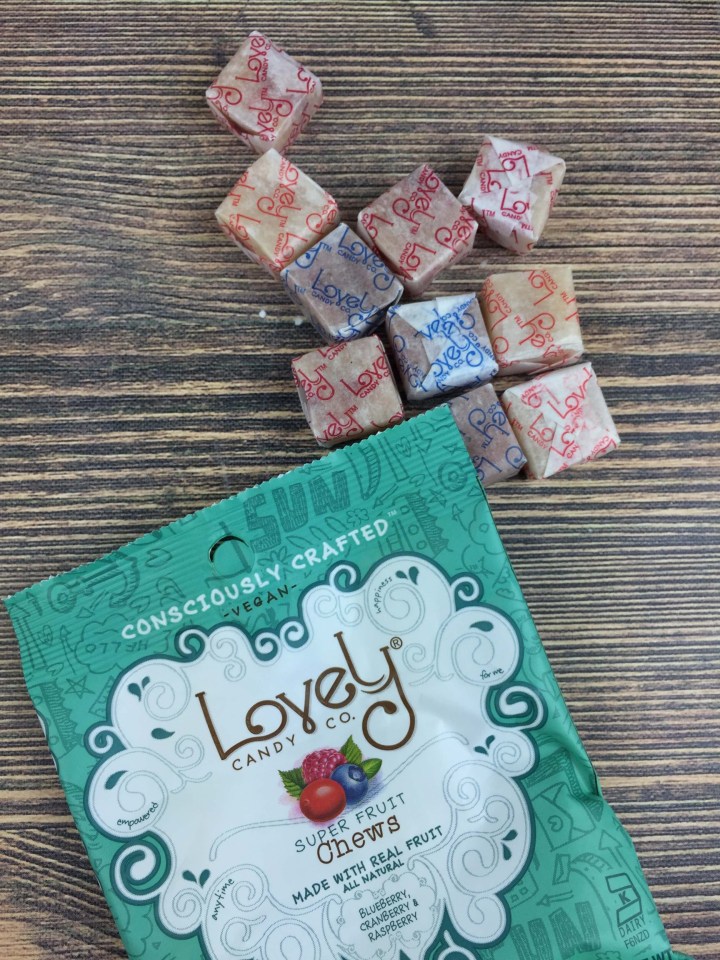 Lovely Candy Co. Super Fruit Chews ($1.67) Another entry in eat this not that – the flavors of these beat Starburst any day, although because they are natural they aren't quite as soft. Still amazing!
Big Little Fudge Coconut A Lot Fudge Bite ($1.50)
Big Little Fudge Choc A Lot Fudge Bite ($1.50)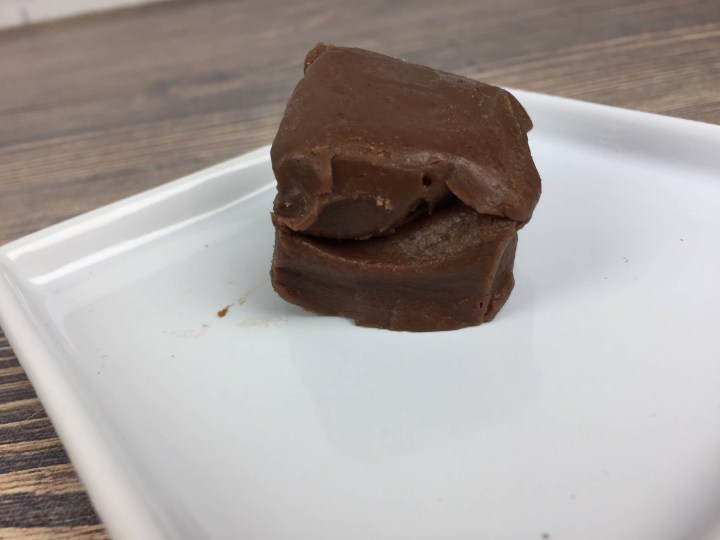 What an awesome idea! Individually wrapped hunks (they are really big!) of fudgey goodness! It was pretty intense and I only ate a nibble. It was soft and not grainy.
J & M Holiday Spice Cookies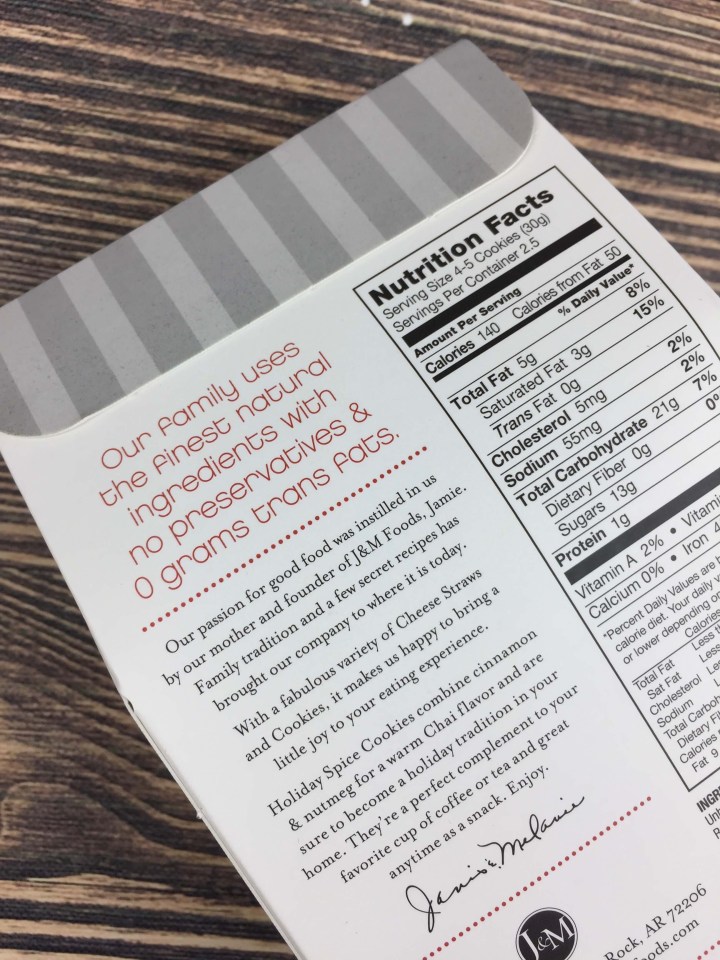 I do love J&M treats – they make all natural entertaining cookies and snacks, and they are all quite tasty!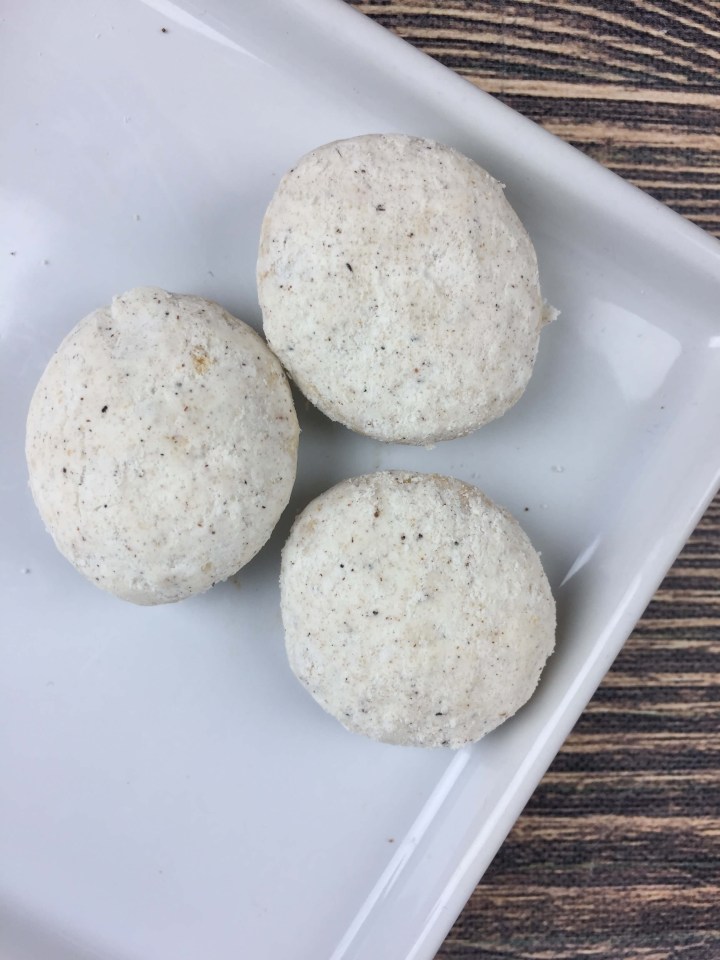 Like the cheese straws these were spicy, but of course instead of heat they were packed with rich holiday spices and flavors. Loved this version of the traditional cookie!
This box was tasty – and really indulgent with all that chocolate! It totally made me appreciate fall! It wasn't really a fantastic value, but I do appreciate the fancy sweets – I really do prefer a small amount of high quality tummies over what I can find in the grocery store.
Did you get Treatsie this month? Did you get the same items? What was your favorite?
Visit Treatsie to subscribe or find out more!
TIP: Without a good deal on this box you are effectively paying $4-5 per treat, so we do recommend subscribing for a longer term for the best (yummy) value!