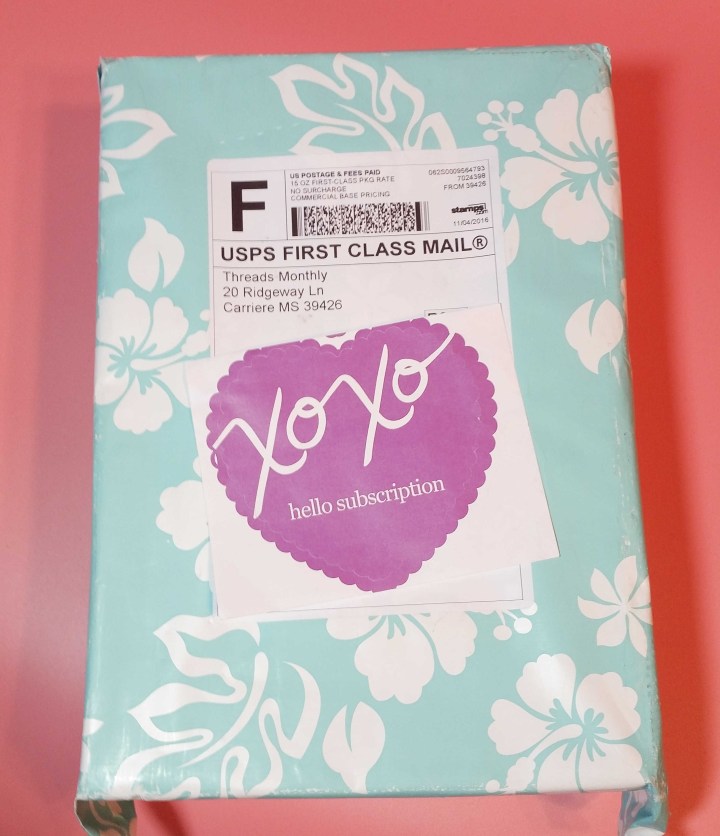 Threads Monthly is a subscription box for "women who love clothing and accessories." Each month promises one t-shirt, one or two pieces of jewelry, and a themed accessory, all for $20 a month. I reviewed this box with the help of my budding fashionista daughters, aged 14 and 11. The box is aimed at women, but my girls wear adult clothes and the items in the package were perfect for tweens, teens, and grownups too! Yet again, Threads Monthly served up a box that both my daughters really liked.
Every month, the Threads Monthly folks find the prettiest mailing bag to ship the package in. This month – mint green with white flowers & leaves!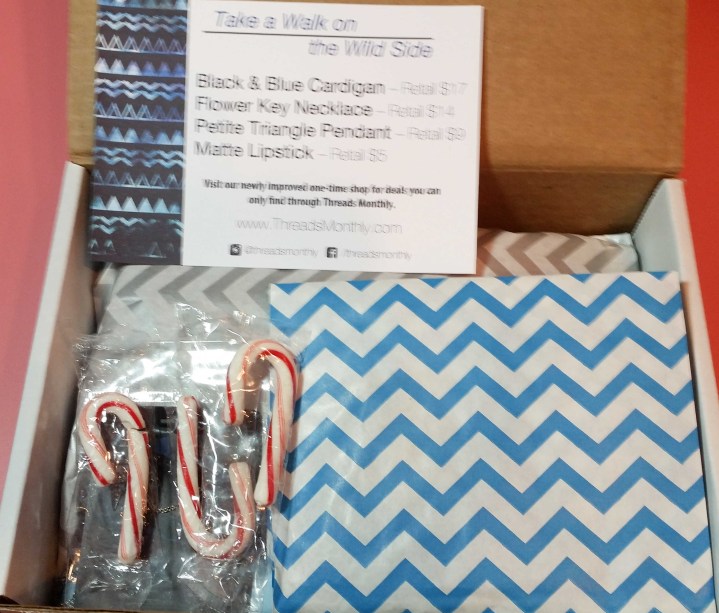 DEAL: Save 20% with coupon code HELLO.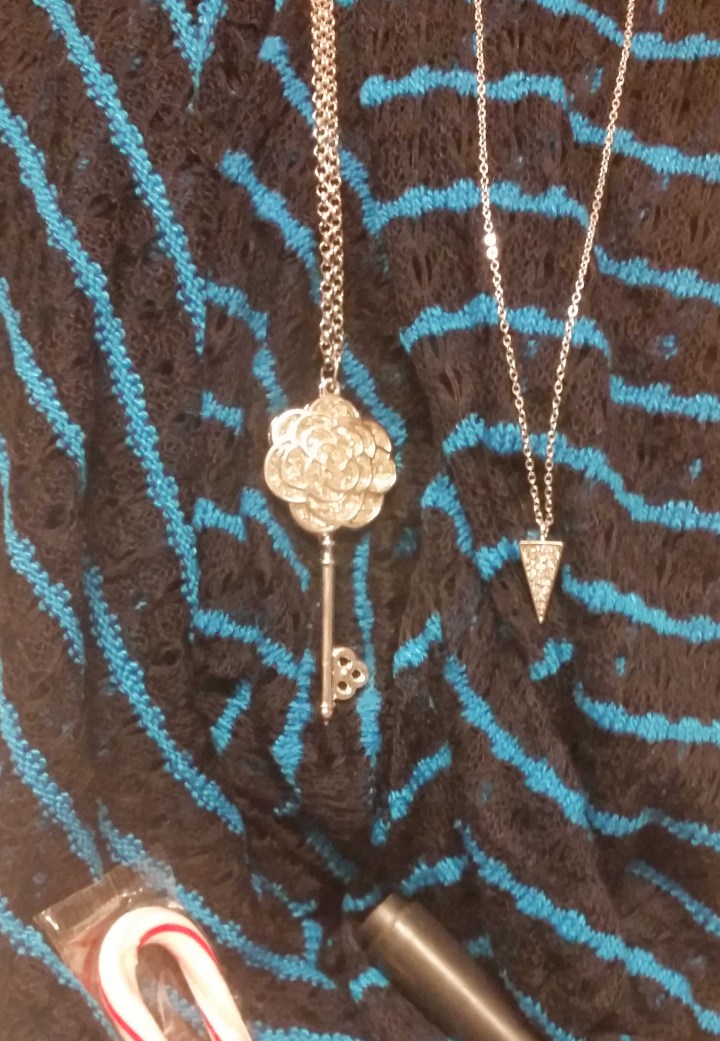 Here's a quick peek of everything that was in this month's box.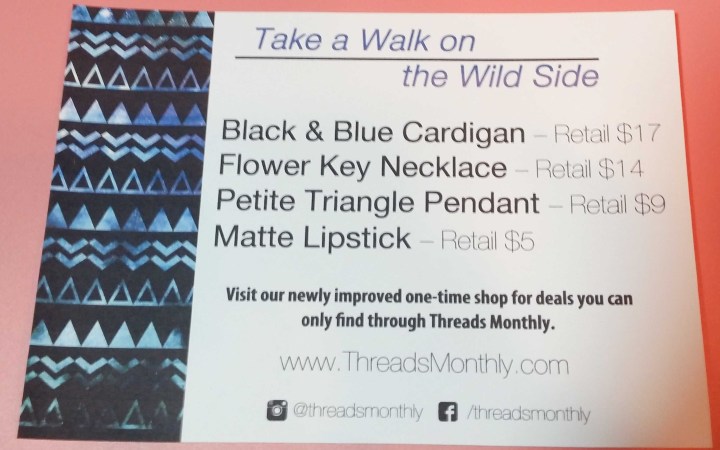 The enclosed card provides a list of items, as well as the suggested retail price for each. The card also provides the theme for the box – Take a Walk on the Wild Side!  I'll be honest – the theme didn't really seem to go with the items in this month's box. In previous months, there has been more coherence between the theme and the items.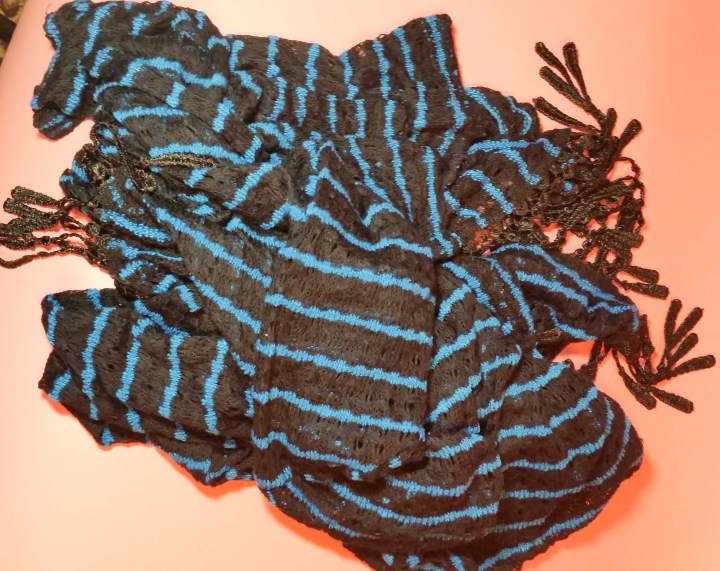 The Shirt ($17): This month's shirt is a black and blue striped cardigan – it's a lightweight knit, a little lacy, and has fringe trim. Of course, seeing it laying on a surface doesn't really show you anything.
Here's my younger daughter modeling the cardigan. Although it's totally perfect for fall weather and fringe and stripes are definitely on trend, the cardigan overall was not a big hit for us. I could see using it for dress up, but the black and blue makes it tough to match to whatever dress I'd wear underneath. The fringe made it too funky for one daughter and the other is not really into cardigans. Of course, that's one thing you run into with clothing (and jewelry, for that matter)… it's definitely a matter of taste. My daughters and I have reviewed a number of Threads Monthly boxes and have loved most of the shirts. This cardigan just happens to be one we didn't love.
Jewelry #1 – Flower Key Necklace ($14): While we may not have loved the shirt, we all really liked this necklace. It is a super cute pendant, shaped like an old key with a sparkly flower at the top. Plus it comes on a nice long chain. So pretty!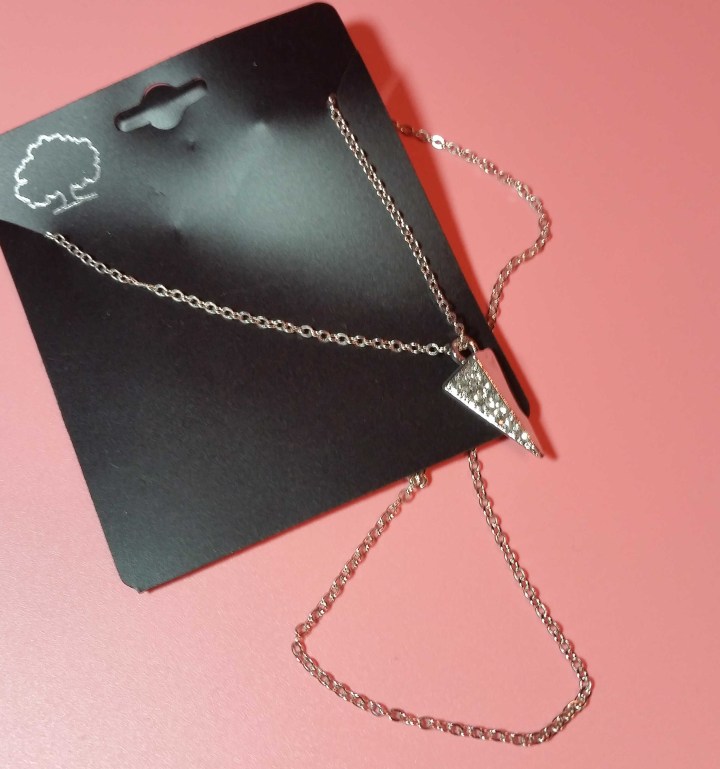 Jewelry#2 -Petite Triangle Pendant ($9): We also really liked this necklace. The pendant is pyramid-shaped, where one side of the pyramid is sparkly and the other two are matte. The chain on this one is slightly shorter, not quite a choker – and the whole necklace is a little more delicate than the flower key necklace above… two very different looks.  Both girls are excited to wear this necklace!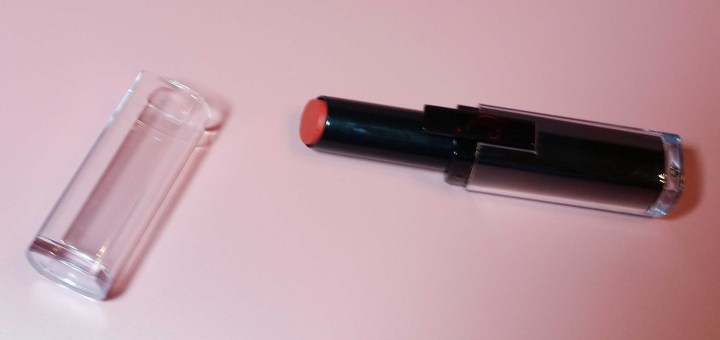 Accessory – Matte Lipstick ($5): This accessory probably does fit the "Walk on the Wild Side" theme a little bit… at least as far as my style and my daughters' styles. We may not be wild enough to wear red lipstick that often!
Anyway, the lipstick is a nice almost candy-apple red. Here's my daughter showing off the color on her hand. Just like the shirt – makeup colors are also fairly personal. While my house may not be a red lipstick house, it's definitely a popular color and a lot of people like red lipstick (and look way better than we do in it!).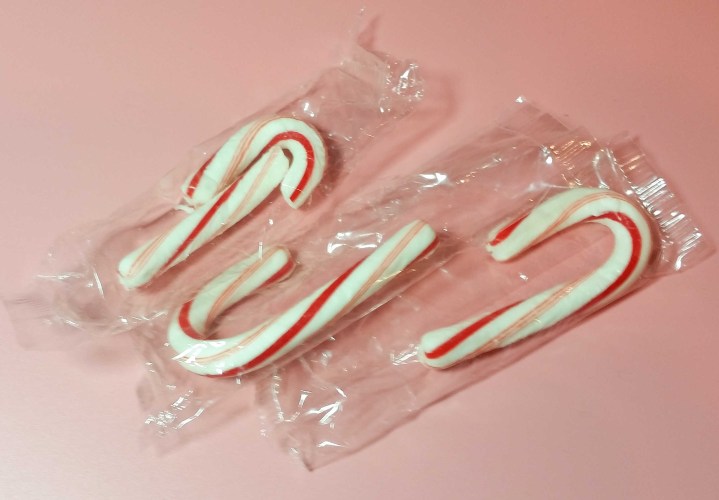 Last but not least, a fun little surprise – candy canes  It's getting to be that season after all… we liked how the candy canes were striped, just like the wrapping paper used in the box. Plus who doesn't like candy canes???
Even though this box probably wasn't our favorite month from Threads Monthly, we still really love the subscription. Nearly always, the box is filled with things that at least one, if not all, of us loves. Shirts and jewelry and accessories/makeup are so hard because they're so personal and we think Threads Monthly does a great job providing a lot of variety, both within each month's box and from month to month! There will always be something great, if not lots of great things, in each box! This box is awesome for teens (and tweens that wear adult sizes) as well as grownups – sizes adult S-XL are available, subject to inventory).  We love it and we think you will too!
What did you think about Threads Monthly?