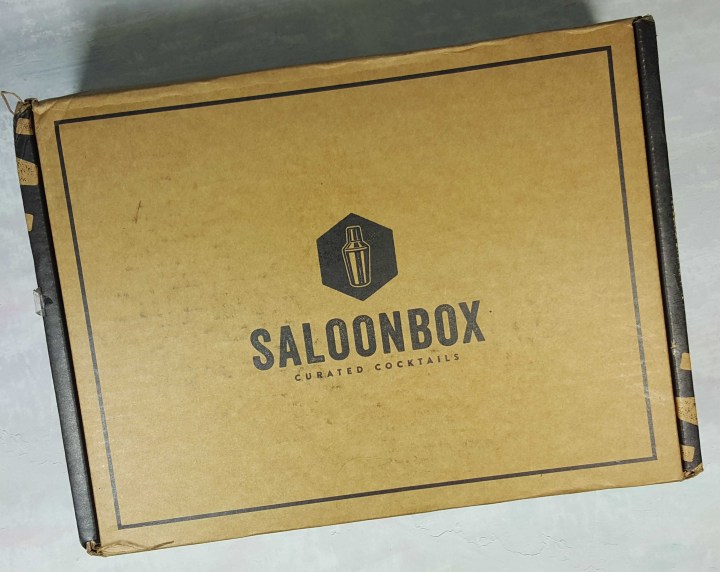 SaloonBox is a monthly cocktail subscription box. Every month you'll receive two cocktail recipes, top-shelf liquors for the recipes along with any specialty items, plus the background on each cocktail. Note:  Be sure that someone 21+ is home to sign for the delivery.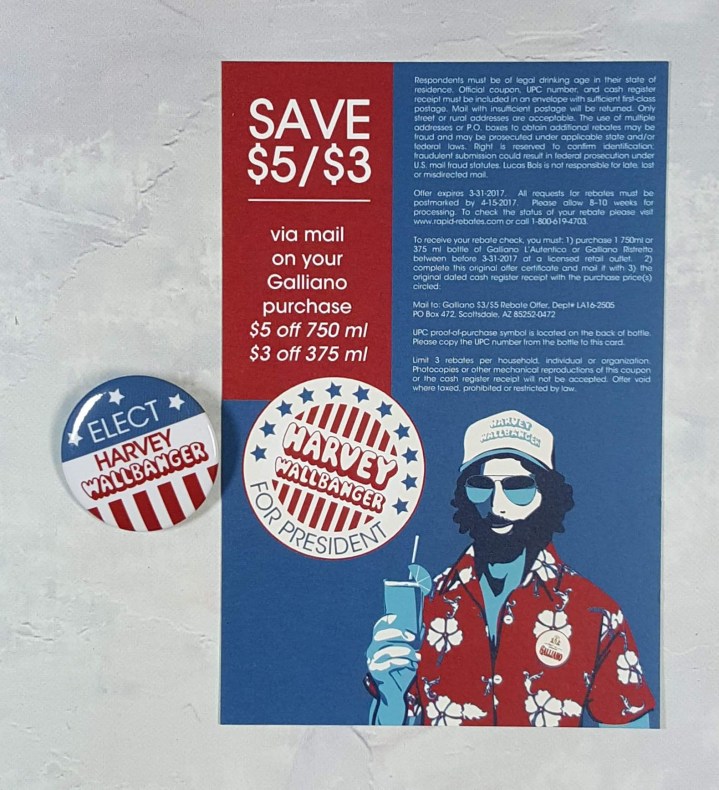 For October, SaloonBox is featuring fall-inspired drinks. They are also celebrating Harvey Wallbanger Day, which coincides with Election Day (November 8th). In 1972, the fictitious Harvey Wallbanger was actually the top write-in election candidate! SaloonBox is helping you recreate that election fervor with a Harvey Walbanger pin and coupon for Galliano liqueuer.
All non-perishable ingredients are packed in paper shreds and smaller boxes. So much care is taken to ensure that your items arrive intact.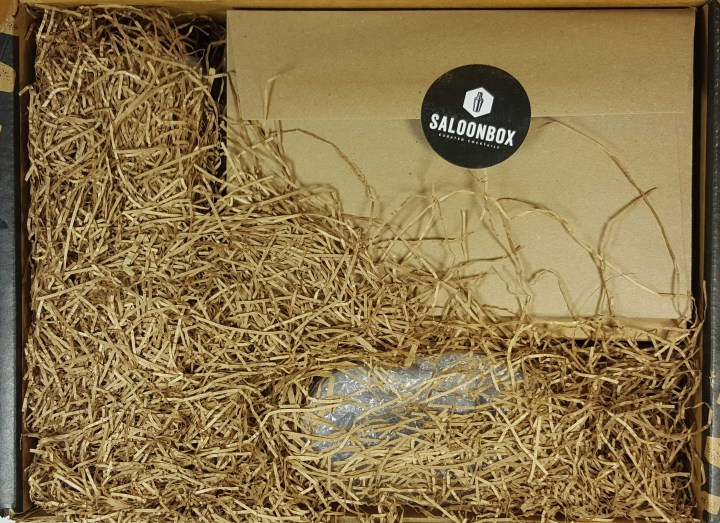 DEAL:  You can save 20% on your subscription with coupon code HELLO20.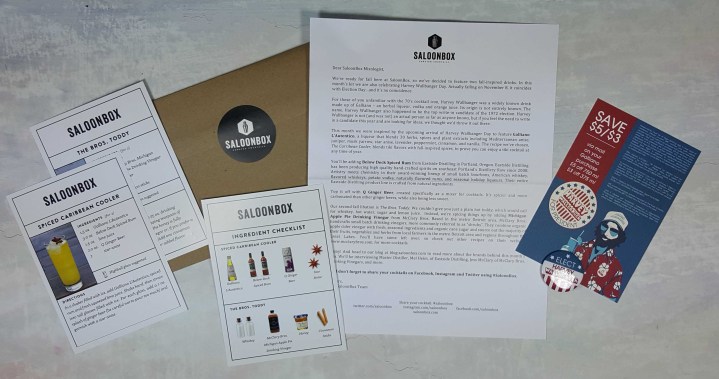 In the envelope, SaloonBox includes a letter that provides information for each cocktail, as well as details on some of the ingredients to be used. There are also drink recipe cards and an ingredient checklist. The recipe cards give a brief history of the drink, the bar, and mixologist associated with it.
The ingredient checklist. This is the first month that one of the spirits wasn't identified by brand on the checklist. I guess that SaloonBox wasn't sure which whiskey they were using when these were printed.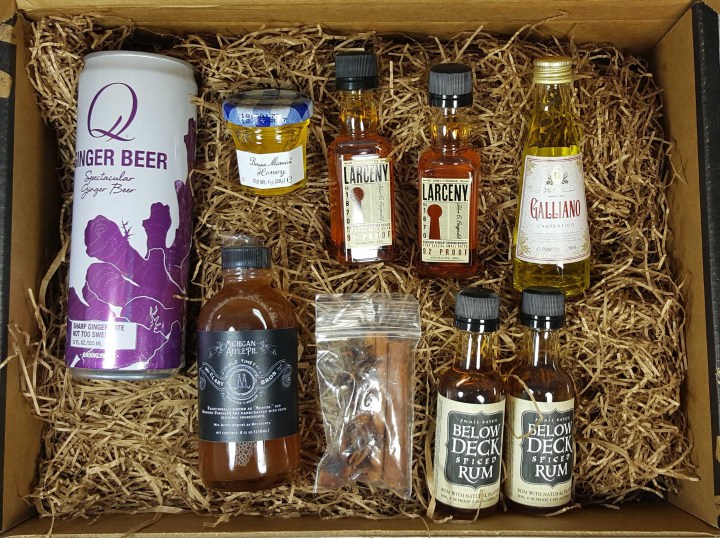 My full October SaloonBox!
Cocktail 1 -Spiced Caribbean Cooler
This drink features Below Deck Spiced Rum, Galliano L'Autentico, Q Ginger Beer, and star anise. To give this drink a fall twist, spiced rum was used in place of dark rum. This added a bit of warmth to the drink. The star anise garnish is a nod to the anise in the Galliano L'Autentico.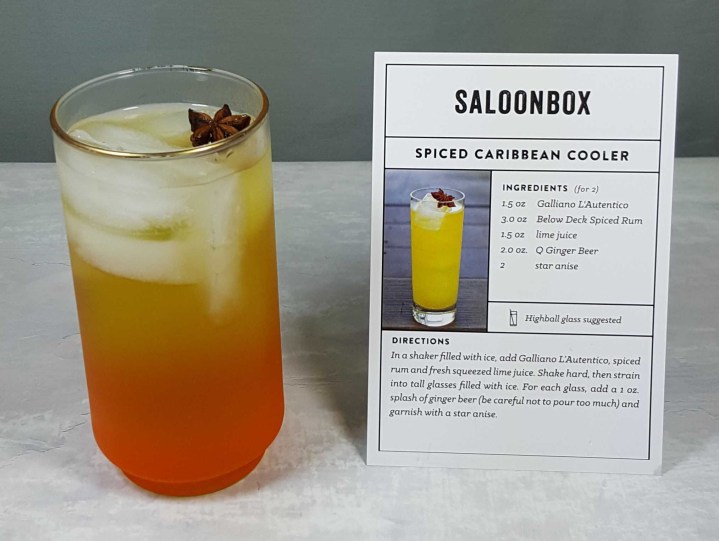 A cocktail featuring a 70's favorite deserves to be showcased in a glass from the same decade. These gold-rimmed orange bottom glasses are one of my favorite thrift store finds. Now back to the Caribbean Cooler. This drink packed a punch, but in a good way. The lime juice and Galliano L'Autentico combination gave this a tart and fruity taste. The standout for me was the ginger beer. Q's recipe is full of warm spices that highlight the spiced rum. When pulled together, this drink made me think of sunsets on a beach.
 Cocktail 2 – The Bros. Toddy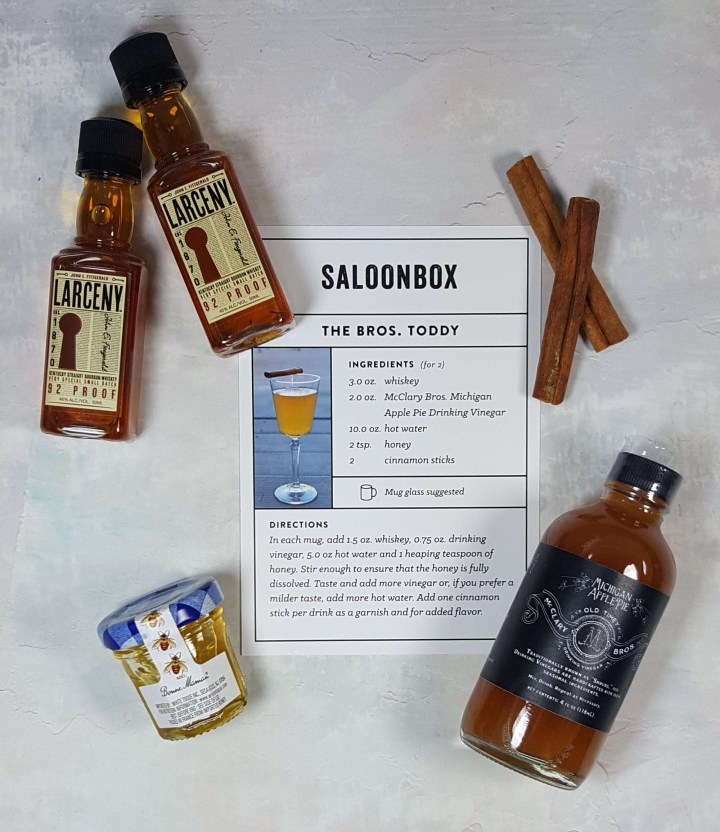 This toddy recipe features McClary Bros. Michigan Apple Pie Drinking Vinegar, Larceny Bourbon Whiskey, Bonne Maman Honey, and cinnamon sticks.  SaloonBox couldn't send a plain hot toddy out. To add a seasonal flavor, they've included an apple pie flavored shrub or drinking vinegar.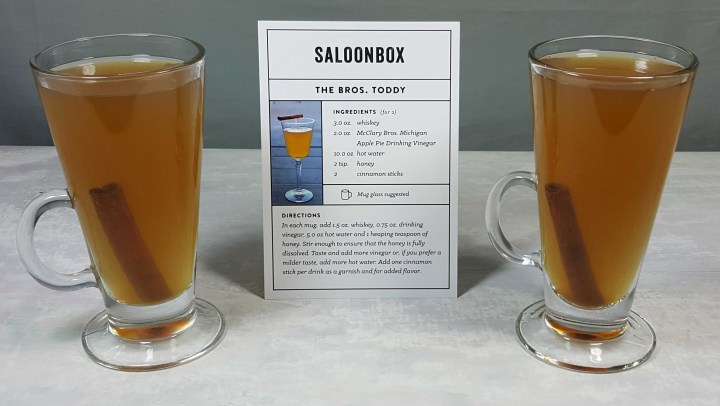 I was so excited to make this drink because I got to use my Irish coffee mugs.  I bought this over 10 years ago for $0.25 each!  They mostly get used as dessert glasses.  Sorry to digress.  This drink was the perfect way to end an autumn night.  The drinking vinegar added a slight tang and notes of apple which made me think of cider.  I felt warm and relaxed after this and had a great night's sleep.  Not to mention, the slight tickle in my throat went away.
October's SaloonBox  was a lot of fun for me.  The featured cocktails were a nice introduction to fall.  Change up the seasonal flavors and these drinks can be served year-round.  The holidays are coming up.  Don't forget that SaloonBox makes a great gift for the mixologist in your life.
What did you think of this month's SaloonBox recipes?