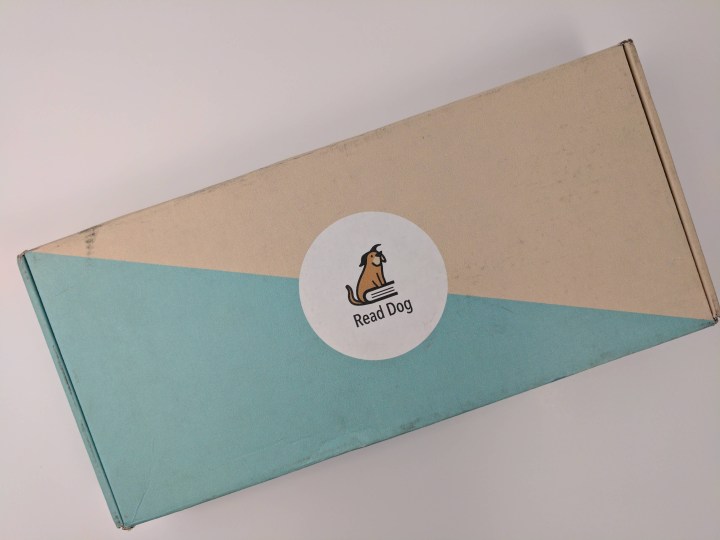 ReadDog Books is a personalized curated book subscription box where the book is chosen based on your preferences. When you subscribe, you fill out a quick little form where they ask you what kind of book you like, which one did you love, what's your ideal reading experience, etc. This subscription is $31.99 with free US shipping ($8 to Canada and $15 international), with discounts for longer subscriptions. By the way, this is a long box!
Look how pretty the inside of the box is!!! I love the mix of purple worms, red/orange leaves, and the green lime tissue paper.
A nice handwritten note from the curators was included in the box. The book chosen for me is from one of their favorite author, both magical and quite dark. Right on! I did mention in my answers that I enjoyed dark books, no YA, and that one of my favorite book was Revenge by Yoko Ogawa, so it seems they went with this book as their inspiration! There's also a note to their reader about fall and what books it inspires them, like Emily Dickinson's poetry and J.D. Salinger's Catcher in the Rye. There's also a mention of their Facebook group where we can share our impressions on the box. I love these little details!
We received a neat bookmark (gotta love that Frankenstein drawing!), a ReadDog sticker and a blank card "Happy Pumpkin Spice Season." It's already snowing over here, so I'll keep this one for next year!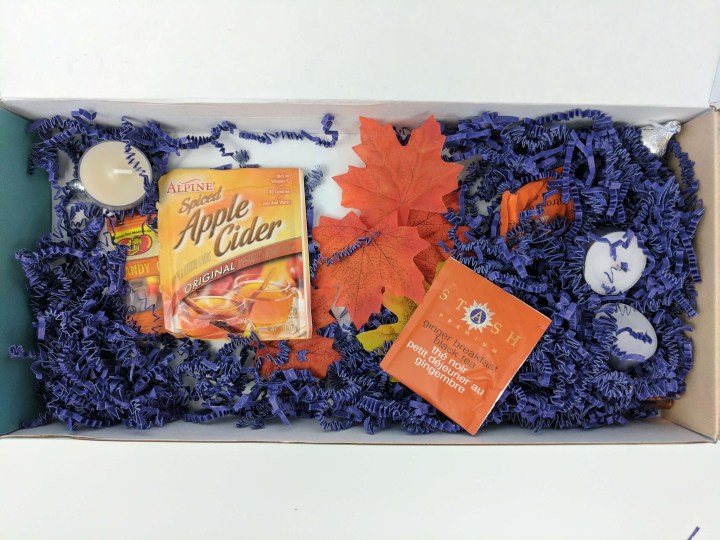 Under the book, we get some little goodies.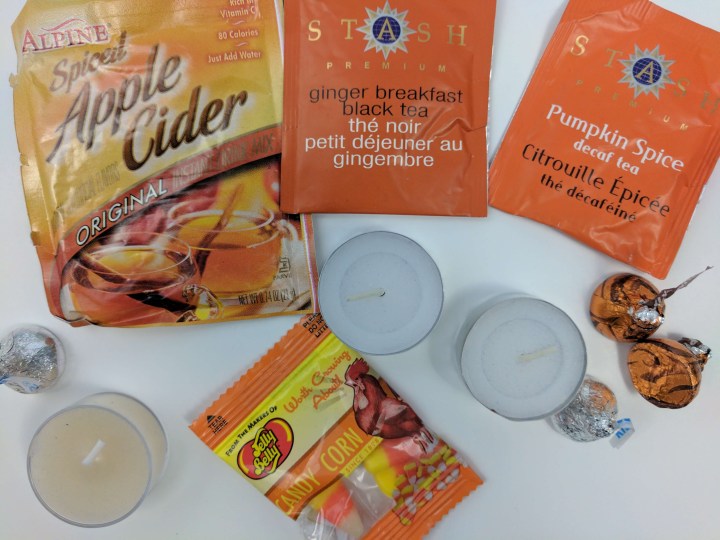 We get something to drink and I'm quite intrigued by the ginger breakfast black tea! I love ginger and it's one of my favorite fall spice. I don't like pumpkin spice anything, so I'll pass on this one. Spiced Apple Cider? Yes! Bring it!
We also received a bit of candies. I received my box on October 31st, so that was a perfect addition to my candy binging day! There was also two unscented tea lights (I used them to light my two carved pumpkins). The third one was scented, but I can't figure out the scent.
On to the book!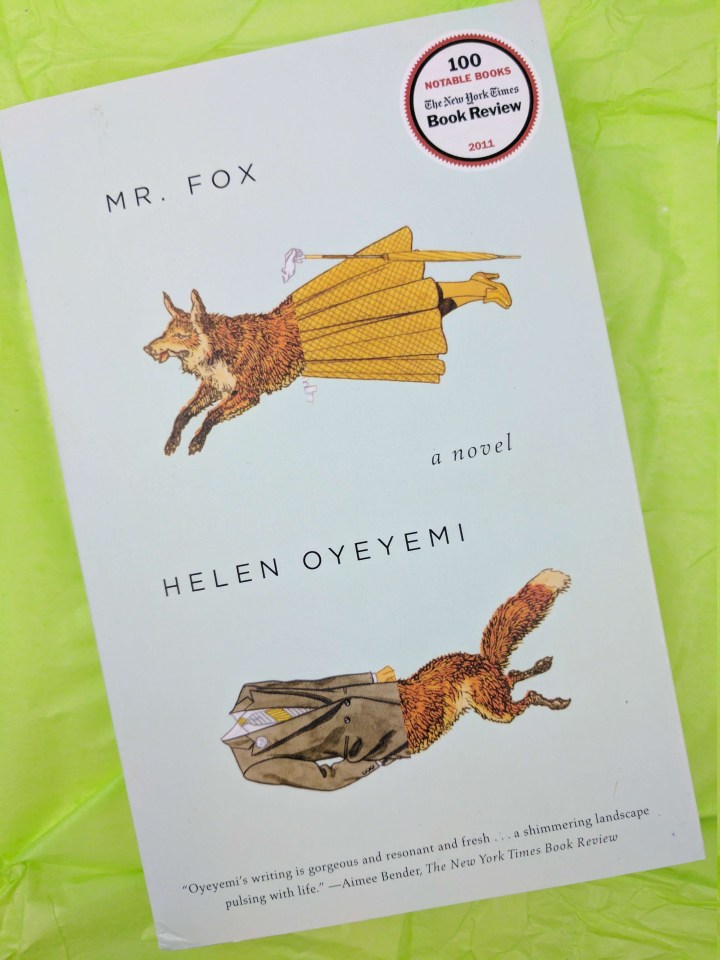 Mr. Fox by Helen Oyeyemi ($9.87)
Fairy-tale romances end with a wedding, and the fairy tales don't get complicated. In this book, the celebrated writer Mr. Fox can't stop himself from killing off the heroines of his novels, and neither can his wife, Daphne. It's not until Mary, his muse, comes to life and transforms him from author into subject that his story begins to unfold differently.

Mary challenges Mr. Fox to join her in stories of their own devising; and in different times and places, the two of them seek each other, find each other, thwart each other, and try to stay together, even when the roles they inhabit seem to forbid it. Their adventures twist the fairy tale into nine variations, exploding and teasing conventions of genre and romance, and each iteration explores the fears that come with accepting a lifelong bond. Meanwhile, Daphne becomes convinced that her husband is having an affair, and finds her way into Mary and Mr. Fox's game. And so Mr. Fox is offered a choice: Will it be a life with the girl of his dreams, or a life with an all-too-real woman who delights him more than he cares to admit?

The extraordinarily gifted Helen Oyeyemi has written a love story like no other.  Mr. Fox is a magical book, endlessly inventive, as witty and charming as it is profound in its truths about how we learn to be with one another.
I was sooooo excited to read this book, that I started as soon as I was done with the pictures! And I didn't regret it. It was a quick, but lovely book. It was confusing sometimes, I had to reread parts of the story, but I found the book dark and magical. I loved the selection!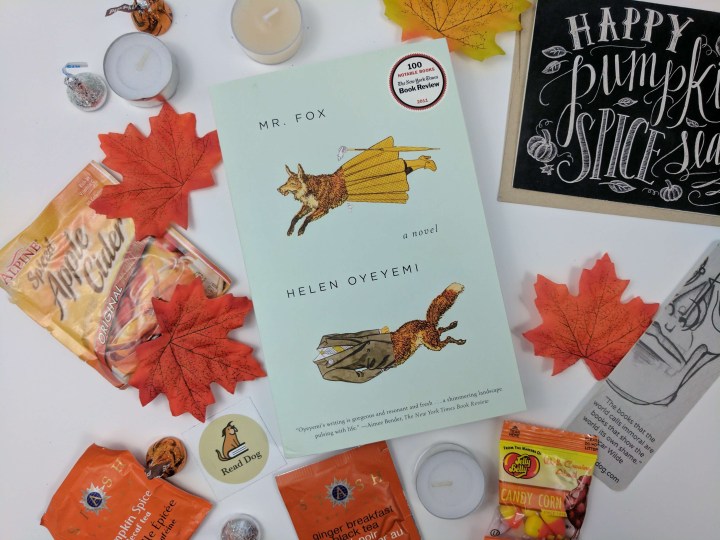 The book was perfect as if my best friend had chosen it for me. A friend who has read a lot of books! Yes, the cost of the box is more than the value of the book and the goodies, but I loved the curation. This would be a perfect gift for the book lover who seemed to have read everything as the curators promise to send a different book at no cost if the recipient has already read the book. I love that they do take the time to read your answers, and it showed in the choice they made for me. You can't be disappointed with that kind of service!