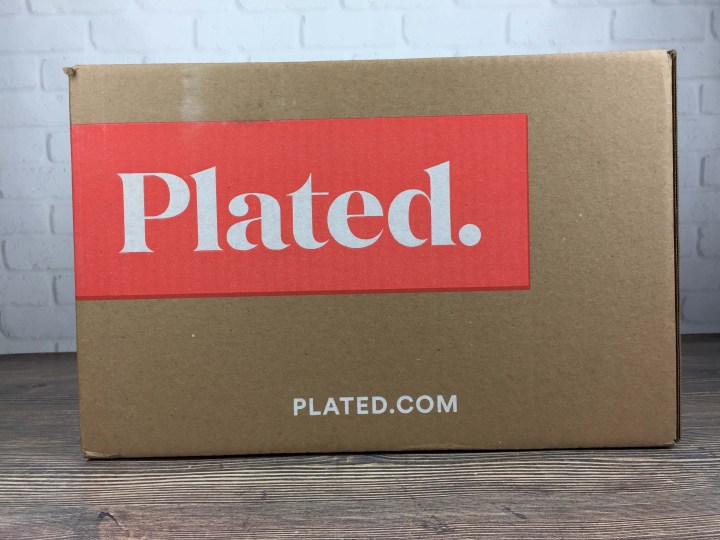 Plated is a weekly dinner kit subscription box with high-quality ingredients and chef-created recipes. Each week you'll choose from a variety of quick gourmet meals that range from meats, chicken, seafood, and purely vegetarian options. You can swap out your recipes and skip any week you don't want.
Plated insulates the food with padding filled with recycled thread material. Boxes are always packed with the meat on the bottom, underneath a few big ice packs – the rest of the food is set on top with more ice.
Plated sends a weekly email – it doesn't tell you much about your meals, other than what you need from home.  They now offer three-serving meals! This is a great option for guaranteeing leftovers for a tasty and easy lunch!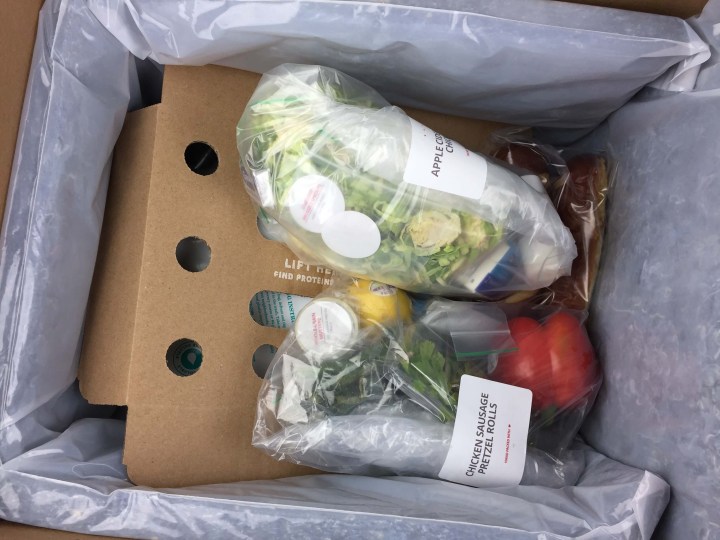 DEAL: Currently you can get 2 free plates when you buy 4 when you sign up with this link (no coupon code required).
On-card information is now streamlined and includes only prep-time, number of servings and calorie count. Most of Plated's meals serve two people. Unless stated otherwise, the pics of finished dishes show a single serving.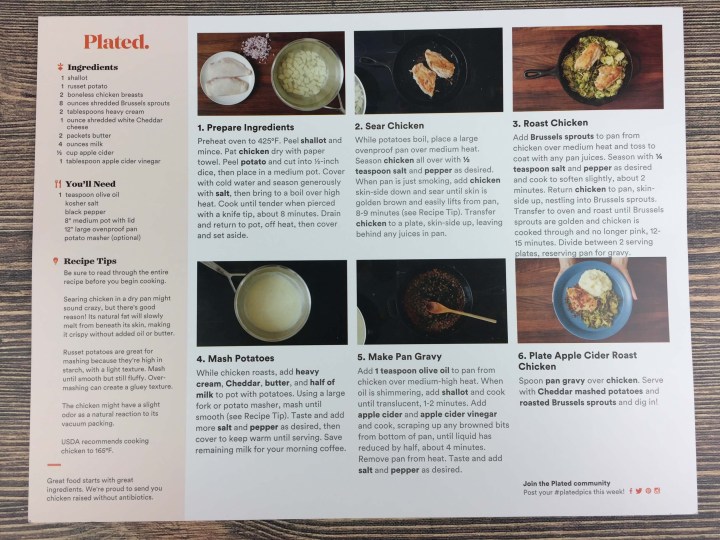 Plated's recipes rely on mise en place and then cook – we often mix up the steps from how the recipe is written, but we're both experienced cooks and know what can be accomplished while something else cooks.  So, read your cards if you need the step by steps.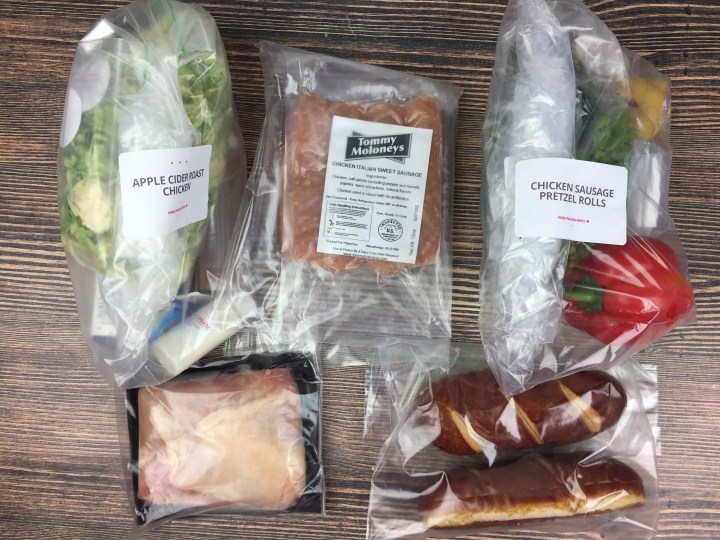 All the food comes bagged up and separated (mostly) into the recipes – meat and some large or delicate items are bagged separately.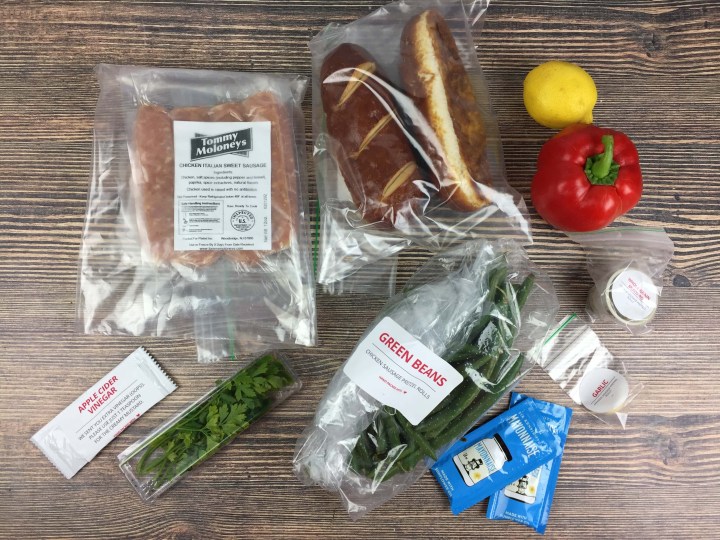 Chicken Sausage Pretzel Rolls With Creamy Mustard.  30 – 40 minutes,  easy, 760 calories per serving.
I really loved this dish!  The chicken sausage was nicely seasoned and remained plump and juicy – the light character reminded me of some traditional wurst incorporating veal with the pork. The pretzel roll had an awesome bit of chew that really set off the dish. It was easy to put together and had a festival food feel to it.  The beans were quite tasty and yummy way to add some veg to the plate.
Apple Cider Roast Chicken With Cheddar Mashed Potatoes.  35 – 45 minutes, easy, 700 calories per serving.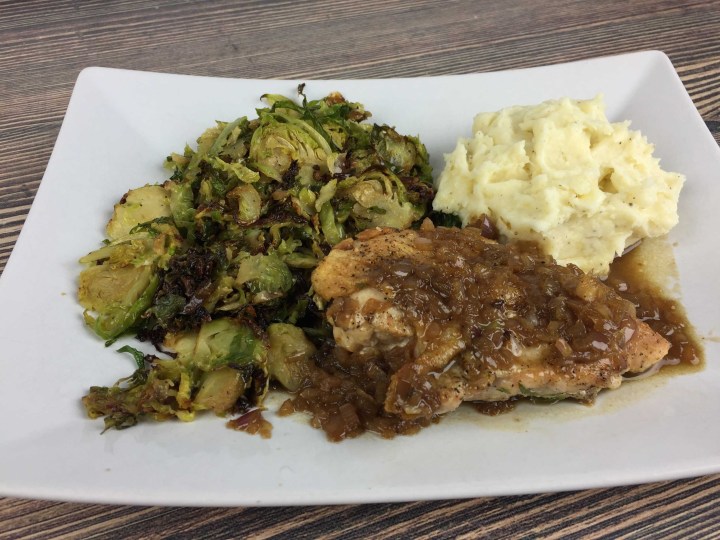 The oven-proof cast iron pan came in handy with this one. The main part of the dish was excellent – crispy-skinned chicken that remained very juicy and tender, set atop soft and slightly browned Brussels sprouts cooked in the juice of the meat. Our favorite, though, was the cheddar mashed potatoes! Delicious, and great for sopping up the cider and shallot pan sauce. The dish wasn't complicated, but the chicken did bounce around a bit, making a chore of tracking the raw chicken plates.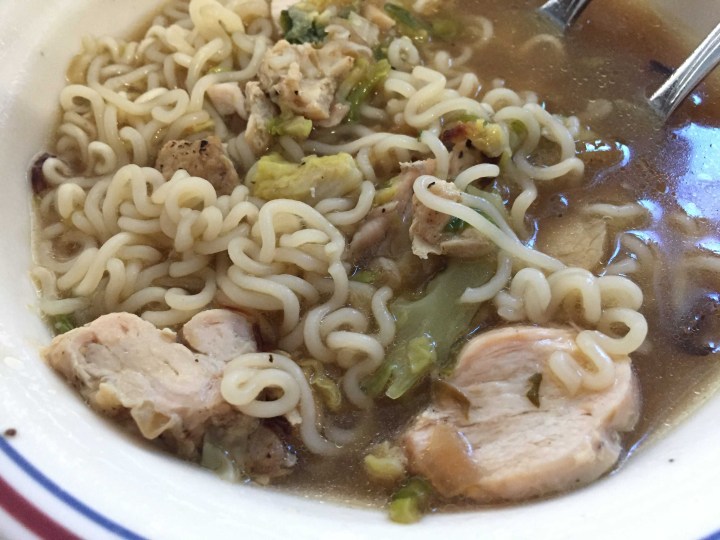 Brandy: Tom plated some leftovers from this meal for me on top of some ramen from our last Umai Crate – it was amazing! I strongly recommend finding some Brussels sprouts and chicken and doing the same thing!
We enjoy Plated and order it frequently.  Of the three meal kits we regularly order, Plated shoots for the most upscale image, echoing popular trends in food culture.  They have blended classic dishes accompanied by a French-style sauce with more contemporary and international offerings, plus some simplified and more mainstream dishes — broadening the appeal while still offering top-notch fare.
What do you think of Plated?