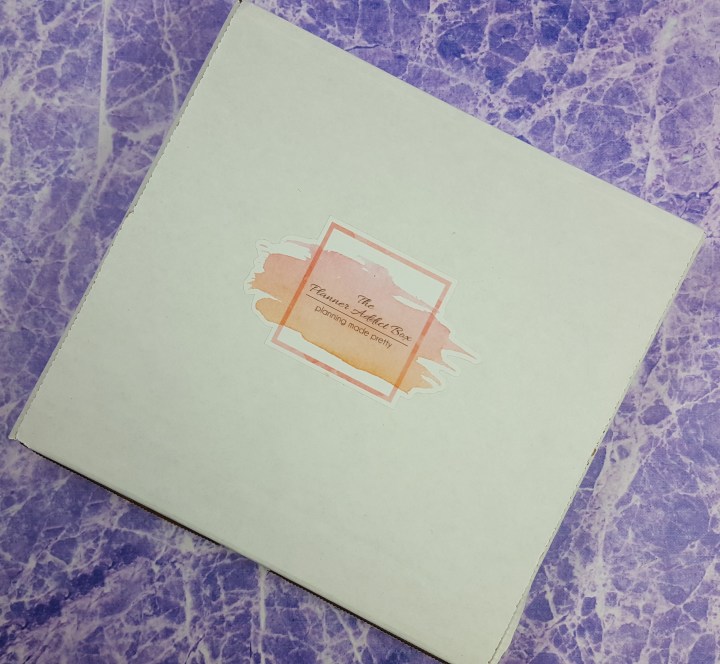 The Planner Addict Box is a monthly subscription box for planner nerds. The box is filled with planner products you can use for any type of planner. You can expect products from well-known designers, Etsy shops, and Planner Addict Box exclusives. Planner addict has had a lot of exclusives recently and then things created just for them from Etsy shops. I love that it is so unique.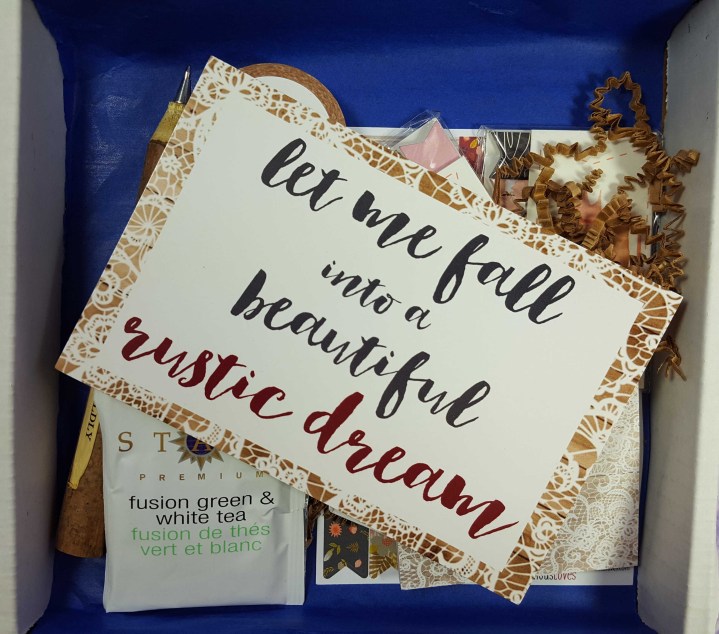 When you first open your box you will see a tissue paper wrapped around the contents of the box – and in a great detail, the tissue and squiggles coordinate with the color theme of that month's box. For a decorating crafty box, that is such an awesome detail. The theme for my November box is "let me Fall into a beautiful rustic dream". The tissue was a bright blue this month which I thought was a bit odd considering the fall month but it works when you see the goodies.
The information card tells you the companies that are included in the box and their links so you can shop their sites for more goodies from them.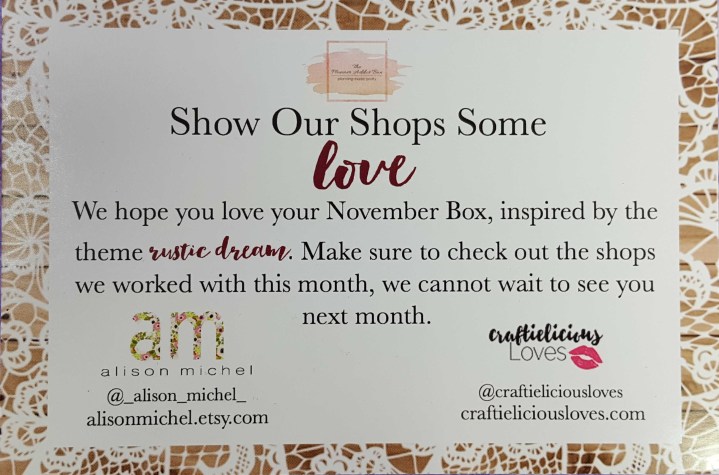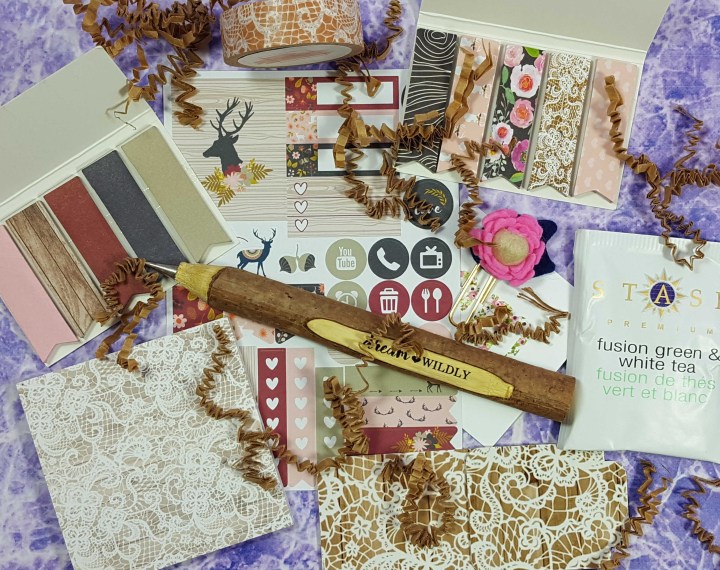 Everything included in my November box.
Craftielicious Loves Stickers (This is exclusive to Planner Addict but similar ones go for $2.50) – Such pretty fall stickers. We have gotten other dear style stickers from Planner Addict box before and I haven't used them all yet so I'm going to mix them in with these. There are so many fall and woodgrain beautiful stickers in this set.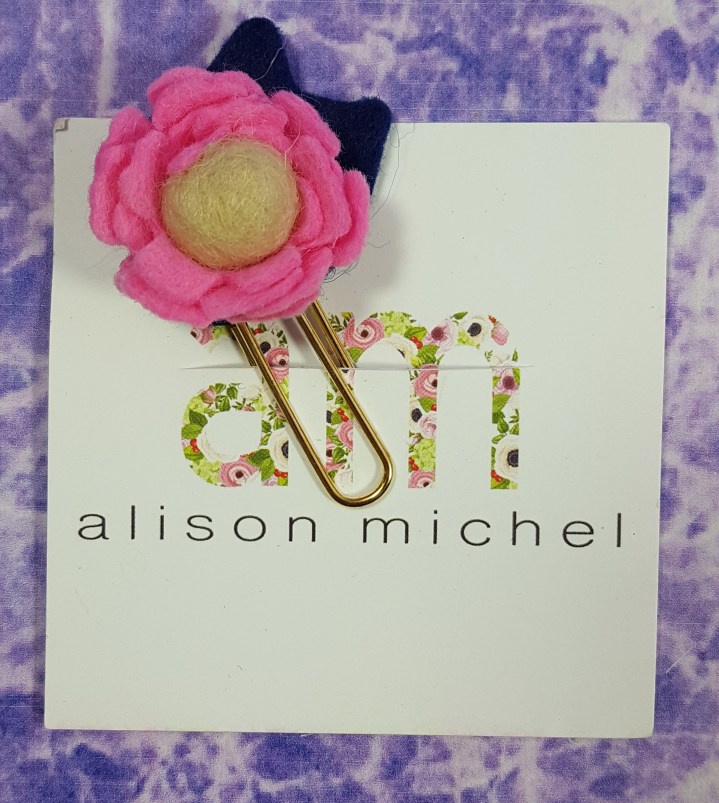 Flower Paperclip By Alison Michel (I don't see this saying on their page but other clips are a 3 pack for $9.00) – So the blue in the tissue paper comes from this clip which is a little odd for me in a fall themed box. I do love clips and this one is really pretty I'm just not sure it fits with the theme.
Washi Tape, magnetic bookmark and sticky notes – These are all so pretty and coordinating. I love the woodgrain and how the lace adds a delicate flair to them.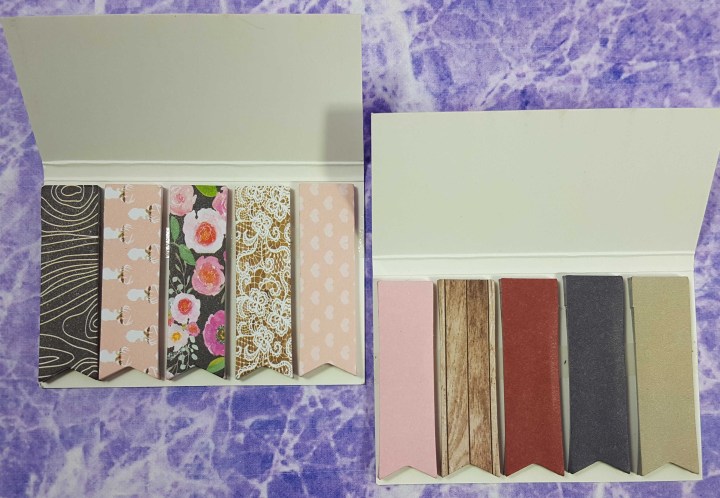 Planner Addict page flags – I love these and I use page flags all the time. My boys and I are always pulling flags to mark all sorts of things. The most recent usage was for the Toys R Us Christmas catalog. It is all flagged up and ready for people to do some shopping.
Fun extras this month with a wood grain pen and some Stash Fusion Green & White Tea. It is so cold here today that I've already had a hot cider and tea will be next on the list. I just can't get warm today. Planner Addict also sends a pen each month which is perfect for a planner box and this one is so perfect for a fall themed box. I've actually looked at pens like this in Homegoods many times and just haven't bit the bullet to buy some and now I have my own. It makes me happy.
Another very pretty box from Planner Addict Box this month however  with the new direction the box seems to be taking I'm just not as into it as before.  I love the colors and the coordination but we are not getting as many sticker sheets as we used to and instead we are getting more planner addict box extra goodies.  I would love to go back to more sticker sheets and less extras like they used to have.  This month, however will go great with some of the past stickers we have received so I can add them all together to make a nice spread in my planner.  They also included the awesome wood grain pen which was an item I've actually been wanting so the whole box ends up being a happy win to me.
Have you tried Planner Addict Box? Do you love this color scheme as much as I do?