Pip & Lola's Everything Homemade Soapy Subscription Box is a customizable soap box! First, select the "Duet Better Package" (2 soaps) or the "Soaping Solo Package" (1 soap). Next, chose one of three options. The first option is the standard option of any soap from their 100 different varieties. The second option is the dude package which contains more "man-friendly" soaps and no floral scents. The third option is the vegan package which will have soaps that do not contain goats milk, beeswax or honey in them. All options include body, facial, and shampoo soaps. Lastly, pick your payment option. Enjoy the wonderful world of soap!
Amazing scents escaped the package as I opened it. Both my seventeen-year-old son and I loved the scents this month. Here are the items in the Pip & Lola's Everything Homemade Soapy Subscription September 2016 Dude Edition.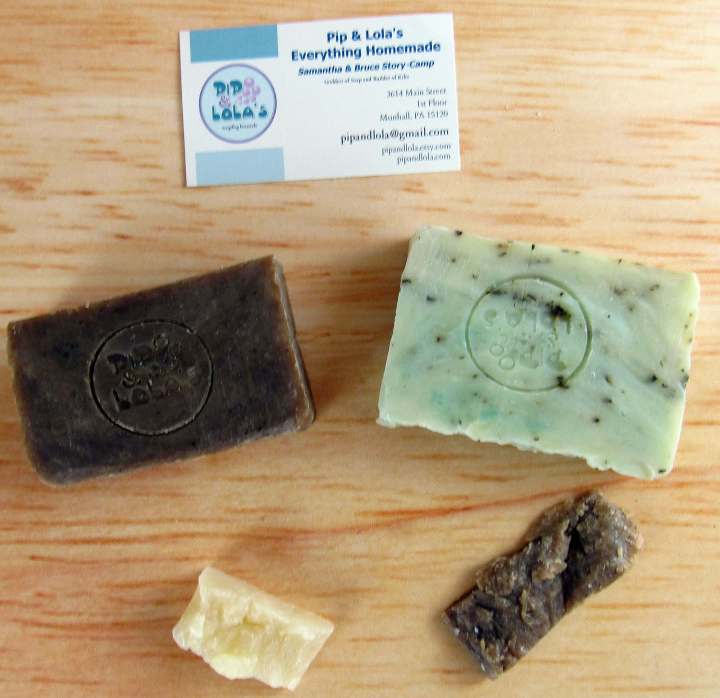 DEAL: If you haven't tried them out yet you can use coupon code FBSOAPLOVE16 to save 20% on your first subscription!
Pip & Lola's included a reminder card on how the subscription works. The information card has great information about their soap and why it should not be sitting near the shower head all day! I excerpted a few bits of information for you reading pleasure.
…

Remember, all of the soaps made at Pip & Lola's contain no drying agents. This means (in addition to not drying your skin) that they will be reduced to a mass of goo if they are left sitting in water.

Be sure to store your soap on a tray or to set it on its side to allow it to dry between uses.
Treat your skin well and don't let your soap become a pile of goo!
I reluctantly gave my teenager the Twin Mint Soap (appx 4 oz, $5.99) because I wanted to keep it for myself! The Twin Mint soap smells amazing. It has peppermint and spearmint essential oils along with spearmint. This soap is for those who want a lightly mint soap. Pip & Lola's specializes in lightly scented soaps.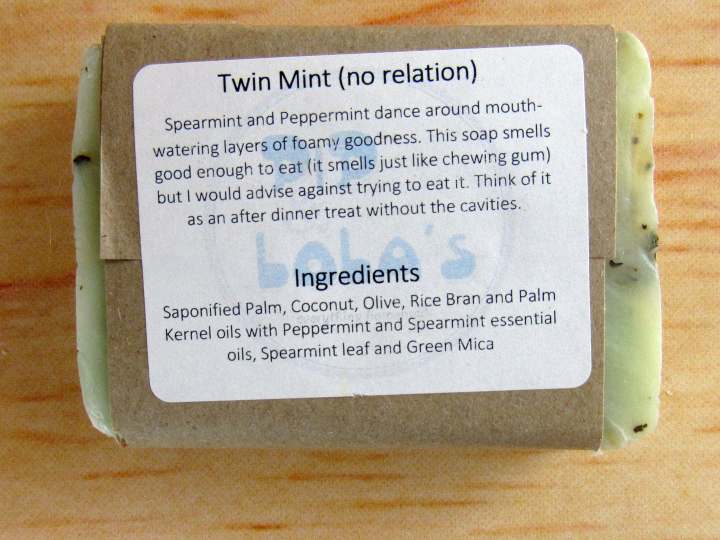 I love their description.
Spearmint and Peppermint dance around mouthwatering layers of foamy goodness. This soap smells good enough to eat (it smells just like chewing gum) but I would advise against trying to eat it. Think of it as an after dinner treat without the cavities."
The soap is beautiful and does look good enough to eat. The Pip & Lola's imprint is on one side of the soap. The soap lathered up quickly and had a light minty scent. It is a hot processed, vegan soap.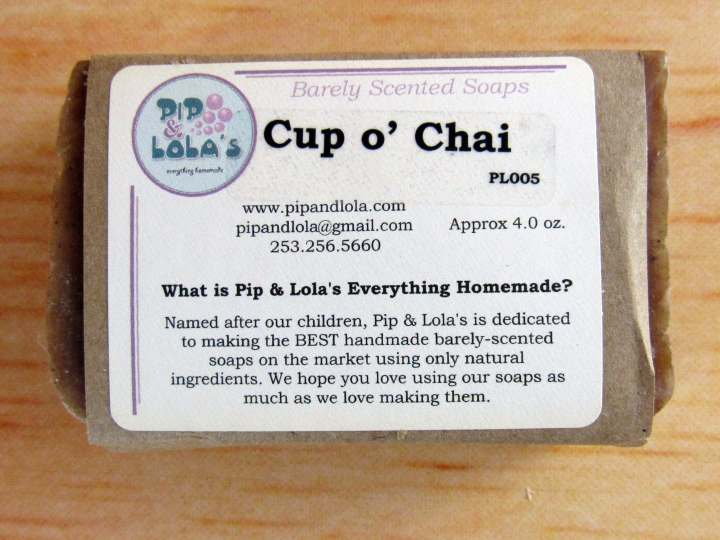 The Cup o' Chai Soap (appx 4 oz, $5.99) is the perfect soap to kick off the holiday season. It has a wonderful warm scent full of holiday goodness.
Check out this simple ingredient list.
saponified palm, palm kernel, olive, avocado,and almond oils, Chai Tea Infusion with ginger, clove, cardamon, and cinnamon powders
No wonder it smells so good!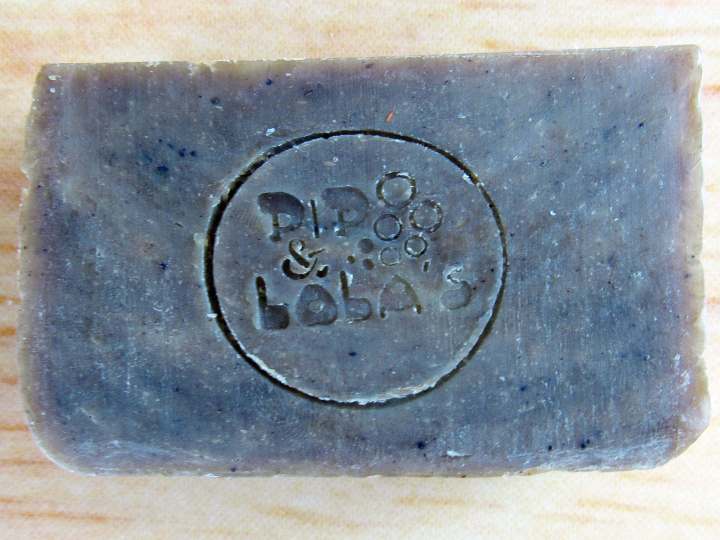 The soap is a little lighter than how it turned out in the picture. The hot process, vegan soap has the Pip & Lola's logo imprinted on it. It lathered up easily and left a light scent that I associate with the holidays, ginger, clove, cardamon, and cinnamon. My teenage son loved the scent too. It smelled manly without being overpowering.
I am excited to see samples again this month and hope it continues! The soap on the left is the Tea for Two Earl Grey Soap which is a hot processed, vegan soap with bergamot essential oils and earl grey tea leaves. It has a light, spa-like scent to it. The soap on the right is the Becca's Bees and Bovine Blend which is a shampoo bar contain cream, milk, honey, and grapefruit extract. My eight-year-old loves shampoo bars and approves. Both came packaged in its own bag with the name and ingredients clearly marked.
A brochure was included that contains information about Pip & Lola's Everything Handmade and its products.
I like that a business card is included. I like knowing who is making the soap and how to contact them if needed. The back side contains the same information that is on the Welcome to the Club Information Card.
My family has an appreciation of real soap. T, my seventeen-year-old teenager, loves this month's scents. They create a good lather, smell great, and are moisturizing. He has reminded me several times that he needs great soap when he goes away to college. The Dude Package subscription price is $6.99 + $3.54 shipping (single soaper $3.99 + $2.75 shipping,) The soaps are worth $11.98! It is an inexpensive subscription that can be sent to college students or enjoyed by your own family. It's also a great gift for soap lovers everywhere. The best part is that there are different options available to meet everyone's needs!
Did you love Pip & Lola's Everything Homemade as much as I did?
Visit Pip & Lola's Everything Homemade to subscribe or find out more!