Pip & Lola's Everything Homemade Soapy Subscription Box is a customizable soap box! First, select the "Duet Better Package" (2 soaps) or the "Soaping Solo Package" (1 soap). Next, chose one of three options. The first option is the standard option of any soap from their 100 different varieties. The second option is the dude package which contains more "man-friendly" soaps and no floral scents. The third option is the vegan package which will have soaps that do not contain goats milk, beeswax or honey in them. All options include body, facial, and shampoo soaps. Lastly, pick your payment option. Enjoy the wonderful world of soap!
Pip & Lola's has updated its subscriber options. The 'Soaping Solo Package' (single bar) with shipping included is $6.49 monthly. The original option of $3.99 plus shipping is available too. The 'Duet Better Package' (two bars) with shipping included is $9.49. The original option of $6.99 plus shipping is also included.
DEAL: If you haven't tried them out yet you can use coupon code FBSOAPLOVE16 to save 20% on your first subscription!
It's a totally T takeover! Ready to see what happens when a 17-year-old takes over a soap review?
T (age17) : Check out this video to find out what Pip & Lola's do and do NOT put in their soap.
T: Here is everything that came in the November Box. I styled the photos which my mom took for me.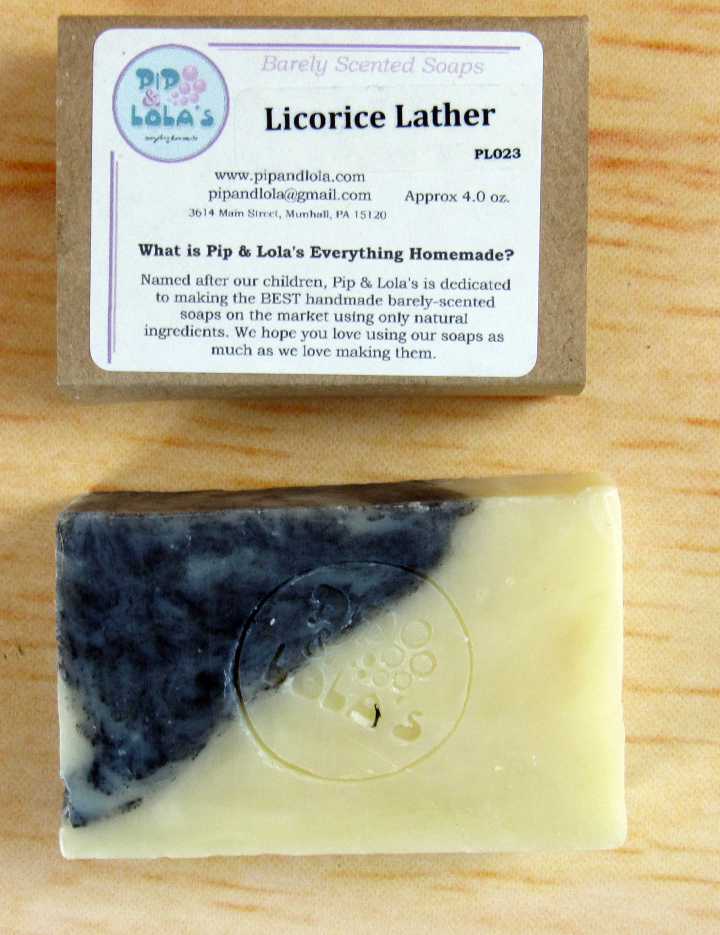 Licorice Lather Soap ($6.49) Hot Process, Vegan Soap
T: Licorice Lather – I smelled this and immediately thought of those black licorice jelly beans. I love the smell but ugh…. the taste….. please tell me I'm not the only one who dislikes them. The smell is strong, which is great. It's tough, intense, and yells masculinity. This is a man's soap and is my favorite of the 4 that came. Like any other guy, I feel more confident when I smell good, and this soap does the job well.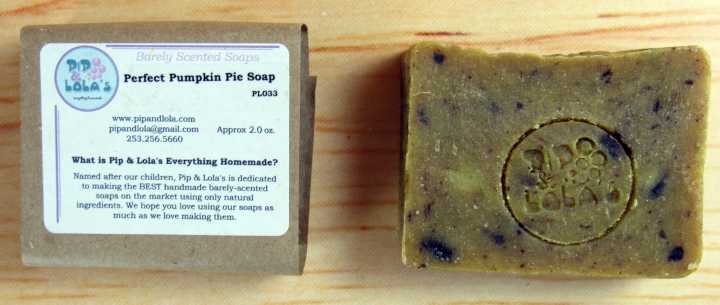 Perfect Pumpkin Pie Soap ($6.49) Hot process, Vegan
T: Perfect Pumpkin Pie Soap – This smells great. I LOVE pumpkin pie, and pumpkin rolls, and pumpkin spice anything. Match this soap with a good old fashioned flannel shirt to really get into the fall groove. Because nothing says "I'm a man" like dressing for fall and smelling like a girl's favorite part of it.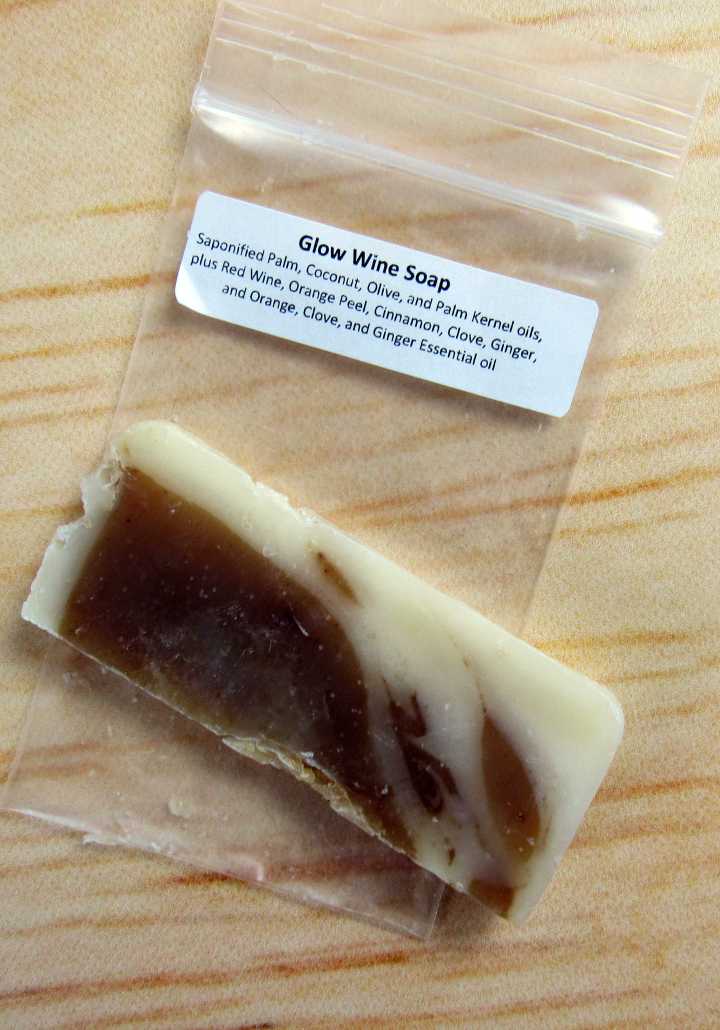 Glow Wine Soap Sample Vegan Soap
T: Glow Wine Soap – It's not booming with a masculine scent. This is the type of soap that I like to use during a post-workout rinse off to get the mud and whatever else off. Sometimes a guy just needs a soap that will leave him feeling clean, and this soap is great for that.
Sunny Side of the Street VegetarianSoap
T: Sunny Side of the Street – This soap has a low key smell. It will be good for those chill days when I lounge around in bum clothes. I like to save the stronger soaps for when I have to face the world 🙂
T: One of my biggest peeves is using soap that has a feminine smell or doesn't really have a scent at all. Sadly, that's most of what I find at the store. Body wash is good, but I don't like committing to the same smell over a long period of time. I find that doing that can get old, so I prefer to keep it fresh by changing soaps every now and again. These soaps are perfect for doing just that, since they last roughly a week and a half. Add in the variety of manly scents, and you simply can't beat it.
Did you love Pip & Lola's Everything Homemade as much as I did?
Visit Pip & Lola's Everything Homemade to subscribe or find out more!