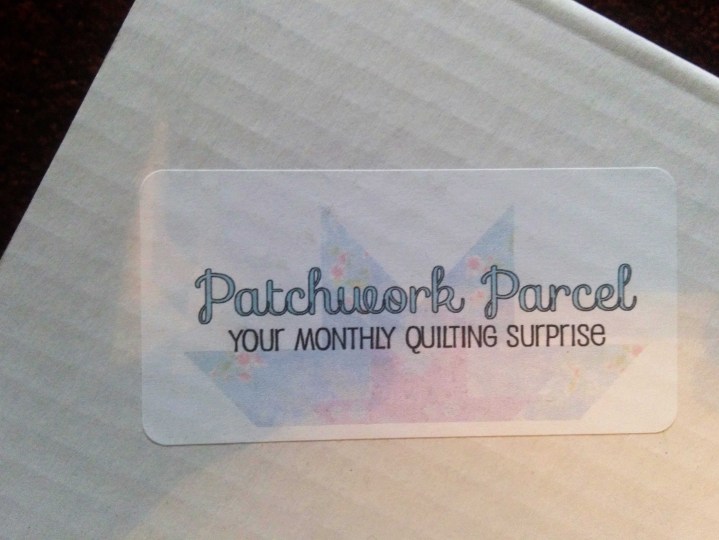 Patchwork Parcel is a monthly quilting subscription box that provides you complete project kits. Each month's box is curated by Elaine, the owner of Patchwork Parcel. She carefully chooses quilt shop quality fabrics, patterns, and notions for each box.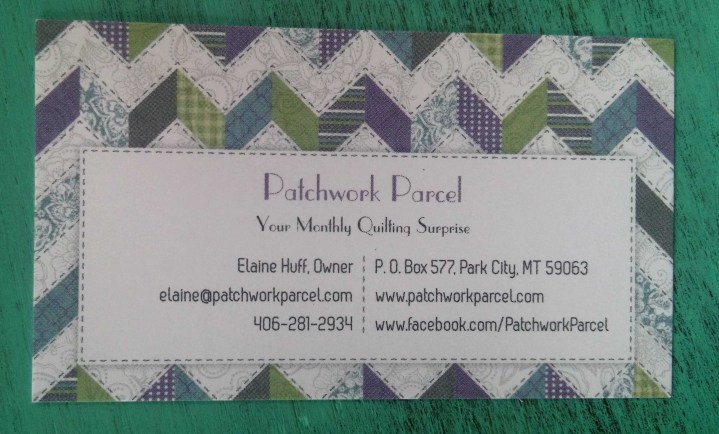 DEAL: Take $10 off your first box. Use coupon code 10OFF.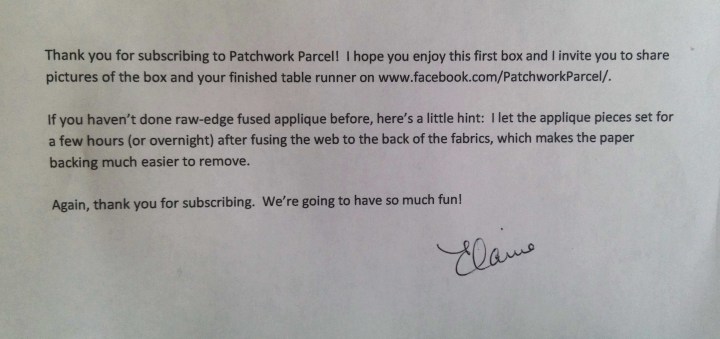 This personal note from Elaine, the owner of Patchwork Parcel greeted us when we opened the box. She invites subscribers to share pictures of their projects on Patchwork Parcel's facebook page. And gives us a helpful hint about applying fusing web to applique pieces.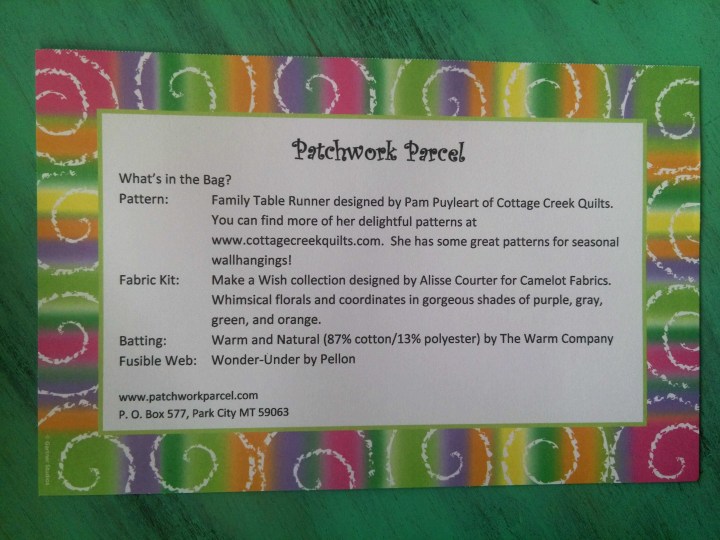 Each box contains all the materials that you need to complete a small quilting/sewing project, including fabric, batting, pattern, backing and special notions.
This product information card was in the box and elaborated on the details of the contents.
All the fabric was neatly packaged and protected in this reusable fabric bag. I love that it is reusable instead of disposable.
All of this was in this box. It's everything you need to complete a quilted table runner.
Patchwork Parcel Subscription Box is $39.95 a month. "Every month you will receive a pattern, batting, any special notions, and all the fabric (including backing) needed to complete a small quilting/sewing project – delivered to your door!"
They also offer a subscription box called Simple Whatnots Club for $34.95 a month ($44.95 with backing and batting).  "Simple Whatnots Club is a 6-month program designed by Kim Diehl and uses her latest fabric collection "Welcome Wagon" for Henry Glass Fabrics. Each month you will receive fabric and pattern to make a small, traditionally-inspired quilt (some with appliqué) using modern techniques for an ideal blend of simplicity, ease, and charm. Kit includes fabric for the top and binding, pattern, and any special notions needed."
This was the pattern for our table runner. It was designed by Pam Puyleart of Cottage Creek Quilts and came neatly packaged in plastic for future storage.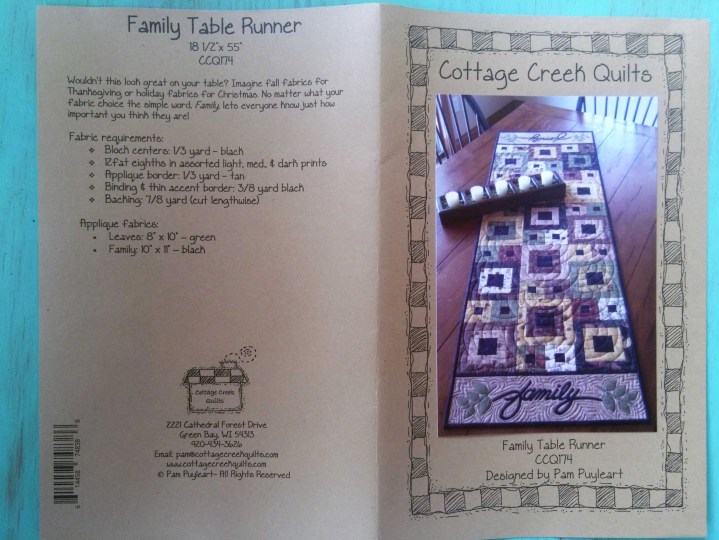 The pattern cover had a nice picture of a completed example (different fabric) and the back had a list of fabric requirements.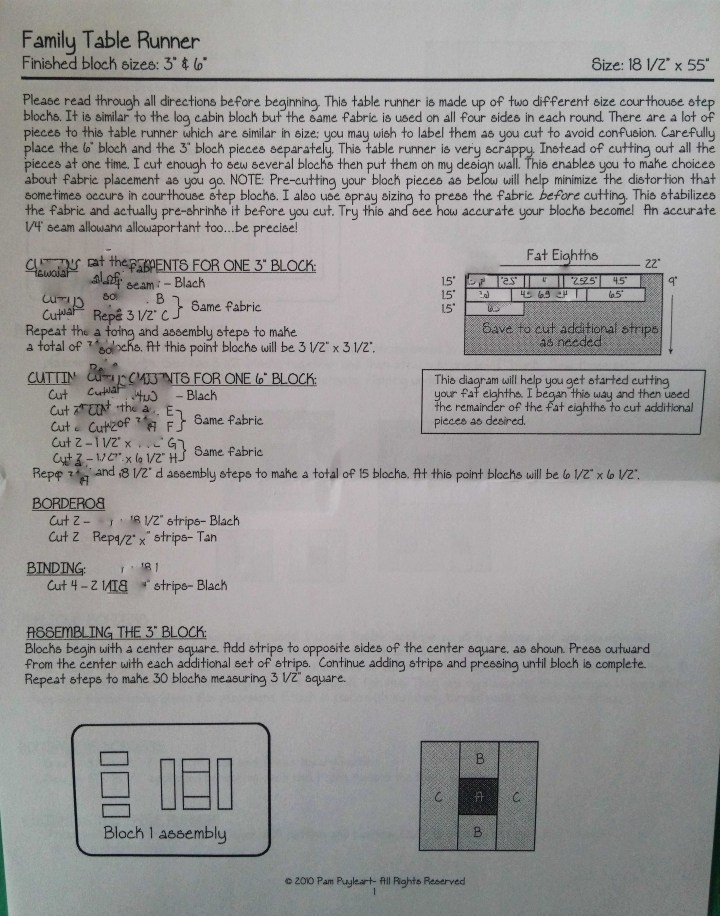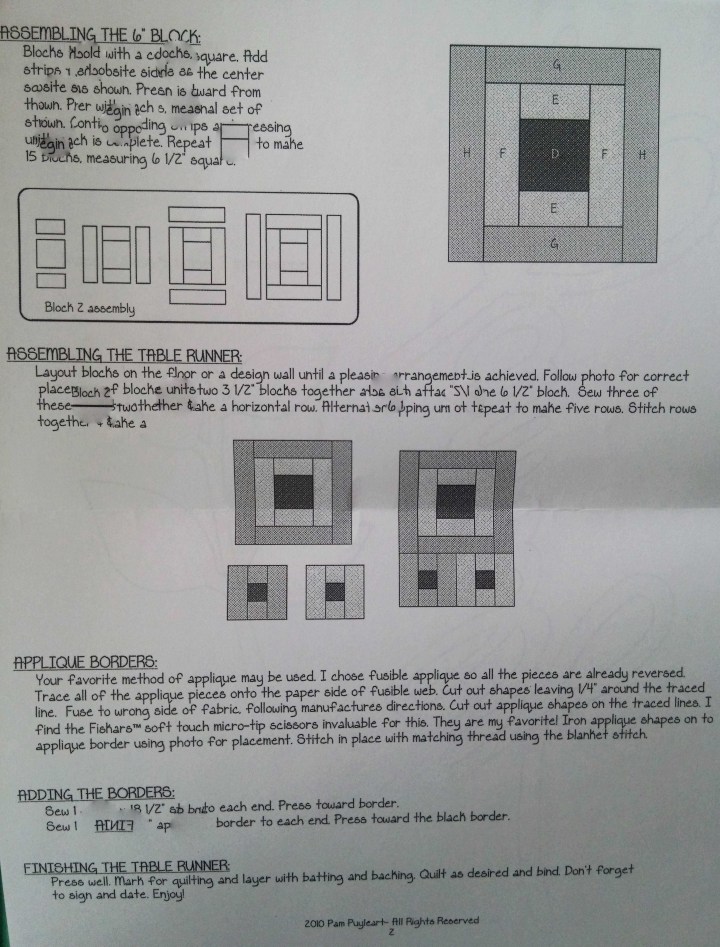 The pattern was detailed and clearly illustrated. (I blurred out some of it.  orry, you'll have to order the box here to get a copy.) The third page of the pattern was a traceable for the applique portions of the pattern.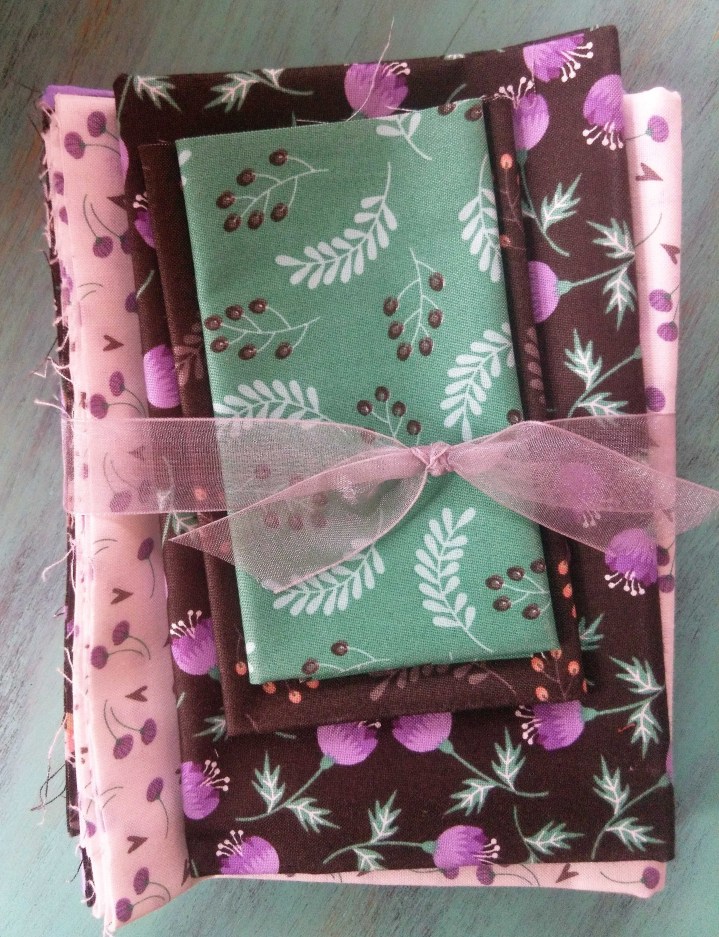 The fabric kit was neatly tied with cute lavender ribbons and included fabrics from the Make a Wish collection designed by Alisse Courter for Camelot Fabrics. "Whimsical florals and coordinates in gorgeous shades of purple, gray, green and orange."
I really appreciated that each piece of fabric was labeled for its specific purpose so I wasn't lost to guess work. They even included the fusing for the applique pieces.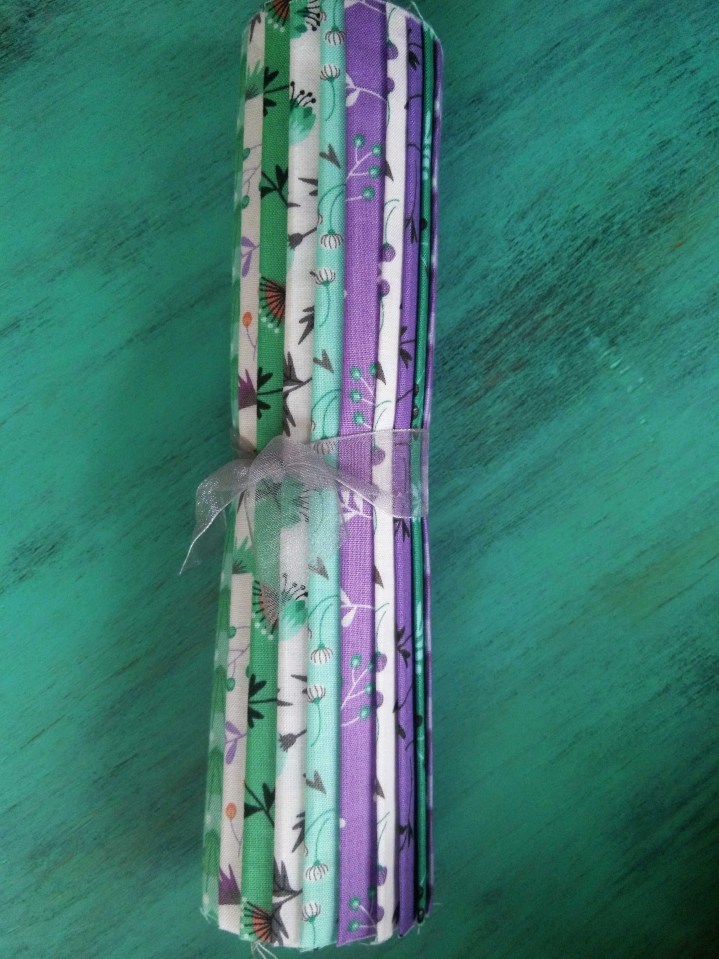 This roll of fabric is used to make the outside pieces of the log cabin blocks. You have some freedom to choose the layout here.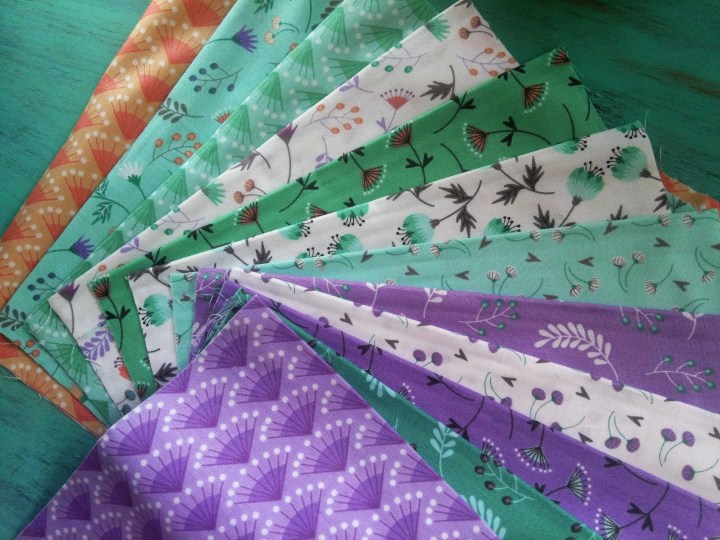 The fabrics were gorgeous and coordinated perfectly. I love the colors! Did you notice that they match the table that I am taking the pictures on? Love it!
The batting is Warm and Natural (87% cotton/13% polyester) by The Warm Company. I love cotton batting, it makes a quilt carry weight and lay better than 100% polyester batting.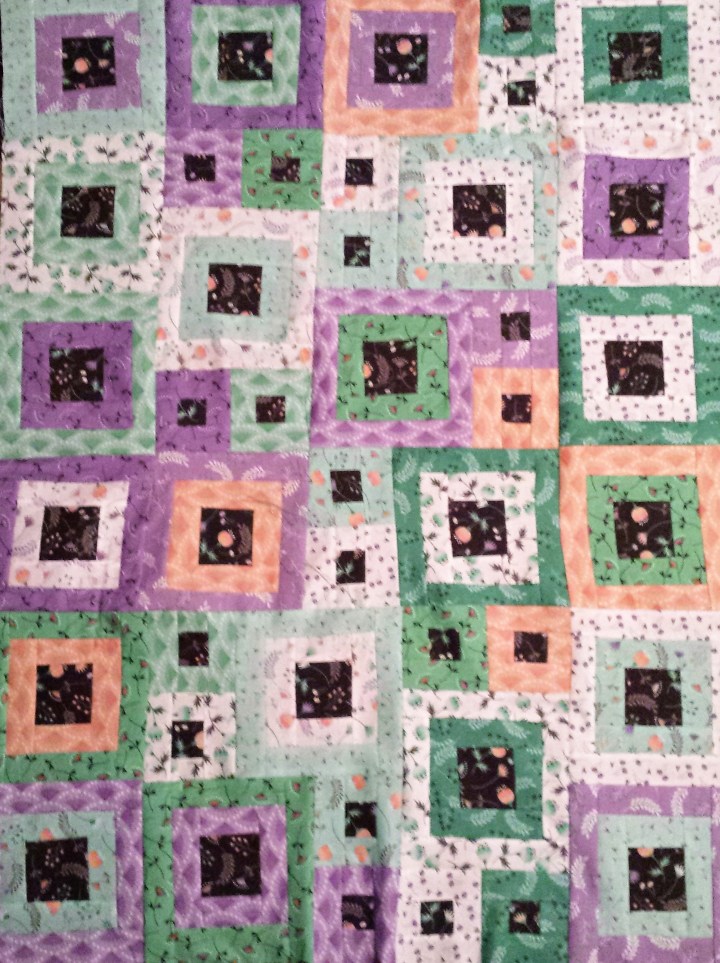 So, I have made three or four very simple, no pattern quilts before. But, this was my first time following a pattern (kind of). I say "kind of" because I changed it to be a baby blanket rather than a table runner because I have five kids. The table is never not occupied long enough for a decorative table runner and they would spill something red on it the moment I put it on the table. The squares are made as instructed in the pattern and there was more than enough extra material to expand the width and make it slightly larger for a blanket. This is the pieced quilt top. It's not perfect, but I think it turned out lovely.  The colors work perfectly together.
I thoroughly enjoyed the Patchwork Parcel Subscription box.  The pattern was challenging to me (as a novice quilter), but not un-doable.  The premium quality fabric was beautiful and a delight to work with.  And, the colors were simply lovely.
Have you ordered the Patchwork Parcel Subscription Box?  What lovely project did you make?