Love with Food's theme for November was Love is Food! Love With Food is a fun snack discovery subscription available in three versions: classic tasting box, deluxe/family size, and gluten-free. We purchase the Deluxe box, because we have a big family and more snacks = more fun!

For 2016, each month of Love With Food will feature a "Love Is…" theme! FYI, you can see our reviews of all 3 varieties of Love With Food boxes here.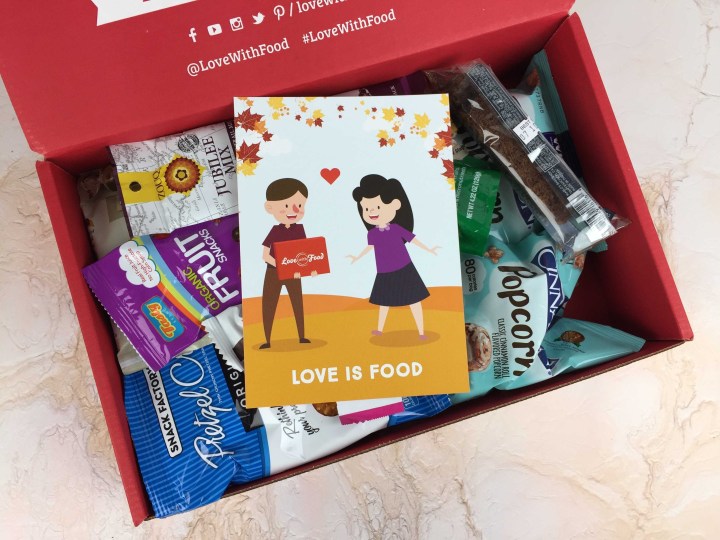 DEAL: Use this link to save 25% on your first Love With Food Deluxe box! Or on your first month of the Gluten-Free box!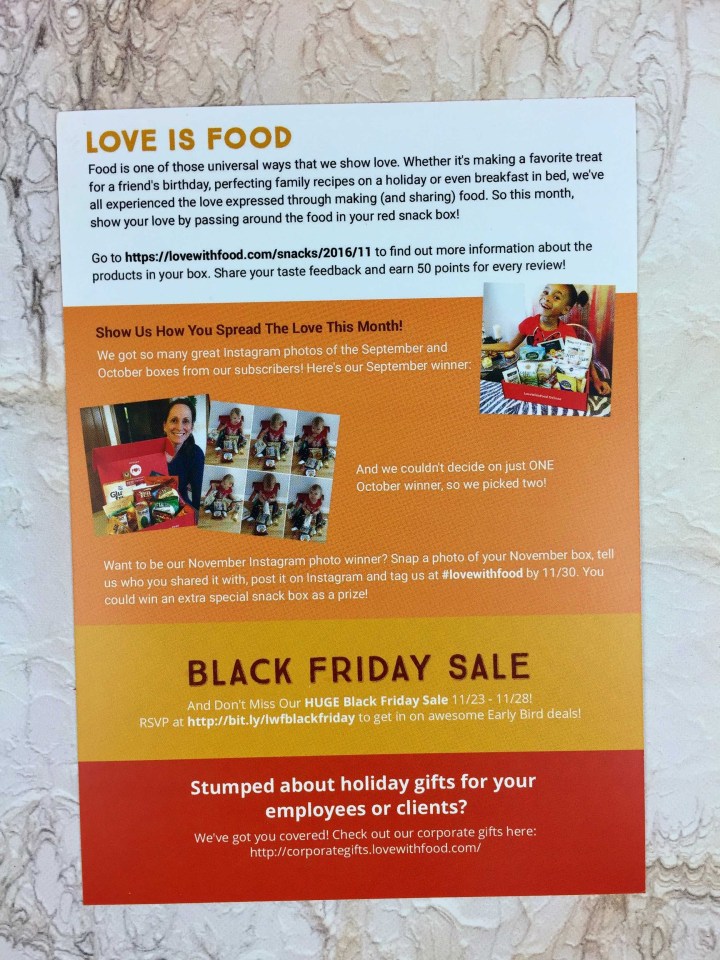 The information card no longer lists the individual items, which was a bit of a bummer because it had a nice information key for all the items.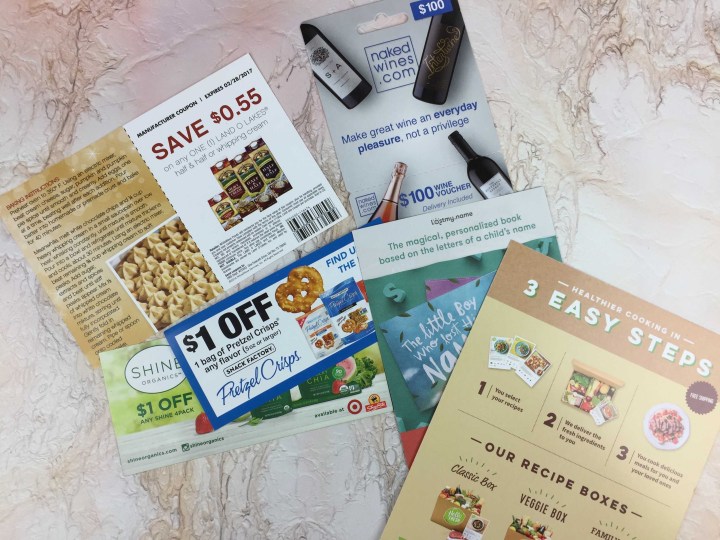 There were a ton of coupons in the box! My favorite was the 55 cents Land o Lakes whipping cream – I will use that at my grocery store that doubles for whipped cream for pie!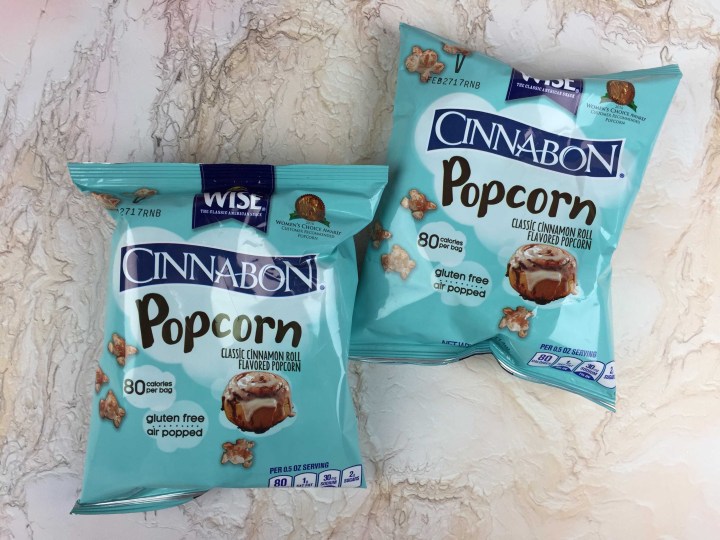 Wise Snacks Cinnabon Popcorn ($0.50) From my middle child: It was yummy and it had some cinnamon on it. It was just the right sweet.
PB Thins Peanut Butter Crackers ($1.02) PB Thins are from the makers of PB2 and these are little almost-cookie like crackers. They have great peanutty flavor and we are big fans!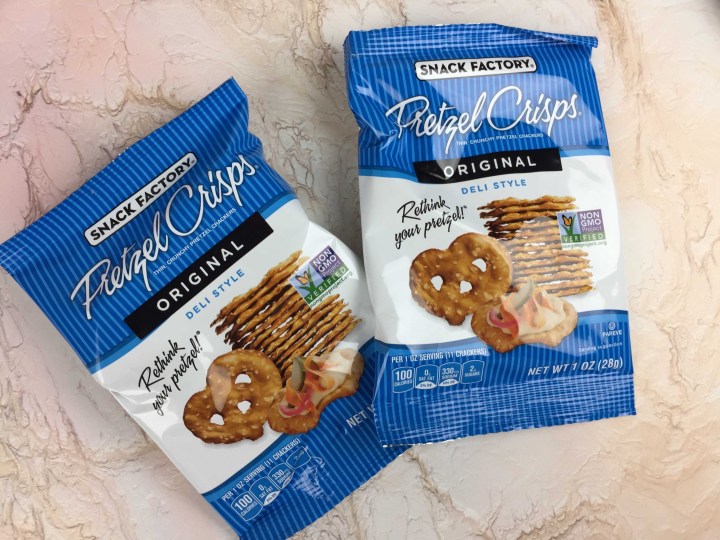 Snack Factory Pretzel Crisps: I think this is pretty much my new go-to party dipper. I love the pretzel flavor and the crisp crunch. Original is great but I would have liked to see some flavor varieties in this box too.
GoOrganic Chocolate Ginger Chews: Absolutely nobody could get behind the flavor of these chocolate ginger chews. The adults were not impressed and the kids… well, they didn't finish the candy!
Shine Fruit/Chia Squeeze Packs ($1.69) Squeezy pouches for grownups! These are made with apple, guava, kale, strawberry, parsley, and chia, and as a result pack a lot of flavor, protein, and micronutrients!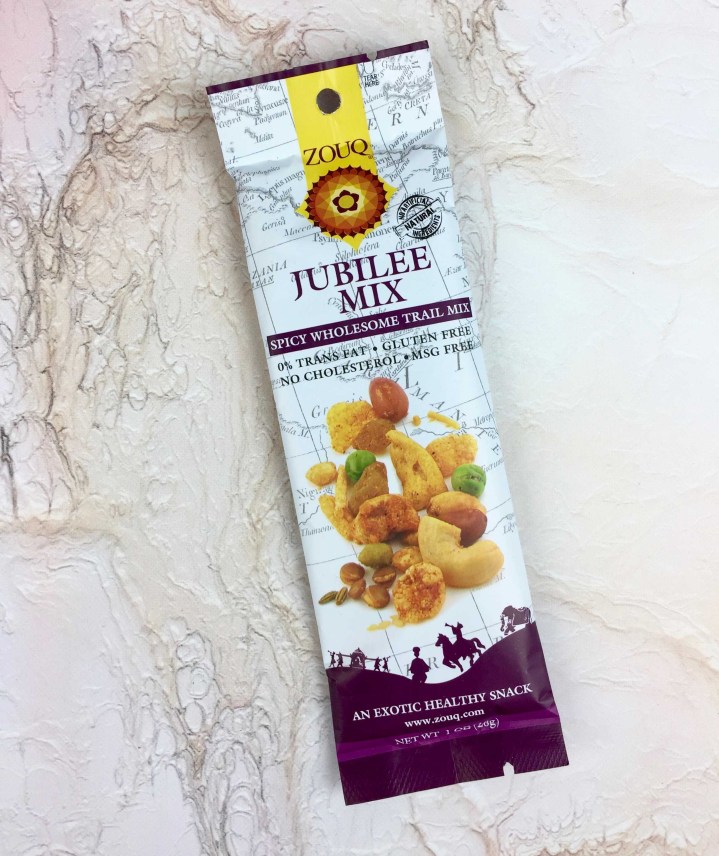 Zouq Jubilee Mix ($2.04) This crunchy and spicy snack mix is one of my husband's favorites, so I'll have to save it for him. He loves the nuts, peas, and lentils combined with the fennel seeds. It's such a unique flavor and texture combo!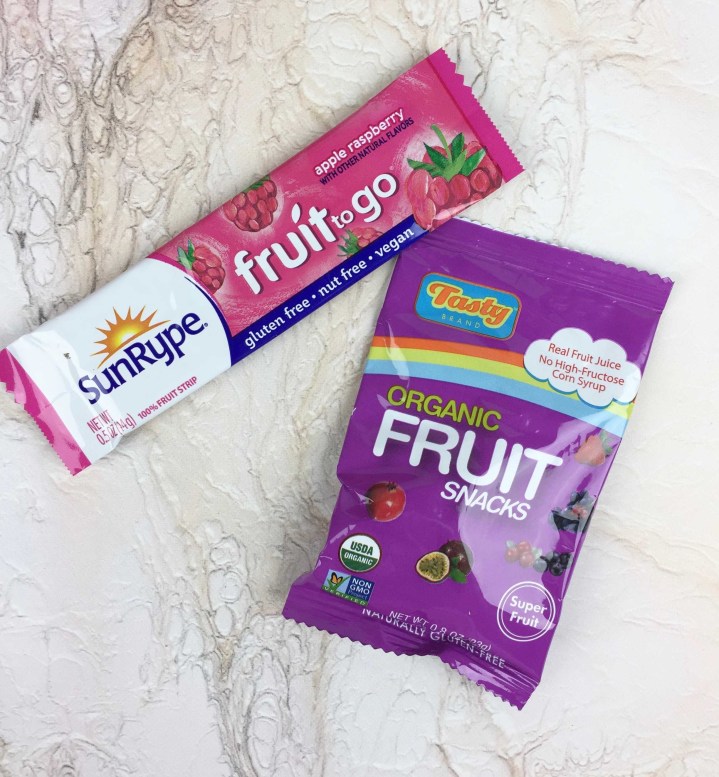 SunRypeFruit To Go Strips: These 100% fruit strips are always a hit with the kids. I haven't tried this one, it went in the kid trial bucket. They definitely let me know when we get something we must have again! Getting this box is a really nice way to try new lunchbox-friendly goodies.
Tasty Brand Fruit Snacks: These are organic, and I appreciate that they're made with fruit juice and no HFCS. Mom-me says "these are candy!" Treats loving me says she wants to eat them. But mom me puts them in the kids' bucket – they love them – but I wouldn't rebuy! These two treats illustrate my line between grudging acceptance and nope they're candy. My children are thrilled when these show up because I don't buy fruit snacks.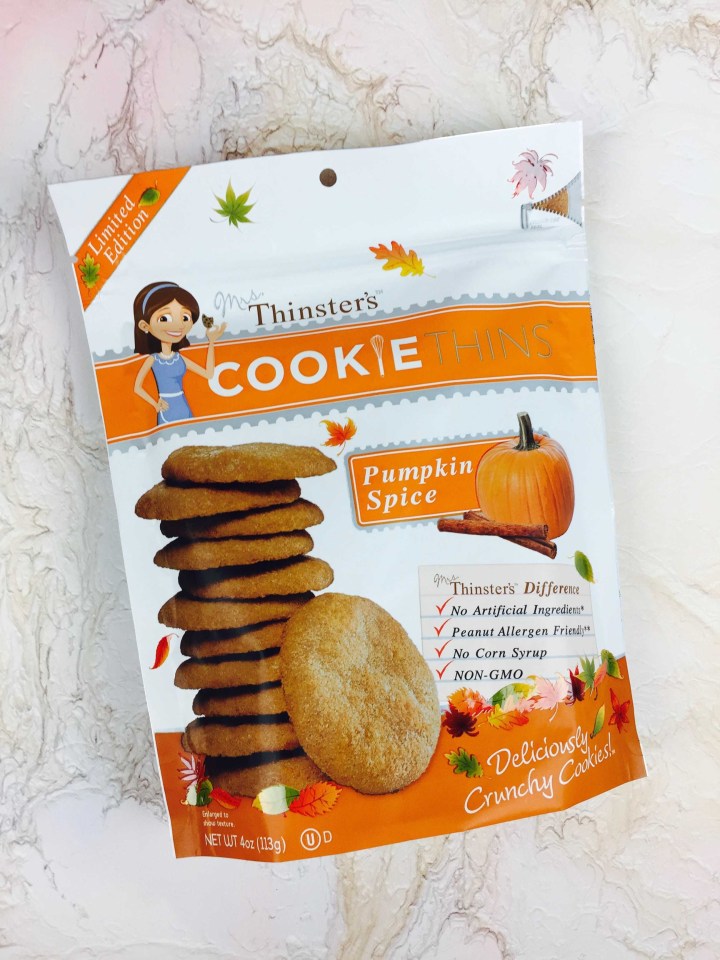 Mrs. Thinsters Cookie Thins: These on the other hand, I would rebuy (I'm down with cookies, it makes no sense!). I saw something similar at the grocery store and I wasn't sure if I would like them, but the proof's in the crunchy tasty cookie – they're fantastic! Yay for pumpkin spice season!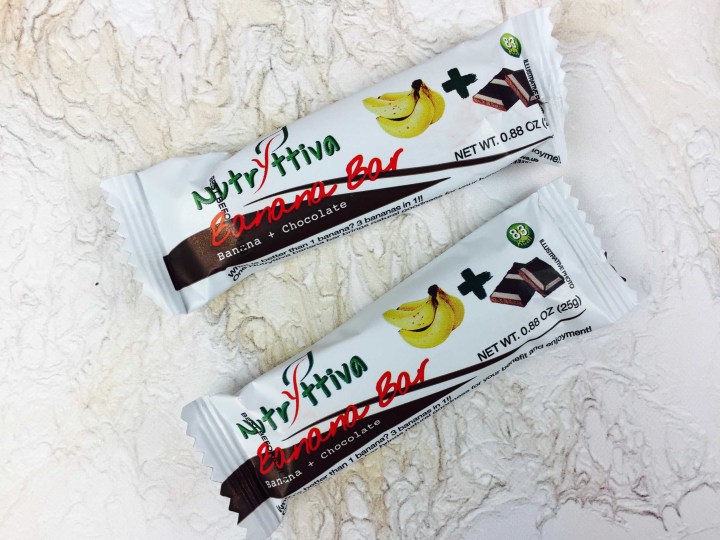 Nutryttiva Chocolate Banana Bar ($1.60) We've had this 100% natural banana bar before, but this one is covered in chocolate! It's 3 bananas in one, making it an excellent choice for people who need a natural K boost in their diet, or who just love bananas. My middle child and I fall in the obsessed group and we agreed to share these! Delicious!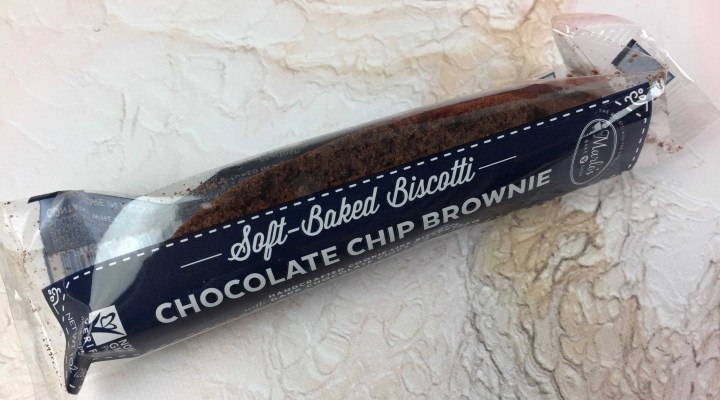 Marlo's Bake Shop Chocolate Chip Brownie Biscotti: Marlo's Bake Shop items are made in northern California with Fair-Trade chocolate and locally-sourced ingredients. This one is great to eat with a coffee or tea on a crisp fall Saturday morning!
I really liked the selections this month! Only one item (the ginger chocolate) was a no-go for our crew. We think this is a fun, family-friendly snack discovery box. In our experience, the value of the box runs about $15, lower than the cost of the box, but we review our items for points and have an annual subscription, which brings the cost down to $16.50 per month. For that price, we find this box more than palatable, and we love finding new snacks to share and enjoy together (or keep to ourselves). This is a box that always brings us together in one way or another and of course Love With Food donates meals to charity with each box purchased.