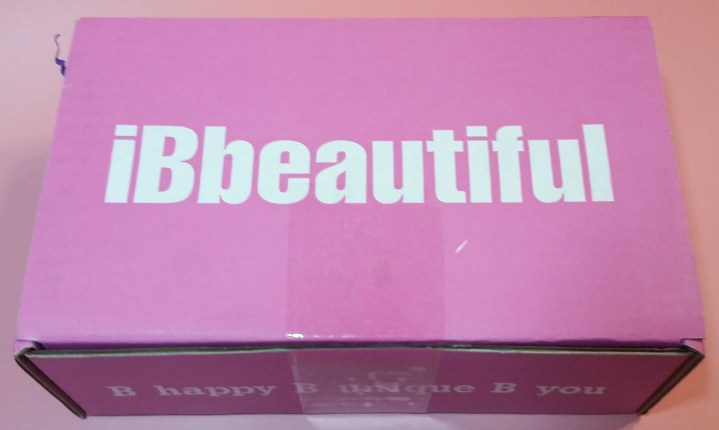 iBbeautiful is a subscription box for teen and tween girls with inspiring accessory and beauty products, plus a positive message! iBbeautiful wants to help girls be confident, smart, brave, unique, and kind. You can choose either tween (8-12 years old) or teen (13+). You also can choose between a basic box (no tee) for $20/month or a graphic tee box for $30/month.
This is a review of the graphic tee teen box. I reviewed this box with both my daughters – aged 14 and 11.
This month's box is exploding with fun stuff! Plus there's always a great motivational phrase on a placard inside the box – "Own who you are!"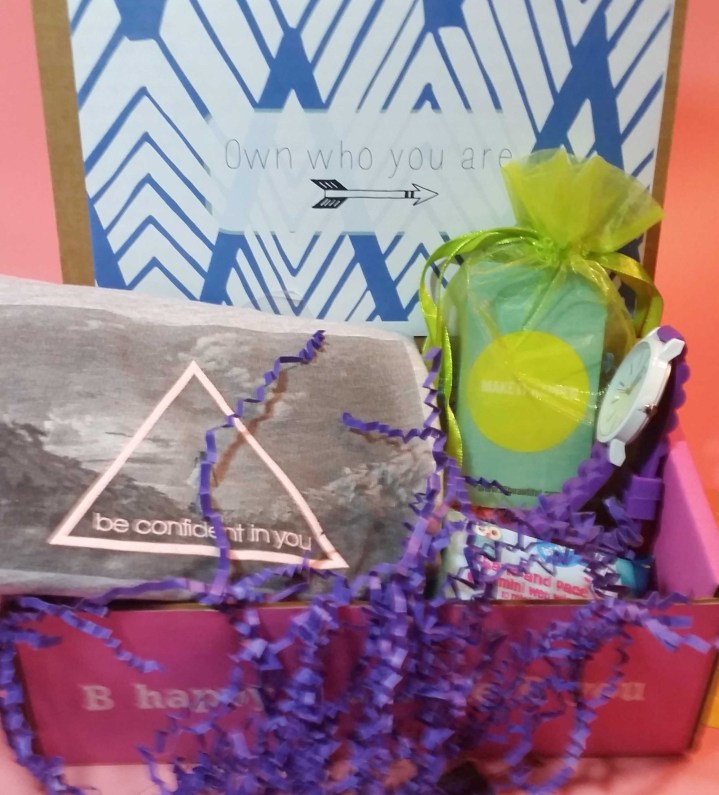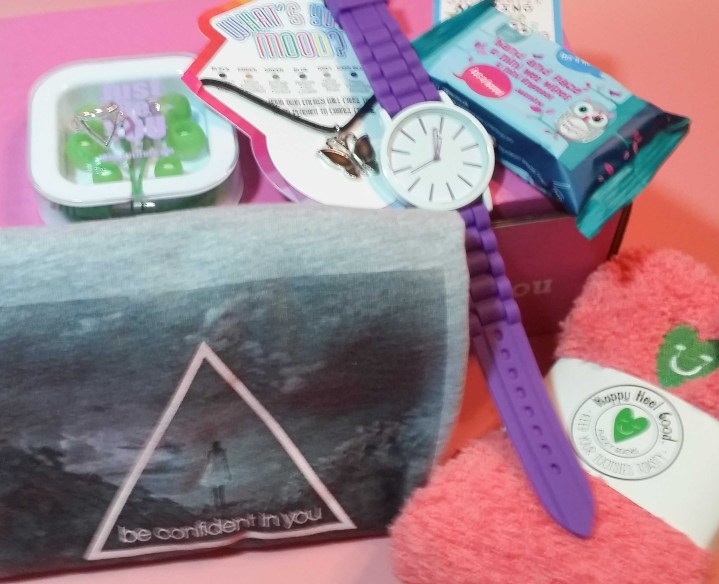 Here's a look at everything in this month's box – so much fun stuff that my daughters (and the camera!) couldn't figure out where to focus first.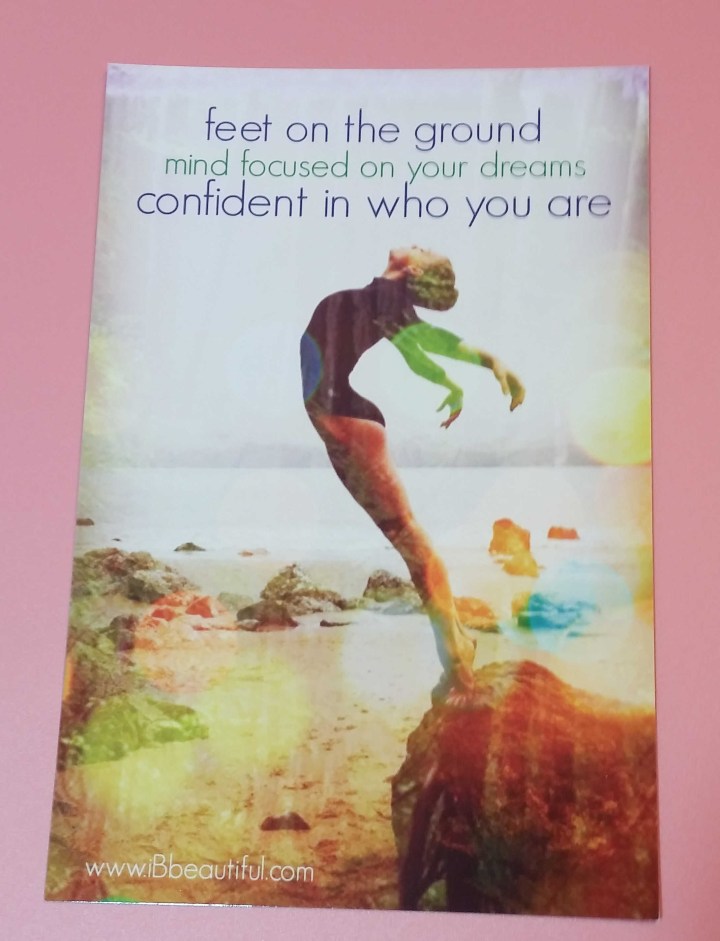 Each month includes a beautiful postcard to bring home the theme – this month's theme is about "being a triangle." The gorgeous image hints at the "triangle" theme – feet on the ground, mind in the sky!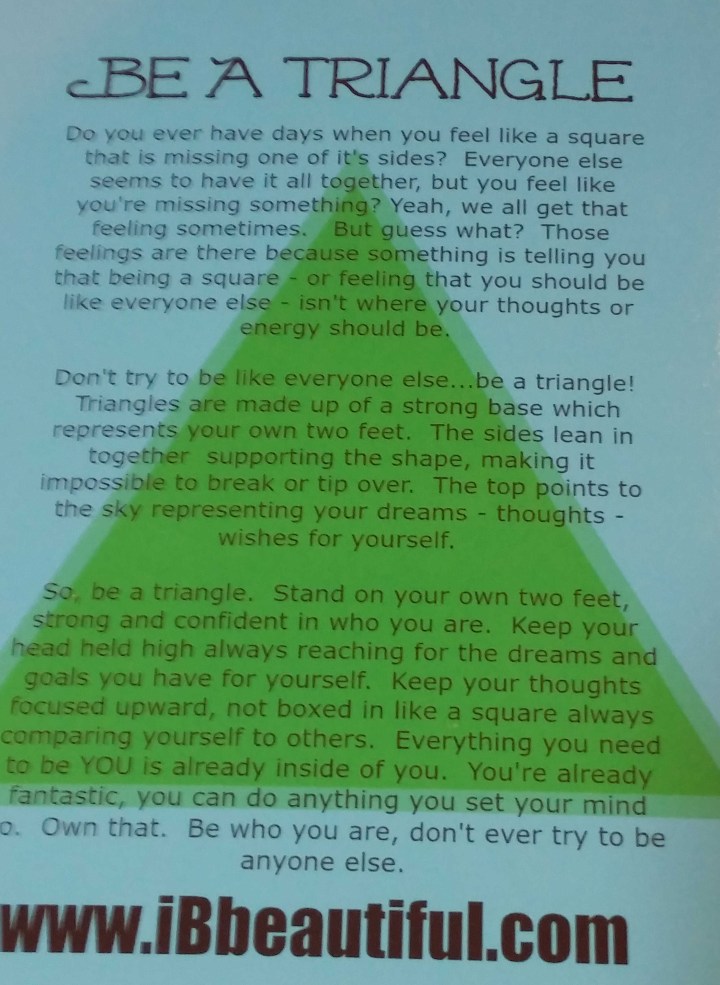 The back of this month's postcard explains the "triangle" message in more detail. I love these motivational message postcards – the front side is pretty enough to frame or hang up, but there are important lessons to be learned from the postcards too.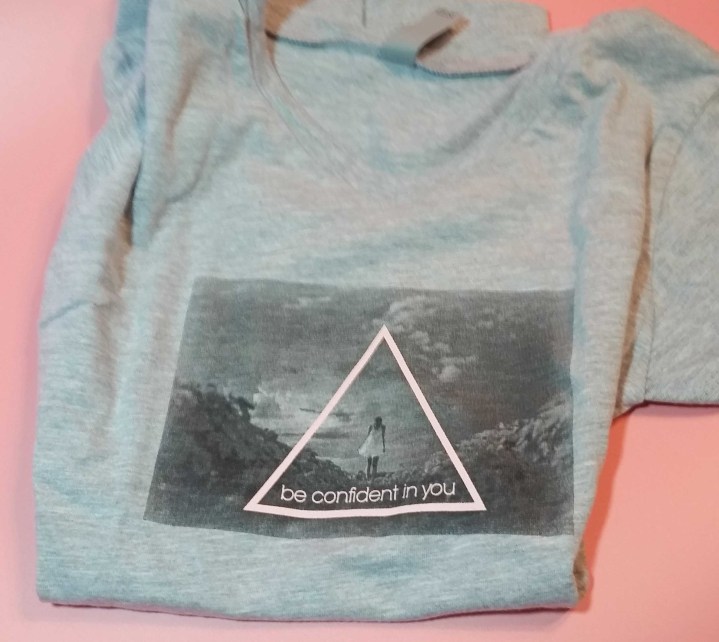 T-shirt: As I mentioned above, you can either get a basic (no t-shirt) subscription or a graphic tee subscription. This is the shirt that was in this month's graphic tee subscription box. The shirt is a nice medium-weight heather grey tee and the image is just perfect for the "triangle" theme. My younger daughter just loved this shirt – the pretty picture, the good message, and the grey tee.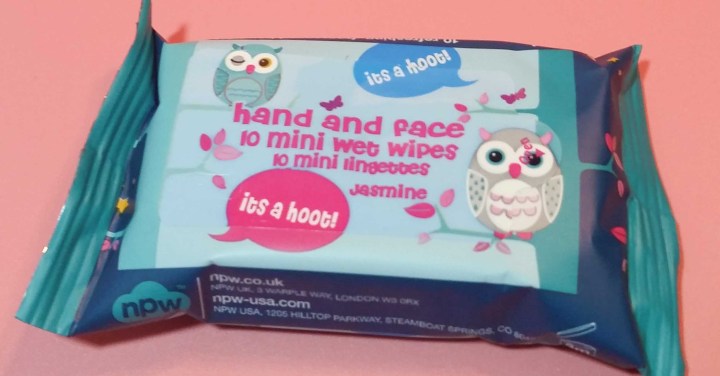 Mini Wet Wipes: A fun, and totally useful, item – mini wet wipes! These have a nice jasmine scent and cute owl packaging, perfect for school lockers or gym bags. My active girls can always use wipes like this for a quick freshen up.
Triangle Ring: Inside the little mesh bag there were two fun things – a fun little ring and a great motivational card. (I'm sure the ring is supposed to be the real item, but the message on the card is so great and it's a perfect size to keep in a purse or pocket… I loved it too.) Anyway, the ring is a delicate little triangle – again, just spot-on for this month's theme!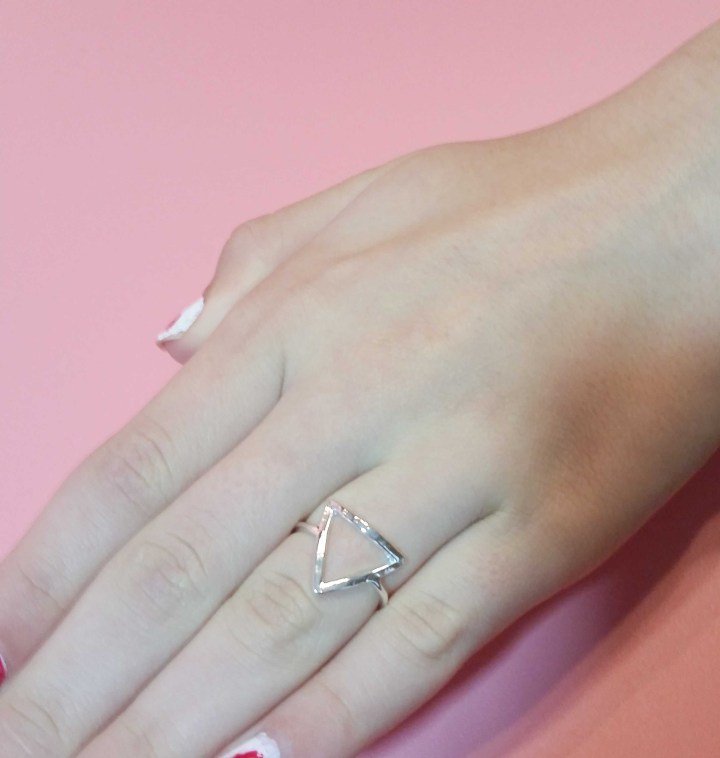 Here's my younger daughter modeling the ring.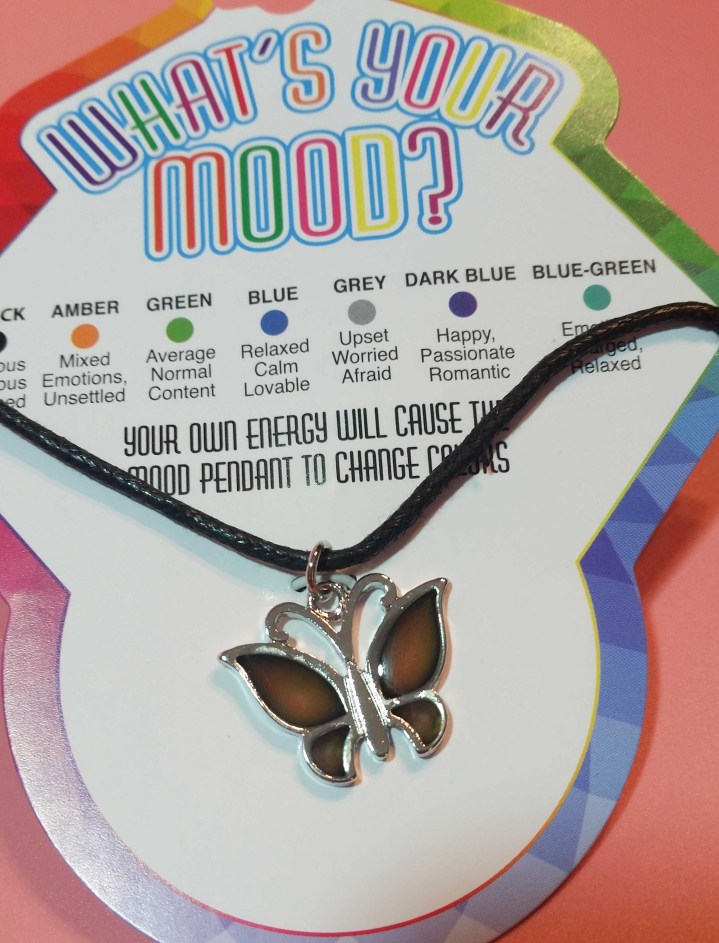 Mood Butterfly Necklace: Mood rings and necklaces are always fun – and this one, a butterfly pendant, is pretty too. Again, my younger daughter thought this item was great. She loves butterflies and has a bunch of mood rings, so this was right up her alley.
Lime Green Ear Buds: What a perfect item for teen and tween girls – we can't keep enough earbuds around our house for all our electronics! Honestly, we could get a set of ear buds every month and we still would be scrambling around the house looking for them when we need them. In addition to being super useful, these are especially fun because they are lime green. They come with different sized buds and have a nice little plastic box to store everything (that also has a great message – "Just Be You").
Purple Watch: This is a fun item – the bright purple band with the simple face is so cute! Neither of my girls are watch lovers… I suspect they can't actually tell time on an analog clock face. Do they even teach time in school nowadays? Anyway, this watch makes a perfect accessory to go with all of the girls' fall clothing – even if they don't use it to tell time.
Fuzzy Socks: Quite honestly, this item was the biggest hit in this month's box. (My kids are weird, maybe.) Anyway, these socks are so soft, so fuzzy, and so warm – perfect for hanging out around the house in the fall and winter. Plus the little green smiley heart just makes you smile too. We all totally loved these socks.
iBbeautiful is a great box for tweens and teens.  Every box includes positive messages that are presented in ways that teens and tweens can really embrace them, plus all of the items are fun, cute, usable, and totally age appropriate. Everything in this box will get used many times over (even if they won't use the watch to tell time!). My girls love iBbeautiful – your daughters probably will too!