Horror Block is a monthly subscription box filled with some awesomely gruesome horror toys and collectibles. The Horror Block box ships at the end of the month, so this is the October Box. My whole family loves this box even my boys who haven't seen any of the shows and movies represented but they love that the items are spooky and scary. We have a new box design this month! The boxes used to be dark and black and this month it is nice and bright and white.
Even the side of my box is labeled.
DEAL: Grab 15% off your first Horror Block with coupon code HELLOSUB16, or save even more with a longer subscription. Enter this code right after pressing the big green review order button.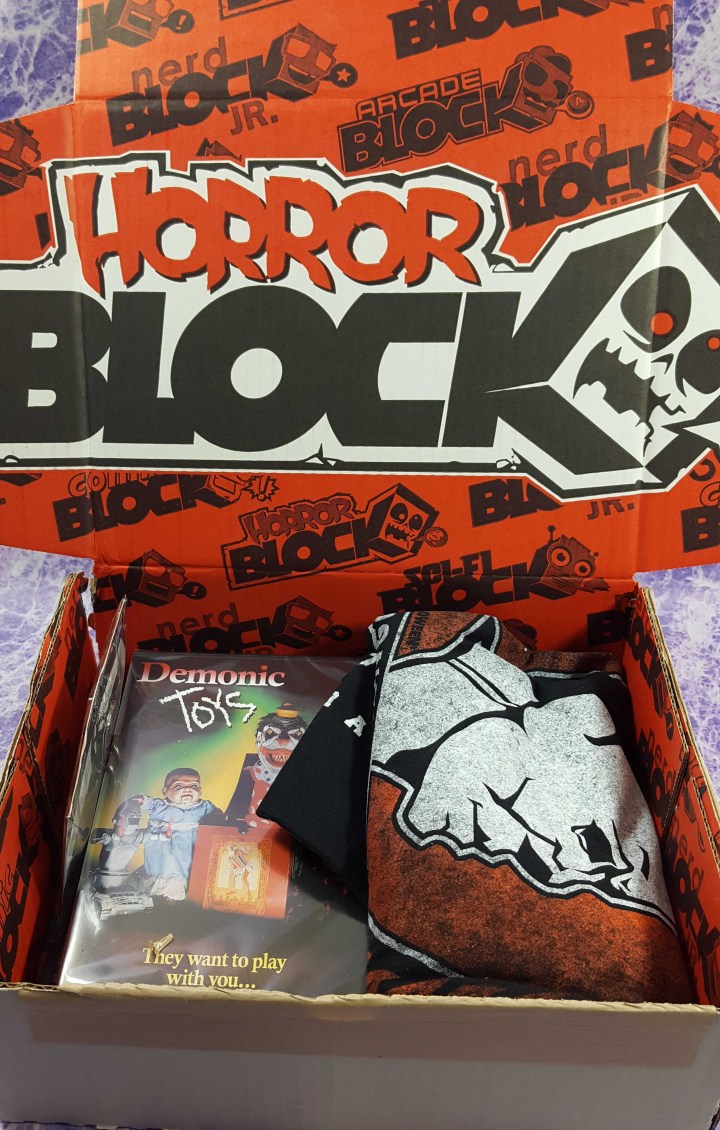 First look into the new box and I was freaking. I do not like when inanimate items come to life and the movie on top looks just like it. I mean not all toys can be nice and happy like in Toy Story so this was a bit creepy.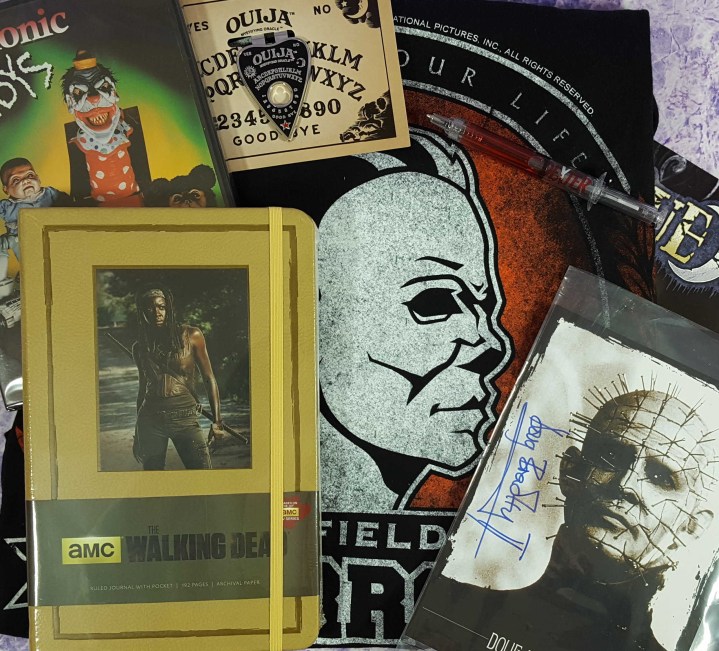 Everything that came in my October box. Each month we will get at least 5-6 horror related items. This month we actually got 7 items which is pretty great and very exciting.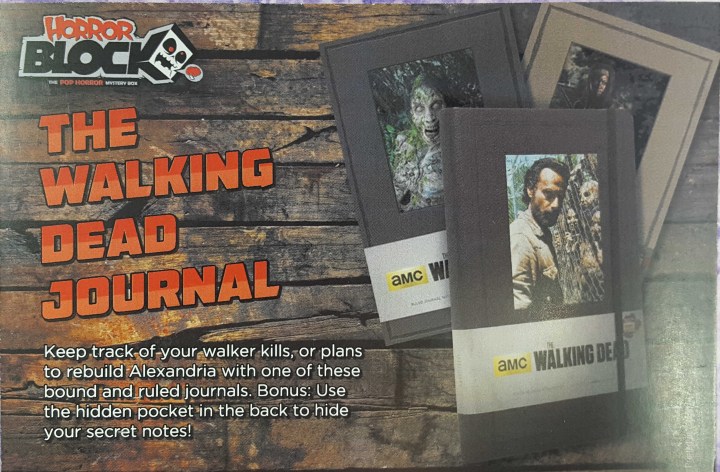 The front side of the information card.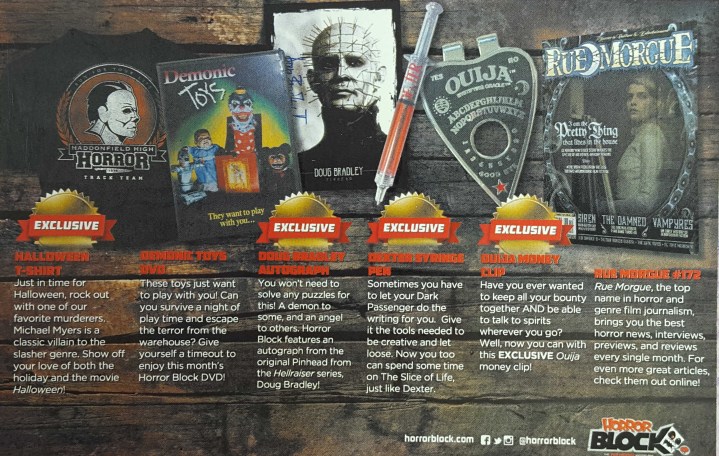 Back side of the card and all of the descriptions. Horror Block has great information cards. They are informative but they also have fun with their descriptions. Make sure you read through them all. With all of the items this month, the back is really full of information.
Rue Morgue  ($9.95) – Last month we got a book but this month we are back to the monthly magazine. I actually love reading real magazines and books so I go through these each month and devour all the goodies inside.

Walking Dead Journal Michonne ($18.95) – I love the Walking Dead and I love notebooks and journals so this is a great one for me. I can't wait to use it in the new year when I start a new notebook. Even the back shows Michonne's weapon of choice the katana. See below.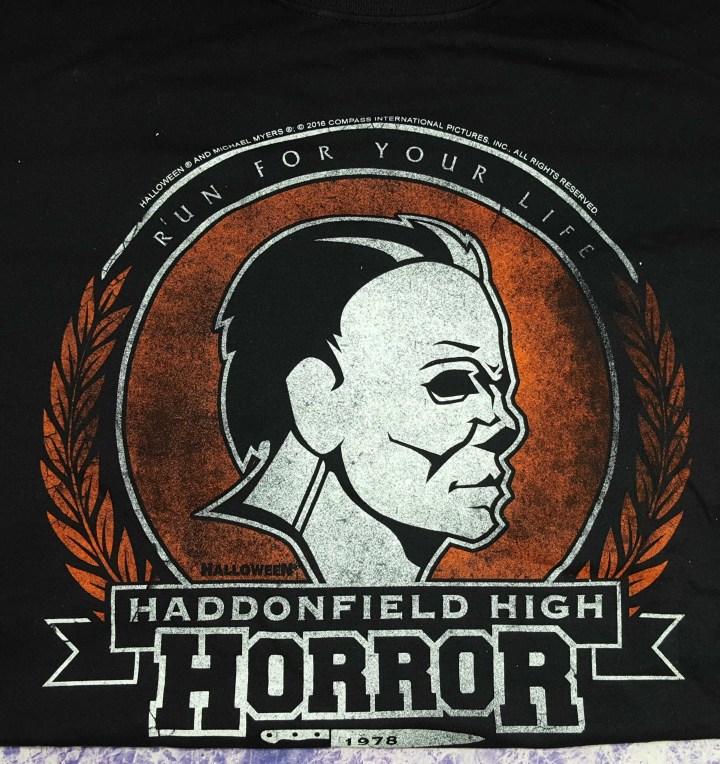 Shirtpunch Halloween T-shirt (This is an exclusive but other Shirtpunch shirts go for $19.99) – Halloween is a creepy movie and I remember watching them as I was growing up with my friends. They seem pretty campy when I watch them now but back in the day, they scared the bejeebus out of me.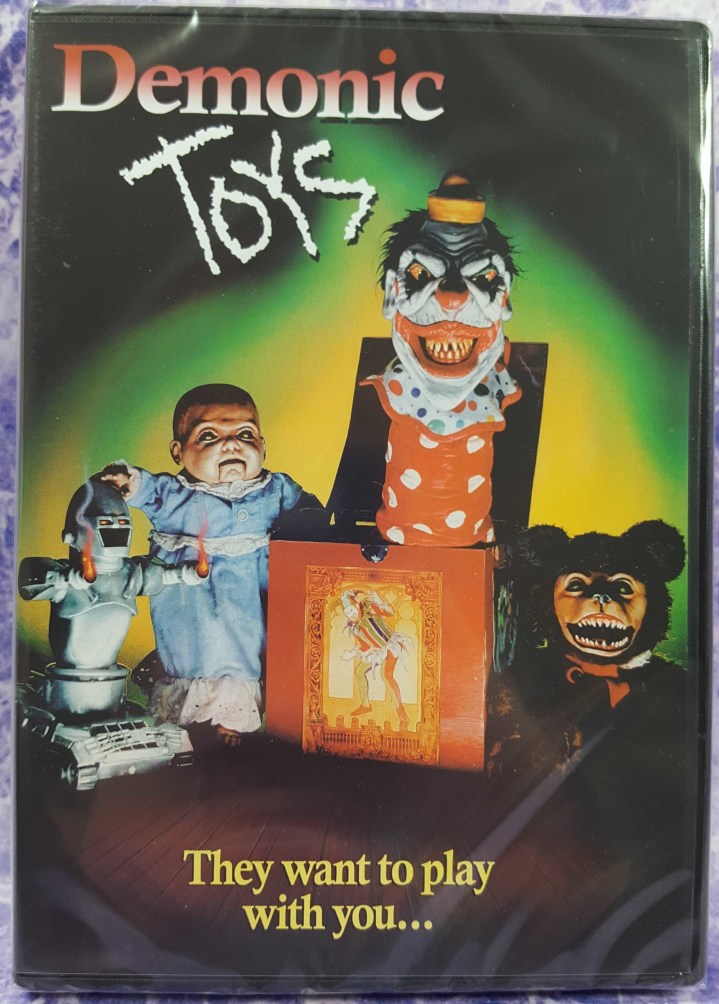 Demonic Toys DVD ($6.50) – We've been getting a lot of movies in this box recently, but this is the first DVD they have sent. They normally send a Blu-Ray and really I think that in today's times if you are going to send a movie it needs to be a Blu-Ray. With that, I'm not big on toys coming to life since they aren't all happy toys so this is a no-go for me.
They're cute and cuddly by day, lethal demons by night. Ruthless killing machines come alive for just one purpose…death. And for five adults in an abandoned warehouse, every child's worst nightmare has become a deadly reality… While on a stakeout, Judith Gray (Tracy Scoggins), a beautiful, tough cop, is trapped inside a warehouse full of toys. But these are no ordinary playthings – they have been awakened to murderous life by a strange child of darkness, The Kid (Daniel Cerny). Each toy feeds on blood: Jack Attack heads straight for the throat, Grizzly Teddy is not afraid to show its claws, and Baby Oopsie Daisy is truly to die for. Now it's up to Gray and a passing delivery boy, Mark Wayne (Bentley Mitchum), to stop the deadly, DEMONIC TOYS!
Doug Bradley Autograph a Pinhead from Hellraiser – Autographs always feel so exclusive and exciting to me. I've gotten many from different conventions so I will add this to my set. The autograph came with a card of authenticity so that you can keep it all together to prove it for future reference.

Dexter Syringe Pen – Should I admit that I've never watched Dexter? I've read articles about it and I know the premise but I've never watched. Did you guys watch? Is it something I need to binge? Even without watching I think this pen is pretty cool and I'm adding it to my stash.
[Editor's Note: OMG JENNY SAY IT AIN'T SO! Time for a marathon!]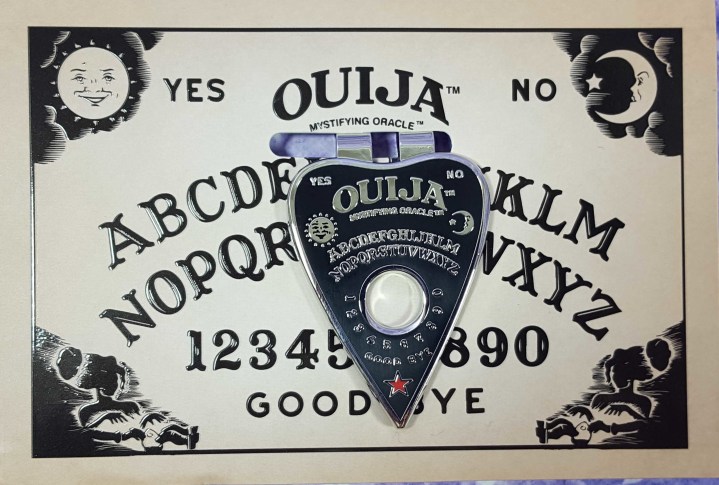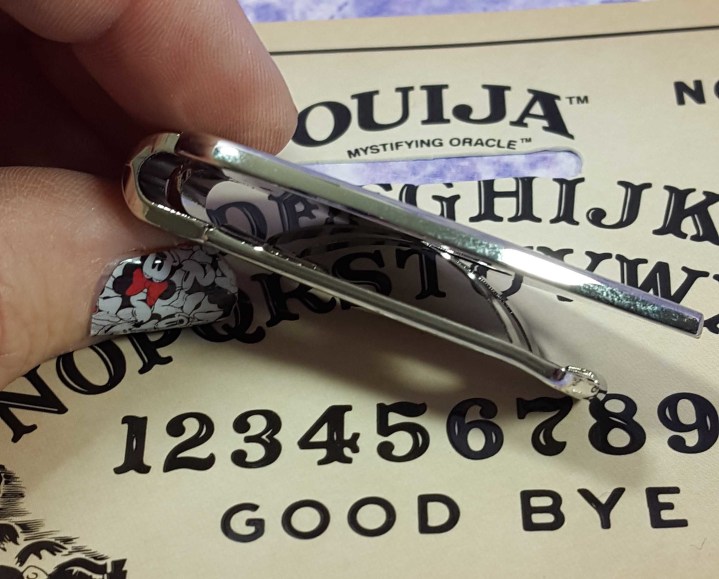 Ouija Money clip – Another exclusive item in this months box and it is pretty awesome. I love a good ouija board when I was growing up and I love that they made a clip that is on the board. How fun and unique. While I don't need a money clip I could easily see a man actually carrying this but I will use it in my office to hold papers or something together.
This month's Horror Block was a mixed bag for me. The only fandom that I was really into was the Walking Dead and that item totally rocked. While I liked the other items they  just weren't really me but that is ok since there are so many Horror fandoms out there and I don't want to get the same ones over and over again since that would be boring and no fun either.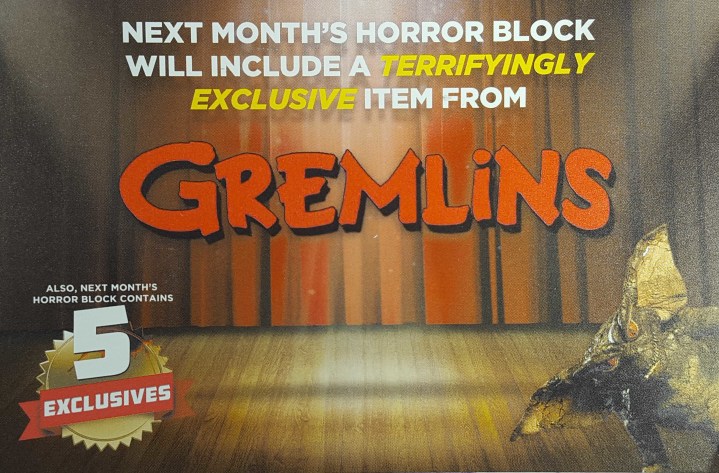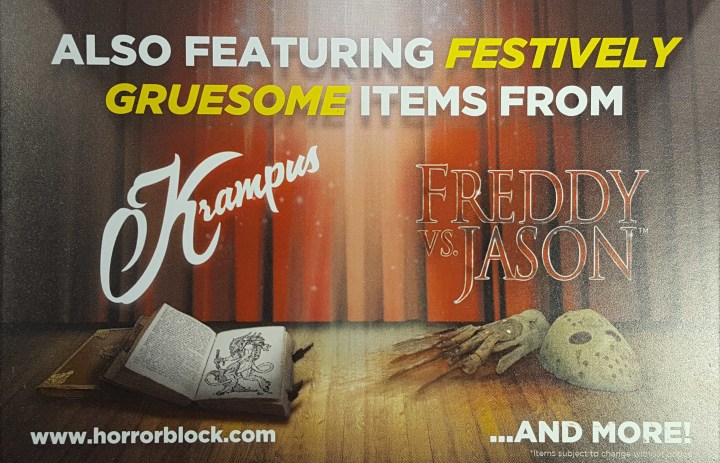 The November box is going to include exclusive items from Gremlins, Krampus, and Freddy vs Jason. As a note, my spoilers last month said that this month would include a Nightmare from Elm Street item but Horror Block posted that it got held up in customs so it will be included in a future box. I do not know of this is the box it will be in or if this is another item all together but I'm excited either way. The box will also include 5 Exclusive to Horror Block items! I love that they keep including more and more exclusive items.
All Nerd Blocks come with a $10 credit for ShirtPunch.com! and on the back side is a piece of a picture.  The idea is to collect all the pieces to win and we've been holding onto ours. Some pieces are going to be harder to get then others and I actually he piece that I got this month.  Nerd Block has also recently launched a new site all of their own and they included a $10 credit for it as well.
What did you think about this month's Horror Block?