Heaven's Honey is a fairly new subscription box that features one-two artisan body care brands a month. The products will be all natural, chemical-free, and cruelty-free. 5-8 products will be showcased each month. As Heaven's Honey explains, " Examples of natural body care items that can be featured are body butters, soaps, lotion, face scrubs, face moisturizers, deodorant, toothpaste, body scrubs, face parfaits, eye creams or parfaits, body wash, bath bombs etc." All items will be chemical, toxin, phthalates, sulfate, pesticide, herbicide and GMO-free. Time to indulge in luxurious, natural body care products!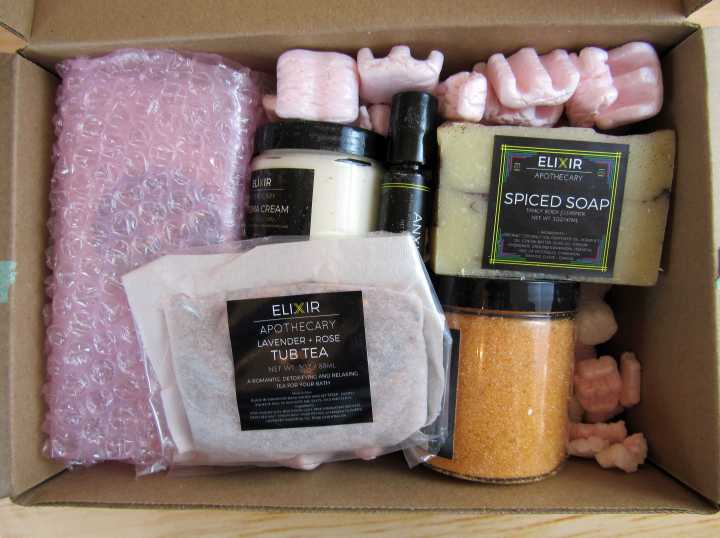 DEAL: Save 15% on your first box with coupon code HELLOSUBSCRIPTION.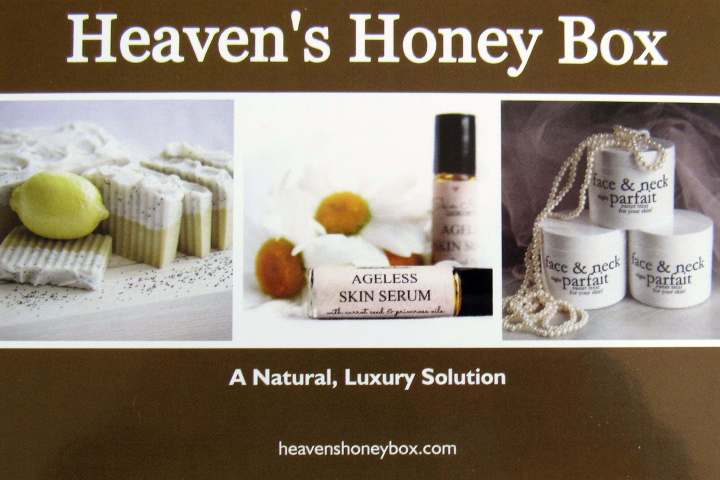 I am excited to see Heaven's Honey again. I've been impressed with every company featured in their boxes.
As I pulled out the items for the November Heaven's Honey Box, what I noticed was the products were a great mix for the holiday season. It's a mixture of pampering along with a few items to relieve stress. I do wish that an information card was included in the box or online.
Elixir Apothecary offers holistic remedies, essentials, and luxuries made in small batches that are free of preservatives, parabens, artificial colors. Michelle, the founder, is passionate about her product which is made in Georgia, USA. Her website has comprehensive information on each product. She has won my heart with this:
I have a passion for creating healing, holistic products with minimal ingredients.  All while avoiding, fragrance oils, fake colorants and harmful preservatives.

In a world where product integrity is sacrificed for a issue to be treated, there is a thriving trend to return to using products with minimal ingredients.  Unfortunately, DIY beauty projects are a hit or miss and many companies who claim to be all natural still include fake colorants, preservatives and filler fragrances.
I hear you, Michelle. It drives me crazy too.
The first two items are excellent to use in dealing with the holiday season stress.
Time to get personal! I am entering that new phase in life known as perimenopause which has caused new symptoms in my cycle. One of them is an uncontrollable itchiness in the chest area that lasts for a couple days each cycle. I tried the Elixir Apothecary Eczema Cream (4 oz, $9.95 sale price), part of the Remedy Collection, which alleviated the itchiness. The lightly scented cream can be used on dry skin, itchiness, sunburn, eczema, and more.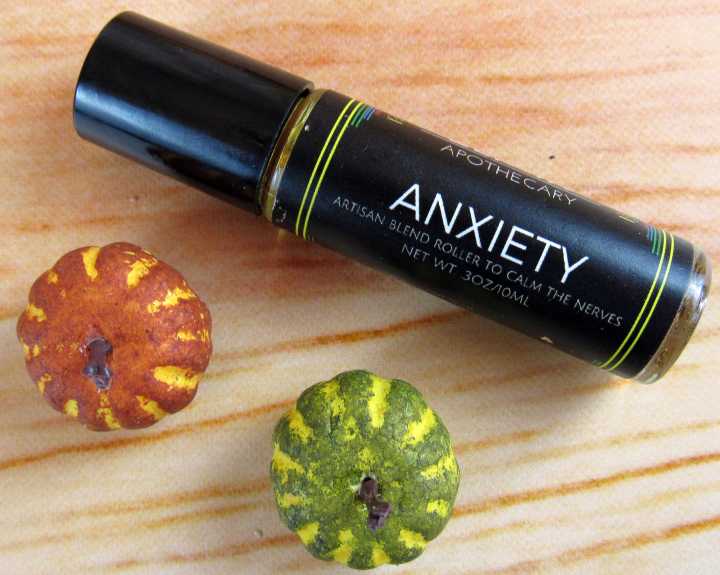 If your heart rate increased when you saw the word anxiety in the above photo, this roller is for you! Another new fun thing with my journey through perimenopause is that I feel anxious on the days that I am also itchy in my cycle. Thankfully, it is only for a couple of days, but it is a miserable couple of days. The Elixir Apothecary Anxiety Roller ($9.95) helped alleviate my anxiety. Allow the aromatherapy to work by rubbing it on your temple and wrists.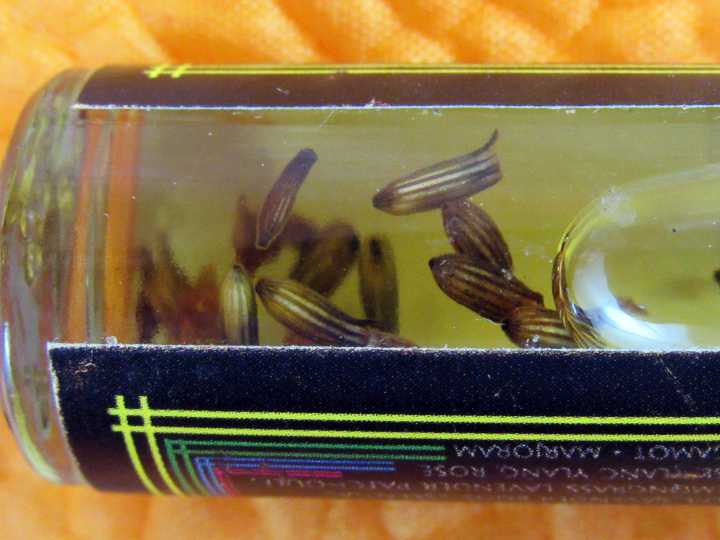 It has a wonderfully sweet, citrus scent and has an organic essential oil blend. Look at the beautiful lavender flowers in the roller. The Anxiety Roller is part of the Remedies Collection and is Vegan.
Time for holiday pampering!
The Elixir Apothecary Spiced Soap (5 oz, $3.98 sale price) is temporarily sold out! I can understand why because it smells like autumn.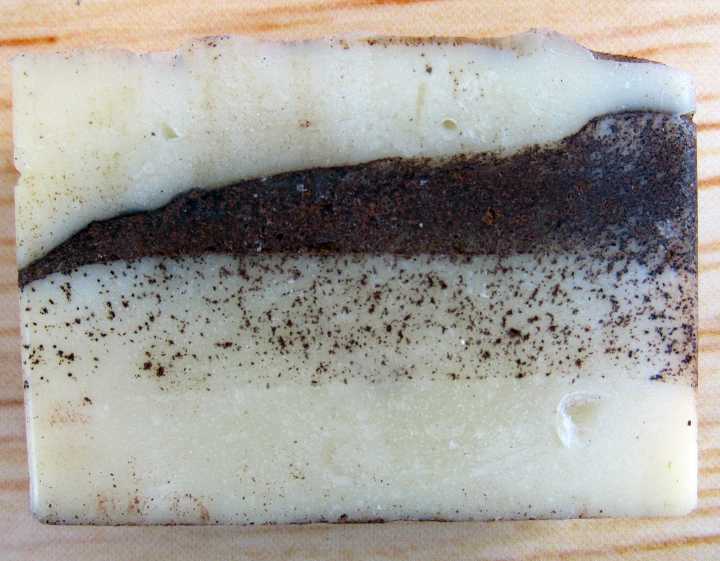 It is layered twice with cinnamon and contains an organic essential oil blend of orange, cinnamon, clove, ginger, and patchouli. Both my seventeen-year-old son and I loved the scent.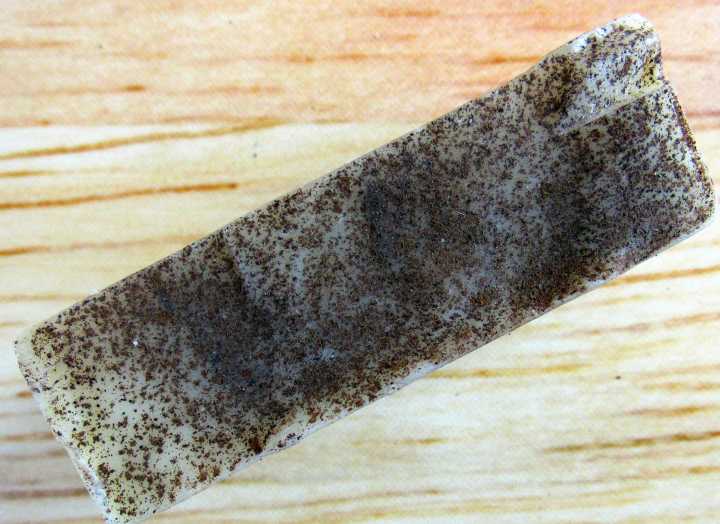 It was easy to lather and was moisturizing. It is part of the luxury collection.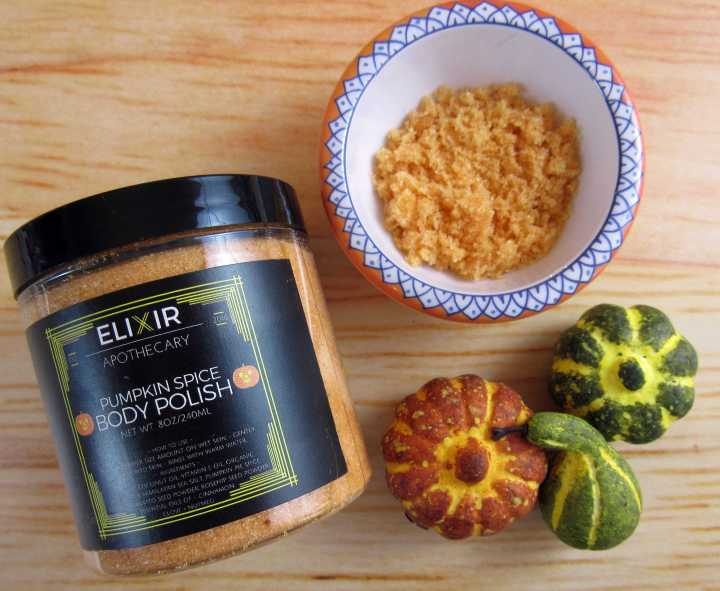 The Elixir Pumpkin Spice Body Polish (8 oz, $12.99) has a gorgeous color and an amazing pumpkin pie scent. The body polish practically melted on my skin while providing great scrubbing action. The organic essential oil blend of cinnamon, clove, and nutmeg is perfect for the fall season. It is part of the luxury collection and is vegan.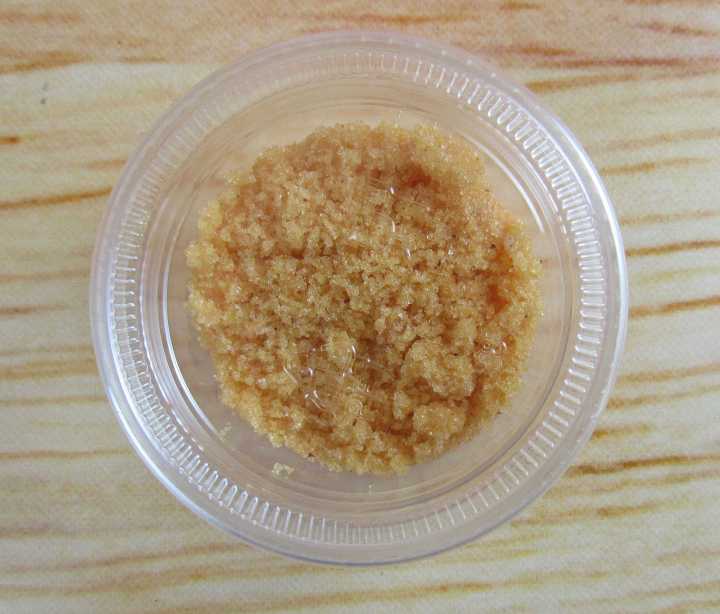 Remember not to take the original container of scrubs or body polishes into the shower because water will get into the product and cause mold. I use a one-ounce reusable container for scrubs. I also use Diamond Daily Mini Cups 2 oz (50ct w/ lids, $2.99) when traveling or when I don't want to contaminate a review product.
I did not open the Elixir Apothecary Lavender + Rose Tub Tea (1 bag, 3 oz, $3.98 sale price) because it steeps in the bath tub. Their photo shows a beautiful mixture of Himalayan pink salt, rose petals, lavender flowers, and more. The scent is a delightful blend of lavender and rose. Place in a warm tub, lightly squeezed, and let it steep. It is part of the Luxury Collection and is Vegan. It is also my reward for reaching the end of Thanksgiving week.
The Elixir Apothecary Rose + Cocoa Butter Bath Bomb (4 oz, $5.95 sale price) is a work of art. It has chocolate extract, cocoa powder, cocoa butter, lavender flowers and rose petals. Every single one of the ingredients that I listed is organic.
It felt moisturizing and was a luxurious experience. The bath bomb is vegan and is from the Luxuries Collection.
Heaven's Honey did an excellent job in curating the November box which contained a wonderful mixture of stress relievers and pampering products. Along with that, the seasonal scents makes it a joy to enjoy during autumn and at the beginning of the holiday season. The company selected, Elixir Apothecary, is passionate about their products. The value of the box is $46.80 using the sale prices which is under the cost of the box. However, November is all about sales which impacted the value by almost $10.00. Overall, the variety is great, the ingredients are excellent, and the selection reflects upon Heaven's Honey mission of wanting to provide an array of natural body products!
What did you think of the November Heaven's Honey?