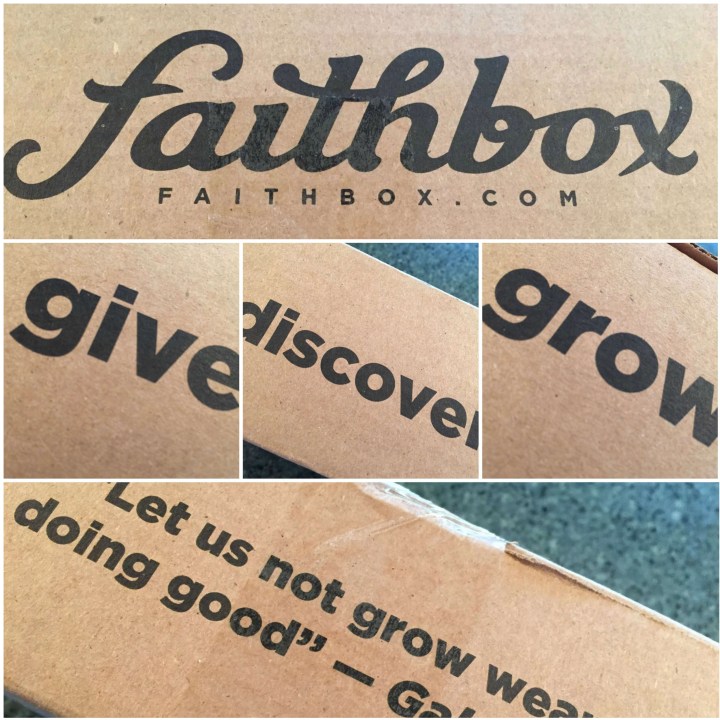 Faithbox is a Christian company that seeks to help strengthen your faith in God with their devotional and bring joy with their great products from companies that do good. With the purchase of each box, they provide 3 meals for hungry children through a partnership with Rice Bowls. In 2015, they were able to provide over 100k meals for hungry children. Plus, you get a box full of cool stuff in the process.
I just love getting boxes in the mail. It's like Christmas when I open them up. And when I say it's like Christmas, I'm talking Christ! It's really all about Him, so I really loved the Bible verse and encouraging words on the box. The verse "Let us not grow weary in doing good" – Galatians 6:9, is so appropriate at this time of year for myself and many others.
You can subscribe to Faithbox with a month-to-month plan, a 3-month plan or a one-year plan. With the month-to-month plan, you pay $20 plus $5 shipping each month. The 3-month plan reduces the price per box to $19 plus $5 shipping when you pay for 3 months ahead of time. For the best price per box, you can pay for one year at a time and get each box for the price of $17 per box plus $5 shipping.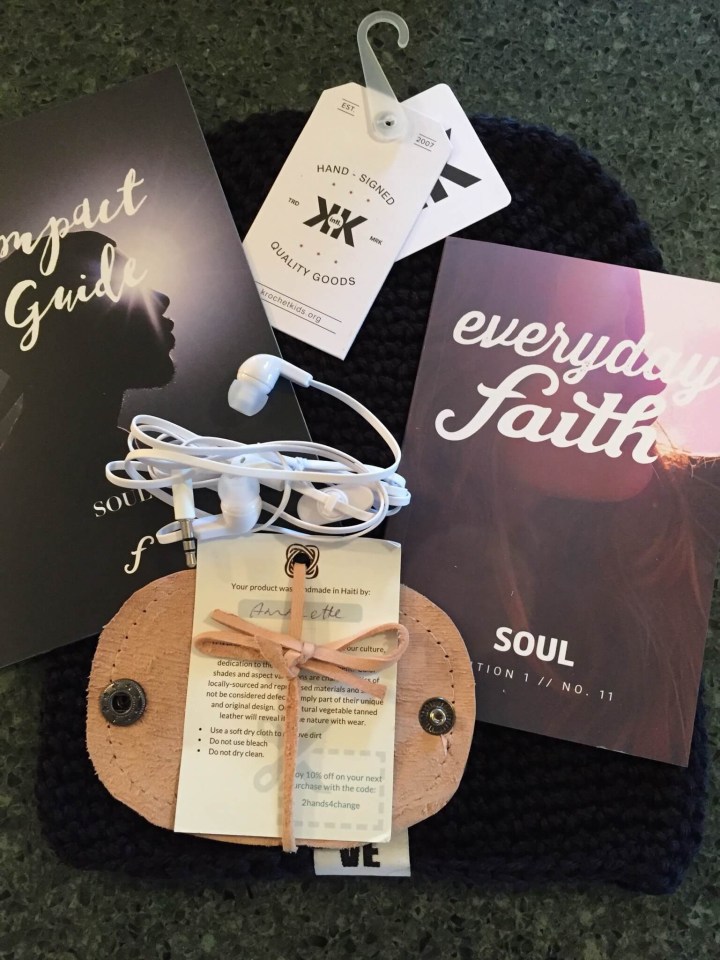 DEAL: Save $5 on your first box with coupon code SAVENOW.

Included in this box is the Impact Guide which basically lets you know what you are getting and why. It also contains the theme, as well as verses and quotes that go along with it. This month's theme is SOUL and my favorite featured quote is "You don't have a soul. You are a soul.  You have a body." -George Macdonald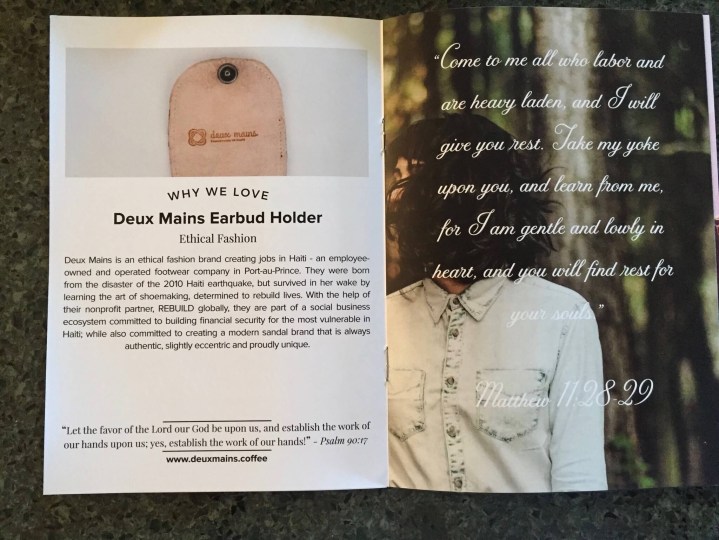 That made me stop and think, a pretty powerful statement about what we really are.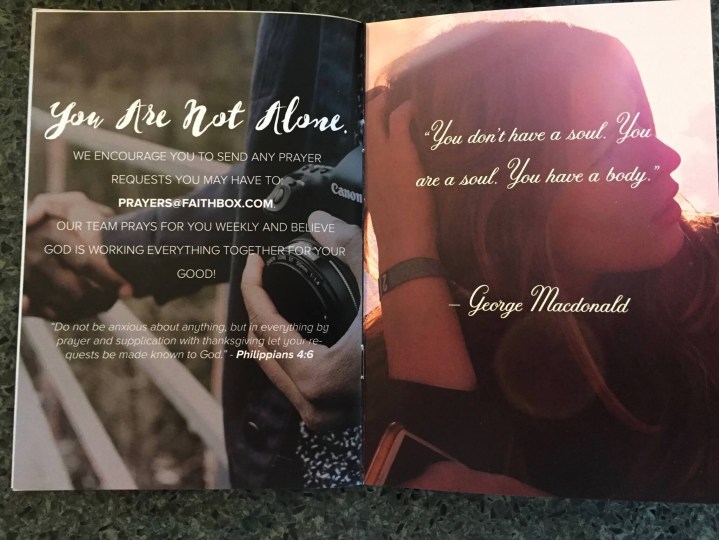 The Impact Guide really goes into detail with a glossy picture for each product, a description of the product and the company that makes it, and a verse that corresponds to the products.
This is their monthly devotional book, Everyday Faith, that was in the box. They are now offering a monthly subscription called Every Day Faith for just their devotionals. If you pay month to month you can get the book for $4.99 a month, shipping included. If you prepay for the year the price drops to $49.99 for the year, shipping included. Your first month is free. They also provide meals to children for each of these purchased.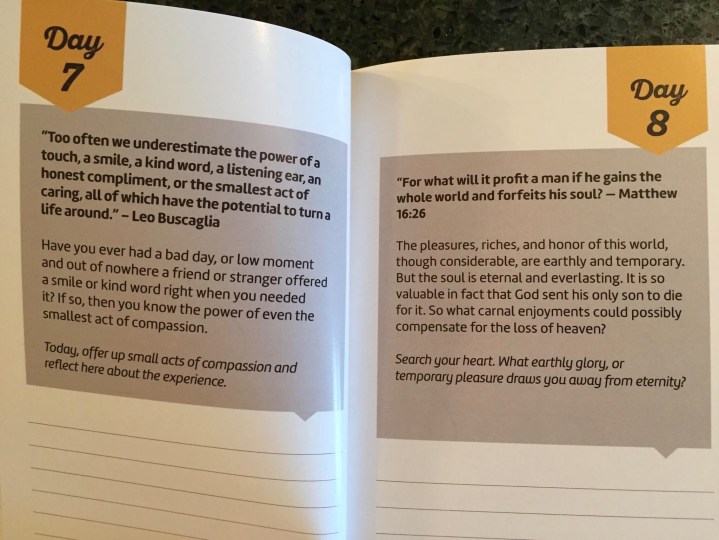 Each day is numbered 1-30, but not dated so you can start whenever you want.  Most days begin with a verse from the Bible, a couple of sentences elaborating on the verse and encouraging you in the faith, and then end with a challenge to bring the verse to reality in your life (plus space to write down your own thoughts).  Other days just have a challenge or a saying like Day 25 above.
What's really impressive are the items made by vendors in third world countries. This one is a hand crocheted black beanie hat, made by women of Northern Uganda and Peru. Children in those countries are 8x more likely to attend high school if their mother participates in Krochet Kids' program!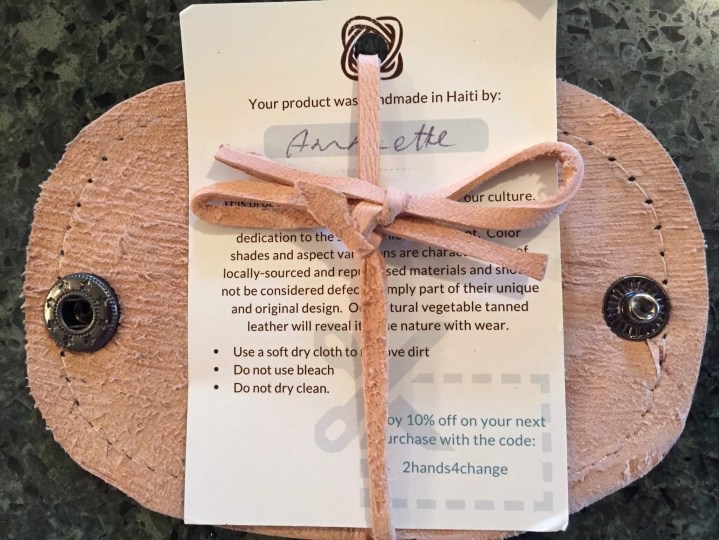 The second is an earbud holder made by people in Haiti, an employee-owned and operated footwear company in Port-au-Prince.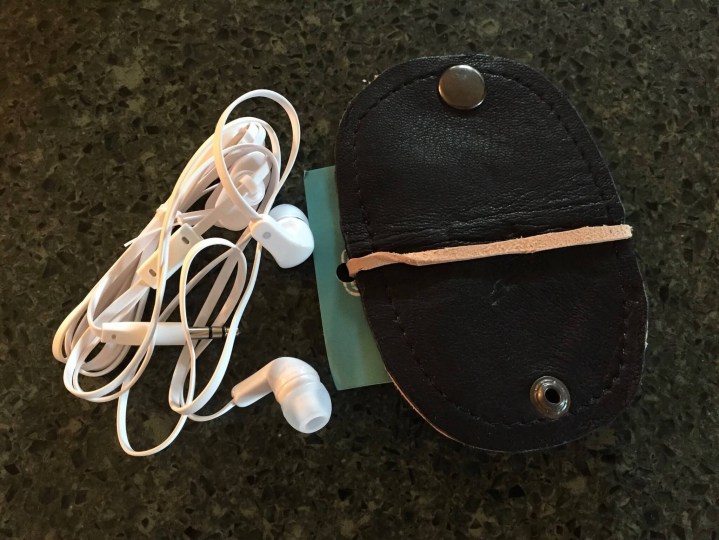 To go along with the holder Faithbox has included earbuds by Custom Headphones.
Faithbox will help you reexamine your faith and your relationship with God, ensuring that you are being the very best you that you can be in your walk with Christ. Well put together and thoughtful items in this box, can't wait until the next one comes.