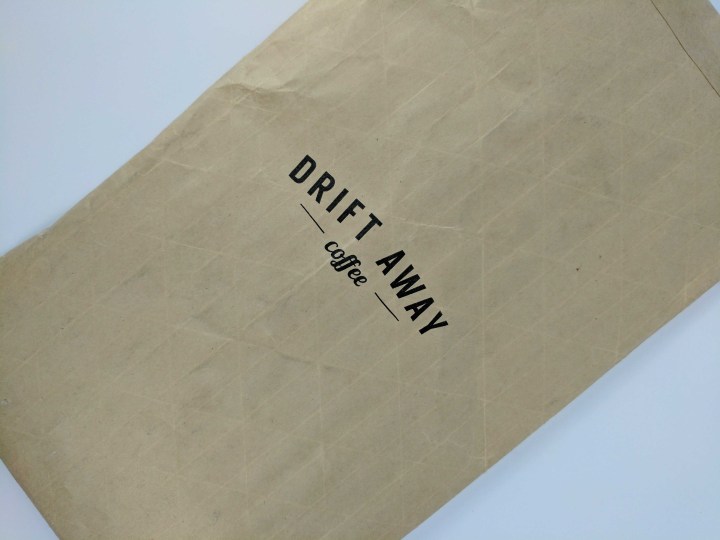 Drift Away Coffee delivers freshly roasted coffee, personalized for your taste, right to your door. Every two weeks you'll receive freshly roasted whole bean coffee based on your selected preferences. The first delivery in every subscription is the tasting kit with four single-origin coffees belonging to four taste profiles. Through this kit, you'll discover the unique tastes coffees can have based on where they are from & how they've been roasted. There's something for everyone (even tea lovers!)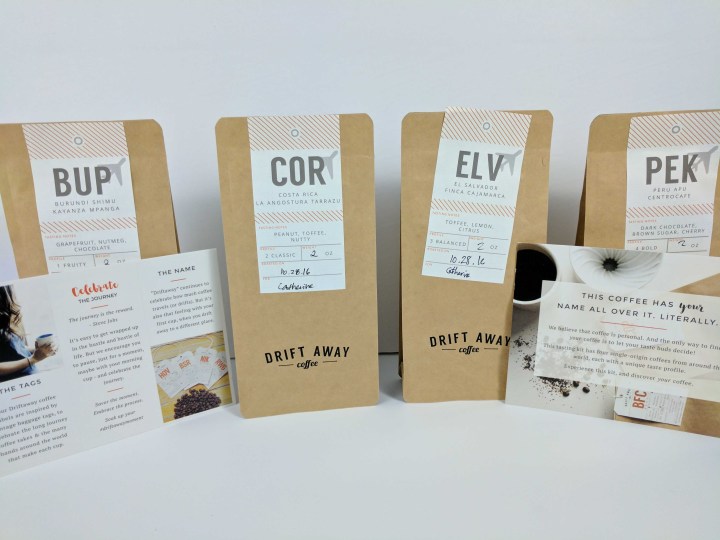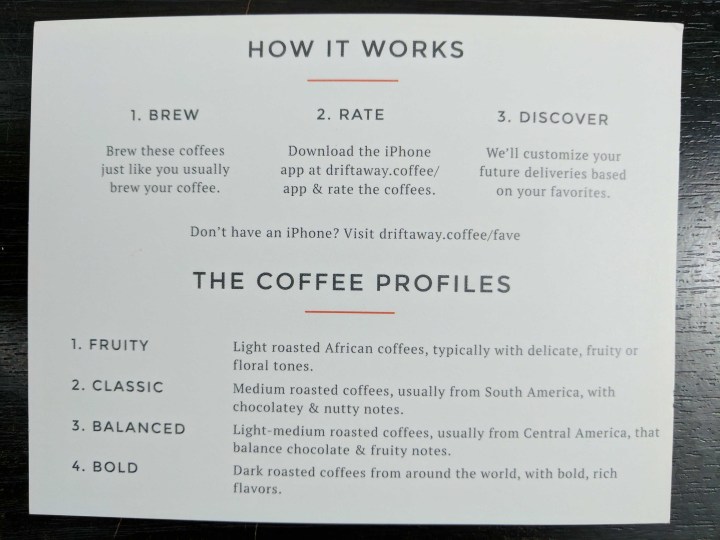 You can download the DriftAway app on your iPhone to rate the coffee. With this, the subscription will customize your future deliveries based on your favorite coffee from the tasting kit.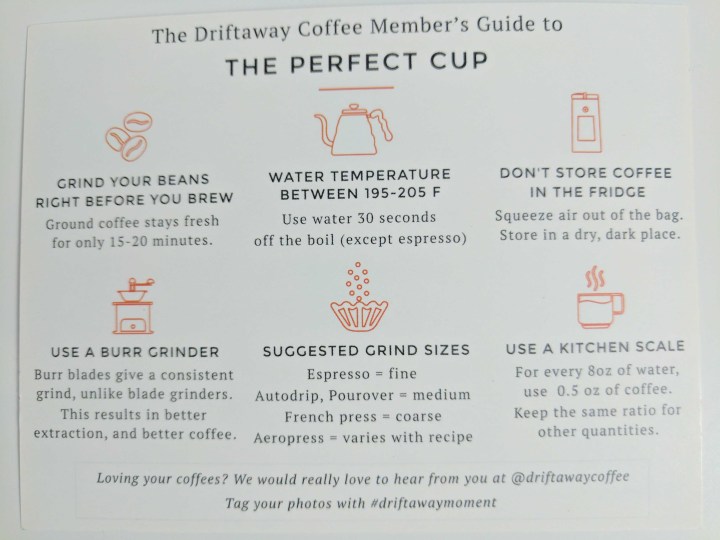 There's also some information on how to brew the perfect cup. I usually switch between French Press and Pourover, depending on if I'm sharing the coffee with my husband. I also appreciate they tell us the ratio of coffee to water. So for each 2oz tasting bag, we can get up to 4 cups of coffee.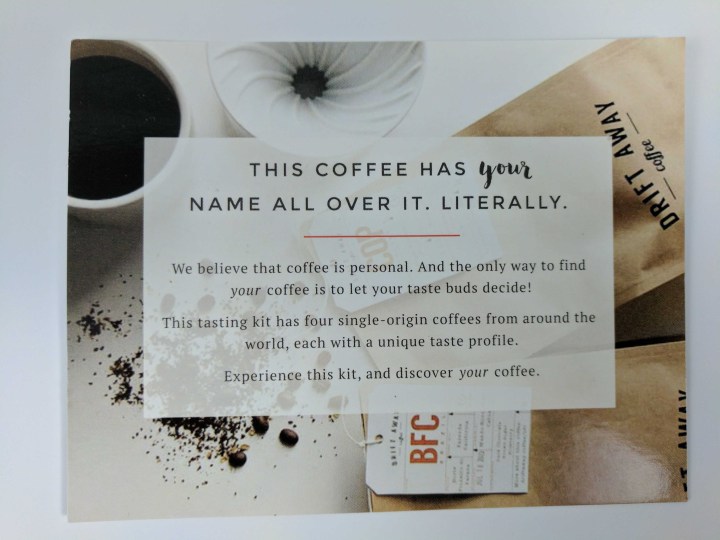 As a fun touch, they make sure YOUR name is all over coffee.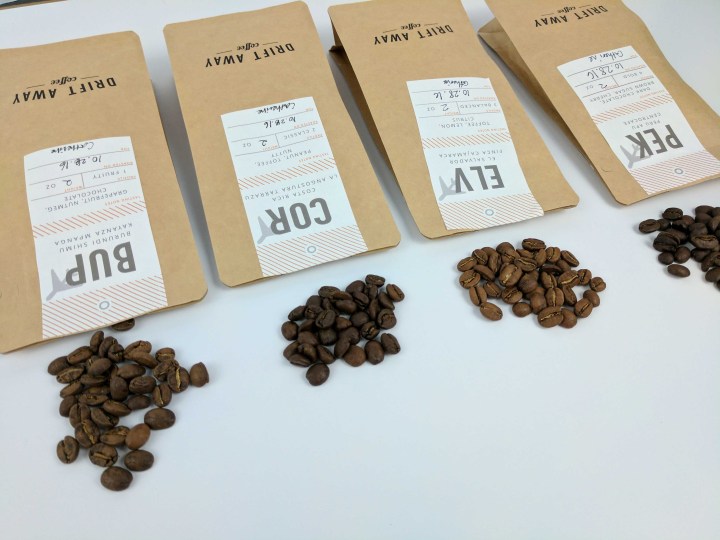 Yep, it is right there, in the bag, under the roasting date! I love coffee, so it's fitting that my name is on the bags!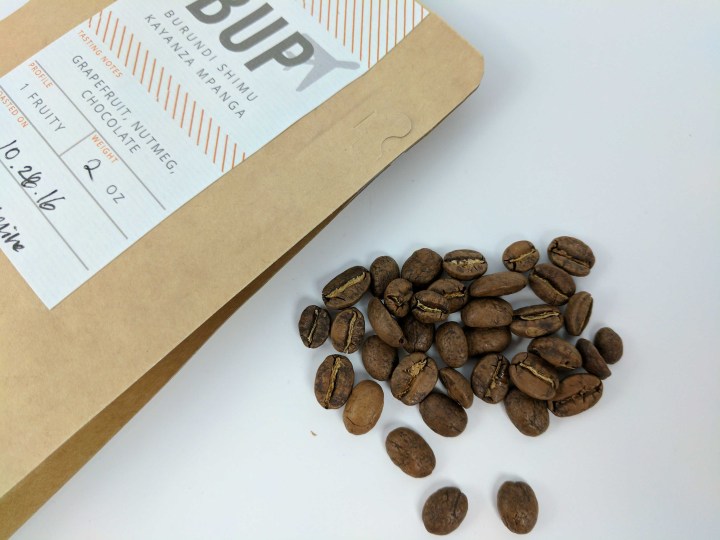 The first flavor profile is FRUITY. Light roasted African coffees, typically with delicate, fruity or floral tones. This month's selection was a coffee from Burundi, with a lot of bright notes. Grapefruit, nutmeg, and chocolate, this one was a great coffee to drink first thing in the morning. It smelled delicious, fruity, sweet and it brought a smile to my face as soon as I opened the bag.
The second flavor profile is CLASSIC. Medium roasted coffees, usually from South America, with chocolatey & nutty notes. This month's coffee was from Costa Rica. It was a very smooth and velvety coffee, but it's flavor notes were so much on the peanut side that my husband chose not to drink it (he's allergic to peanuts). I liked it, but I had a harder time to pick the toffee notes in it.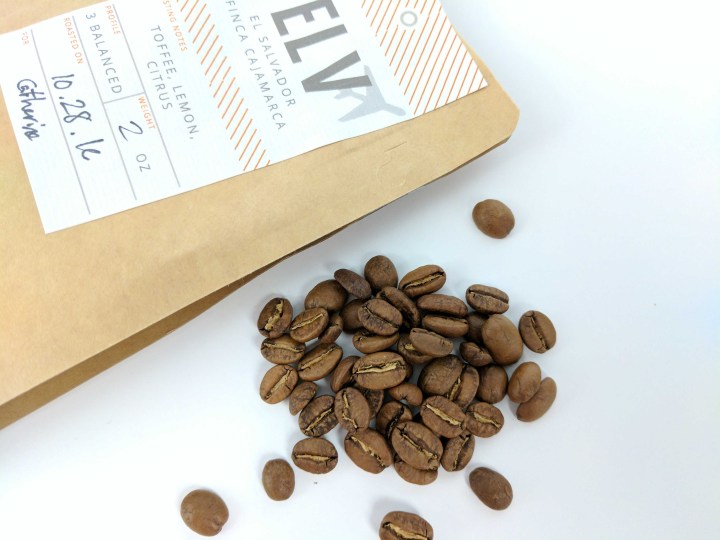 The third flavor profile is BALANCED. Light- roasted coffees, usually from Central America, that balance chocolate & fruity notes. This month's selection was from El Salvador with toffee, lemon, and citrus hint. This one was soooooo good! It was sweet, with so much citrus notes. My favorite of the lot, for sure!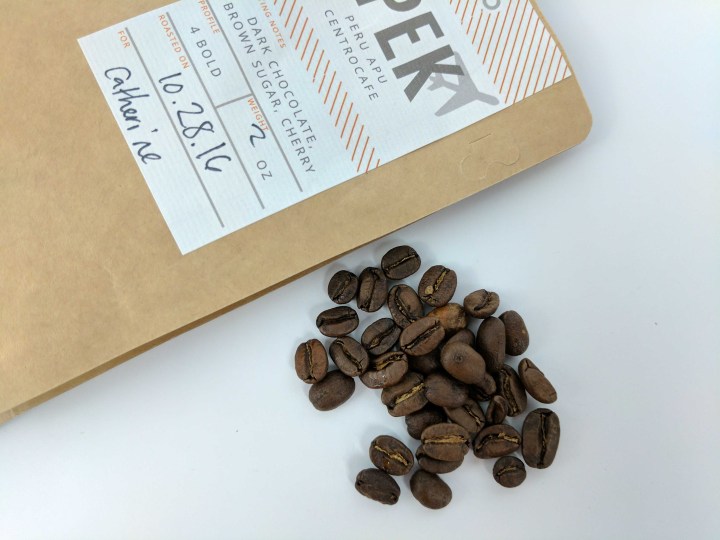 Fourth and last flavor profile is BOLD. Dark roasted coffees from around the world, with bold, rich flavors. This one, from Peru, was heavy on the chocolate flavors, with a bit of a smoky taste. I was hoping to get more of the cherry flavor, but it was still a great coffee. This one was my husband's favorite. He loves the bolder flavor, more grounded, smoky, with a lot of oomph.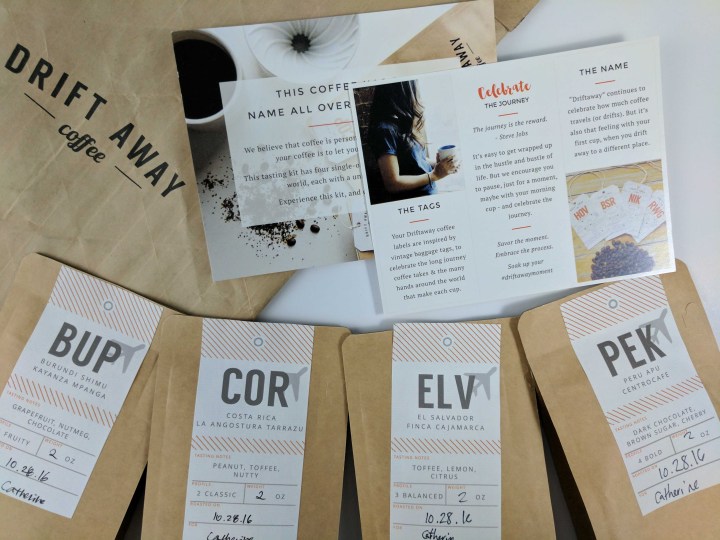 This is such a nice way to discover your favorite flavor profiles. I liked them all, and it would be very hard for me to choose only one coffee. I also liked the information cards provided with this box explaining how to make a good cup of coffee. It's always nice to have a reminder of the water/coffee ration and on how to grind the coffee for different brewing method. It's also a neat idea to get a sampling kit before ordering more coffee, just to make sure to get a new coffee every month, but one that you will fully enjoy!
Have a nice cup of coffee!!!