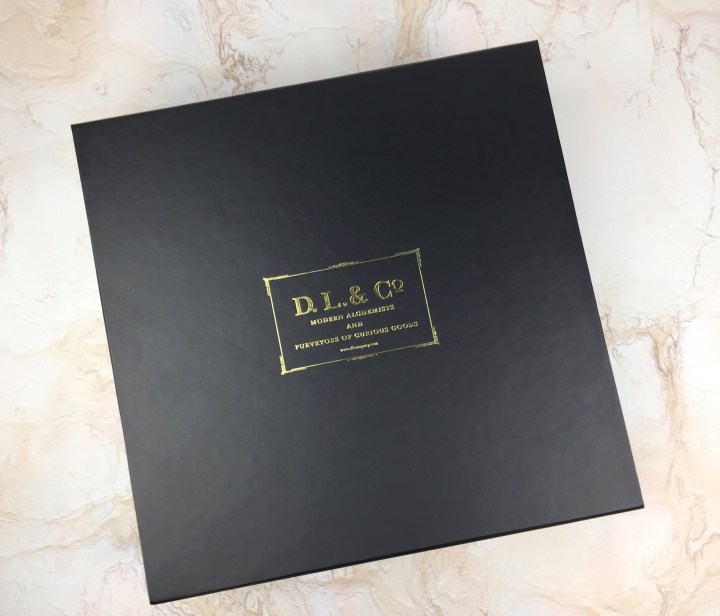 DL & Co has a new limited edition Holiday Gift Box, available now!   The Limited Edition D.L. & Co. Holiday Gift Box is $99 with a $250 retail value and is shipping now.  D.L.& Co. carries luxe candles and other curiosities – many of which are decorated with skulls or other alternative imagery.
If you recall, there's a DL & Co candle in the Winter FabFitFun box – sadly sold out, but you can check out the FabFitFun Editor's Box too!
The box has a flip top magnetic lid and everything is wrapped in black tissue.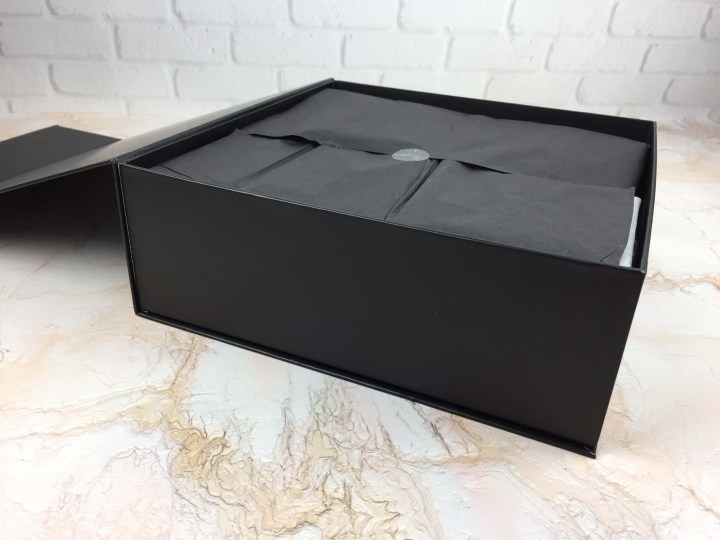 DEAL: Buy one gift set and get the second 10% off. Use code GIFTBOX. May expire at any time.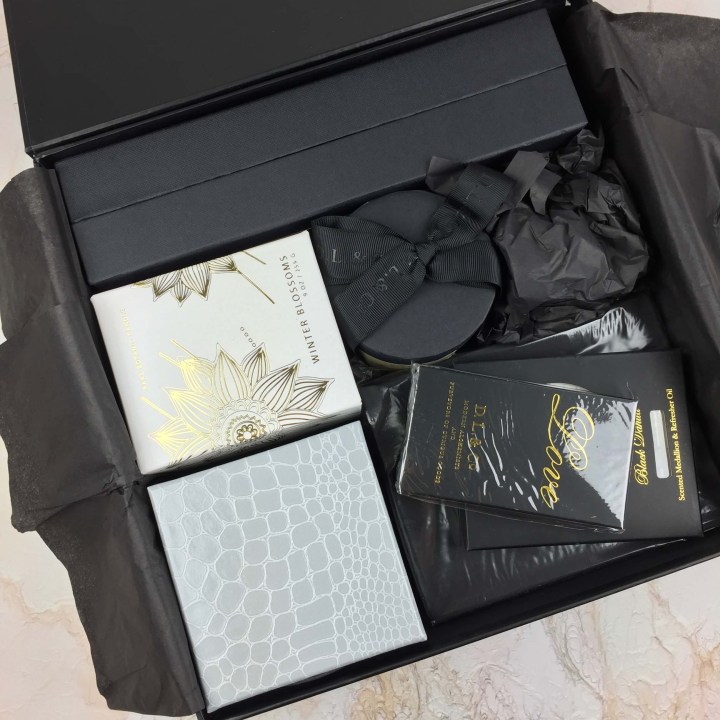 Love it but don't want it all for yourself? Or to one gift recipient? You can totally break this up into individual gifts – everything is retail, giftable packaging.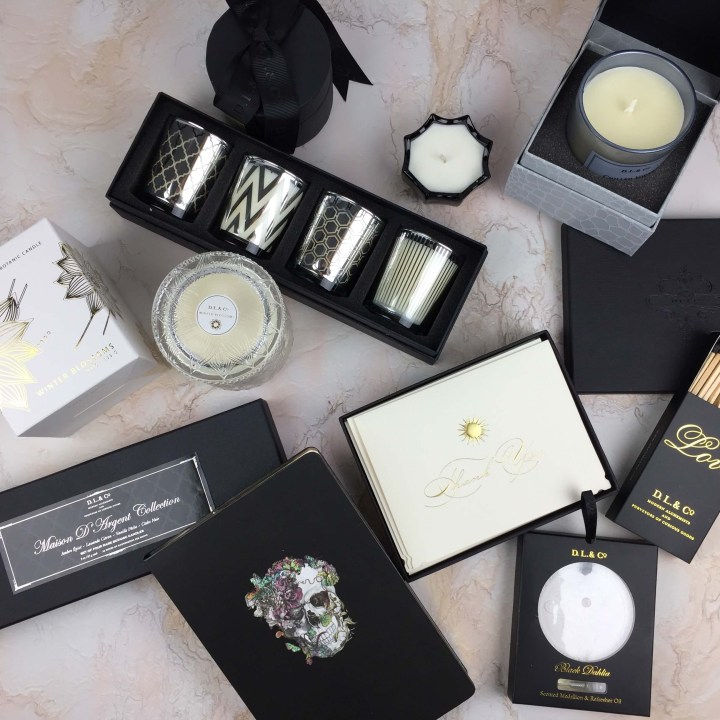 So gorgeous and luxe, with just a nod to the macabre!
The box includes:
Maison D'Argent 4Pc Gift Set, 3Oz Each
Dl L'Homme Candle, 7.4Oz, Scent: Chilled Vodka
Thorn Apple Signature 2Oz Scallop
Set/12 Thank You Stationery
Box Of Love Matches
Flourished Skull Journal
Scented Ceramic Disc W/ Refresher Oil, Scent: Black Dahlia
Belle Epoque Sunflower Glass 9Oz Candle, Scent: Winter Blossoms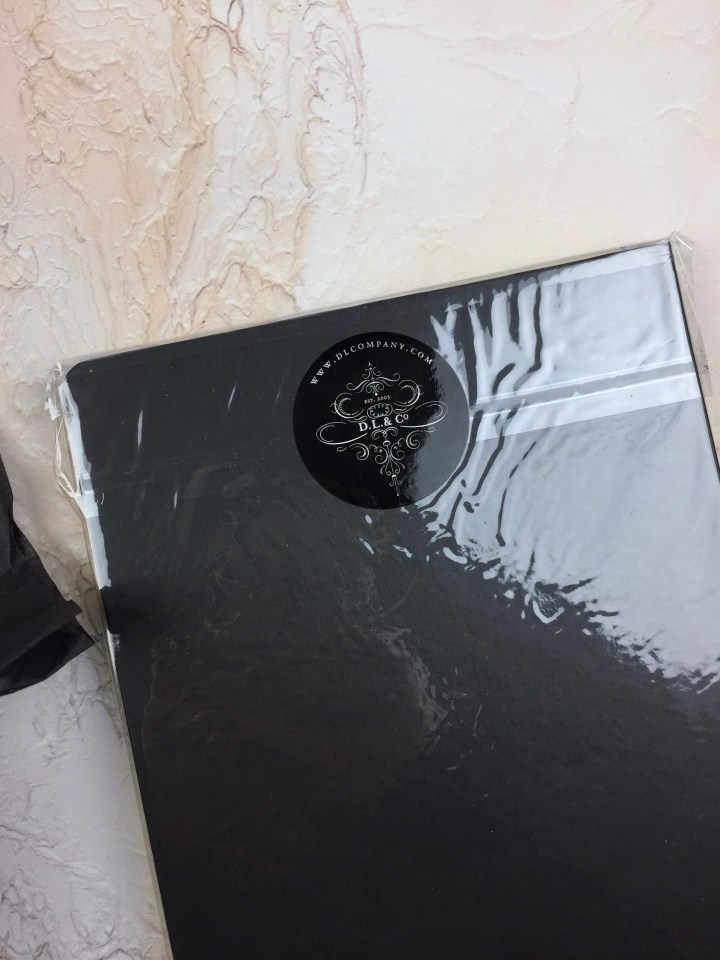 Flourished Skull Journal ($35) This came wrapped up and sealed – I just love this company's logo!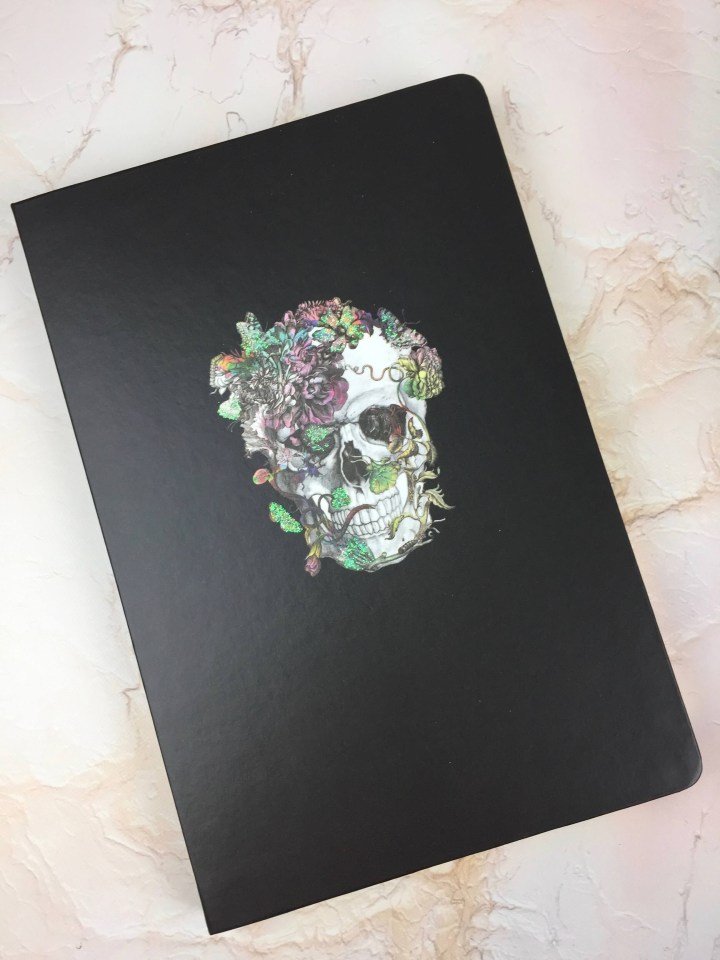 The butterflies on the skull really capture the light. It's so pretty!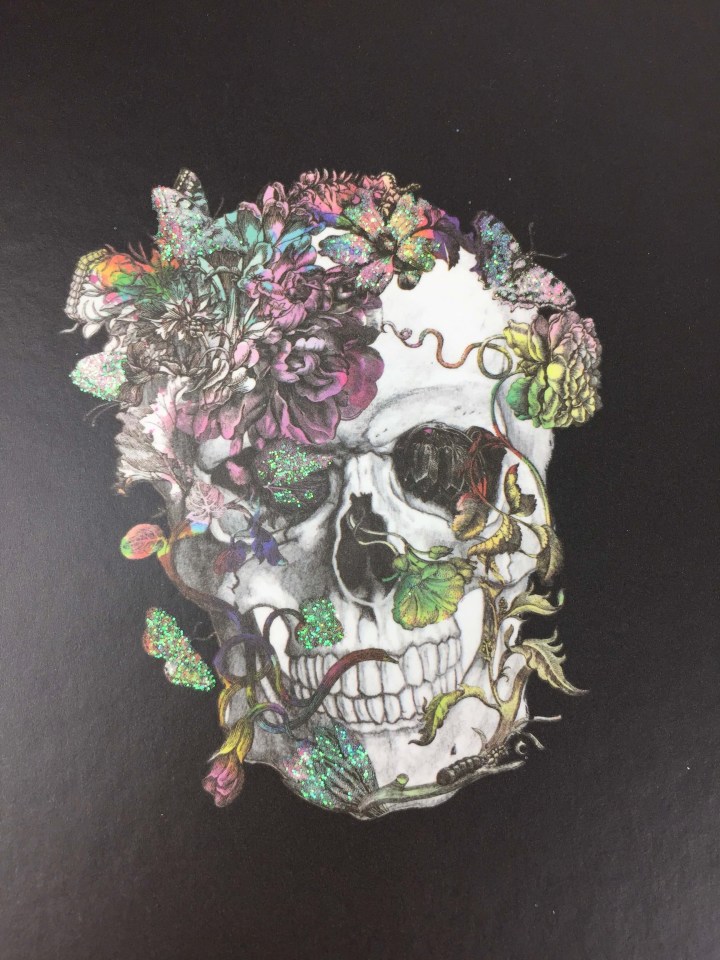 Here's a closer look at all the detail – there's lots of flora and fauna on this skull!
The edges are gilt and the book is bound with a satin bookmark. The pages are creamy and wide ruled. Capture something delicious in this journal – it will be a delight to rediscover down the road!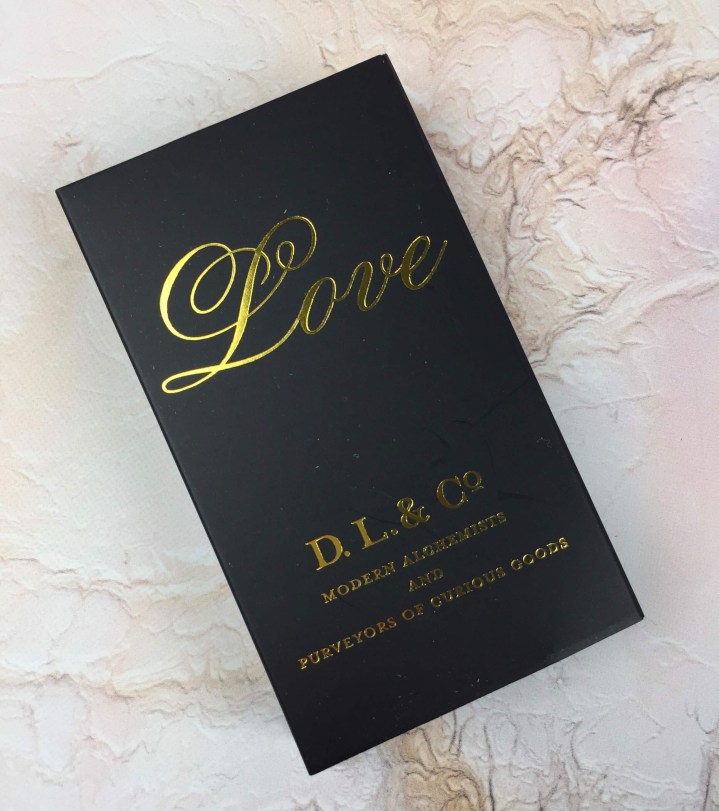 Box Of Love Matches ($7.50) D.L. & Co: Modern Alchemists and Purveyors of Curious Goods!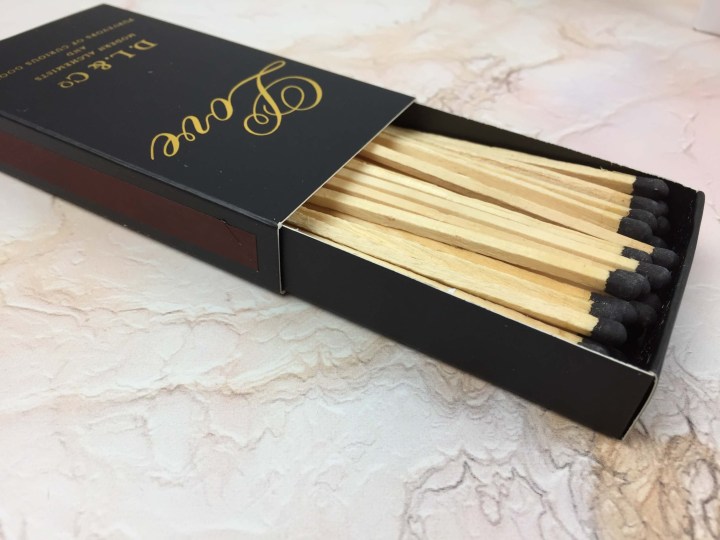 These black-tipped matches are the perfect pairing for the candles in this box.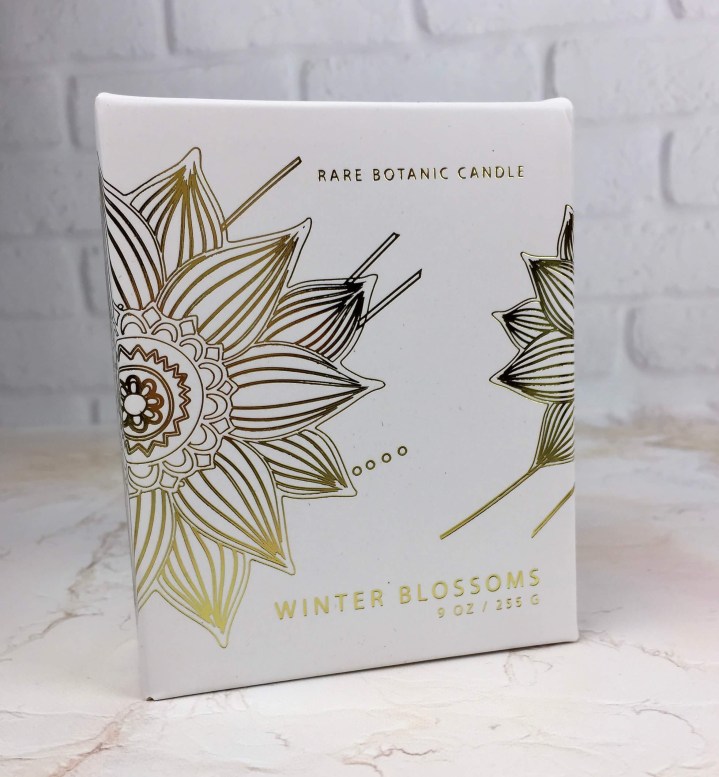 Belle Epoque Winter Blossoms Candle ($35)
Fragrance notes: an opulent blend of pink peppercorn, white peony and cool cypress are elegantly blended with notes of iced rose and frozen citrus. A soft blend of patchouli and amber provides a touch of warm contrast.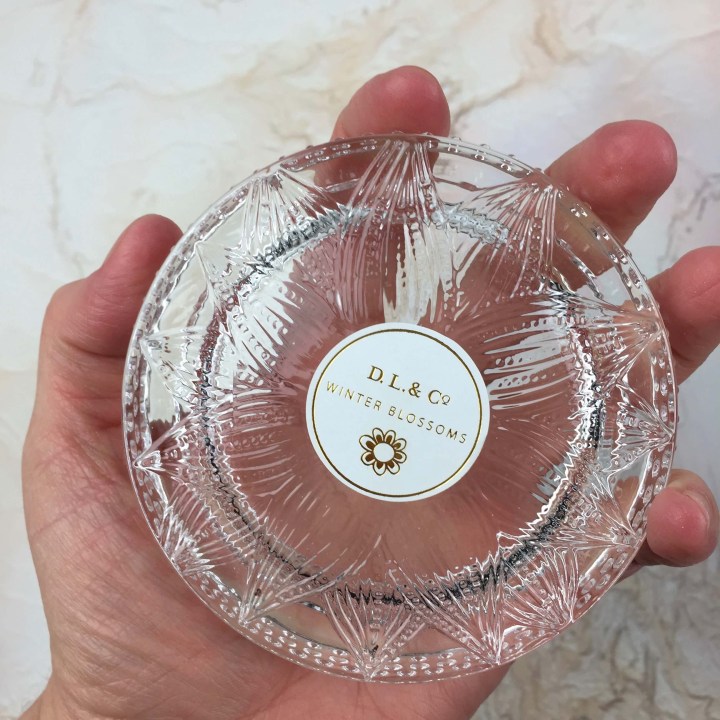 The candle is part of their Sunflower Glass collection and is really striking – there's so much detail that each little nubbin really catches the light.
The candle smells great and has a 55 hour burn time.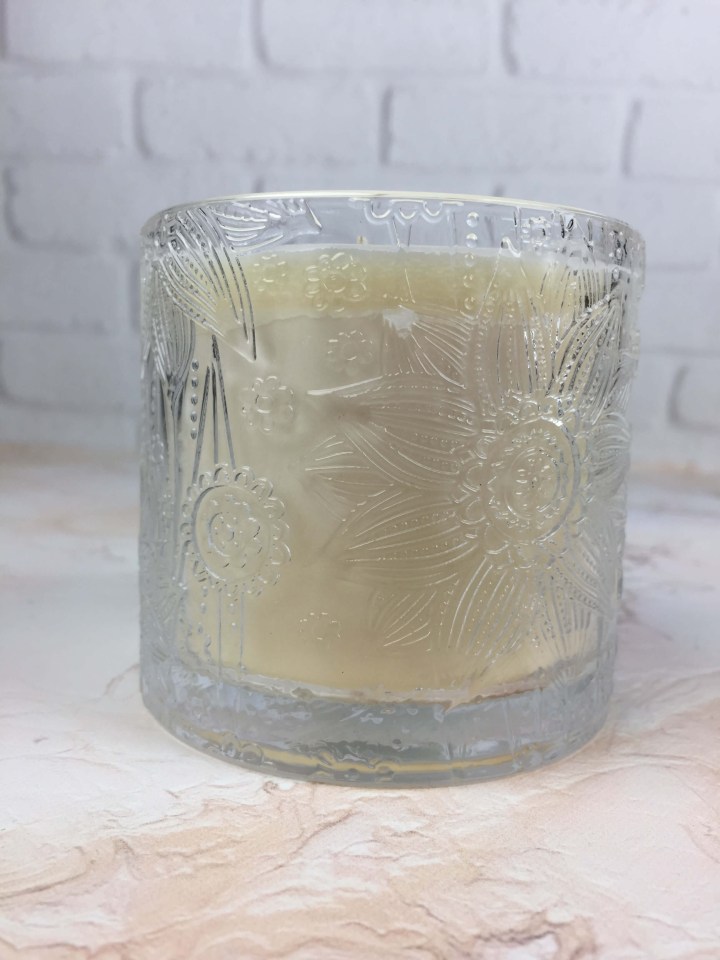 There's a sort of odd imperfection in this candle – you can see it above…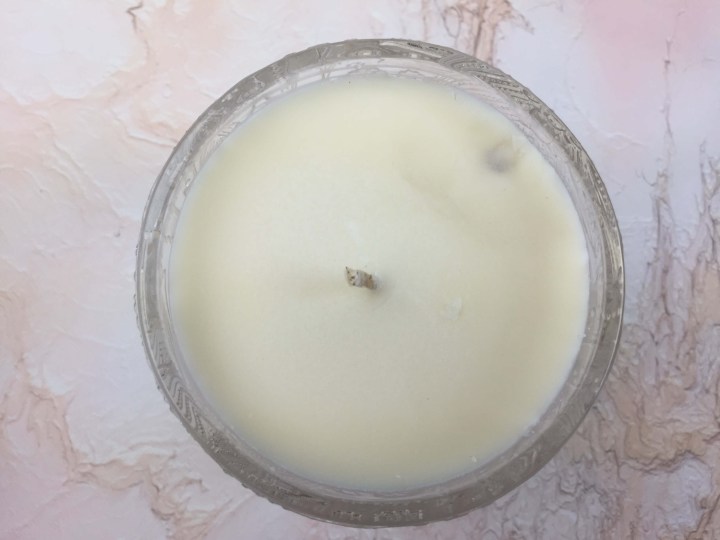 And in this dark spot. I'm not sure what happened with that!
You can see that I can barely hold it – it's huge!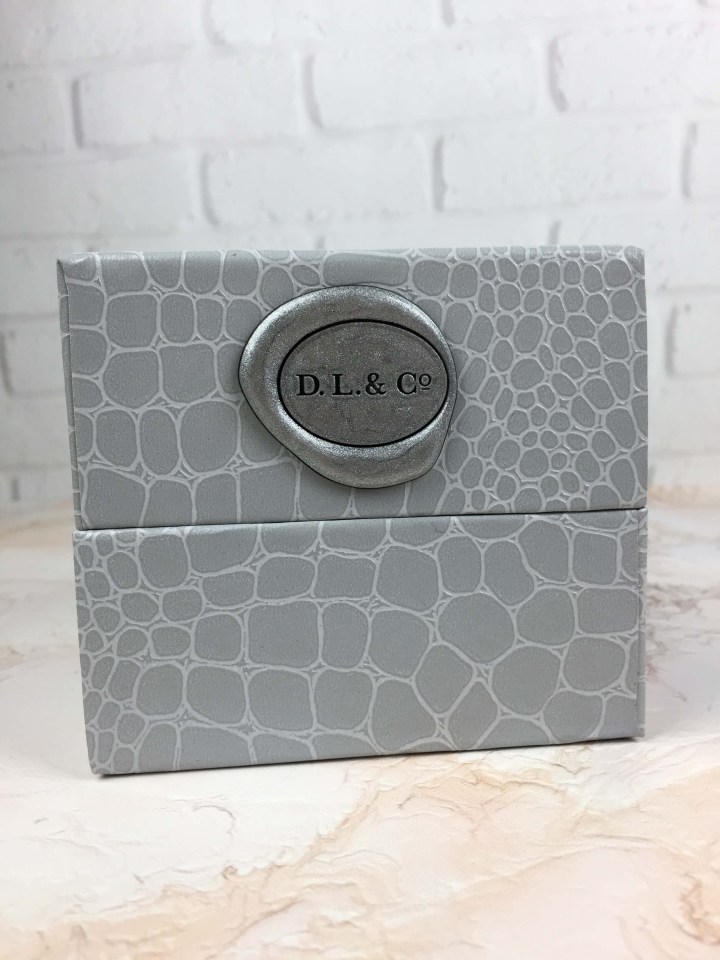 Dl L'Homme Chilled Vodka Candle ($31.25)
Fragrance notes – like a high-end vodka chilled to perfection and enjoyed in its pure form, this carefully orchestrated blend of lemon, honey, ginger and birch leaves just leaves us to say: cheers!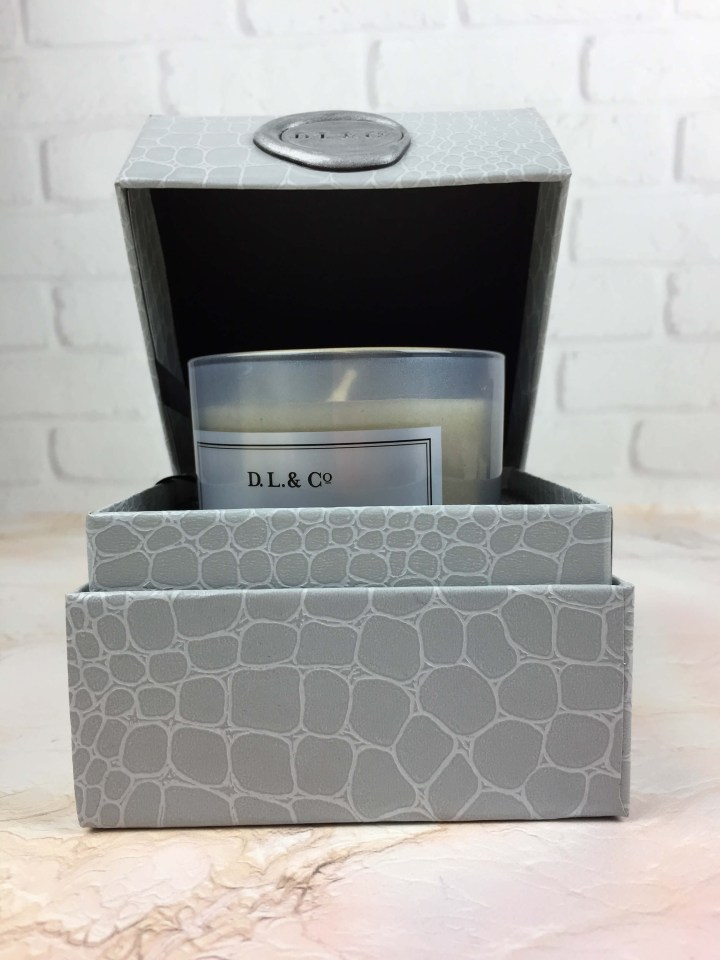 I absolutely adore the packaging for this candle, and will absolutely reuse it.
This scent is so unusual, and yes, it does conjure Chilled Vodka! It has all the scents that you might find in a very lovely vodka drink.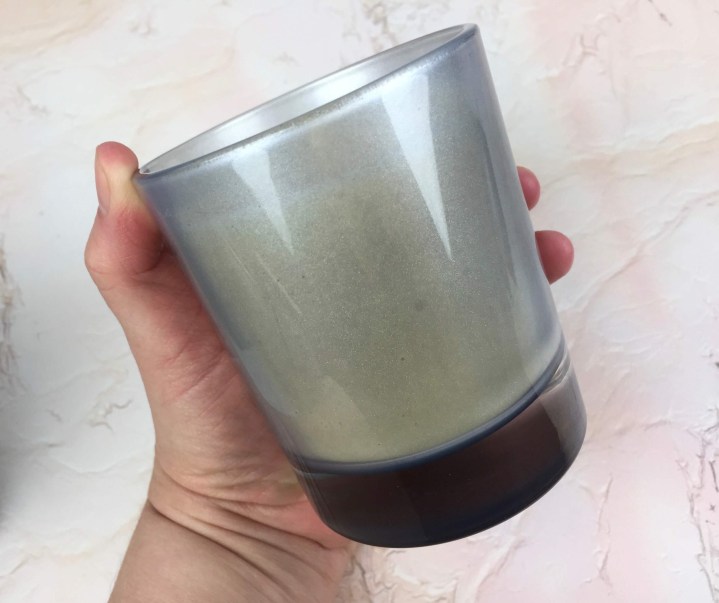 I love the vessel for this candle too – it's a slightly metallic grey smoked glass.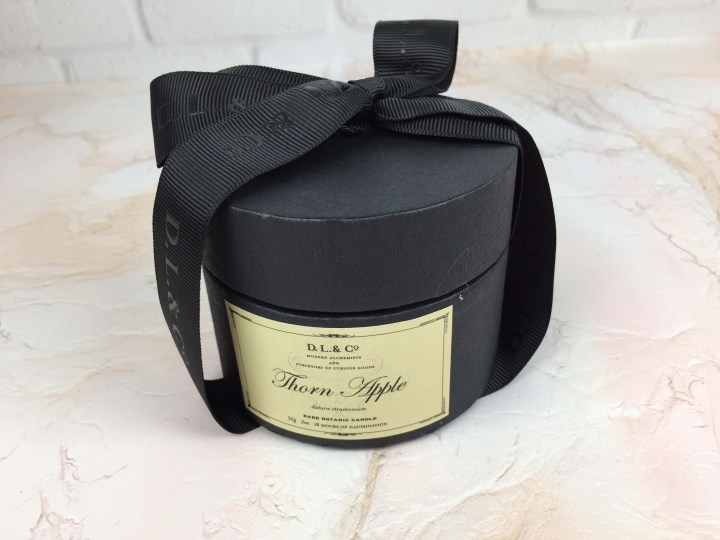 Thorn Apple Signature Scallop ($19)
Thorn apple's clean bouquet is enveloped by the trill of sharp, bright notes, partially obscuring its lush, verdant interior. Like the horn – shaped blooms that seem to sound its arrival, thorn apple's crisp scent foretells the sweet surrender to come. Fragrance notes: prickly pear, thorn apple, anjou pear, caribbean vetiver, south sea patchouli, oakmoss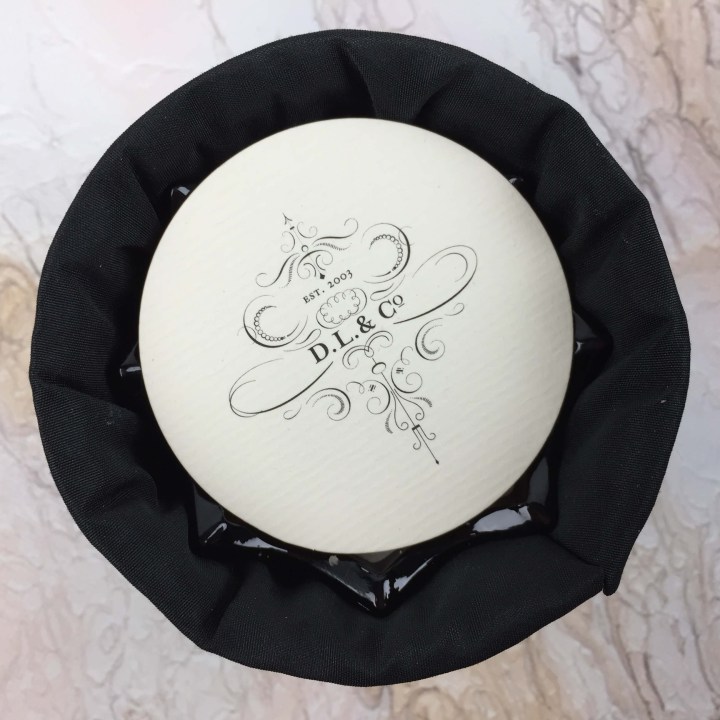 The unboxing experience for every candle is so complete!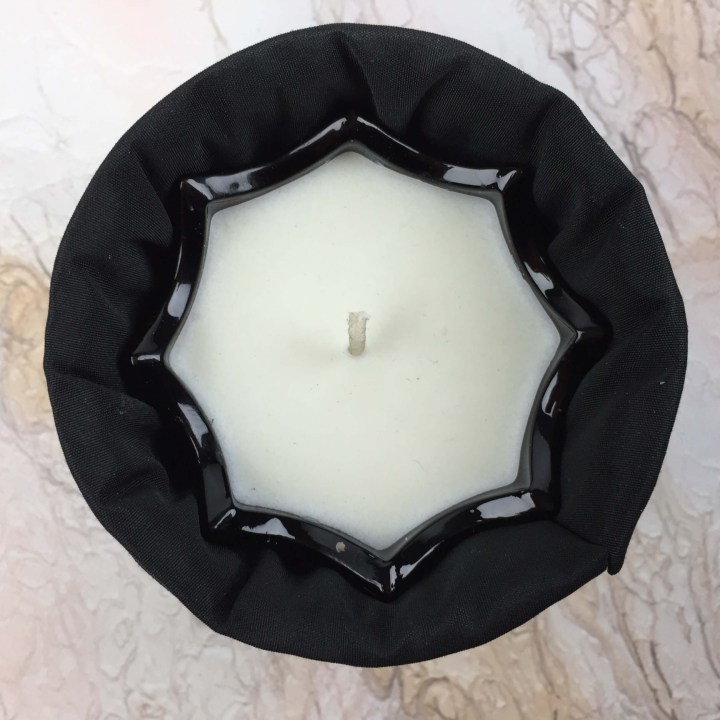 I wouldn't be upset if every candle I owned smelled like this one.  I can't describe it better than their own fragrance notes.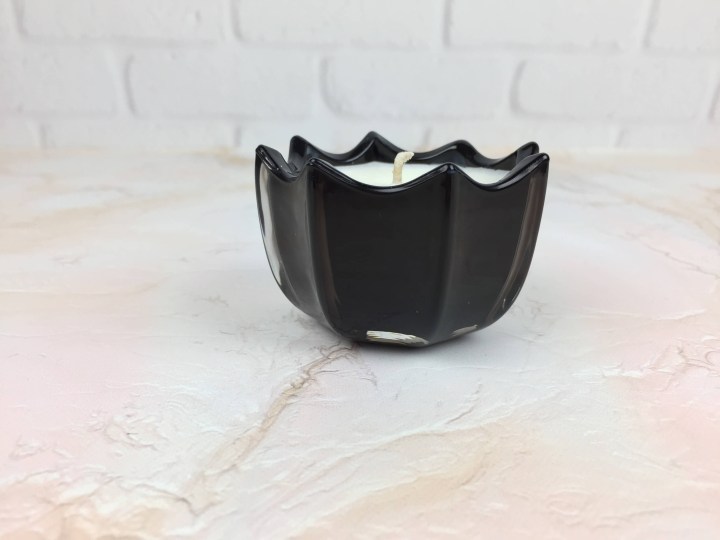 But I can tell you that this two-ounce candle is petite and chic and will look fabulous tucked in a shelf. Want to see something really luxe? Check out this scent in a Swarovski encrusted red apple! Or black!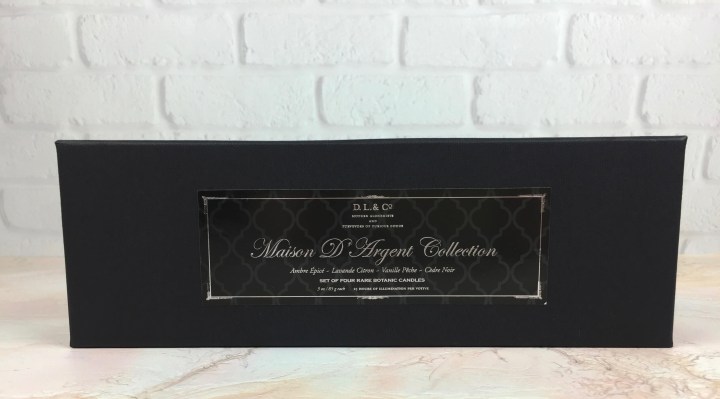 Maison D'Argent Gift Set (nearly identical set is $38)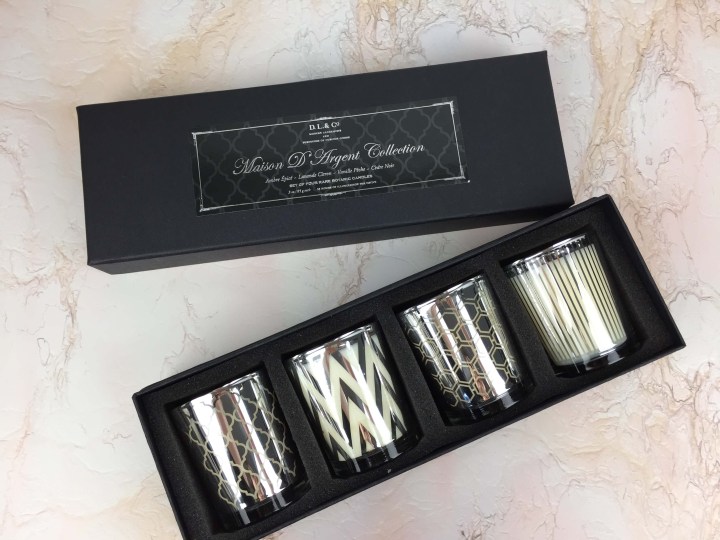 The scents are Ambre Epice, Lavande Citron, Vanille Peche, and Cedre Noir.
Each of these is delightful, from the vessel to the scent!
Ambre Epice: Ginger, Pepper, Rosemary, Cardamom,, Cinnamon, Myrrh, Amber, Patchouli, Vanilla, Moss
Lavande Citron: Lemon, Grapefruit, Lavender, Peach, Vanilla, Heliotrope
Vanille Peche: Peach, Bergamot, Jasmine, Rosewood, Vanilla, Cinnamon
Cedre Noir: Cedarwood, Oakmoss, Ylang-Ylang, Vetiver, Tonka Beans, Amber
I was happy with how these scents moved from spicy to botanic, warm gourmand, and mysterious!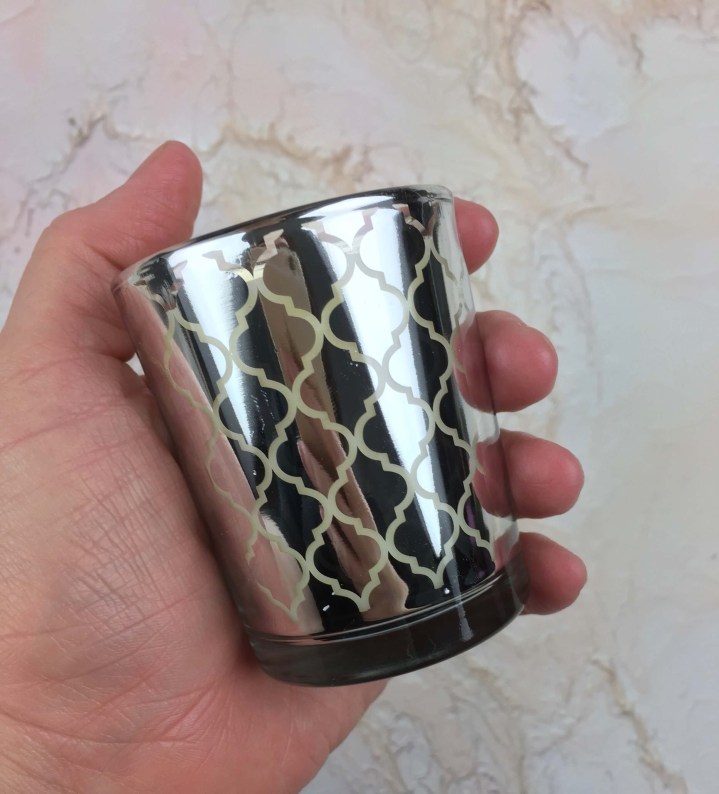 At 3 ounces each they are like an oversized votive, and will look fantastic on the mantel in a holiday display!
Scented Ceramic Disc with Refresher Oil in Black Dahlia Scent ($25) So pretty, and the medallion bears the stamp of DL & Co (which is really gorgeous.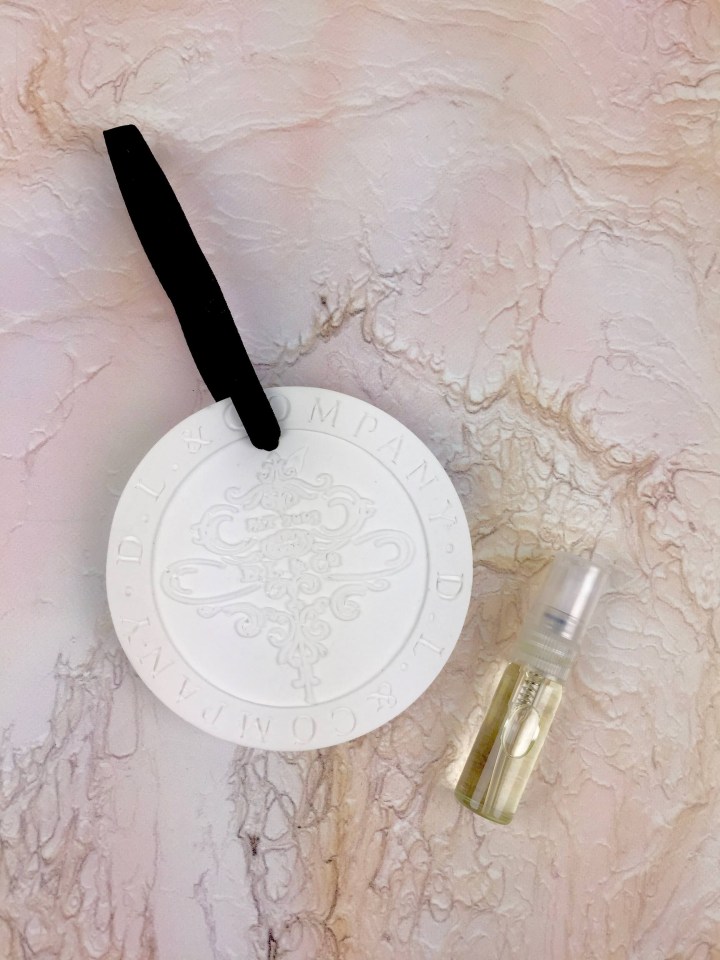 The romance of "the black dahlia," a legendary Hollywood temptress, inspired this sensual and dramatic combination of black pepper, jasmine absolute, amber, and mysore sandalwood. A gorgeous, lush, and spicy blend pits the sweetness of jasmine against the fire of pepper.
This scent wasn't for me – it immediately inspired visions of a head shop, though it contains no patchouli! I love ceramic fragrance disks, so I'll pass along this scent and use my own.
Set of 12 Thank You Stationery ($50 $25) I admit, it hurt my heart a little to unbox this for you! It was just so lovely all wrapped up! I admire a beautiful wrap!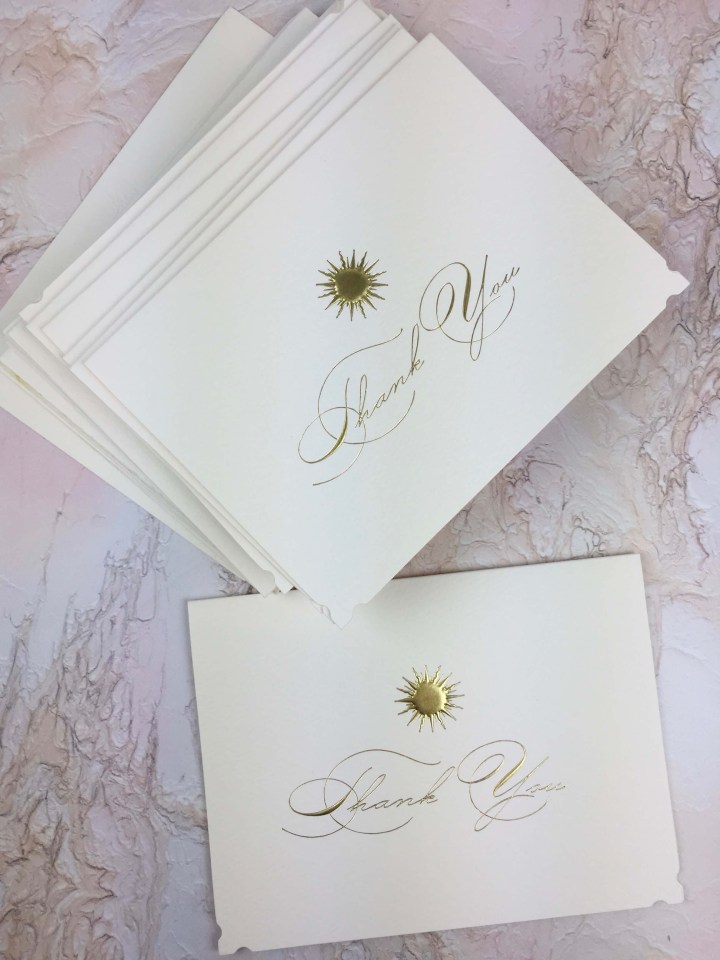 But it was worth it – these notecards are so pretty!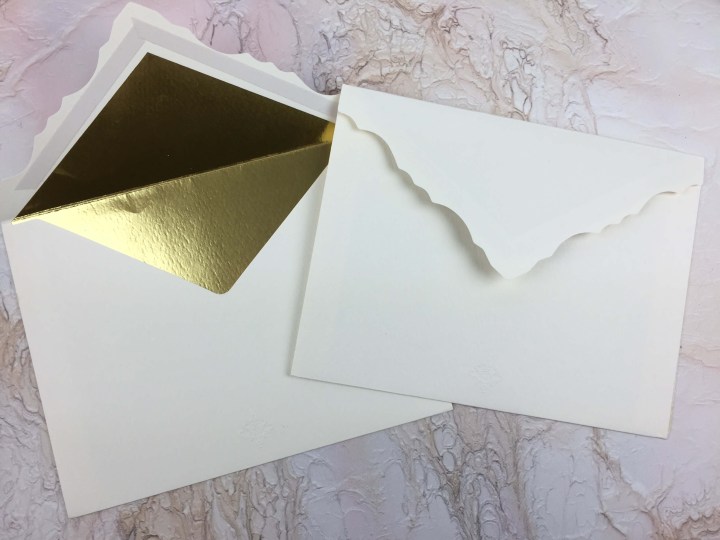 My favorite part – the envelopes are scalloped and use self-stick seals! No licking! That would be far too gauche for these notes!
DL & Co is really perfect for anyone who swings toward a darker yet still elegant and luxurious aesthetic! I calculated a $215.75 value for this box – while fantastic, still quite far short of the $250 advertised retail value. Even if I used the original price of the notecards that only gets us to $240.75. It's not that it isn't worth it, just a little annoying when it's all from the same company, who is perfectly capable of calculating the prices of the individual items.
But lets get back to these candles – they are so beautiful and so opulent – and so is the stationery.  For the most part I absolutely loved all the highly crafted scents. And the look of the items? Totally perfect for holiday!
What do you think of this limited edition box?