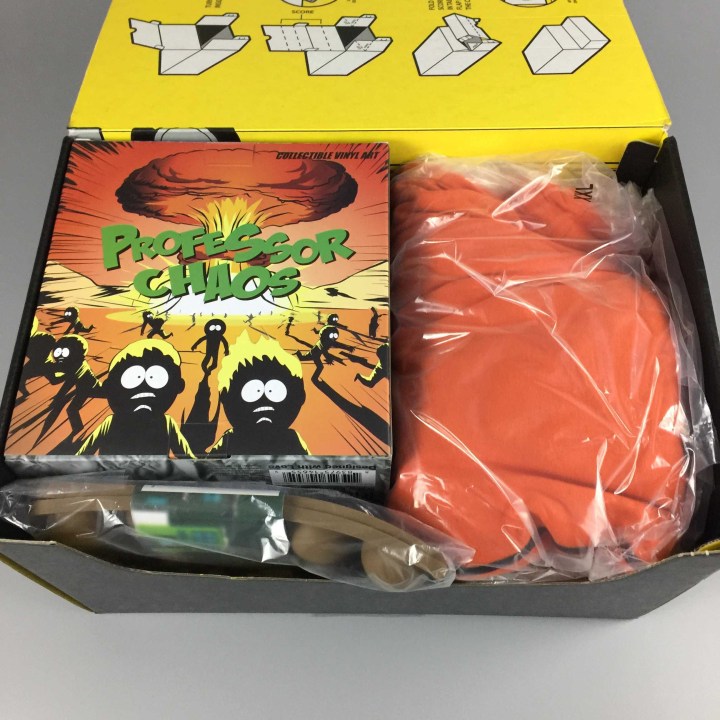 DC Legion of Collectors is an incredible bi-monthly subscription box that includes 100% exclusive Funko Pop! Vinyl, apparel, accessories, collectibles and more from Funko & DC Comics. Each box has a theme and the folks at DC have some of the best female characters in all of comic books.
Lots of really cool content that you'll want to keep locked away to keep it all safe. Stuff to wear, stuff to read and stuff to make your shelves look awesome!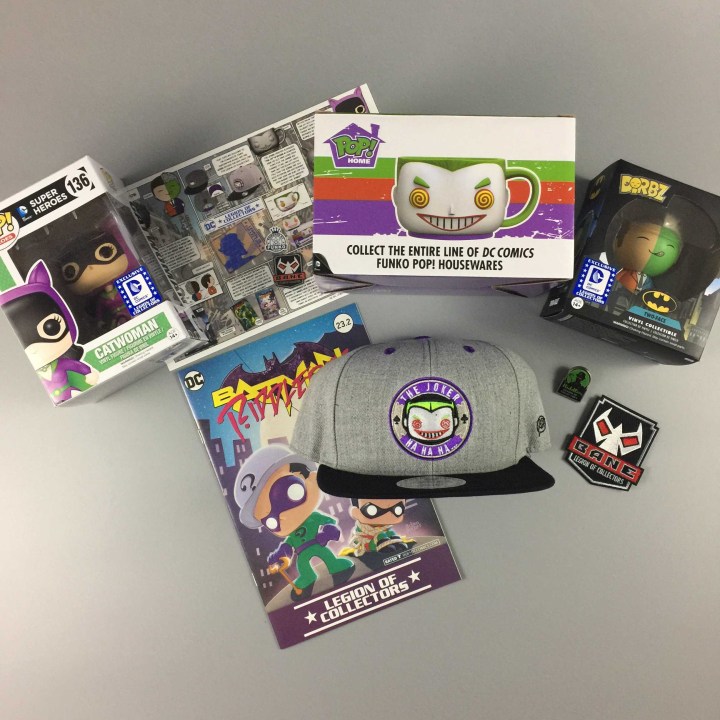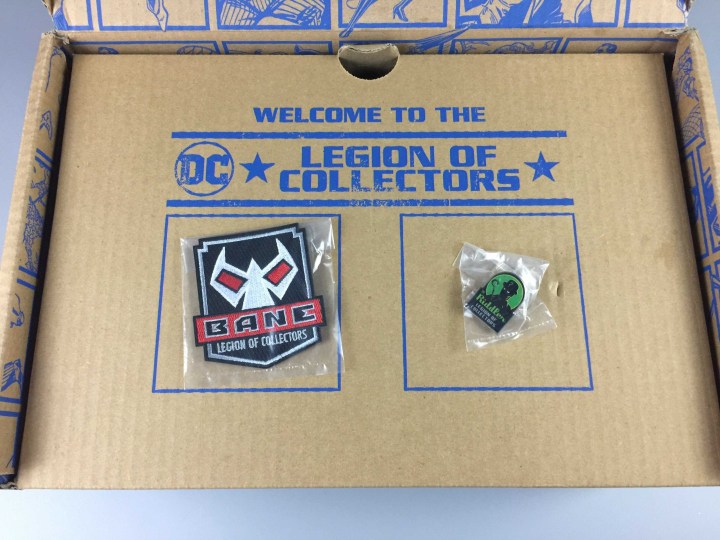 Popping open the box is a big part of the fun. You get a look at a couple of the items – the exclusive pin and patch – and a look at the art inside the box. Take a look at the pictures below for the art.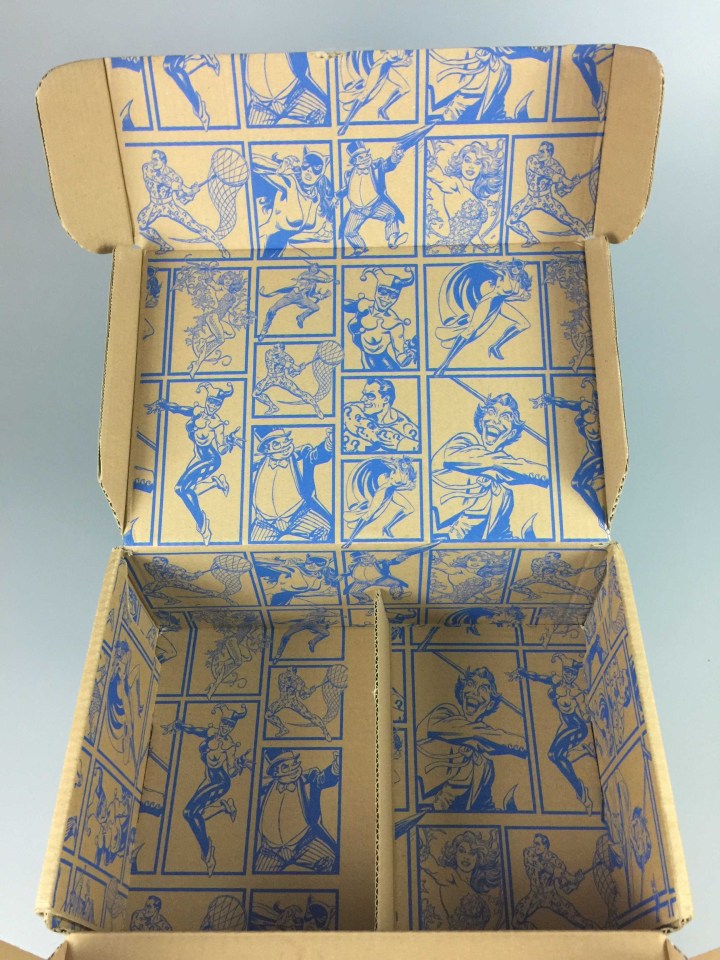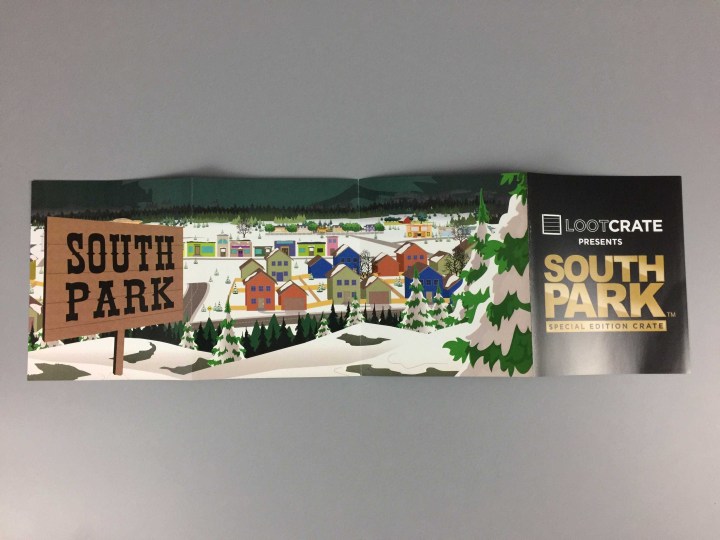 One of the biggest reasons Batman is the most popular hero around is because he has so many great villains. The art on the inside of this box has a bunch of them. The Joker, Riddler, Penguin, Harley Quinn, Catwoman & Poison Ivy in all kinds of poses.
Description Card. It's a checklist to show everything received as well as the creative process behind the making of all the items!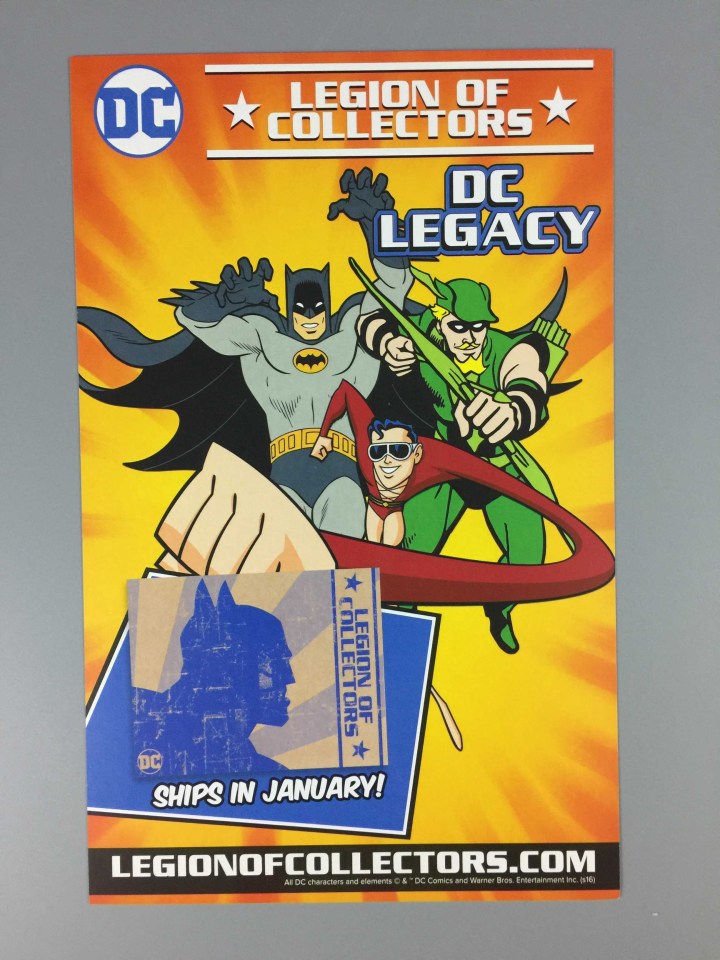 The other side of the description card is a sneak preview of the January 2017 box. The DC Legacy box! It looks like an old school look to the heroes and I'm excited to see what direction DC Legion of Superheroes decides to go.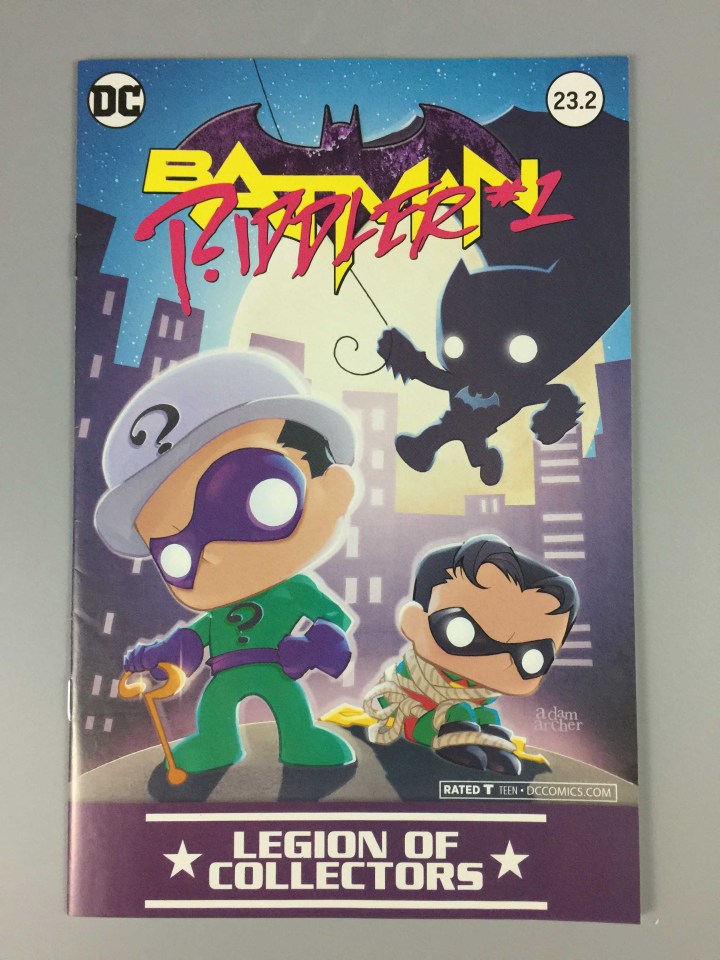 Batman #23.2 aka Riddler #1 Variant. During the "Forever Evil" event, DC had a "Villains Month." Each series had 4 villains that were featured. The Batman series featured the Riddler in the second week. Scott Snyder and Ray Fawkes wrote this story with Fawkes also in charge of drawing the comic book as well. I had the opportunity to chat with Ray Fawkes at a comic con a couple years ago and it was evident he really enjoys creating stories for this character.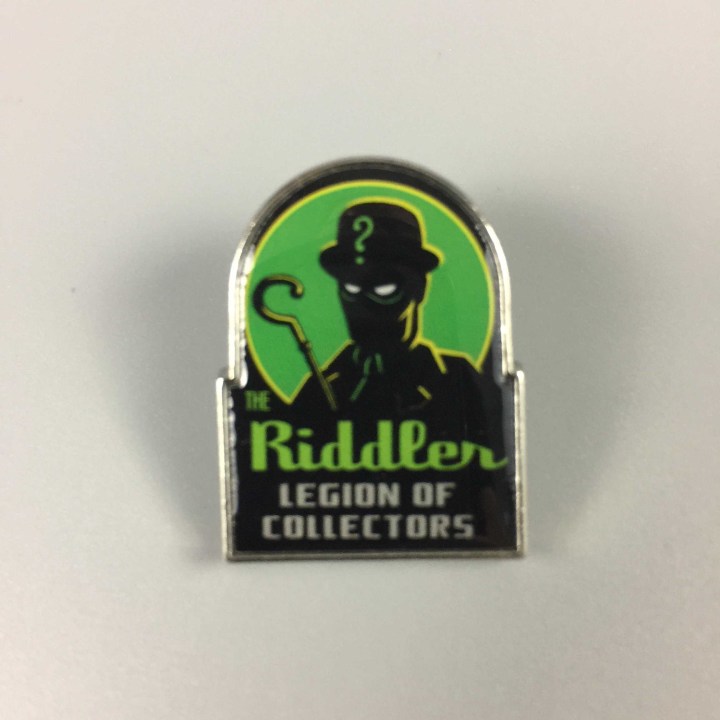 The Riddler Legion of Collectors Pin. Even more Riddler! I really like the look of these pins.
Bane Legion of Collectors Patch. The villain that broke the back of Batman. Bane is one tough customer.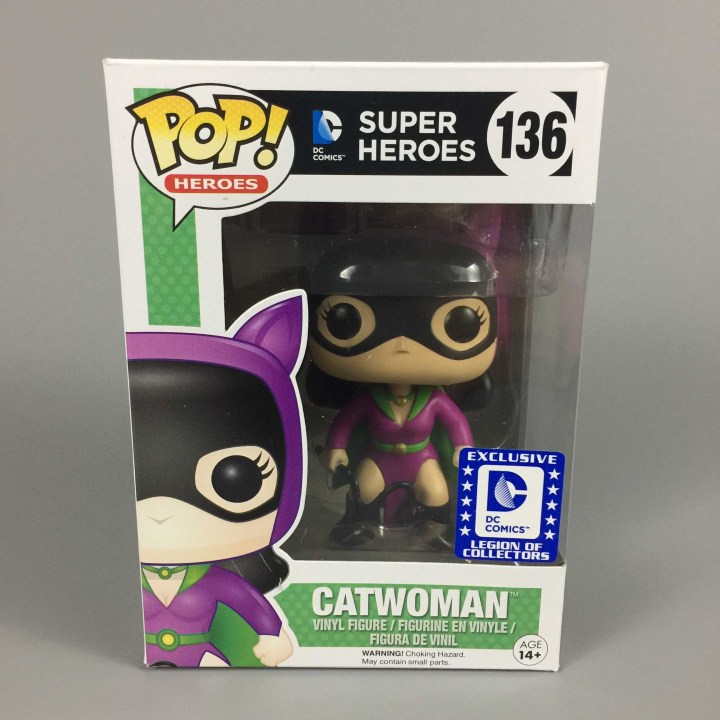 Funko POP! Catwoman. This is another exclusive for the DC Legion of Superheroes subscription box. This is a look that is probably not as familiar to more recent comic book fans. Catwoman in purple with a green cape.
These collectibles are a hot item and it's great to get one that you can't get elsewhere – it's totally exclusive to this box, and currently valued $45 on the POP Price Guide. She is super detailed and looks amazing.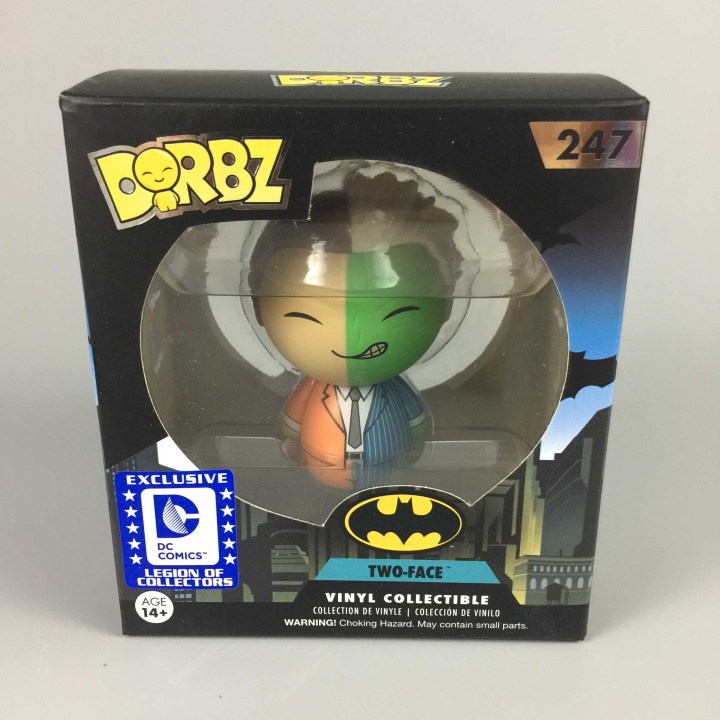 Funko Dorbz Two-Face. Harvey Dent was the District Attorney for Gotham City. He's now the villain with two distinctly different sides to him (literally). I like the addition of his coin.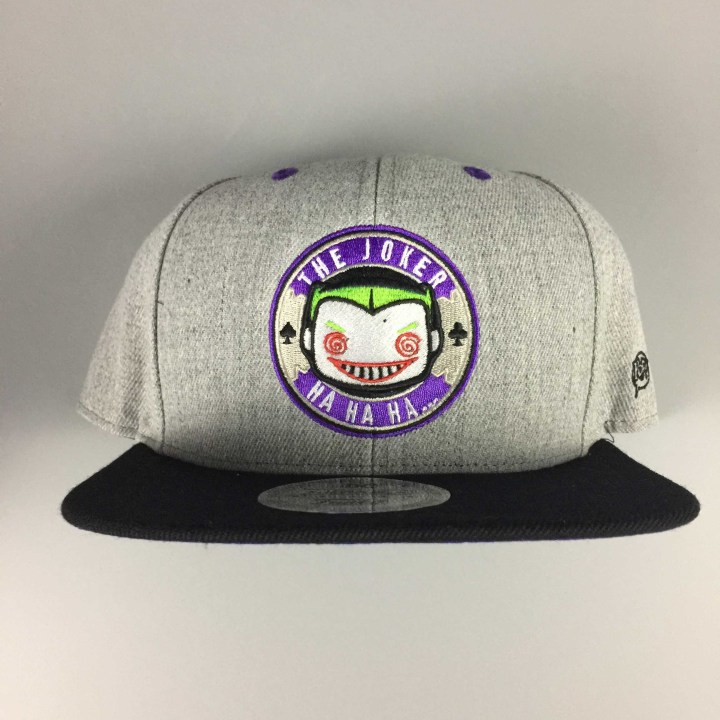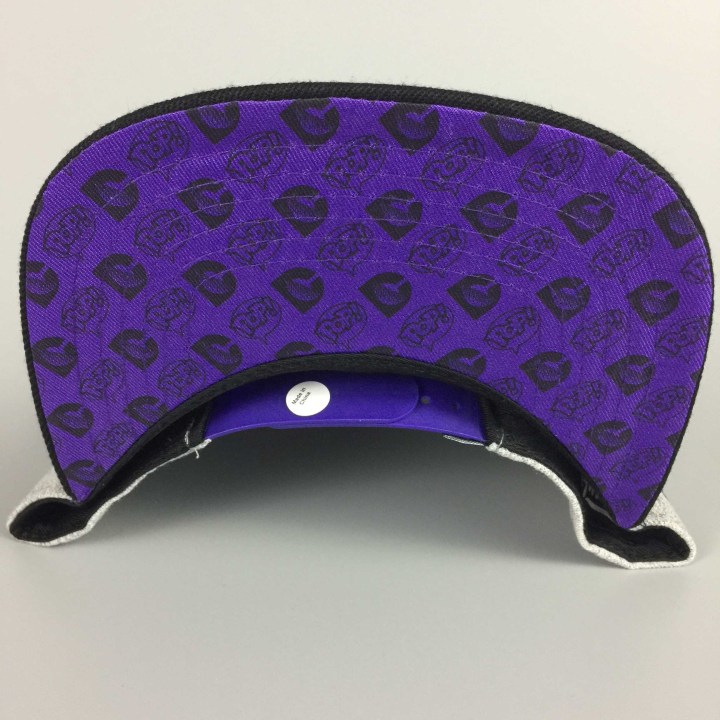 Joker Hat. POP! Tops have now made their debut in the DC Legion of Collectors box. I was happy to see this to change up the apparel side of the box(normally it comes with a t-shirt. I really like the "J" logo on the back of the hat(I actually wish this would have been the front).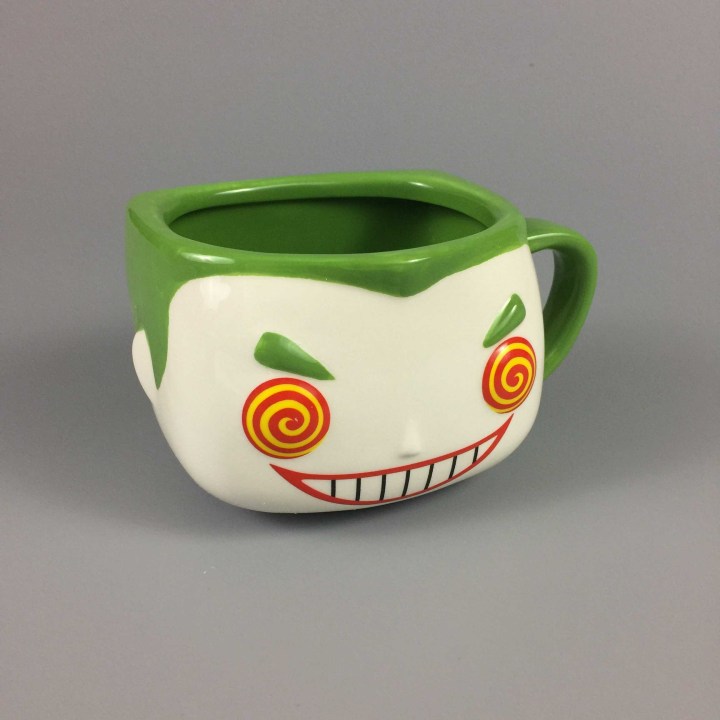 Joker POP! Ceramic Mug. You probably are not going to drink much out of this mug as it's pretty big and doesn't feel like it's made for beverages. It does make for a good candy dish, however.
DC Legion of Collectors is amazing! This is such a fun box and worth every penny. Clothing, comics, and collectibles – it's everything a person could want in a subscription box.
What did you think of the Villains of Batman edition of Legion of Collectors?