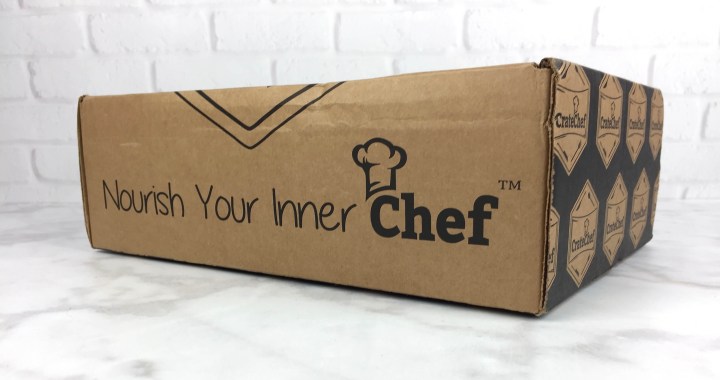 Crate Chef is a bi-monthly subscription box that brings your favorite chefs' top picks to you. Each month costs $45, and you'll get a specially curated box filled with a well-known chef favorite kitchen items, food products, as well as selected recipes.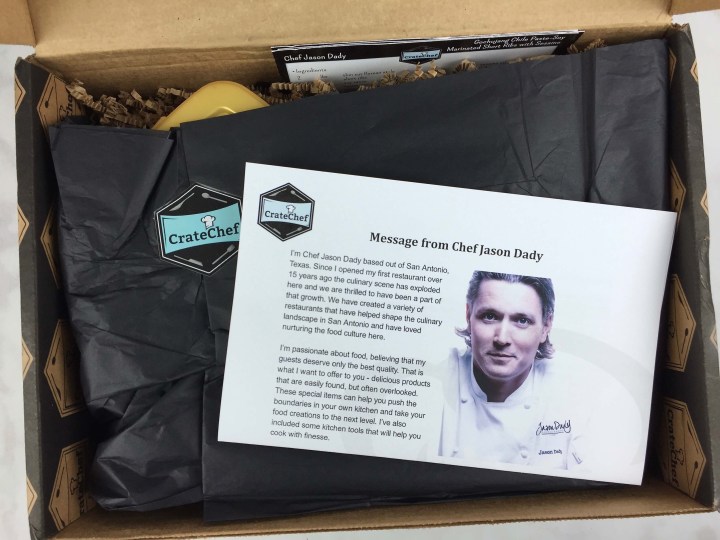 The items are wrapped in a black tissue paper with the Chef Letter on top. The Chef-of-the-Month (September-October) is Chef Jason Dady.
DEAL: FYI, this exact box is still available! Save 10% off your first order with coupon code HELLO10.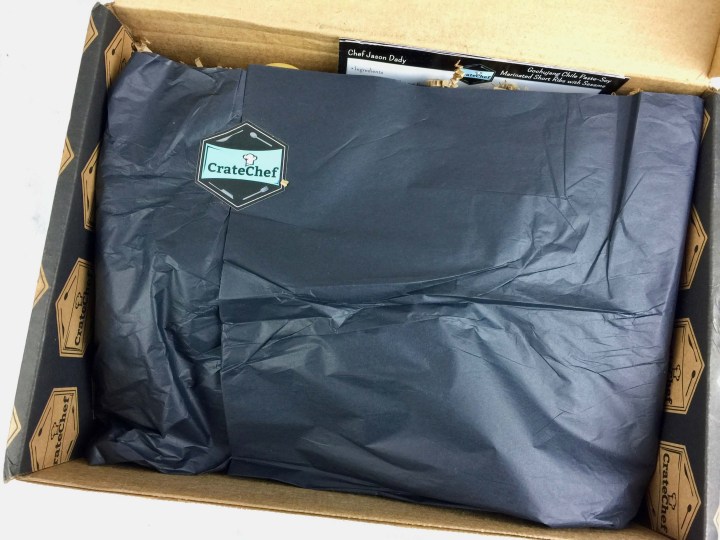 The interior wrapping preserves the mystery, providing the full "unboxing" experience.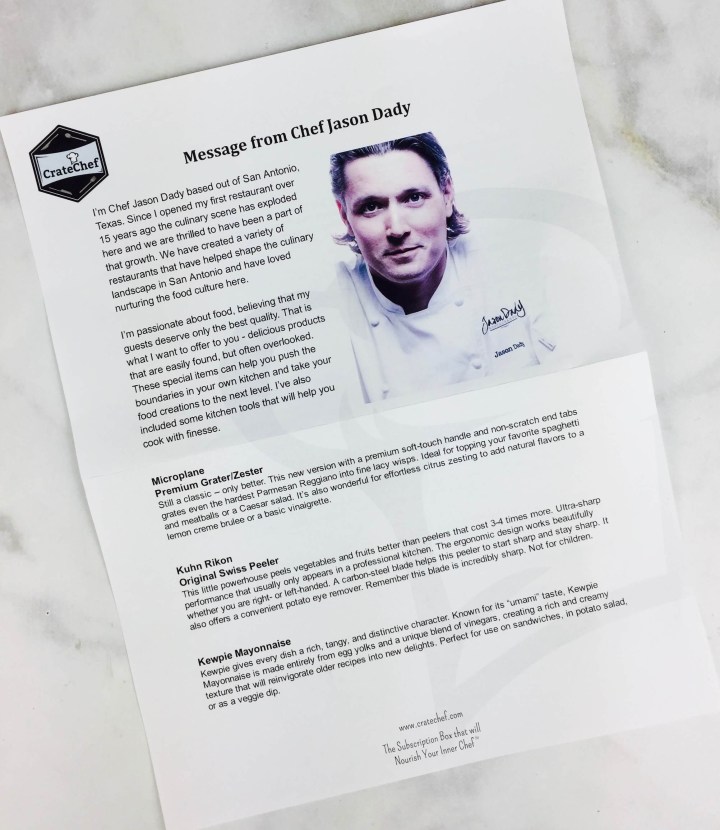 A few words from the Chef Dady via the Chef Letter – his focus was featuring easy-to-find products that are often overlooked. I think that's great curation (yum yum!).
Chef Dady hopes to inspire the readers to try something new using the products he curated. The short letter describes each item and even suggests some great uses for each of the the food items.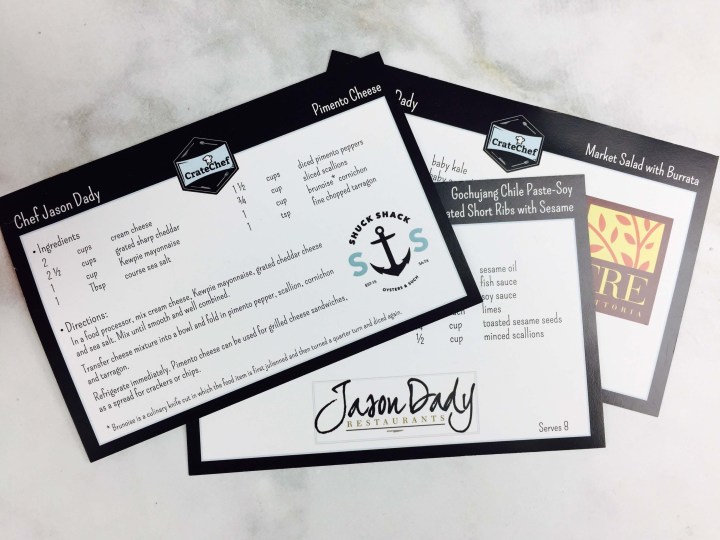 Here are the recipe cards from Chef Jason Dady. Unlike last month's simpler recipes these are a little more involved.
All the goodies from the Crate Chef September-October Box!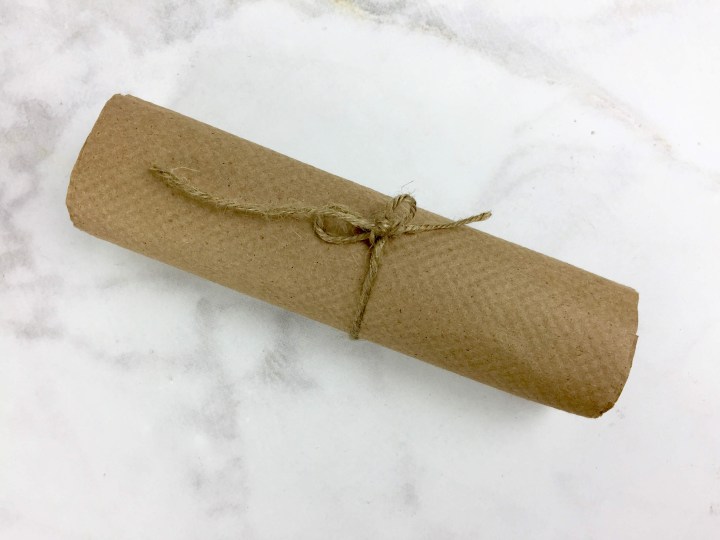 The glass bottle, the only truly fragile item, was wrapped in bubble wrap and rolled handsomely within a scroll.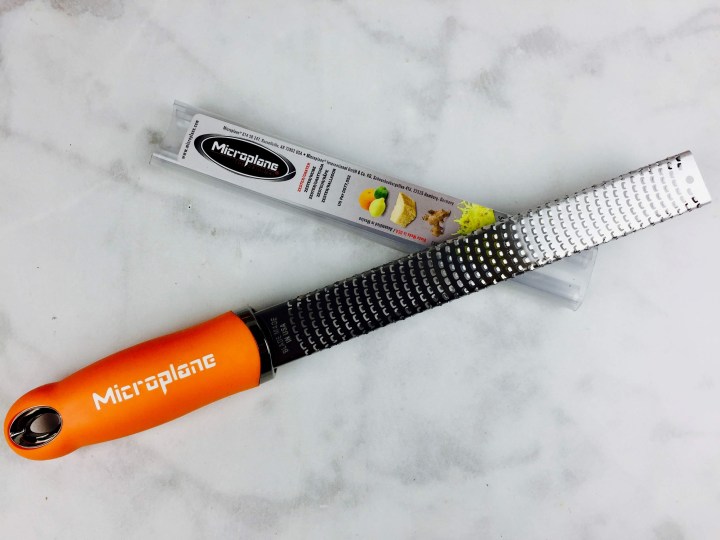 Microplane Premium Grater/Zester ($14.95):  As I've learned from making countless meal kits, a good zester is an absolute essential in the kitchen (I've tried substituting a grater but it grabs too much pith. Microplane is the name in micro graters, so this is a quality item. The bar shape makes this versatile enough to both zest citrus and attack a wheel of aged Parmesan.
Kuhn Rikon Original Swiss Peeler ($6.48) Lightweight and sporting a wide cutting blade, this peeler is ideal for everything from the humble potato to the most exotic of fruits. The blade is very sharp, and the design makes this tool equally handy for either right or left handers.
Kewpie Mayonnaise ($6.72): We've been waiting for ages to get this in a box! This is the premier brand of mayonnaise sold in Asia. It has a richer, more umami flavor profile than western commercial mayo, and the special tip makes it perfect for decorating and applying creatively to food.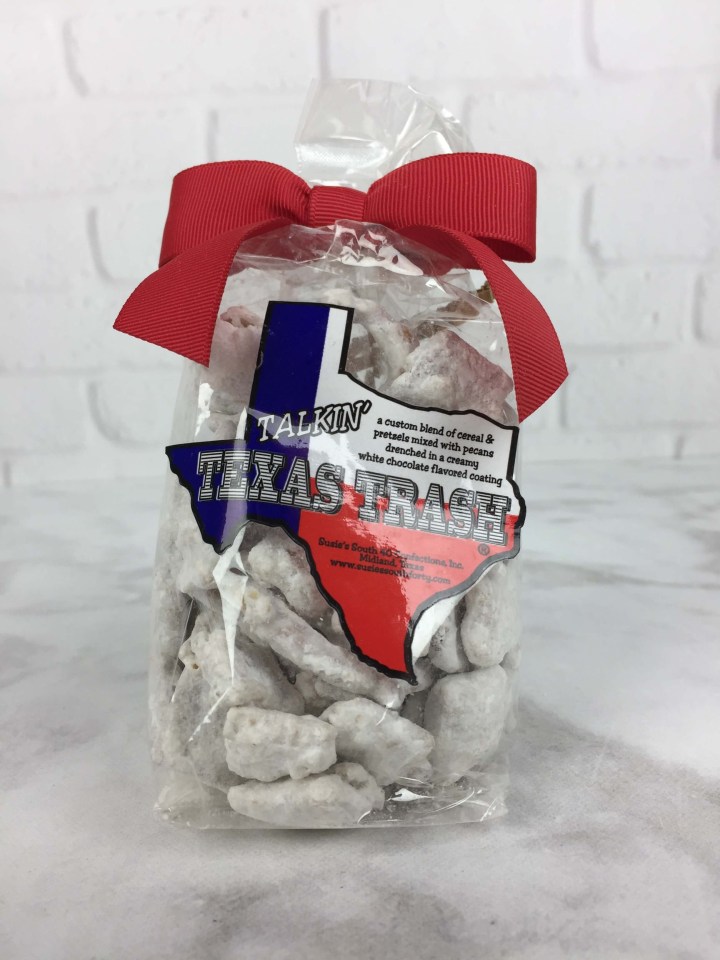 Susie's South Forty Confections Texas Trash ($3.95): Vaguely similar to the recipe for chocolate and powdered sugar coated Chex snacks, but this gourmet version adds pecans and pretzels. Most importantly, the coating is a delicious, creamy white chocolate – I think it complements both the cereal and the sugar coating much better than ordinary milk chocolate.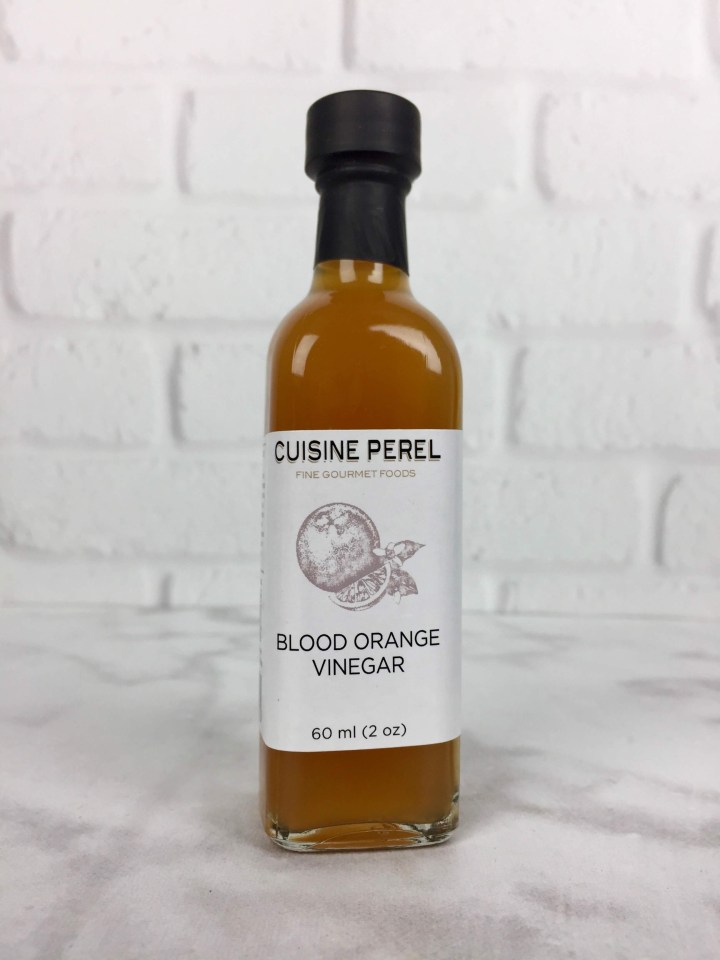 Cuisine Perel Blood Orange Vinegar ($3.98): Infused vinegar ideal for adding sweet citrus flavor and a splash of color to dressings or as a marinade and sauce for fish or pork.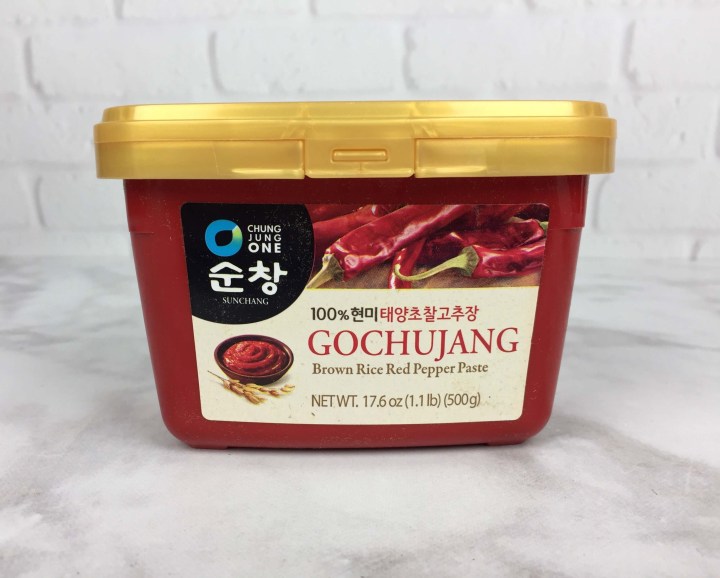 GoChuJang Brown Rice Red Pepper Paste ($7.98): We love this stuff! It adds a blast of heat to any dish, marinade, dressing, or sauce – it is complex and fermented, so it is not just hot, but also pungent and rich.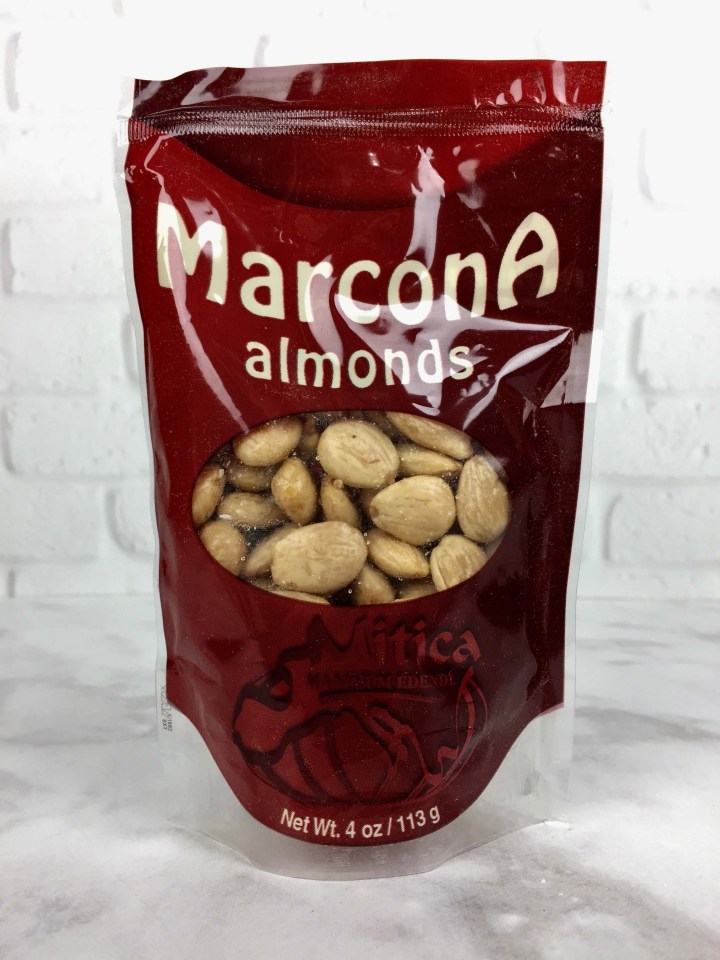 Mitica Marcona Almonds ($2.75): Fancy Spanish almonds peeled, fried, and finished with a touch of salt. The texture is softer and more delicate than California almonds, and I can see why they are so prized.
I loved the curation this month – the tools were extremely useful picks, and the condiments (the gochujang and kewpie in particular) are two items we secretly hope for in every food box! As always, I love to see such a great mix of products from this class of subscription box: immediate snacks, ingredients for the kitchen, and a great cooking tools. Decent value by cost too, with about $46.81 in value – it's good to get value exceeding the price of the box, even if it's not quite the astronomical $90 value of the previous installment!
What did you think about this box from CrateChef?