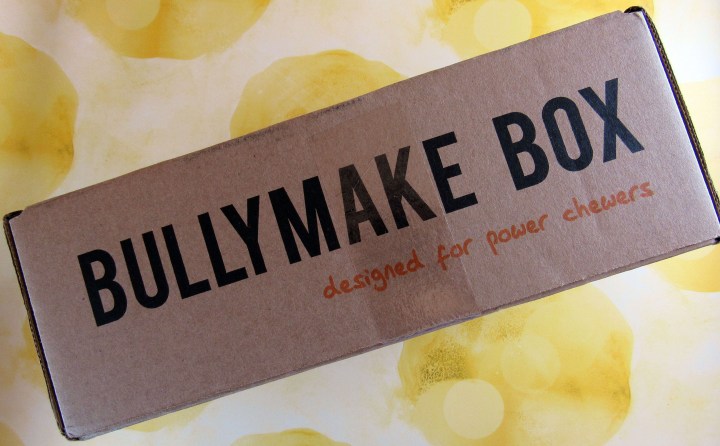 BullyMake Box is the monthly box for power chewers! No plush toys in this subscription! Each box comes with 5-6 toys and teats for your dog. Have more than one dog? Add an extra toy for an additional $9.00 a month. Be sure to fill out the additional information section when checking out. There are four options for allergies including a toy only box. Also, select the weight of your dog which starts at 10 pounds and continues with 10-pound increments to 200 pounds.
Odie is eager to review the box! He is ready to test out his treats and toys.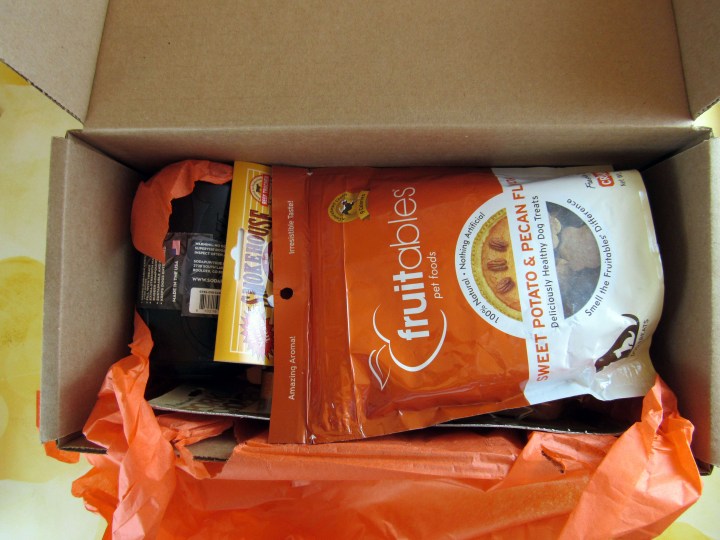 DEAL: Get $10.00 off on our 3, 6, or 12-month Bullymake Box Plan! Use coupon code FB2016.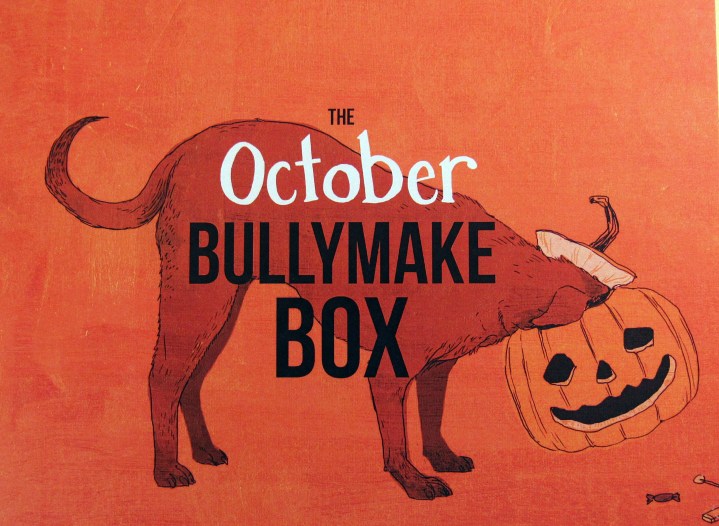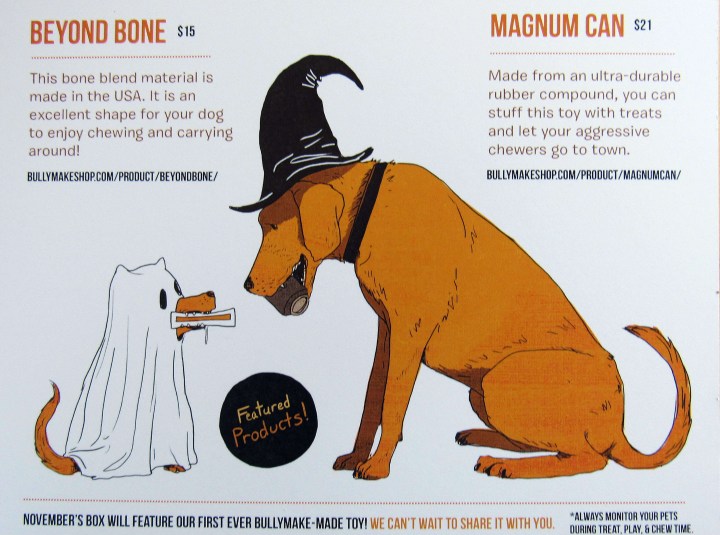 The card is so cute! The dogs in my area join in on the trick or treat fun by wearing their best costumes. The October Featured Products are the Beyond Bone and the Magnum Can. The November box will feature the first Bully Make-Made toy. I am excited for them.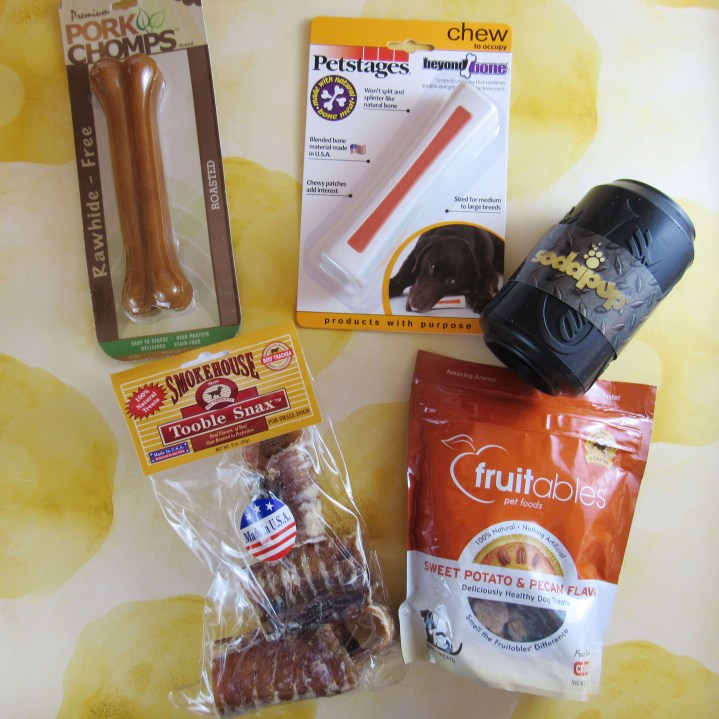 It looks like a fun month The box items were selected with Odie, our Borador, in mind. He is half Border Collie and half Labrador Retriever. He also destroys all dog toys including the expensive durable dog toys that I buy for him. Odie's weight is in the 50-60 pound range.
Both Odie and Daisy loved the Fruitables Sweet Potato & Pecan Flavor Dog Treats (7 oz, $3.75). The treats are sourced and made in the USA. It's full of yummy goodness such as sweet potato, organic oatmeal, and pecans. It's yummy, crunchy treats.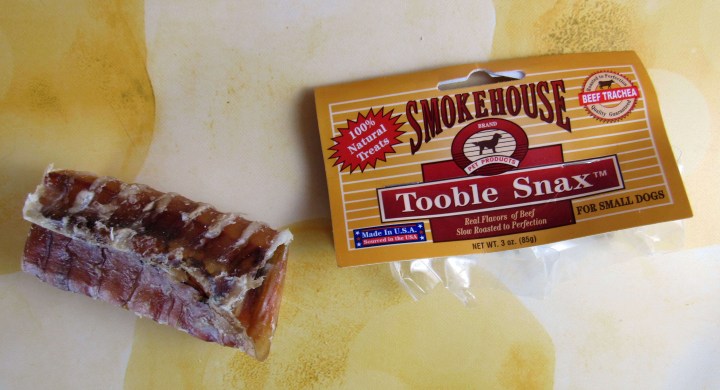 I am convinced that there is a correlation of how grossed out I am by a product versus the dogs' enjoyment. The dogs loved the Smokehouse Tooble Snax (3 oz, $2.39) which are beef tracheas made and sourced in the United States.  This time marks the third time we received them from Bully Make Box. The dogs feel they should be in every box!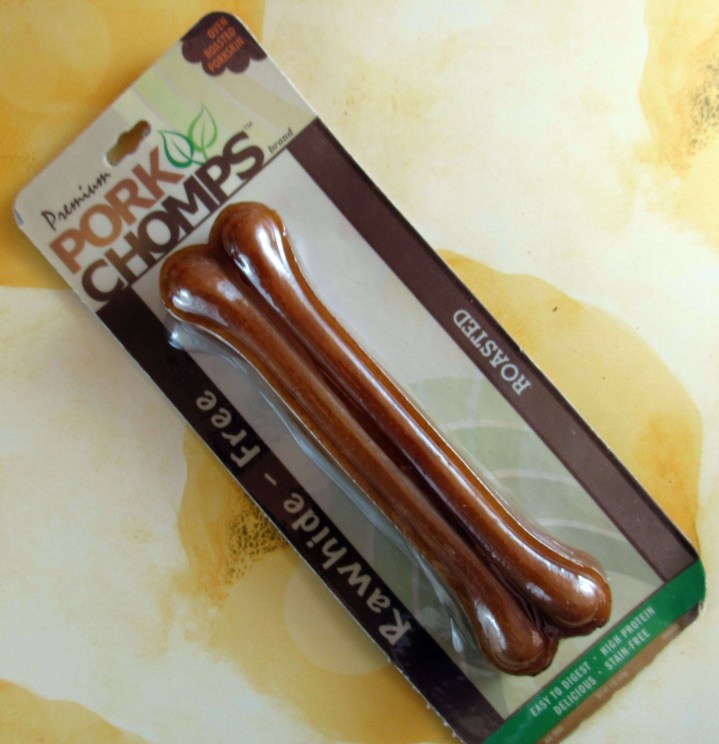 Odie had fun running around the yard with the Pork Chomps 7″ Press Bone ($7.39). I will take it away from Odie once he shows interest in eating it because it is made in China. Here's additional information from Scott Pet that explains why they are made in China.
We looked at China we found answers that made sense for our product. China processes their pork skin in a unqiue way that specifically fits the Pork Chomps patented process. China continues to make high standards of quality a priority. Pork Chomps have been in the market since 2006. To ensure the highest quality standards Pork Chomps are manufactured in a state-of the-art facility built in 2013 that has been certified by the Global Food Safety Initiative (GFSI). GFSI is an international organization formed in 2000 to establish consistent regulations for human food production. Scott Pet is proud of the dedication, hard work and commitment to quality that was required to earn the certification from GFSI. The Scott Pet Pork Chomps facility is one of the few pet manufacturing facilities in the world to receive GFSI certification. The ultimate goal was to give our retailers and consumers the highest level of confidence and quality assurance in Pork Chomps products.
I wanted to be fair to Scott Pet on why they made the Pork Chomps in China. However, I will still remove the bone if he ever shows interest in eating it. It's more fun to bury the bone.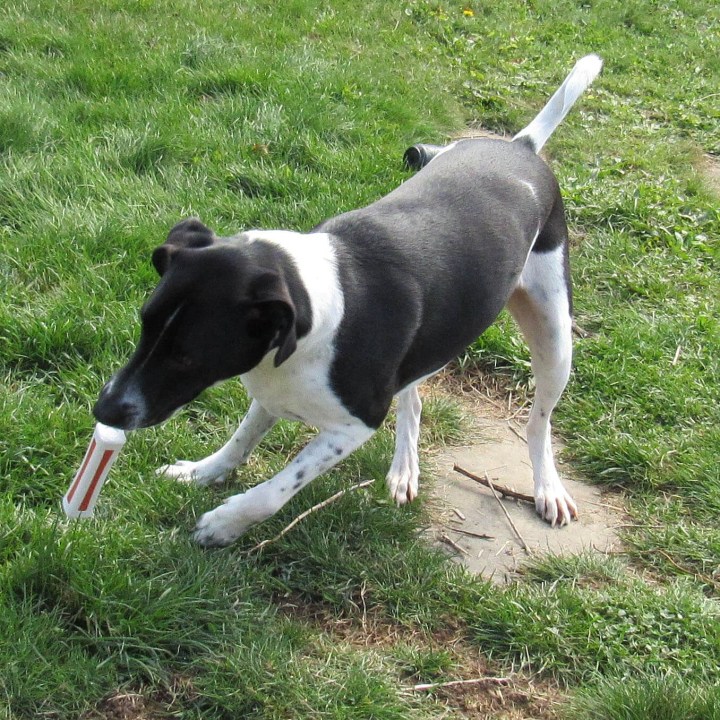 Odie is checking out the Petstages Beyond Bone ($9.22) which is a synthetic chew toy. It is made of a bone blend material made in the USA.  He likes to carry and chew on it.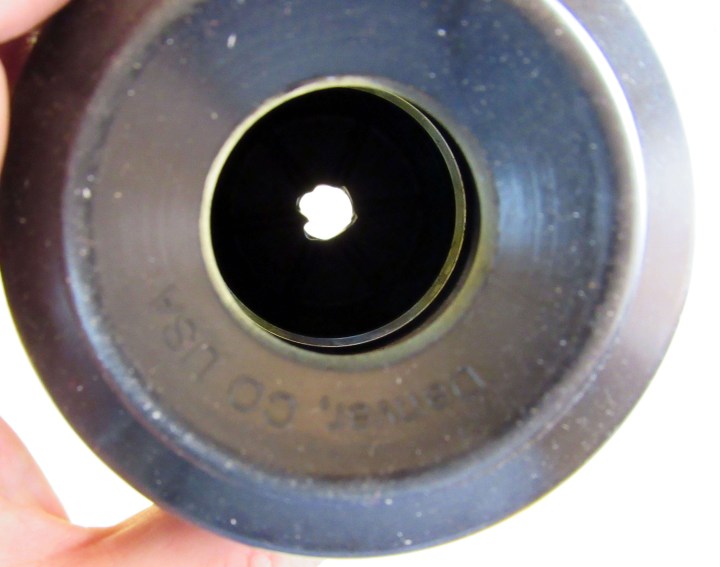 The Sodapop Magnum Can ($21.00) is a made in USA durable toy that can be filled with treats or peanut butter. It's made out of natural rubber and is great for dogs that love to chew. Odie feels any toy that looks like this should have peanut butter in it.
What does Odie think of the box? Has he discovered the art of burying bones?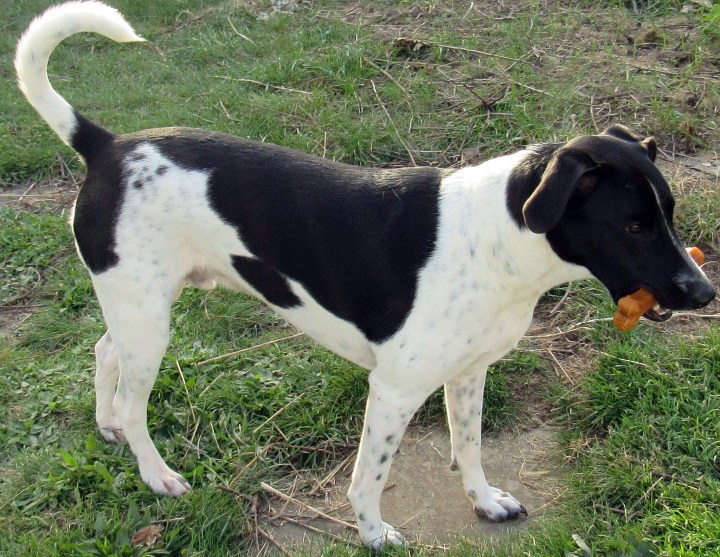 Odie feels that he should bury the Pork Chomp Bone. But how?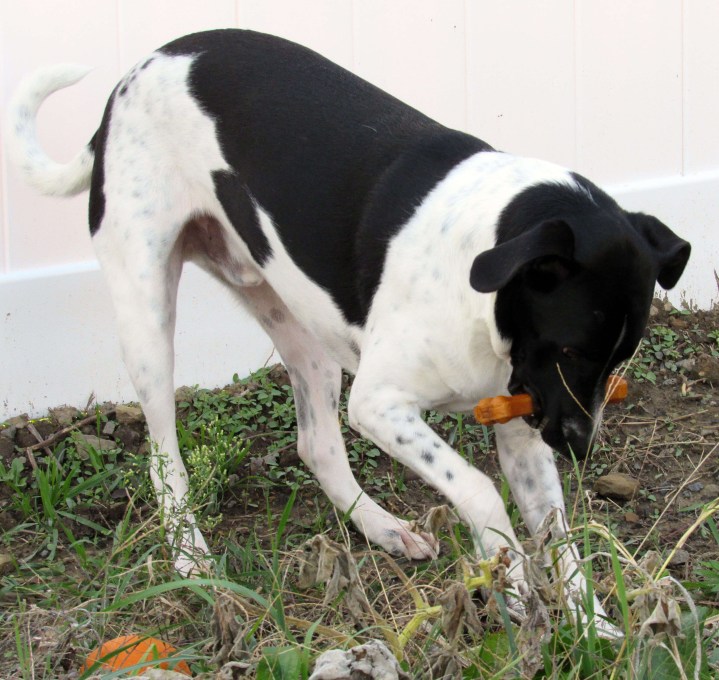 He attempted to bury it in our garden which is being put to bed for the winter.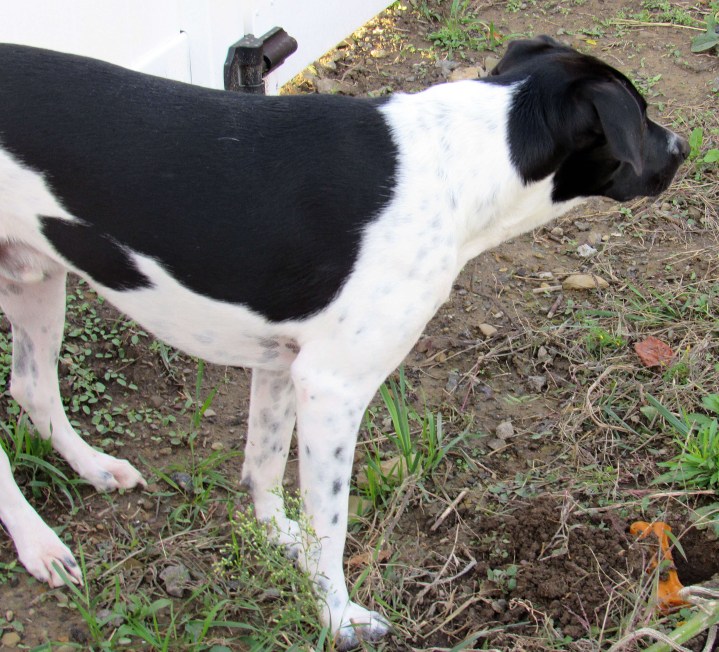 Odie will be taking burying lessons from Bella on his next visit to the farm.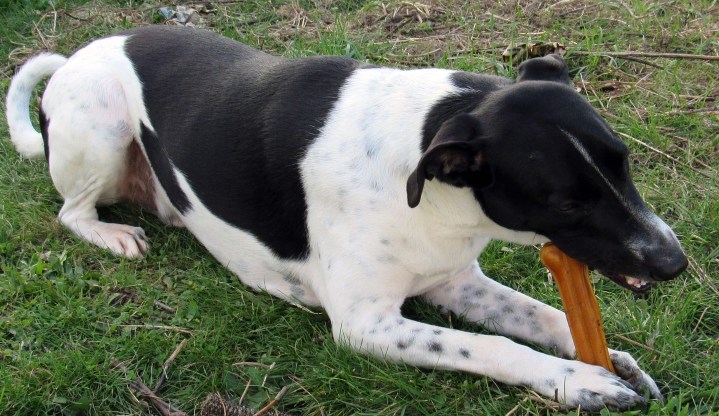 He looked like he was going to eat it. Instead, he got up and tried burying it again against the fence. He did this a few times until I brought out a different treat. The pork chomp bone is half buried and uneaten.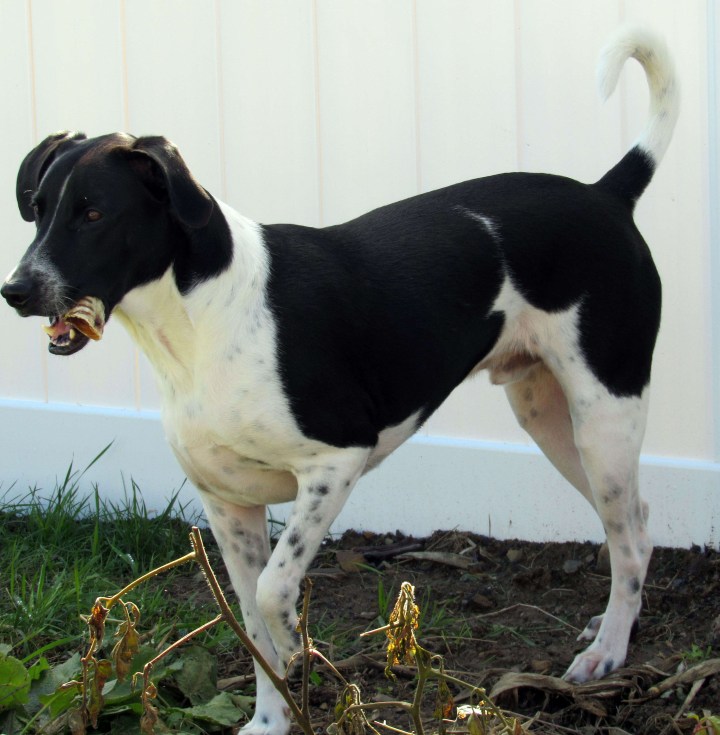 He's unsure if he should bury the trachea. He lifts up one paw when he is unsure.
He decided it was much better to eat it. All three dogs love tracheas!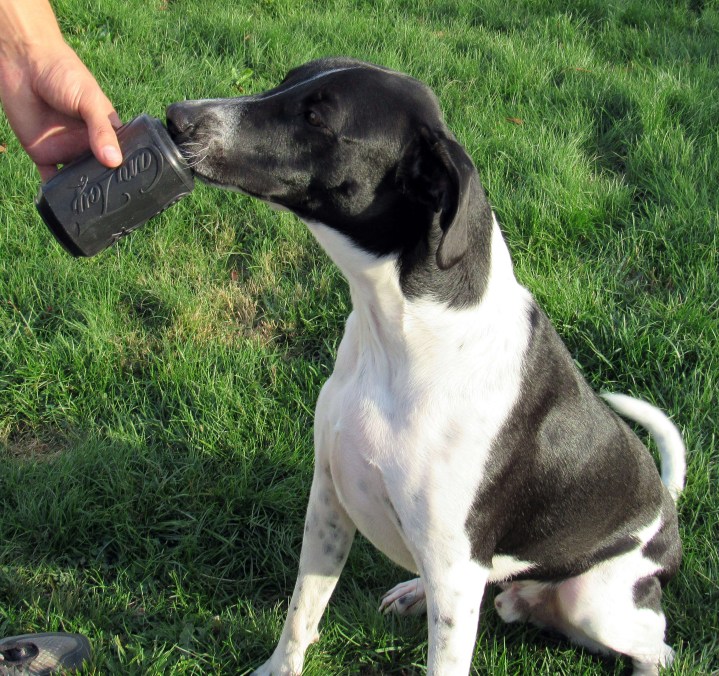 There's only one thought on his mind. Does it have peanut butter?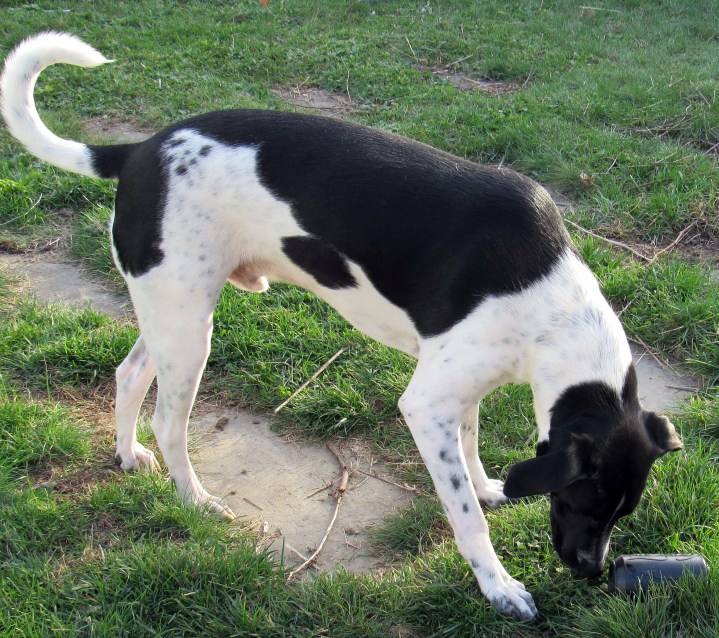 He is enjoying the treats that I placed in the Magnum Can.
It was a joy to watch Odie enjoy the October Bullymake Box. He enjoyed his treats and toys. Maybe one day he will learn how to bury a bone properly! I leave most of the Bully Make toys outside and often find Odie in the shade chewing on his toys. Bully Make is an excellent choice for dogs that love to chew.
What do you think about Bully Make?