Blueberry Cove Beads is a monthly bead subscription box. Each month, you'll receive between 9 and 13 different items. It can be a mix of loose beads, bead strings, findings, and pendants. You can share your creation on their social media for the chance to win a free box. Boxes are $22 per month plus $5 shipping in the US & Canada and their website features projects you can create with your beads.
Inside the box, there's always a nice black satin pouch with a postcard showing the theme of the month. Inside the bag, everything is packed in self-sealing plastic bags, except the bead strands and some unique pieces.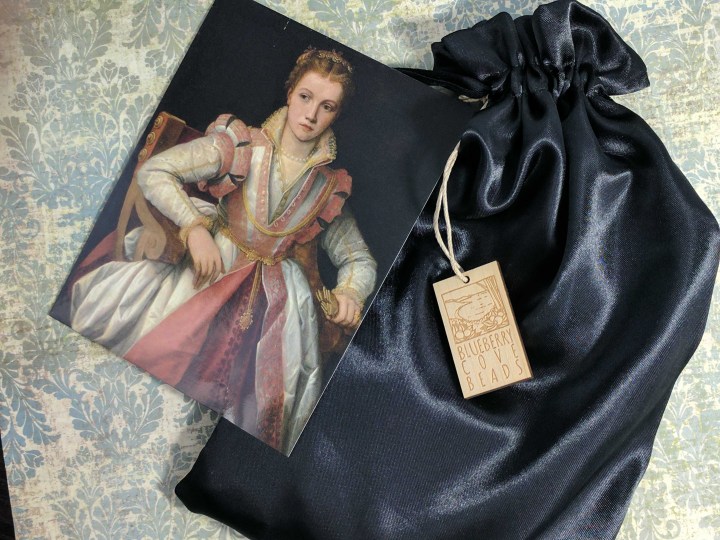 Each month has a different theme. This month's theme was Renaissance. So… pearls? Gold? I have no idea, but I'm very excited!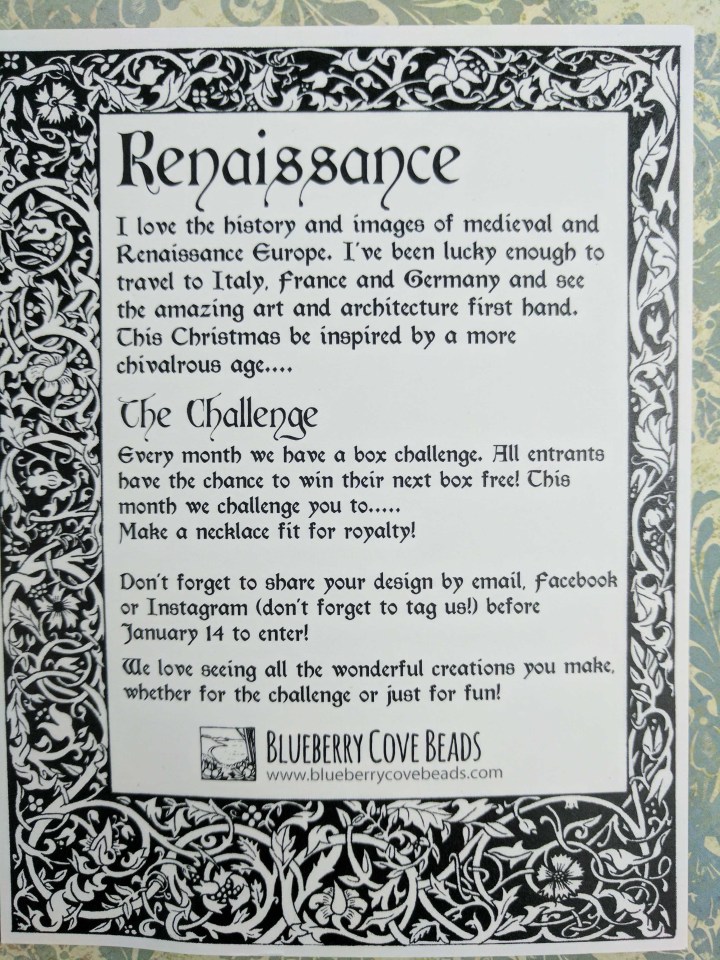 There is no info about the content of the box. Instead, we get a card explaining the challenge (optional) for the month. We can share our creation on their social media to enter a draw for a free box. Also, it's really neat to see what everyone else creates with the same set of beads! This month's challenge is to make a necklace fit for royalty!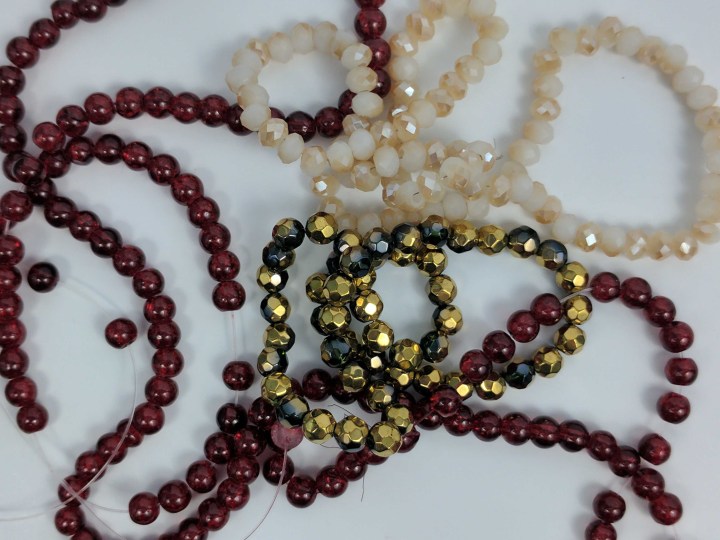 Bead strands! This month, we received quite a lot of them! Usually, you get one, sometimes two strands. So having three is like Christmas!
Cracked red glass beads. I really like cracked beads (even though I'm buying them, but I never come around to actually use them). I love the deep garnet color. I'm tempted to make a multi row necklace with only those beads. With gold findings.
Champagne colored rondelles, with half AB coating. I love how they remind me of mother of pearl beads. The color is so soft, ivory-like, delicate. I could see them in chandelier-style earrings.
Faceted round glass beads, green with gold metallic half coating. The green color is harder to see, but they are quite nice and regal!
Tear Drop shaped glass bead, light lilac. They would be perfect as a focal point in a necklace with a lot of drapes and such. They are very pretty.
Cabochon paintings. These are very interesting. They would sit well on a lace choker, or hanging from the choker (like the one seen around the neck of the Marquise de Pompadour in the picture on the right, by the painter François Boucher). (Note: The second painting is by John William Godward.)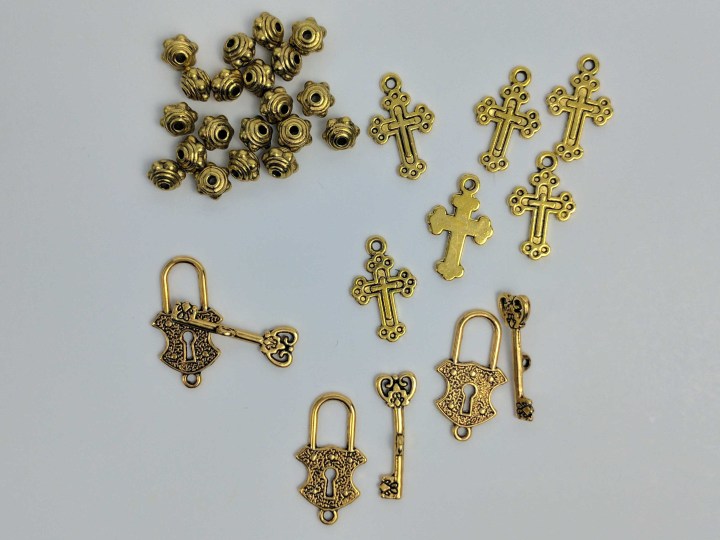 Key and Locket toggle clasps. I love them! They are so detailed, they can be used as front clasps!
Golden Cross charms. These are quite charming! I associate them to the Renaissance in Italy and the paintings on the Sistine Chapel. They fit the theme so well! I don't know how to include these in a design, but it's pretty neat, especially with Christmas right around the corner!
Golden spacer beads. I can always use more spacer beads, and I like the details on them. They could work as beads as well!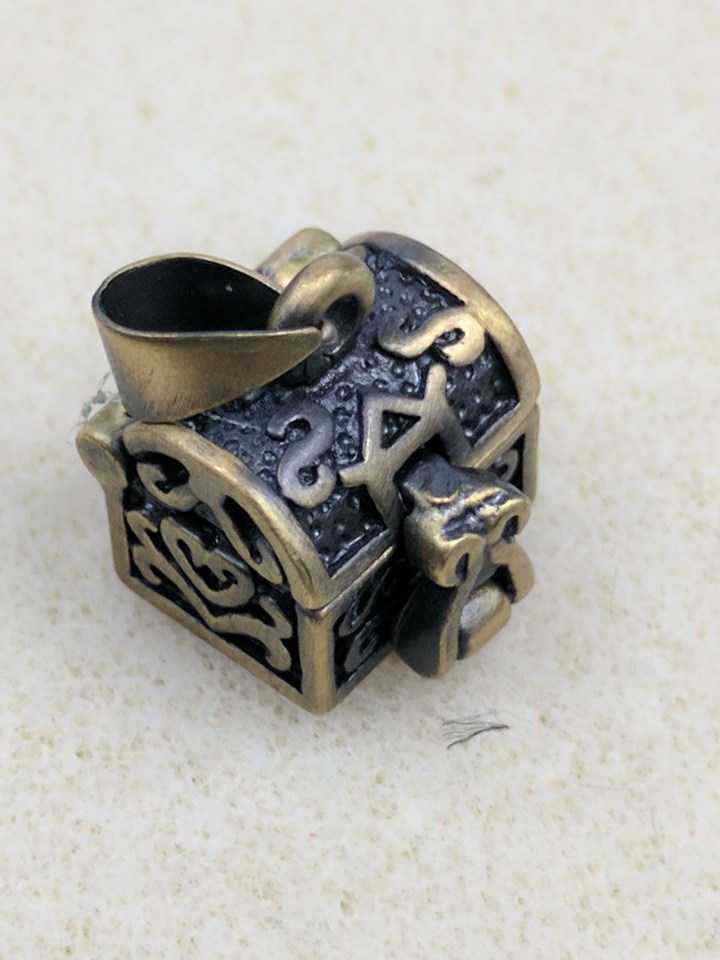 Little treasure chest pendant, antique bronze. This is so cute! It does open and you could, technically, hide something in it.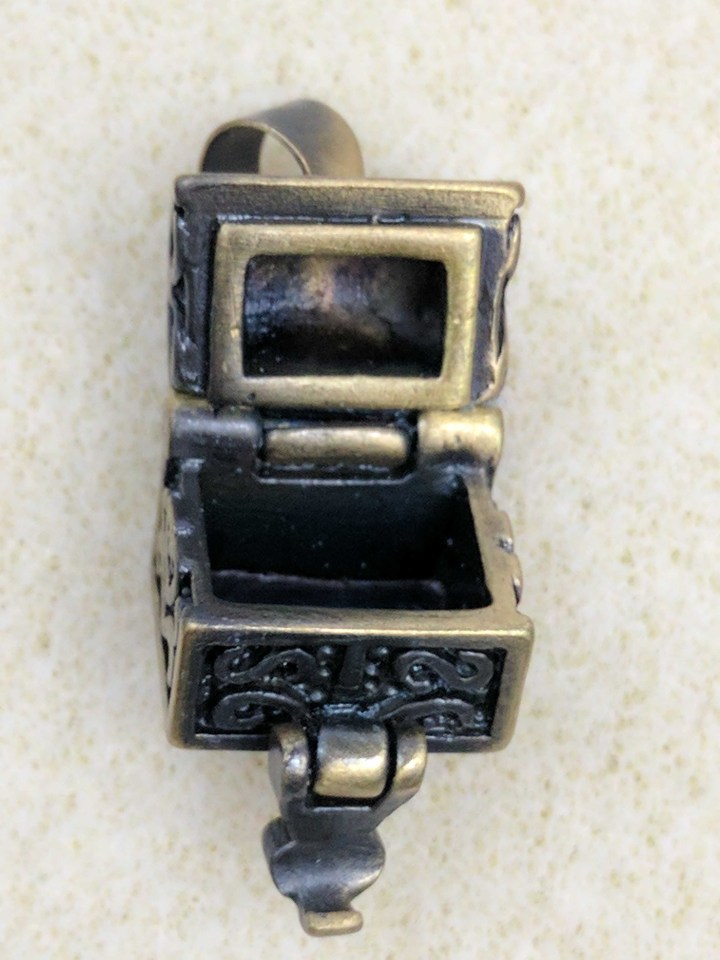 Very tiny!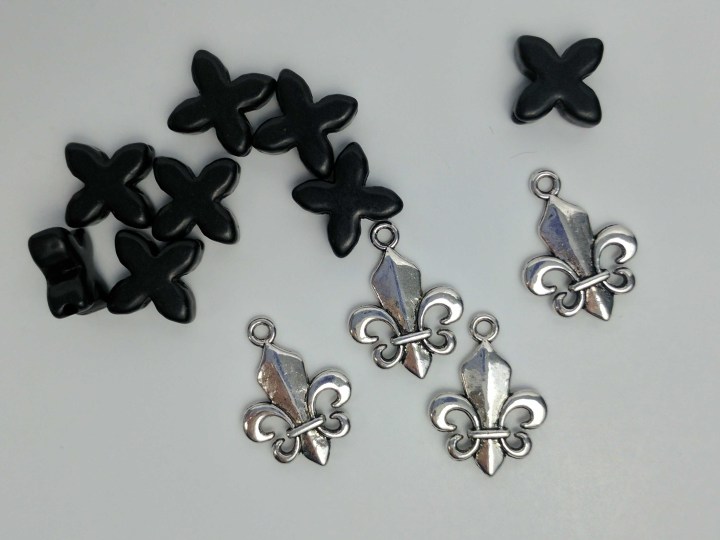 Antique silver colored Fleur-de-Lys. Ho, hello France of François 1er! With some blue (Royal Blue), it would be fitting for a Royal France!
Black Cross. I can't remember the name of that type of cross, but I do remember seeing it in a lot of floor patterns or stained glass. The holes is from tip to tip and the beads would make a nice simple bracelet by themselves.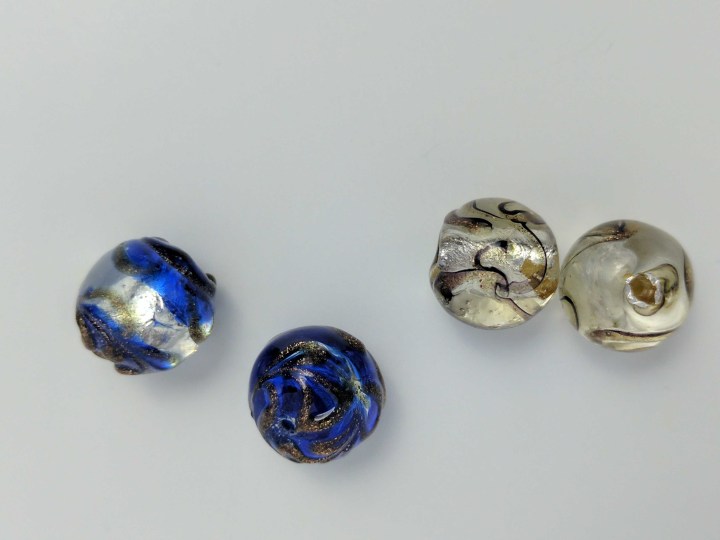 Lampwork beads, blue and champagne colored with tin foil inserts. I really like the lampwork beads this month. I'm usually not a fan of this type of beads, but they go well with the theme this month. I might use the blue beads with some Fleur-De-Lys for a French inspired design!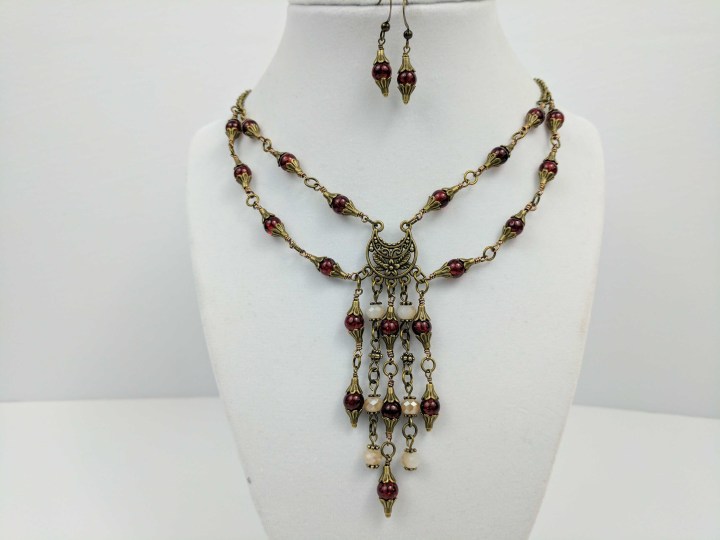 For this month's project, I decided to use the red beads with some antique brass findings. I also used the nice white and champagne silky beads for the central piece.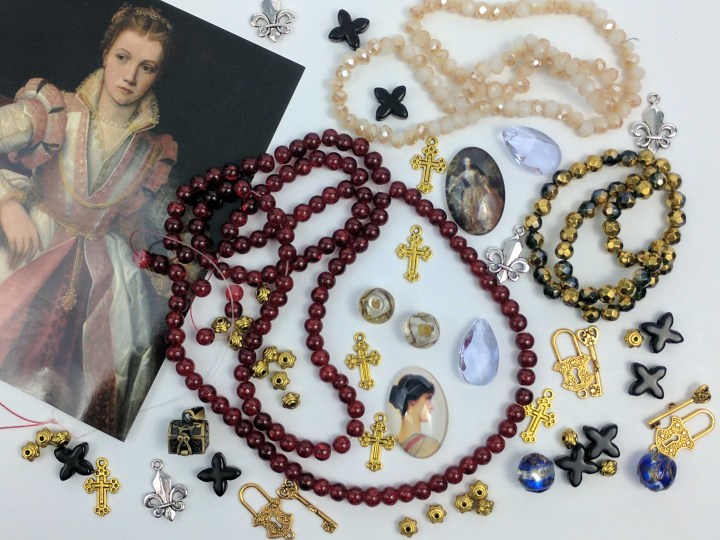 This month's RENAISSANCE was a hit! I feel like we had a bit more beads this month compares to previous months. It was a well-rounded box, with a bit of inspiration from different places in Europe. I really like Blueberry Cove Beads themes and how this box brings unique beads that I don't necessarily find at the craft stores. Although it wasn't my favorite box from them, it was a very inspiring one and fun to play with!
What did you think of this month's Blueberry Cove Beads?