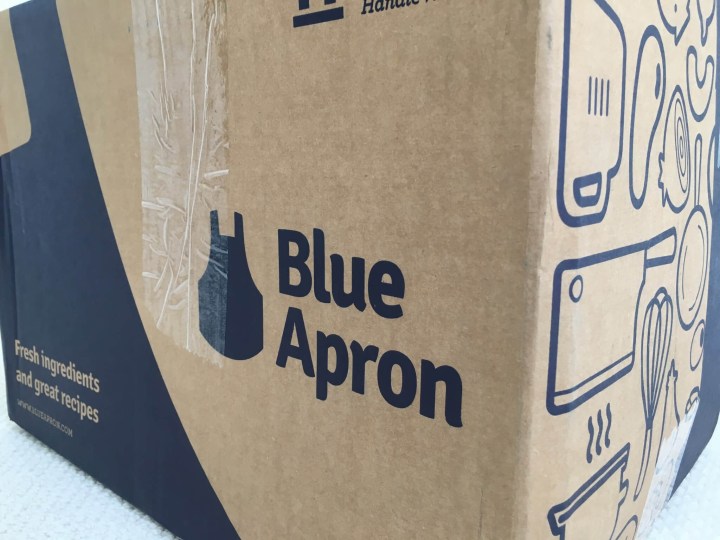 Blue Apron is a subscription box for making great meals at home. If you're like me, you periodically find yourself in a serious cooking rut. You make the same things every week, but the thought of researching a recipe and acquiring all of the ingredients is just too much work. Blue Apron is the solution! Each week, Blue Apron sends you a refrigerated box with all the fresh ingredients you need to make the included recipes. You can select the 2-person plan – 3 meals a week of 2 portions each – or the family plan – 2 to 4 meals a week of 4 portions each. The menus are set, but you can ask Blue Apron to avoid ingredients you don't eat – shellfish and lamb, in my case.
We got the Family Plan for 2 meals. I set the delivery date and it arrived right on time, securely packaged in a heavy-duty box. All of the ingredients are wrapped in an adorable insulated blanket and cooled with ice packs. Mine took a day to arrive and sat on my porch for 3 hours, and everything was perfectly cool inside.
Pricing: 2-Person Plan – $59.94 for 3 recipes. Family Plan (serves 4) – $69.92 for 2 recipes, $139.84 for 4 recipes.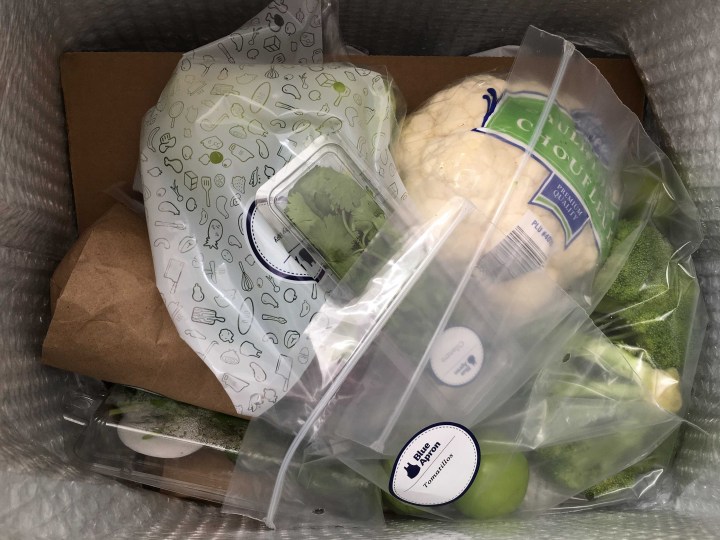 DEAL: Save $30 on your first order! Use this link – no coupon code required!
The meat is at the bottom, surrounded by still-frozen gel ice packs. The pork was double-bagged in an extra ziptop bag, so no concerns about leakage. The produce was all in good shape, which makes two boxes in a row without mishap. The limes were ancient, with literally less than a teaspoon of juice each, but you couldn't tell that from the outside, so I'll give them a pass on that.
This month, Blue Apron debuted a quarterly (?) newsletter in place of the "from the farm" card. It was in newsprint format, with pretty photos and reasonably interesting content.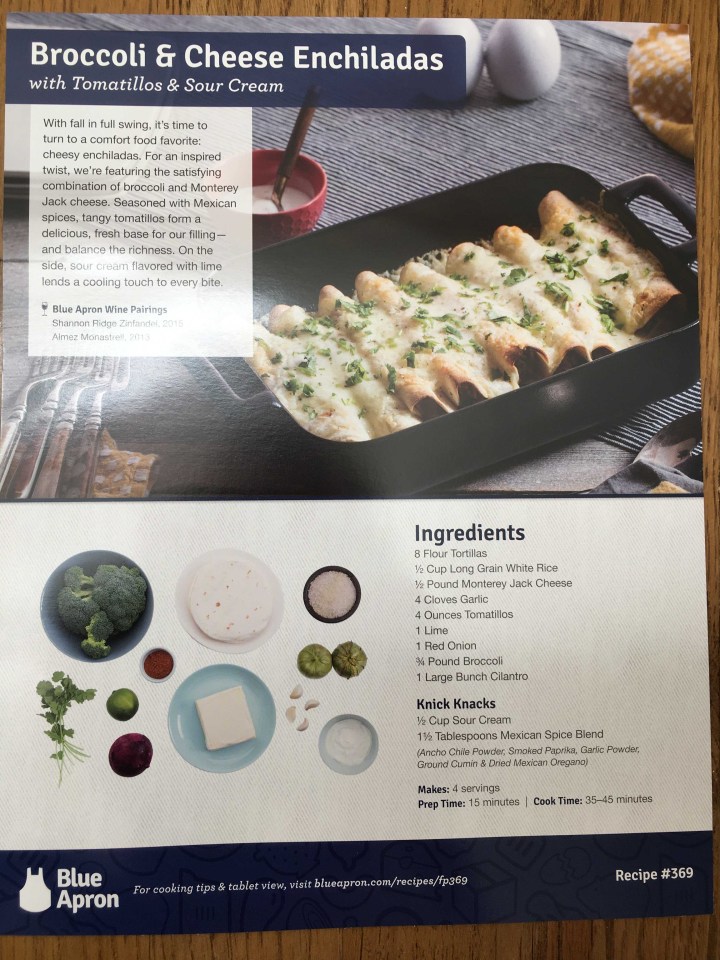 The first meal in our box was the Broccoli and Cheese Enchiladas with Tomatillos and Sour Cream. This was a vegetarian meal, but after reading the reviews, I decided to add shredded chicken to it. Don't you find it super irritating when someone on a recipe comment is like, "This was great! I made these seventeen changes"? But I also find it super irritating to be hungry two hours after I eat dinner. So, chicken went into the mix.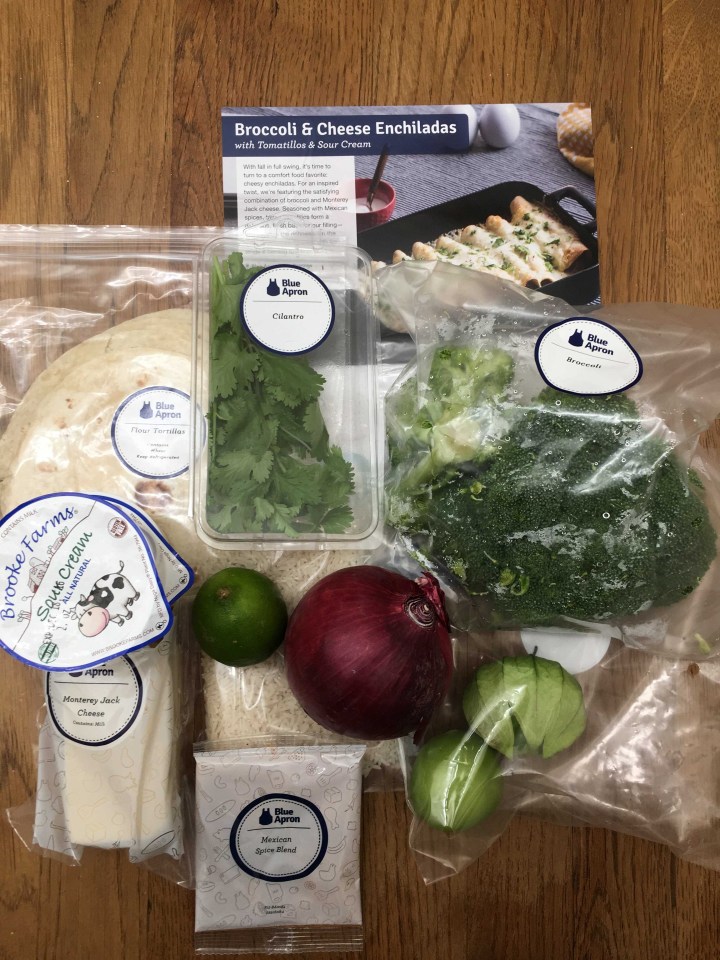 As usual, all of the ingredients were included. I am not wild about the sour cream Blue Apron sends – it usually separates in transit and doesn't like to recombine. So I used my own. Blue Apron does a great job of sending you just the amount you need for the recipe, so you don't waste anything; nor do you have to think about how much to add to the recipe. Easy peasy.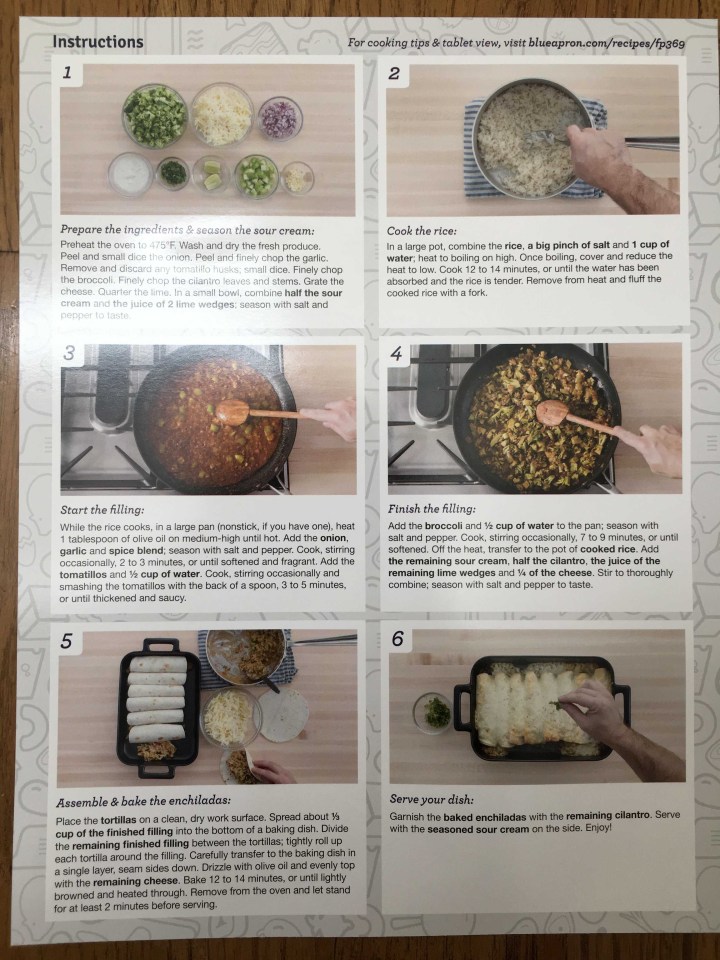 Each recipe comes with these easy-to-follow instructions. Even if you are new to knife skills, you will be able to do everything on this list. I don't know how they broke out "prep" versus "cooking" time, but there was a lot of knifework for this recipe. It definitely took longer than 15 minutes to prep this one.
Now included in the box is the meal's nutrition facts. I think it's nice to have a ballpark idea of how this meal fits into my daily nutrition. Thumbs up.
This recipe was straightforward to make – I just added the shredded (already cooked) chicken to the broccoli mixture to warm through at the end. I've never cooked with tomatillos before, and they are weird-looking inside! That's one of the fun things about the Blue Apron boxes – I get to work with ingredients I might not have otherwise tried out.
This all came together nicely. I admit that, in addition to adding chicken, I also added enchilada verde sauce. I know, I know!!! But the reviews lamented the lack of sauce and the "put 1/3 of the filling under the enchiladas in the baking dish" seemed like a way to get a bunch of burned filling. So I put verde sauce on the bottom and then more over the top of the rolled tortillas before I added the cheese.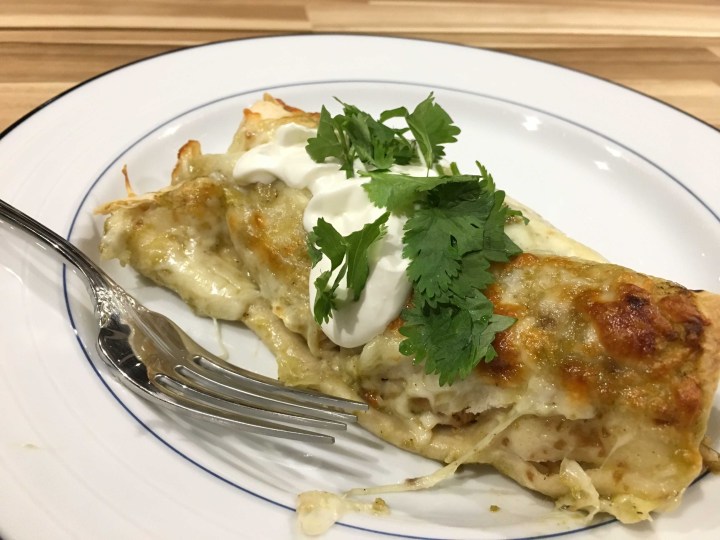 These were good. Even my husband, who doesn't really like broccoli and was extremely dubious about this dish, enjoyed it. I'm sure the chicken and sauce helped. SO MUCH leftover filling. Like, enough for two more pans of enchiladas. I'm going to make and freeze them. Tasty Friday dinner.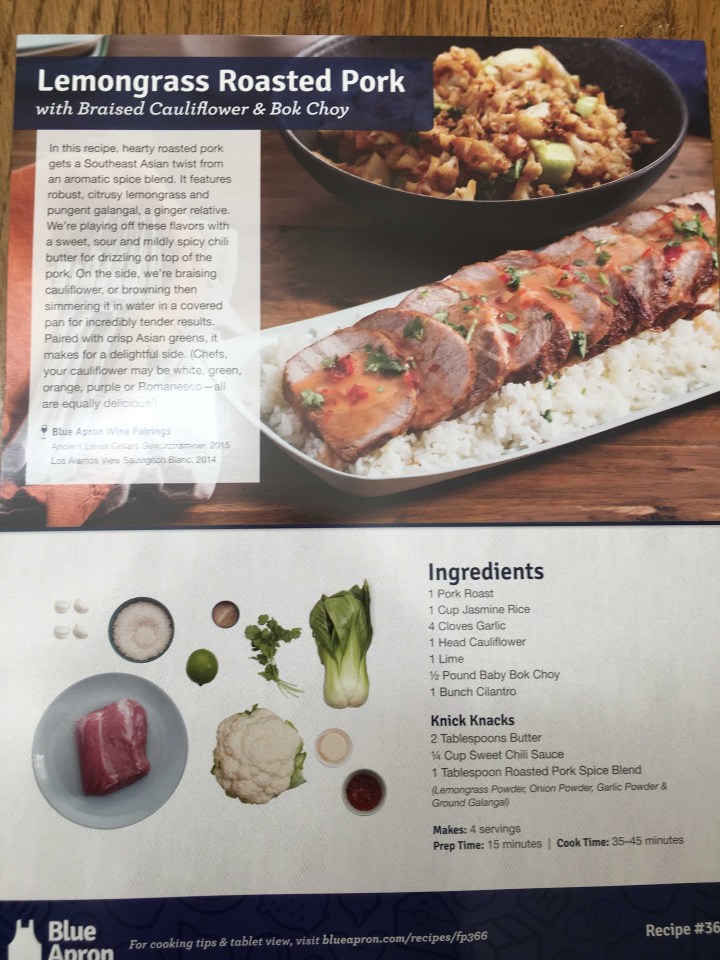 Our next recipe was Lemongrass Roasted Pork with Braised Cauliflower and Bok Choy. Seems like a solid Sunday meal.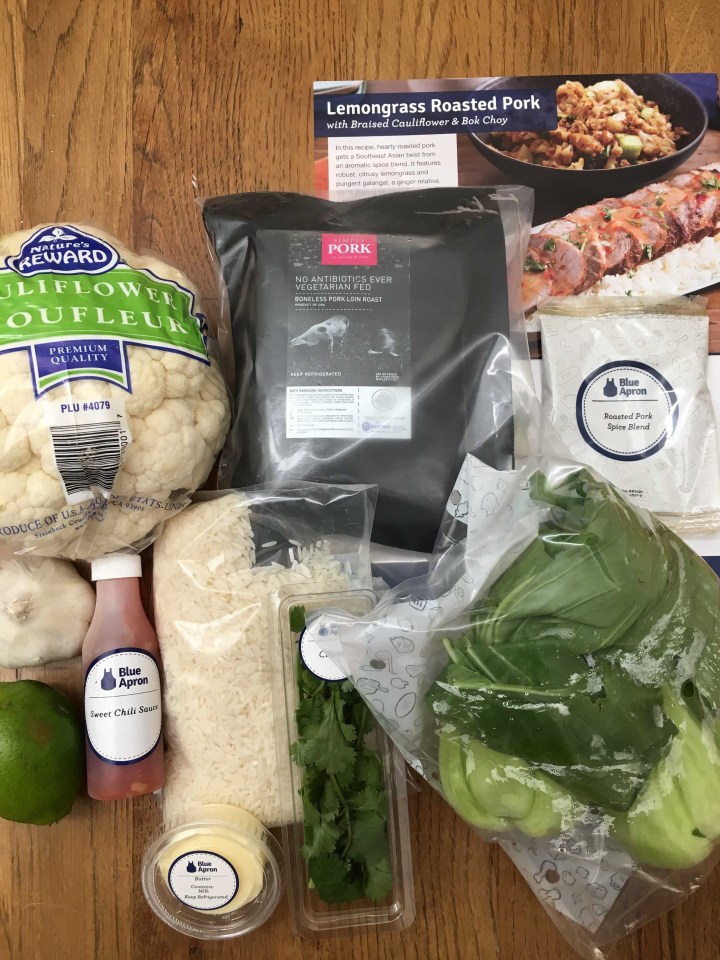 The recipe card had straightforward instructions that were easy to follow, although I take issue with being expected to do something else while the pork sears. You've got to be right there while it's searing or you'll risk burned pork and/or a pan fire. Prep those veggies first.
This recipe also included the nutrition facts. Funny that the "as prepared" calories are actually lower than the "as packaged" listing. I guess it's because some of the fat cooks off the pork.
Okay, so I blew this. Big time. Thermometer battery died, but before it expired, it gave me totally wrong temps, and the pork overcooked. Also, the veggies didn't help this dish. Braising cauliflower, it turns out, makes it taste like the gross cauliflower you had to eat at your grandma's house – bitter, smelly, and hard to chew. Bok choy has exactly the same flavor profile as braised cauliflower, so it was just like leathery cauliflower. The spices didn't add any significant flavor, either. The jasmine rice with the sauce, however, was delicious, and I may or may not have had a meal out of just that.
Is any of this Blue Apron's fault? Not really. Certainly not the pork overcooking. I'm telling you this, though, because pork is super easy to overcook, so if you're a nervous cook or don't have a meat thermometer, you should aim for a protein that doesn't go from perfect to inedible in 5 minutes. The veggies were in fine shape, but the recipe didn't do them any favors. A disappointing meal all around. Win some, lose some, I guess.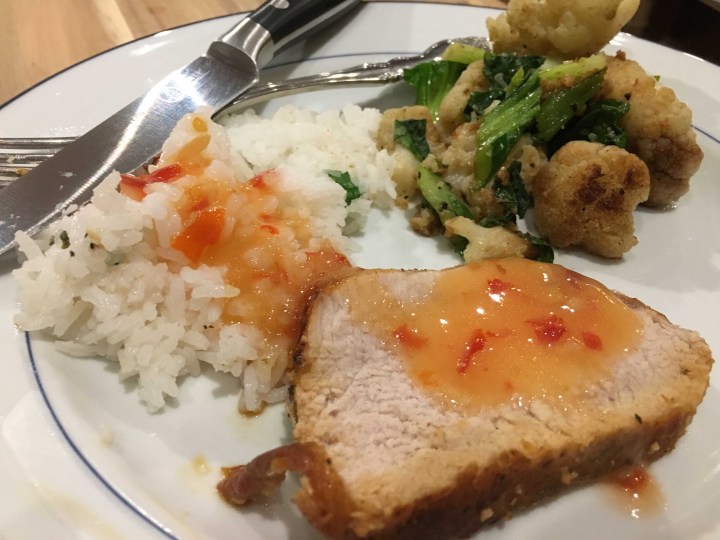 The ingredients were in good condition this month, and it's nice to not have to decide "what's for dinner" all the time. Overall, Blue Apron has been enjoyable and gets us out of our boring dinner routine. Even user error teaches you something about cooking, right? Honestly, you can forget how fun cooking can be. Interesting ingredients, easy recipes, and delicious food. We can't wait to see what we get next time!
Oh, and this month, we got a surprise treat. This is the BEST flavor of Kind bar, in my opinion.