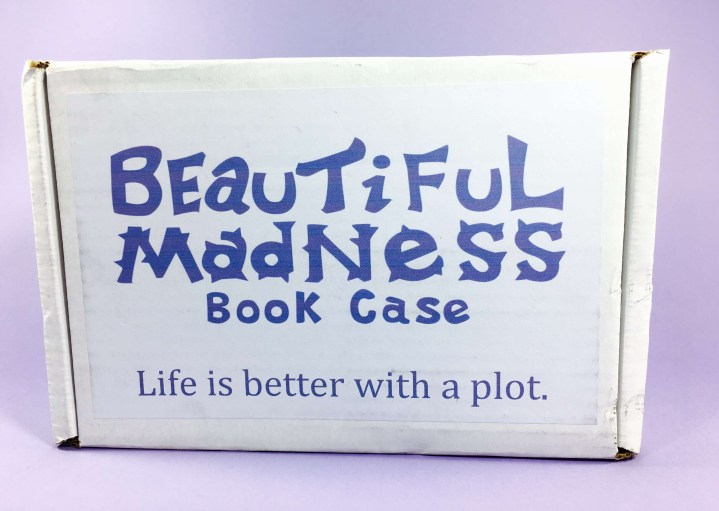 Beautiful Madness Book Case is a themed monthly subscription box from a former bookseller who wanted to offer something different. This box has a care package feel to it and will contain a book, a drink mix of some sort (coffee, tea, hot chocolate), a snack, and 2-3 items to complement that month's plot. It is $46.50 a month and there are discounts for 3, 6, or 12-month plans and all plans auto-renew. This box ships for free and is currently only available in the US. Some of the previous boxes are still available in their online shop as a one-time purchase.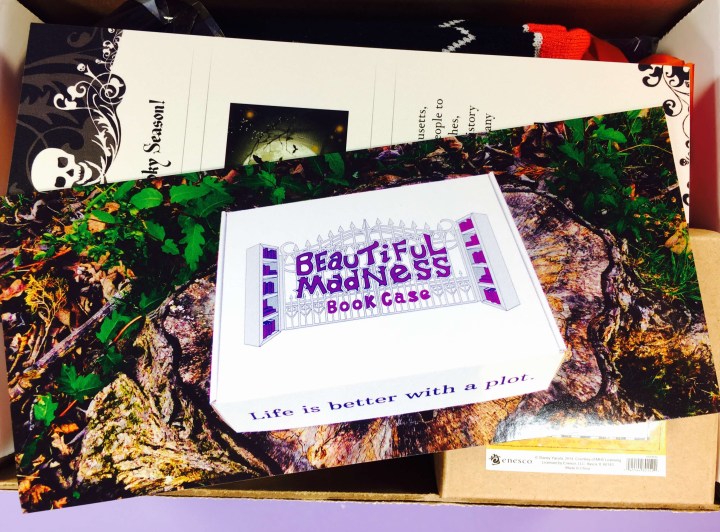 DEAL: Save $4.00 off your first box! Use coupon code SIMPLYMAD.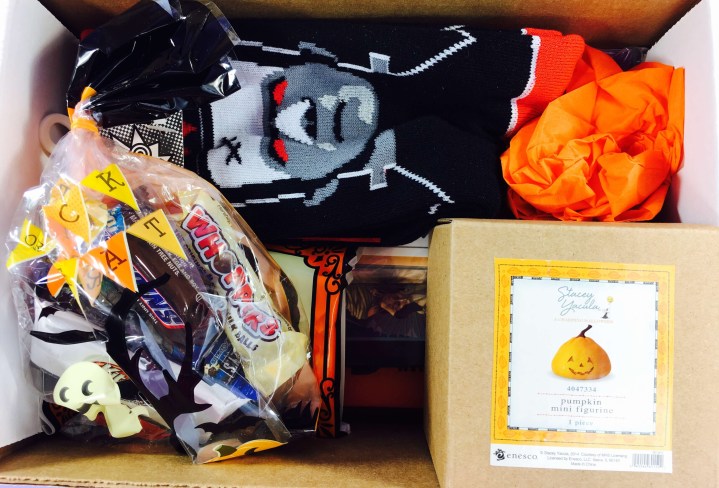 In keeping with the literary theme, this box was called "Chapter Five: It Was a Dark & Stormy Box." Books sent may be fiction, non-fiction, or young adult. In the future, they hope to offer either a genre or fiction/nonfiction choice for each box, but the book itself will still be a mystery.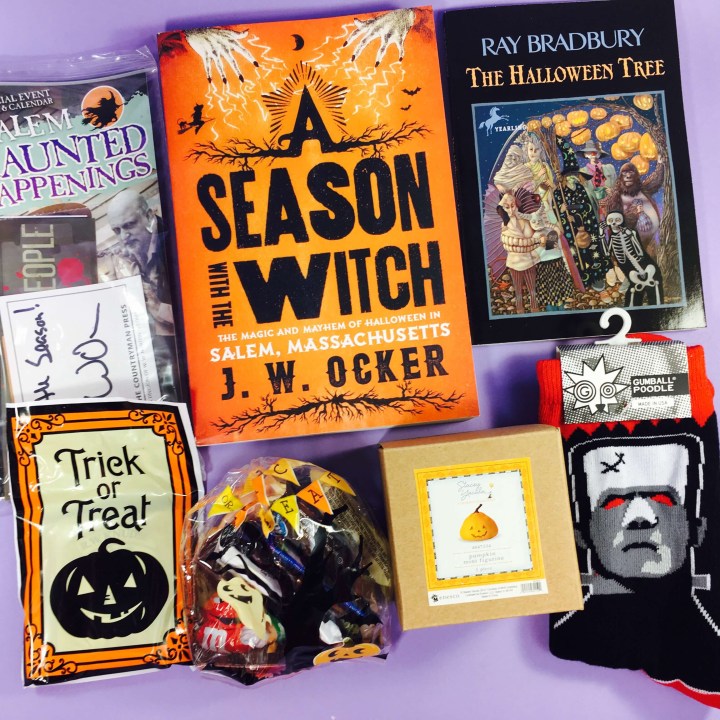 Everything in my box! This box always has a great presentation. Some of the items were packaged in Halloween treat bags.

First up is the product information card, which makes a great bookmark.
A Season with the Witch: The Magic and Mayhem of Halloween in Salem, Massachusetts by J.W. Ocker ($18.95 $13.89) is a brand-new release and is a non-fiction account of the author's 31 day experience in the historical town in October of 2015.
Edgar Award-winning travel writer spends an autumn living in one of America's spookiest tourist destinations: Salem, Massachusetts
Salem, Massachusetts, may be the strangest city on the planet. A single event in its 400 years of history―the Salem Witch Trials of 1692―transformed it into the Capital of Creepy in America. But Salem is a seasonal town―and its season happens to be Halloween. Every October, this small city of 40,000 swells to more than a quarter million as witches, goblins, ghouls, and ghosts (and their admirers) descend on Essex Street. For the fall of 2015, occult enthusiast and Edgar Award-winning writer J.W. Ocker moved his family of four to downtown Salem to experience firsthand a season with the witch, visiting all of its historical sites and macabre attractions. In between, he interviews its leaders and citizens, its entrepreneurs and visitors, its street performers and Wiccans, its psychics and critics, creating a picture of this unique place and the people who revel in, or merely weather, its witchiness.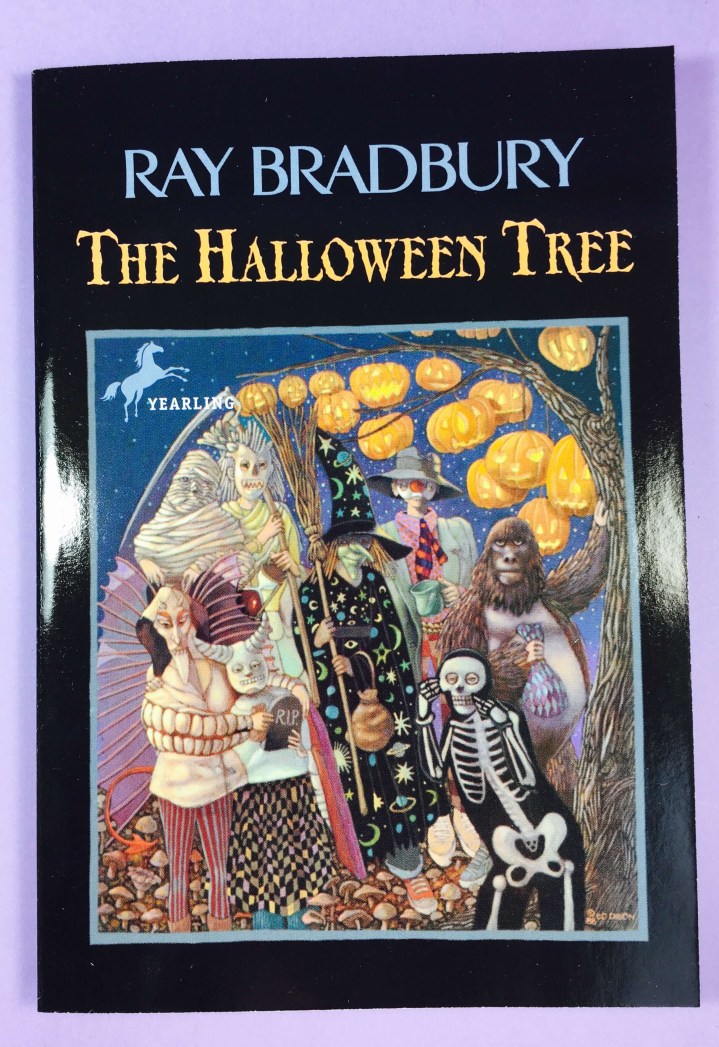 The Halloween Tree by Ray Bradbury ($5.99 $5.39) is a juvenile fiction novel about the history of Halloween and should be an easy read.
"A fast-moving, eerie…tale set on Halloween night. Eight costumed boys running to meet their friend Pipkin at the haunted house outside town encounter instead the huge and cadaverous Mr. Moundshroud. As Pipkin scrambles to join them, he is swept away by a dark Something, and Moundshroud leads the boys on the tail of a kite through time and space to search the past for their friend and the meaning of Halloween. After witnessing a funeral procession in ancient Egypt, cavemen discovering fire, Druid rites, the persecution of witches in the Dark Ages, and the gargoyles of Notre Dame, they catch up with the elusive Pipkin in the catacombs of Mexico, where each boy gives one year from the end of his life to save Pipkin's. Enhanced by appropriately haunting black-and-white drawings."–Booklist
I am starting to acquire quite the crazy sock collection thanks to subscription boxes. These Gumball Poodle Monster Unisex Dress Crew Socks ($11) feature a creature that my youngest used to call "Frank Einstein". One size fits most and pieced together with cotton/poly/spandex/rubber parts. Keep away from fire.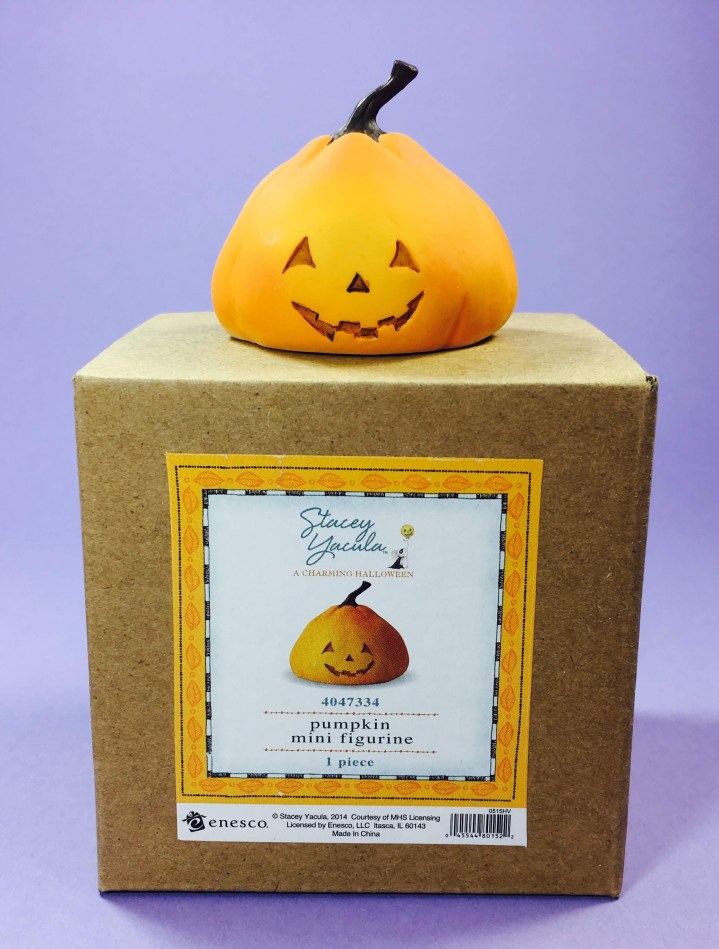 Stacey Yacula Enesco Pumpkin Mini Figurine  ($8.89) will be added to my Halloween figurine collection, which now consists of 1 item.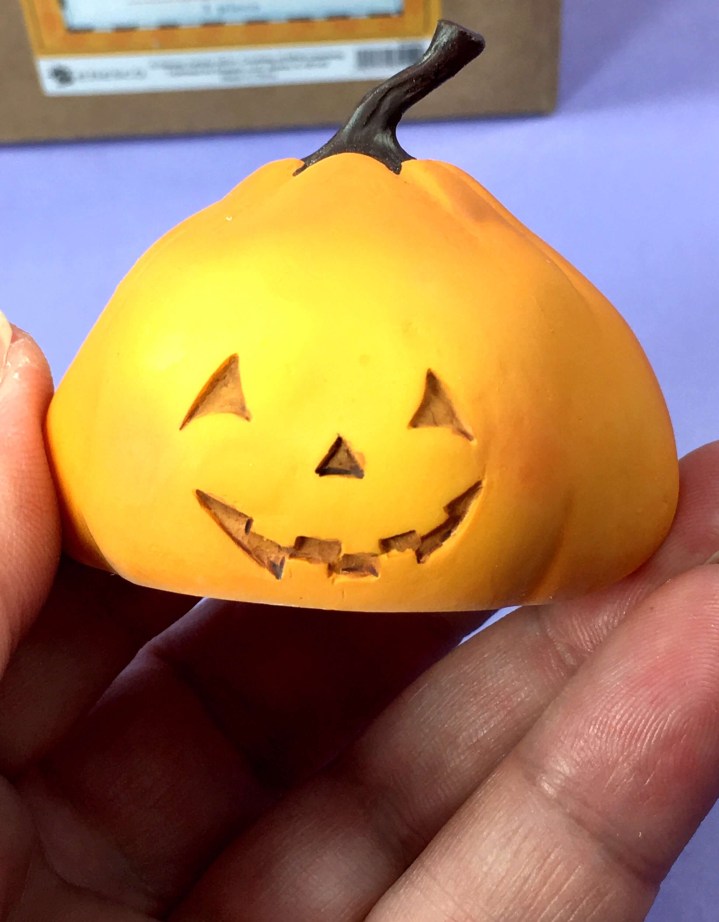 It's cute but I don't really have room for tchotchkes but maybe one of my friends would like this.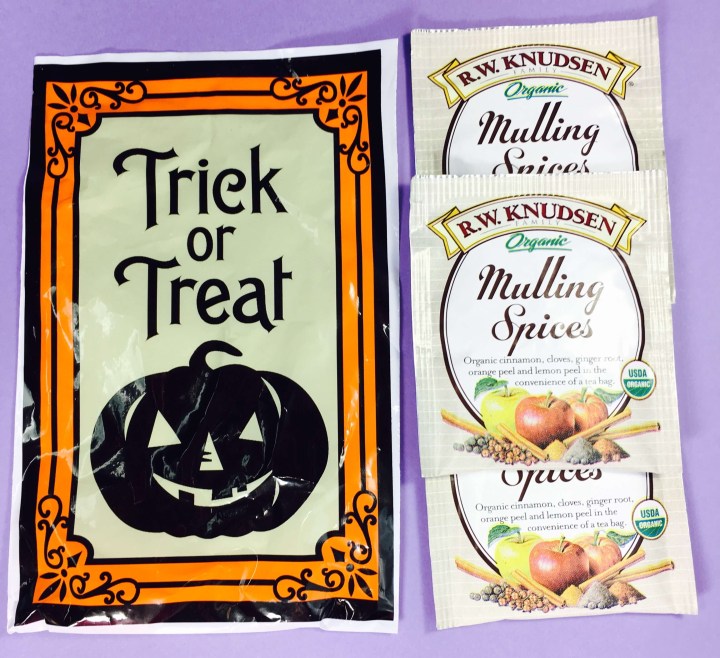 This treat sack had 3 bags of R.W. Knudsen Organic Mulling Spices (63¢) which are flavored with a blend of cinnamon, cloves, ginger root, and orange & lemon peels. It's still hovering near the 90 degree mark here in Texas so I won't get to try these until sometime in November. I have my Trader Joe's Apple Cider on standby and I can just pour 8 ounces of hot cider over the bag and steep for 5 minutes. Come on cold fronts!
There was a bag with a couple of bookmarks, some stickers, and erasers along with a guide to the Haunted Happenings in Salem this month. I visited Salem once (loved it!) and was so confused as to why a town that had innocent people wrongly convicted of witchcraft now had so many magic shops. I thought the whole point was that they weren't actually witches!?!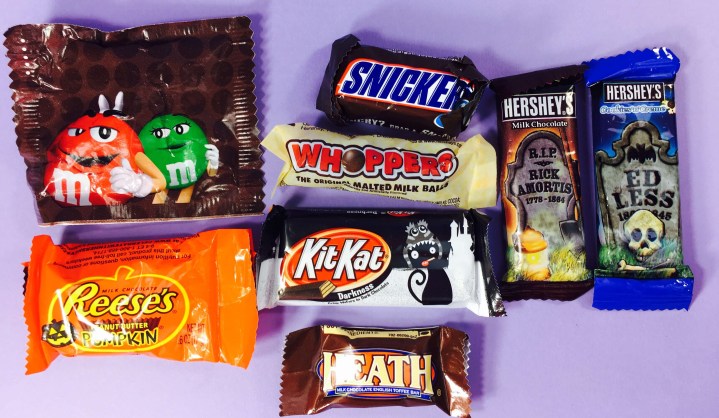 Yum, chocolate! I didn't even have to dress up or go door to door to get my candy fix.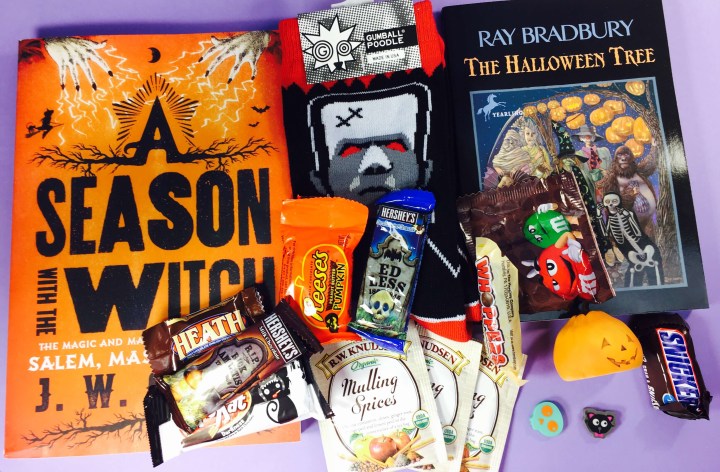 This is one of my favorite subscriptions but October's box wasn't my favorite (sorry!). The products certainly were appropriate for Halloween but I think "Dark and Stormy" had me hoping for more of a Gothic theme. This month's value was around $41 which was a little below the subscription price. I really do look forward to getting this box and hope that next month will be just as awesome as past boxes have been.
Where do you think Beautiful Madness Book Case should take us next month? (Hint: Lost in Space with a Good Book)
Save $4.00 off your first box! Use coupon code SIMPLYMAD.
Visit Beautiful Madness Book Case to subscribe or find out more!