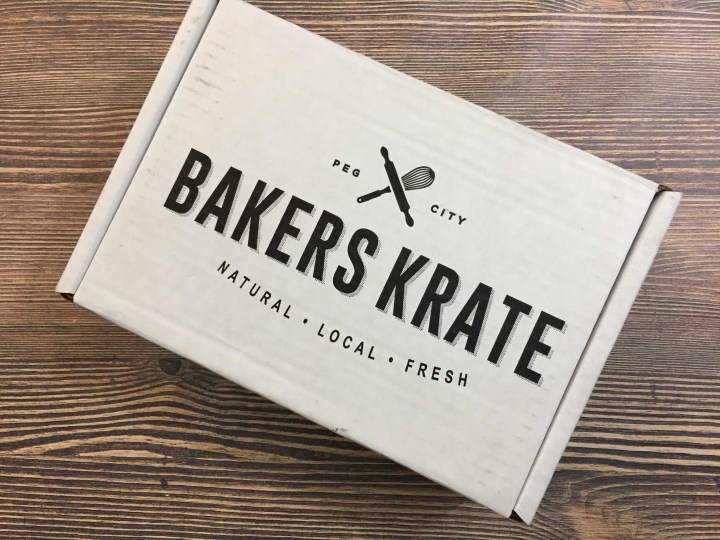 Baker's Krate is a Canadian subscription that sends you a box of delicious desserts once a month. The bakeries featured are all Canadian and local, from Winnipeg bakeries such as Caked with Love and Cookie Girl!
If you *are* Canadian, be sure to like the new Hello Subscription Canada page on Facebook and follow Hello Subscription Canada on Instagram!
The first look reveals a bit of a change with the product information card!
DEAL: Save 10% on your first month with coupon code SWEET.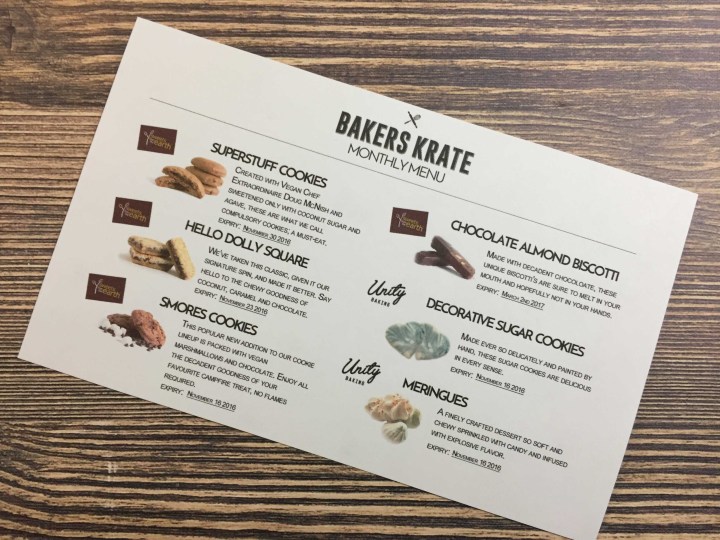 The new product card looks a bit more sleek and professional than the previous version. Expiration dates are provided for all items.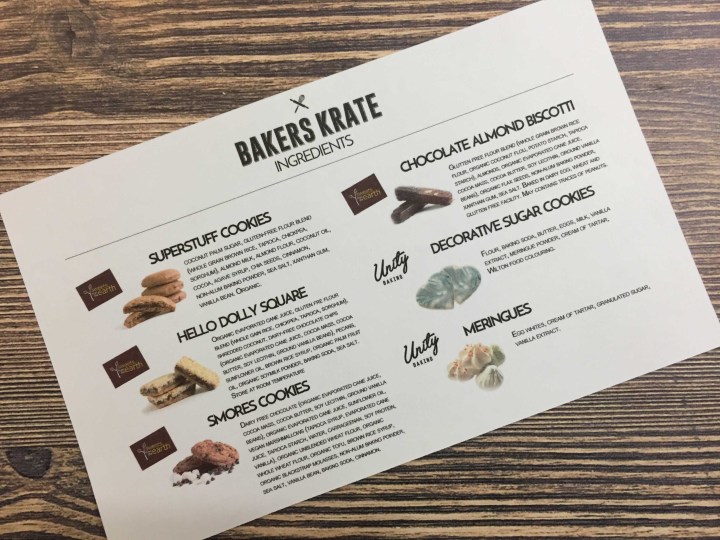 An in-depth ingredients list is included for all of the items included; previously, this was on a separate piece of paper but it's now on the reverse. This month features six treats from just two bakeries – Sweets from the Earth and Unity Baking, which are both from Ontario. This is a bit of an odd shift from the norm for Baker's Krate, and I was a bit disappointed to not see my usual favourites at all.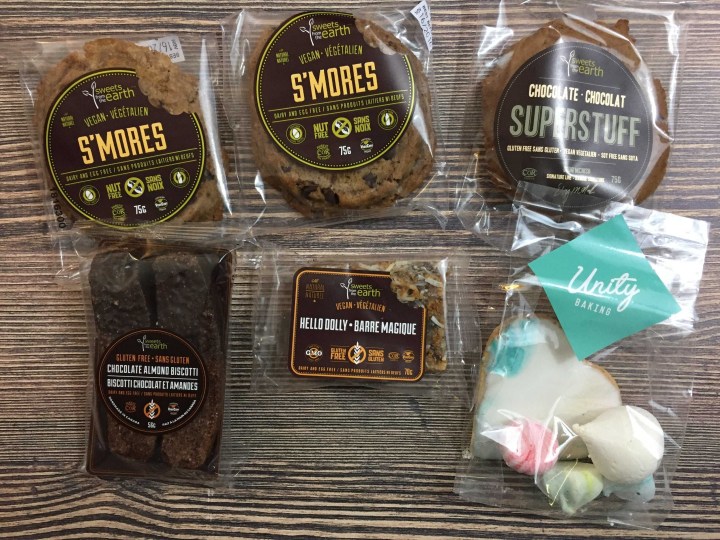 Here's everything all laid out. We were sent two of the S'mores Cookies. Flipping through the items, I had to be more careful this month – most of the items were vegan, and unfortunately most vegan items include soy, which I am allergic to. This meant I could only enjoy a few items. The rest I took with me to work and had my coworkers help me review, which they were more than happy to do! Sorry, I don't have pictures from the taste testing!
S'Mores Cookie: These are vegan, and the chocolate chips are dairy free. These were the clear favourites amongst my coworkers; they are made with gluten so they were soft and chewy. One comment was that the chocolate chips were weirdly sweet, even more sweet than regular milk chocolate chips.
Superstuff Cookie: Gluten-free, vegan, and also soy free, so I was able to take a nibble of this one! There is a cinnamon flavor to them, which I found pretty good, and there's chocolate in the middle.
Chocolate Almond Biscotti: This was another hit for my friends! The often dry/dense texture of gluten-free baking works well for biscotti. These were very chocolatey.
Hello Dolly: This has shredded coconut on top, and it was almost enough to make me cheat. Almost. It wasn't too sweet and had a nice texture to it.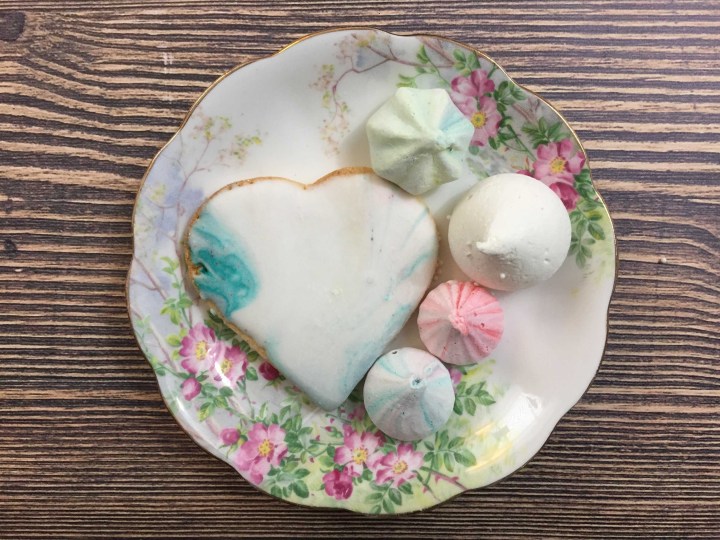 While everyone else got to share the Sweets from the Earth goodies, I hoarded the Unity Baking items, which, in my opinion, were the prettiest! The classic Sugar Cookie had a lovely marble icing design and was the perfect combination of soft cookie and crunchy icing. The quartet of Meringues were perfectly made and were also super pretty.
November's Baker's Krate was, for me, a bit of a miss. Baker's Krate sometimes tries to have a theme (I remember the green tea/Asian box, and the birthday box) and sometimes it works but in this case, it was disappointing for me because I couldn't enjoy everything. Baker's Krate has never claimed to be a vegan snack box, and if I wanted vegan snacks I would have subscribed to one of the many out there. Ironically, my allergies mean I can't actually go vegan! Second, Sweets from the Earth is a brand that I can get at the grocery store here in my town easily, so it wasn't exciting to open my box and see them. The Unity Baking items didn't feel as mass-produced, but overall I really hope this was just an experiment and that next month will see the return to a more local and handmade sort of feel as the rest of my boxes from them have been.
What did you think of the November Bakers Krate theme?