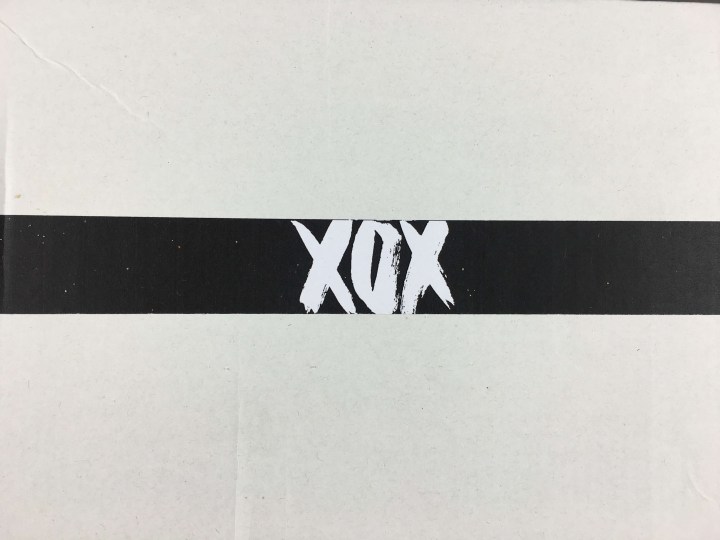 XOXkit is an Australian subscription box that delivers supplies and instructions that guide you as you complete two new complementary creative projects monthly. Boxes ship worldwide between the fifth and the eighth of the month from Australia. While Australian subscribers can expect to receive their boxes during the second week of the month, it may take international subscribers longer to receive their boxes. Subscriptions cost roughly $32.60 plus shipping, with reduced monthly costs for those who prepay for longer term subscriptions.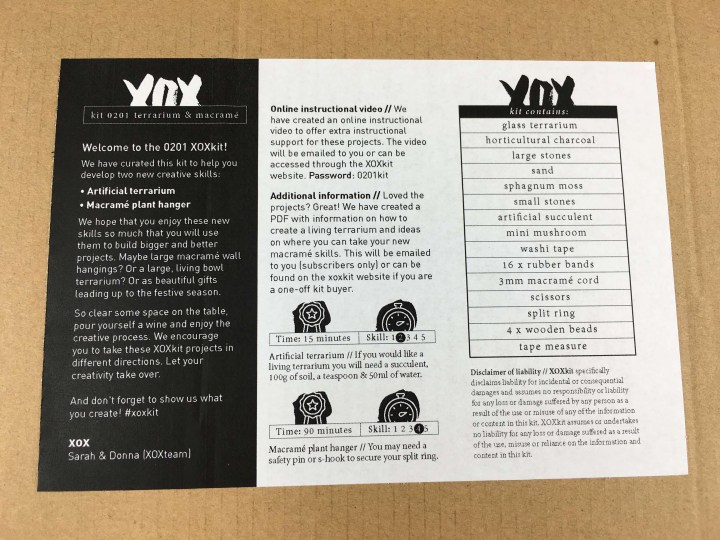 Each kit arrives with a list of the box's contents and overviews of the enclosed projects. I like how XOXkit reinforces the idea that these crafts are just the beginning. Once you've mastered the techniques in this month's activities, you can expand upon them and create even bigger, better projects! Subscribers have access to a PDF with additional extension ideas.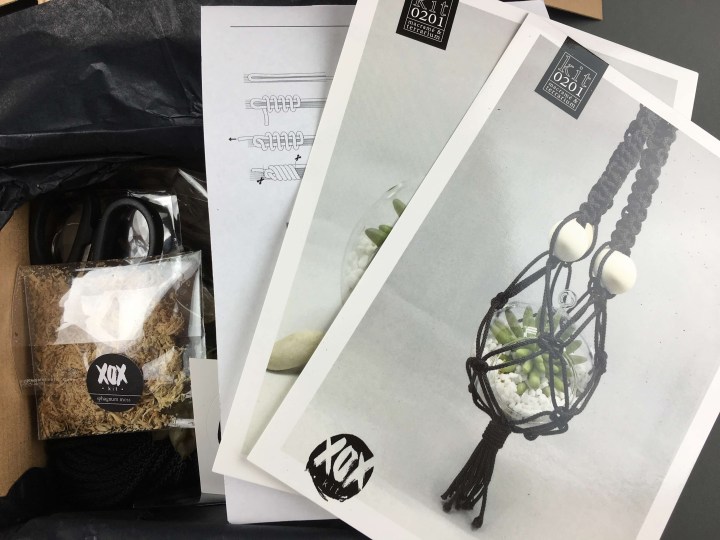 October 2016's crafts are organizing a terrarium and using macramé to create a plant hanger for it. Cool!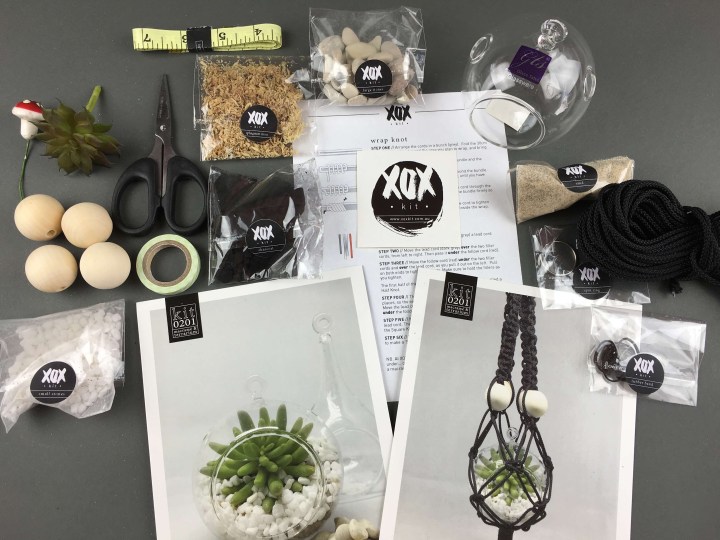 Each box arrives with everything you'll need to complete your crafts, including instructions and large attractive pictures of completed projects.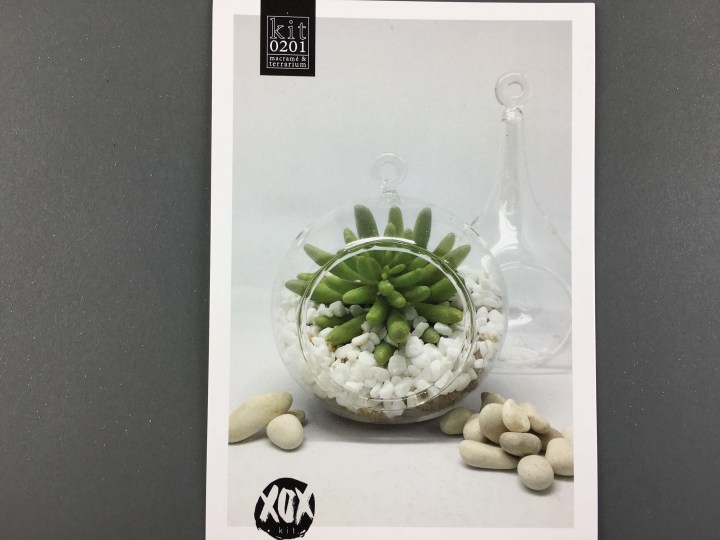 This terrarium looks super cute. I've seen a few terrariums pop up in other people's craft boxes recently, and I've been jealous; I wanted to learn how to make my own. I'm thrilled to get to learn how to make one this month!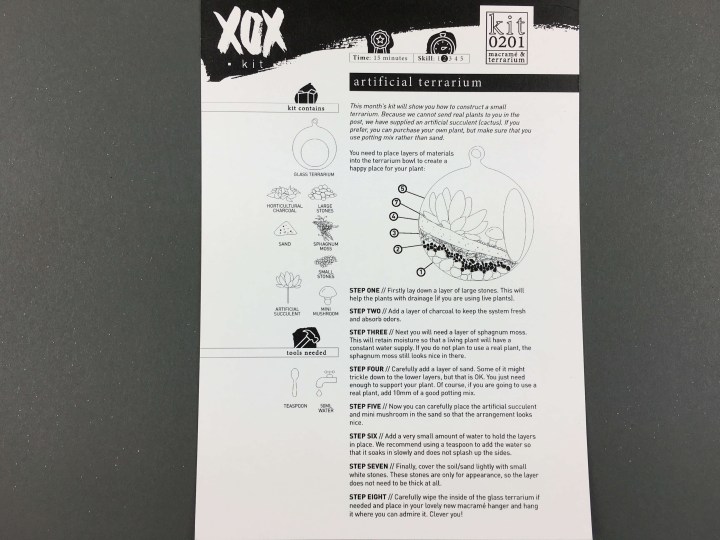 The XOXkit comes with an artificial succulent (many countries frown upon those who try to ship real plants across national boundaries), but they do offer guidance for how to change up the terrarium to accommodate an actual succulent, which I think is excellent. For the purposes of this review, I'm sticking with the artificial one, but I'll be sure to pick up a small succulent the next time I'm at my local nursery so I can redo the terrarium in the future.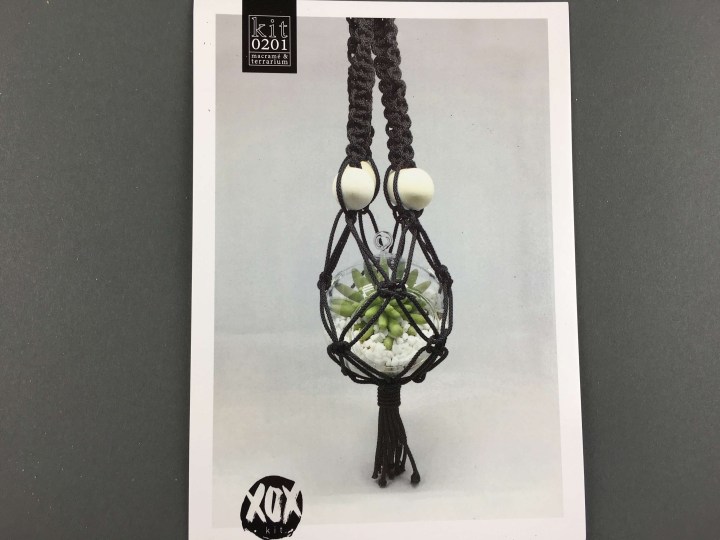 After creating the terrarium, the XOXkit challenges its subscribers to create their own macrame plant hanger.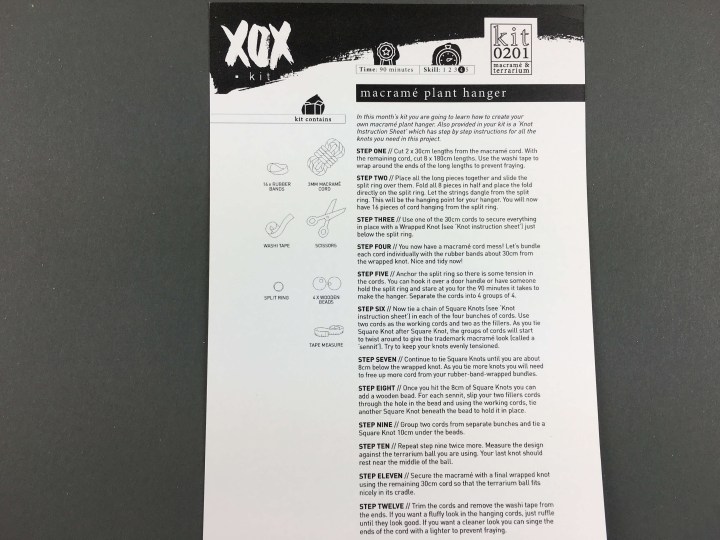 The directions were easy to follow. I had fun measuring in metric using the enclosed tape measure as I completed this activity!
This was so much fun! The last time I made a plant hanger using macramé I was no older than 10, so this was a blast from the past for sure! My entire family was impressed with how this turned out. Now I just need to find a nice place to hang it!
I enjoyed my first box from XOXkit very much! The directions were easy to follow, and the kit arrived with all of the materials required to complete the project, including scissors! I had a lot of fun completing the craft and very much look forward to seeing what they come up with next month.
Do you subscribe to XOXkit? Which projects have you enjoyed most?
Get $5 off your first XOXkit:Creative Subscription box when you sign up to a month-to-month subscription. Use coupon code  HELLO5.
Visit XOXkit to subscribe or find out more!
The Subscription
:
XOXkit
The Description
: XOXkit is a monthly subscription box full of supplies and instructions to complete your own creative project. The outcomes from the monthly XOXkit are on-trend, useable products that our subscribers are proud to have made. From plaster of paris planters to resin-casted jewels. With two new intertwining projects in each kit, we do the research, design, sourcing, purchasing, measurement converting and testing to bring our subscribers easy-to-follow instructions, inspiring concepts and all the high quality tools and materials needed to create a beautiful finished product. Starting $42.50 AUD per month!
The Price
: $38.00 per month