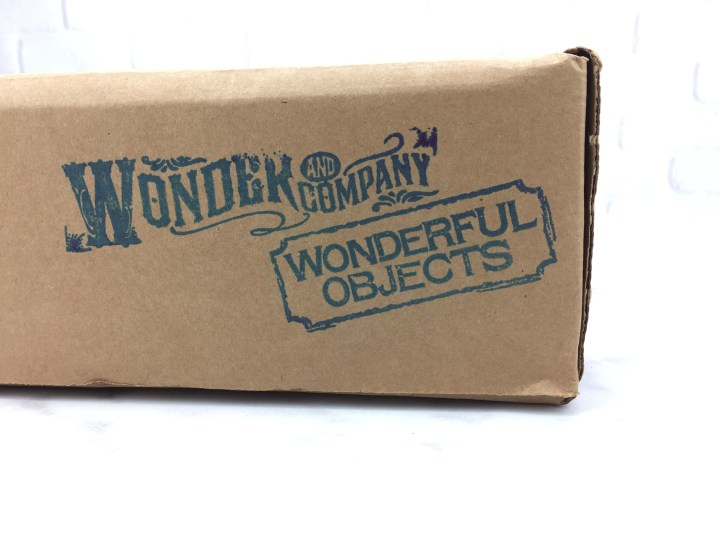 Wonderful Objects by Wonder and Company is a quarterly subscription box that focuses on storytelling and invites immersion in a fantastical world through hand-picked objects plus custom-designed story-making ephemera.  For only $72.00 per quarter, you'll get a mystery box that includes wonderful objects like limited edition art, wearable treasures, scents, baubles, and a lot more!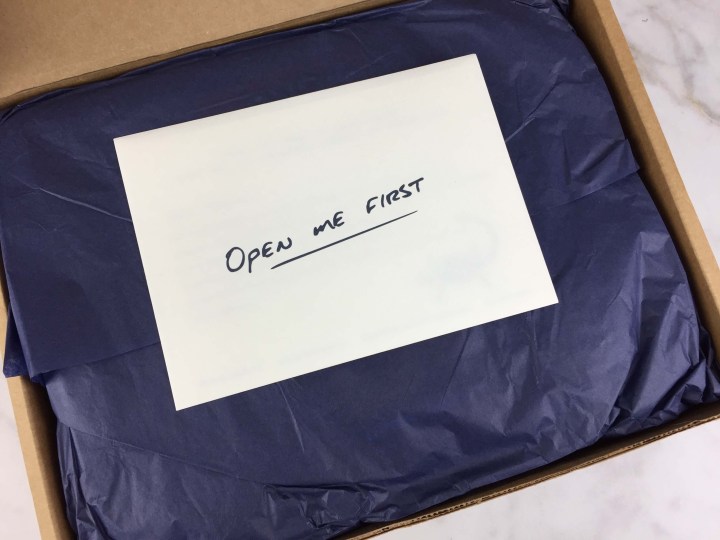 The items are wrapped by a blue tissue paper, and the mysterious envelope entreats you to read the place-setting introductory letter prior to revealing the objects within.
The "Open Me First" envelope is sealed with a "W" emblem.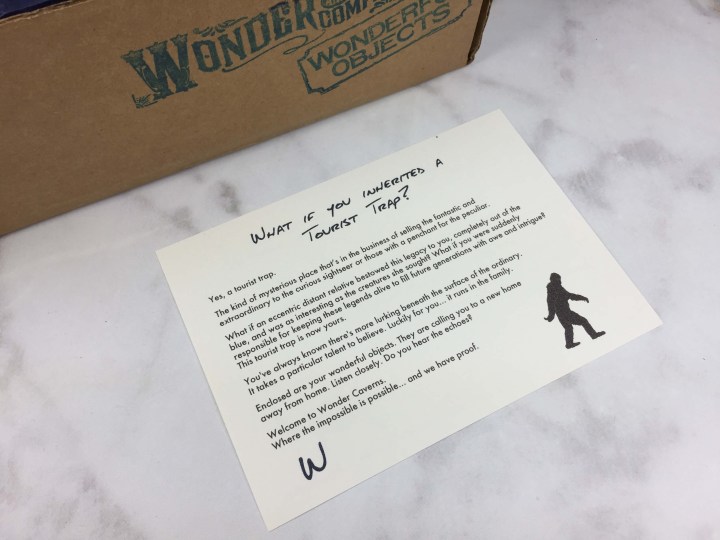 A letter from this "W" character sets the scene — I have inherited a tourist trap!! You may recall that my Great Aunt Delia left me a deed to an Echo Lake property in Washington State! The Estate administrator said I'd receive a package with instructions on taking possession of the property.
The information card gives you a list of all the items inside the box!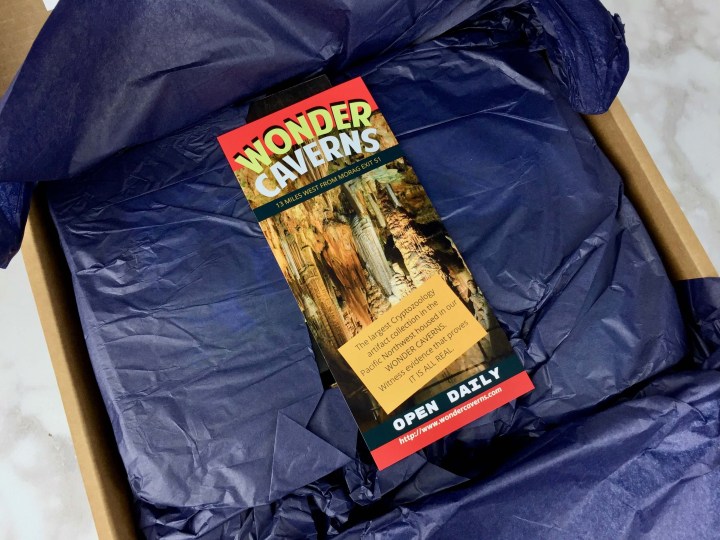 The Wonder Caverns are open daily. This is a little bit of an odd item to send me on the inheritance of a new piece of land… But I guess it's pretty neat to live near some stalactites!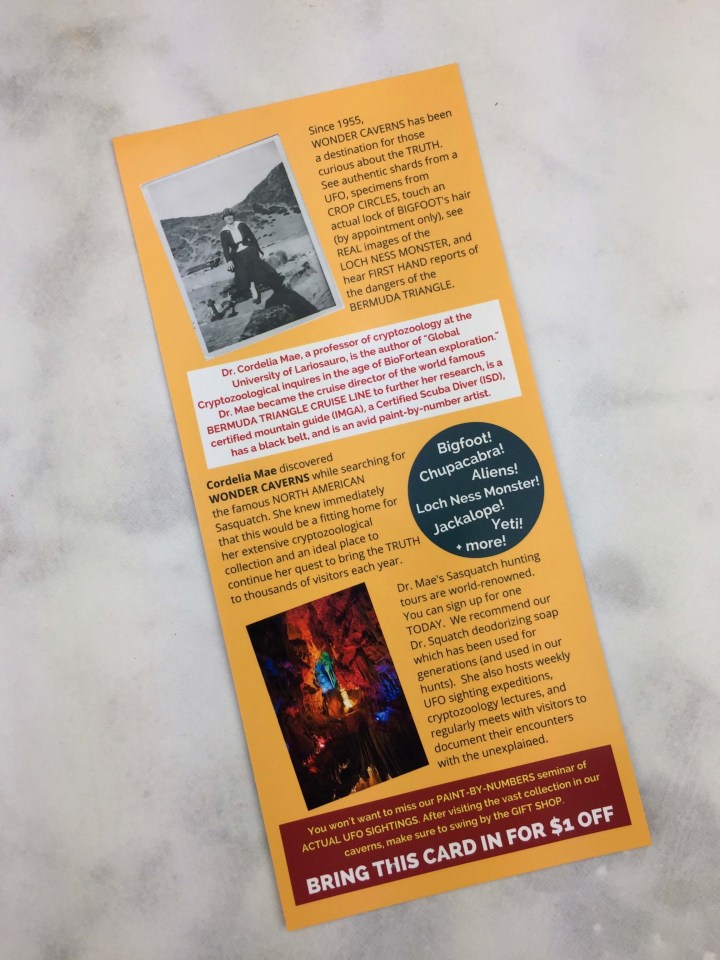 I guess I'd forgotten that Aunt Delia trafficked in cryptozoology. I had no idea she was the cruise director of the Bermuda Triangle Cruise Line! Or that she was an avid paint-by-number artist!
(This piece of custom ephemera looks exactly like the real thing, so well done!)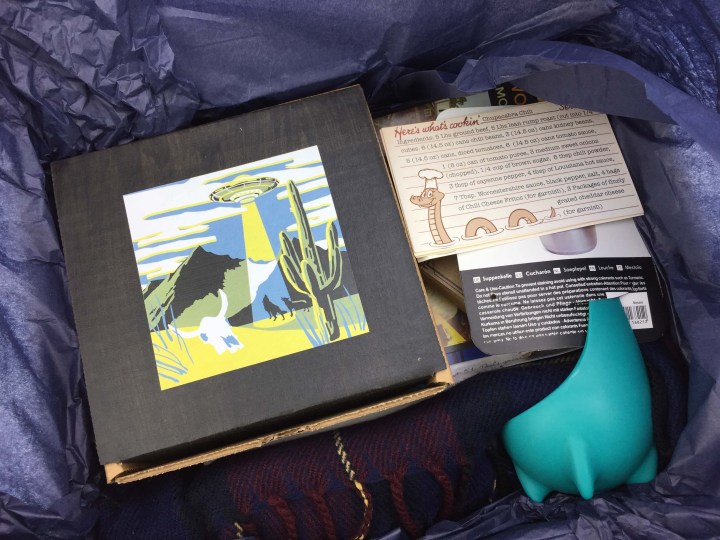 Looks pretty peculiar from here!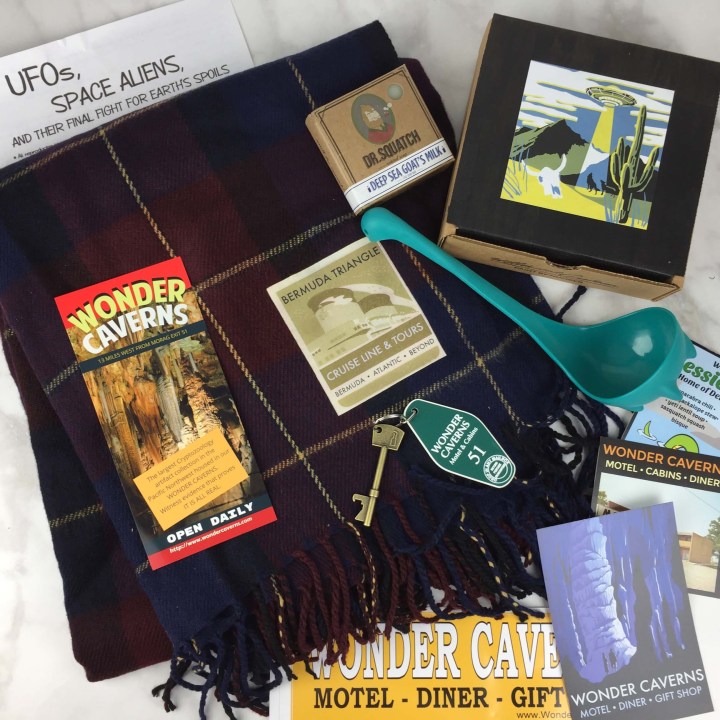 Everything in the box!
Welles and Graham UFO Paint by Number Kit ($30) Wow, I guess they weren't kidding about old Delia. This paint by number kit is super sturdy, and while I'm excited to feel a deeper connection with her and her hobbies (she did, after all, leave me some property), what do aliens have to do with everything?
(Love this kitschy little set, it's really high quality, and just a fun item that we'll totally paint up and hang!)
Dr. Squatch Deep Sea Goat's Milk Natural Bar Soap ($9.95) Oh hey, I know about Dr. Squatch (subscription – ✓), and this deep sea goat's milk smells great. But hey, what's a deep sea goat have to do with it?!
(This fragrant soap scented the entire box and provided an uplifting sensory experience that really brought everything together!)
World Famous Recipes from Nessie's Diner: I found these curiously named recipes hanging out on top of the box. What was that about inheriting a tourist trap? Do I really need to make chili that uses 10 pounds of meat and 3 bags of cheese?
(All of these recipes look great, we love that 2 vegetarian recipes were included, and they are all perfectly seasonal – and you'd better believe we'll be making them!)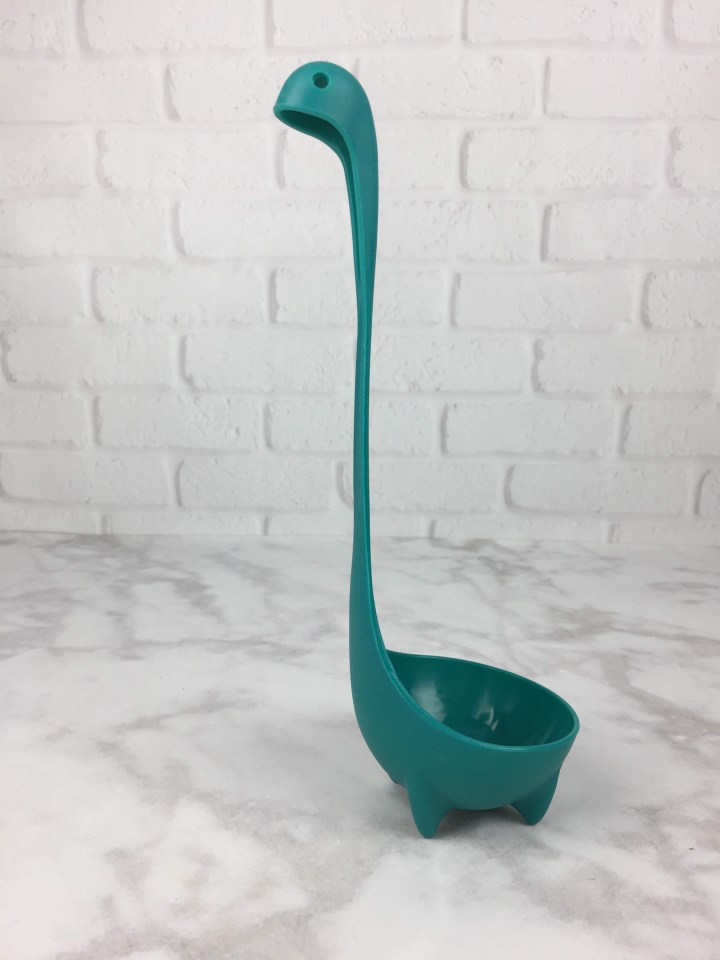 Nessie Ladle ($10.60)  Well I guess this is the perfect tool for serving enough chili to feed an army. I'm going to go look up the word cryptozoology in the dictionary…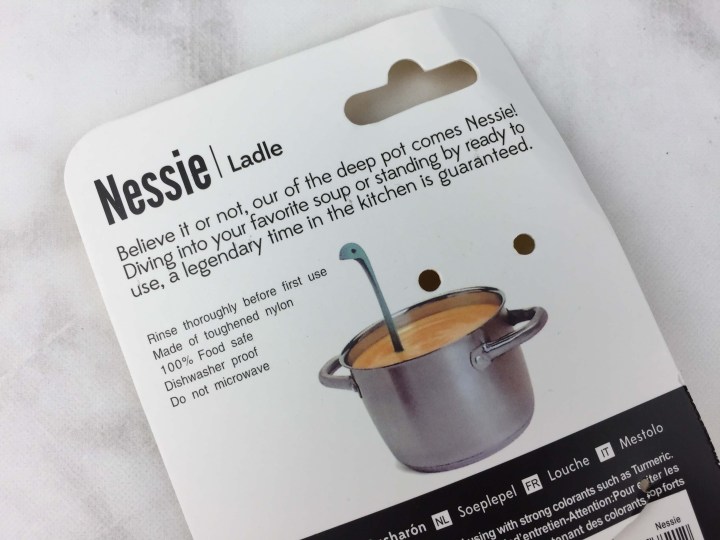 (I think this ladle is super cute, I've never received one in a box before, and I love the fun modern design! I think it's fantastic!)
Wonder Caverns Room Key Fob With Bottle Opener Key: Room 51, huh. Is that the owner's suite? Does that have anything to do with Area 51?
(This fun setup is actually a bottle opener!!)
Um, wow, thanks Aunt Delia. I'm now the proud owner of a 50s era motel!  Do I own the Diner too? It does look tasty!
(All of the custom produced ephemera for this box is pro quality – you wouldn't know that it was from a place that isn't real! The Wonder Caverns postcard matches the sticker we received in the kids teaser – will our paths cross?!?)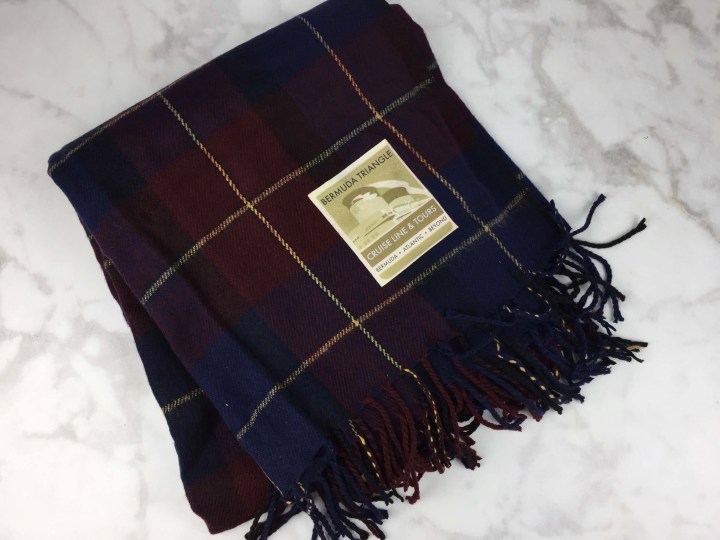 Bermuda Triangle Cruise Line Plaid Throw: Wow, a blanket! From the aforementioned Bermuda Triangle Cruise Line! This is warm and fuzzy and I've never owned anything off a cruise ship!
(What a delightful item to find in this box – seasonal and cozy, with a nod of the head to the bizarre – I think subscribers will LOVE this – I did!!).
Ohhhhhkaaaaaay. This is going to take me some time to process. 
There was a lengthy missive from Tracy Goodborrow on the back of this flyer. She mentions a vault and the key is in room 51. Guess it is the owners's suite. Tracy looks to be the manager of this joint and wrote me a letter explaining all the goods. Turns out the blankets are used in the motel rooms and… that the soap masks your scent from Biggie?! What have I gotten myself into?! But hey, it looks like Aunt Delia's passing has reinvigorated the place, so I'll have to take a visit!
What another great box from Wonderful Objects! It's unlike any other subscription out there, a delight to unbox, but does require intense suspension of disbelief. It's great for anyone who wants to imagine themselves in a fantastical situation and loves fun useful objects (with a serious twist) plus the ephemera and oddities to fill out the story. You'll be able to put everything to use until you figure it all out! Wonderful Objects has a children's box that shares similar themes with the grown-up version and is designed to pair well with it should you unbox as a family activity.
See past adventures from Wonderful Objects here! My only regret is not subscribing to this box from the beginning, because I think it's pretty fabulous. I'm looking forward to checking out the past boxes page in a few weeks to see Wonder & Co's breakdown on this box too!
Are you a Wonderful Objects objects subscriber?  We'd love to hear more about your past journeys with this box! If you'd like to try it out you can save $10 on any plan with code HELLOWONDER10! Note: This box SELLS OUT!
Visit Wonderful Objects by Wonder and Company to subscribe or find out more!
The Subscription
:
Wonderful Objects by Wonder and Company
The Description
: Delightful objects for your home and creative space, limited edition art, wearable treasures (from baubles to scents), and more!
The Price
: $72.00 per quarter