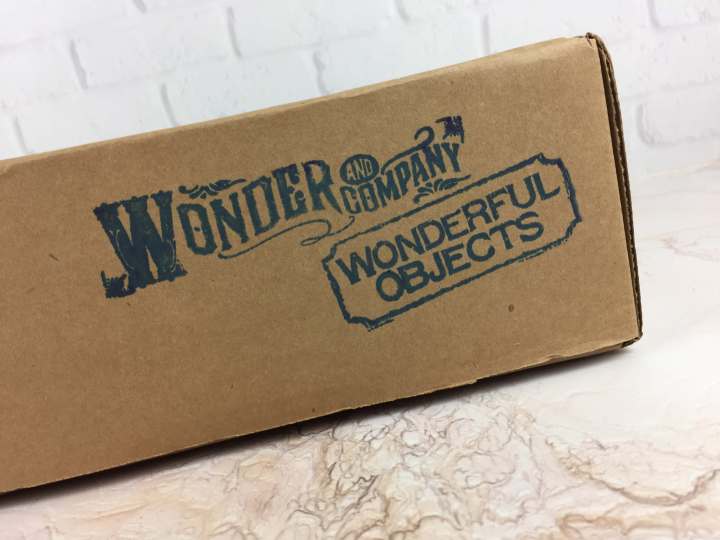 Wonderful Objects Kids Box by Wonder and Company is a quarterly subscription service that lets your kids explore the magic of story-making. For $72 per quarter, you'll get a mystery box that invites children to ask "What ifs…?" and encourages them to find answers through an imaginative and magical way.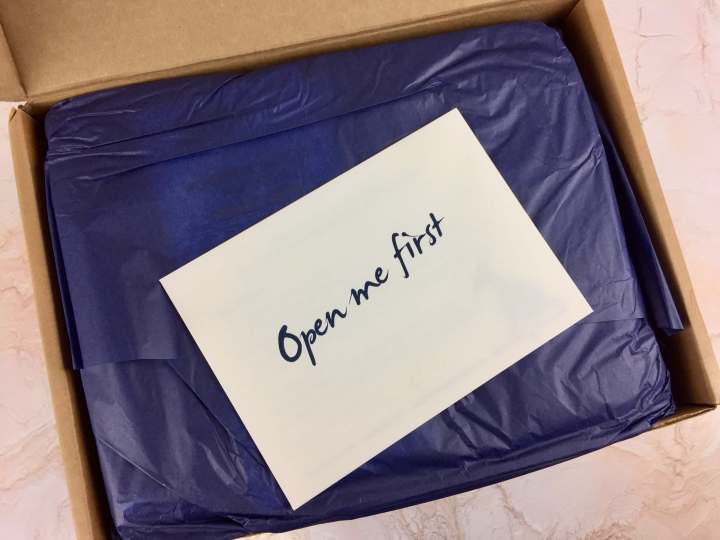 The items are wrapped by a blue tissue paper, disguising their nature.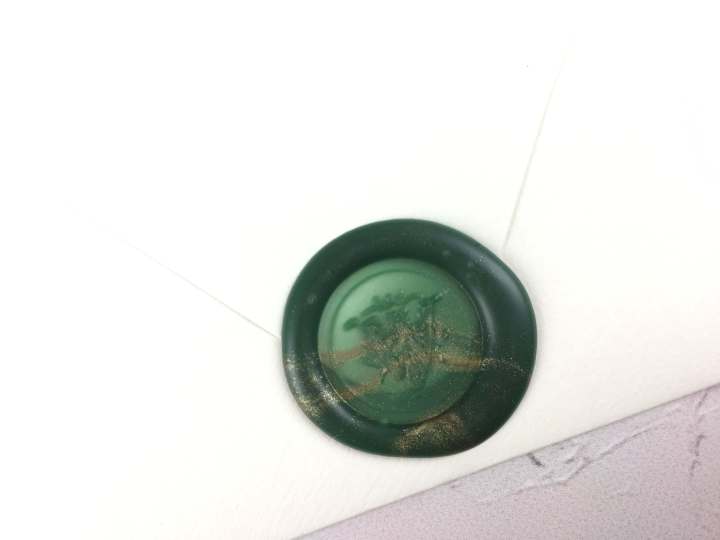 The "Open Me First" envelope is sealed with a wax stamp embossed with the box logo.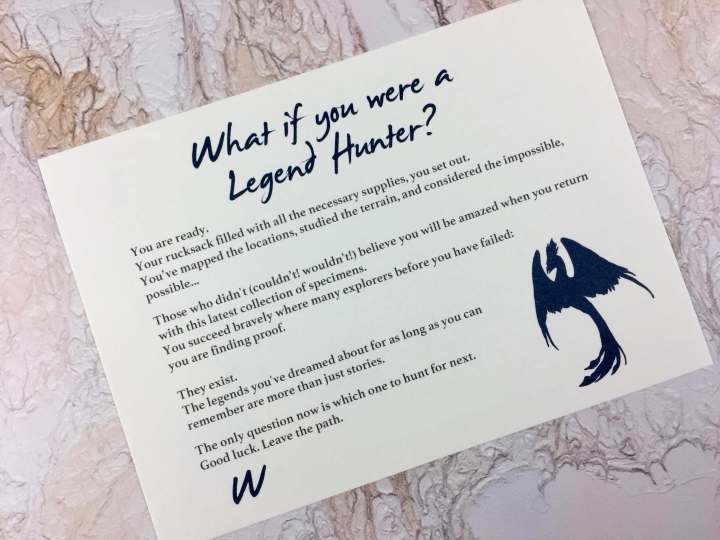 A letter from W serves as the information card for the box, introducing the peculiar contents.  It references the teaser mailing (if you missed our review, definitely check that out here before proceeding!). It definitely looks like our investigation led us on the right track!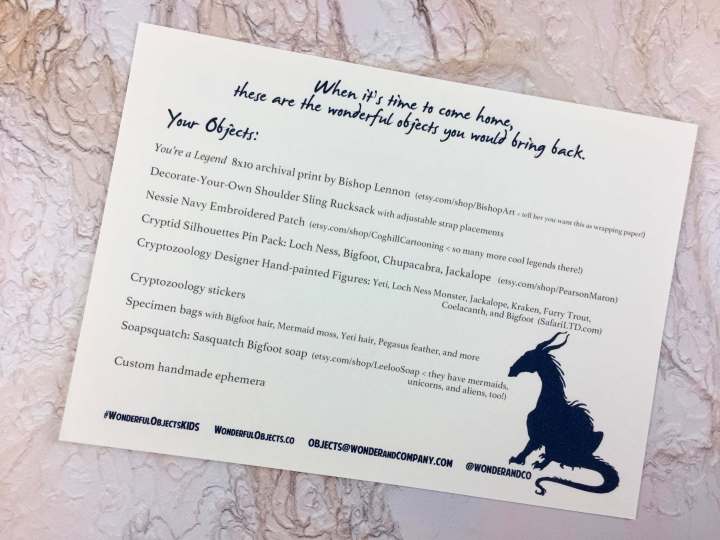 The other side of the card serves as the information card with a list of all the items in this box.
Sasquatch, Cryptid, Cryptozoology… not only were we right, this looks really neat!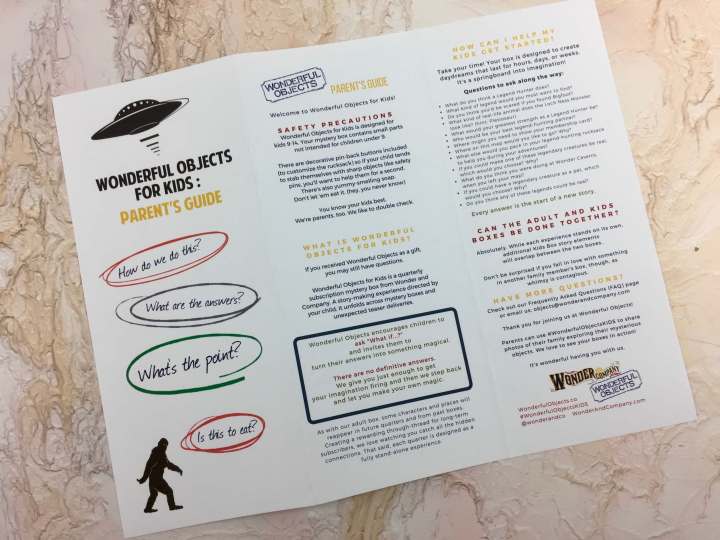 The box also came with a Parent's Guide.  The guide provides questions to engage with your kids on their adventure, as well as important safety warnings!
Everything in the box!  It was an amazing and delightful experience to open – as an adult! I packed everything back up for our children to discover and unbox.
Do note that the box is geared to 9-14 year old kids. Younger kids would still get a lot out of this edition – which was so much fun!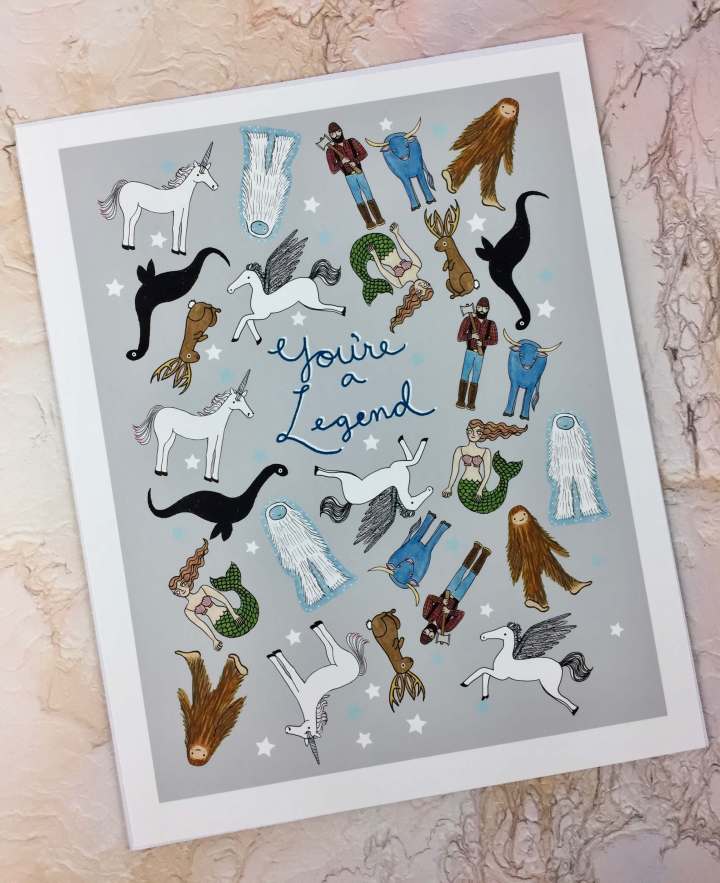 Bishop Lennon You're a Legend  8×10 Archival Print
This print was on top of everything – and we are for sure framing and hanging this collage of fantastical creatures.  This would make a great wrapping paper! I love how it is gender neutral and captures the imagination of teens and teens right from the top of the box!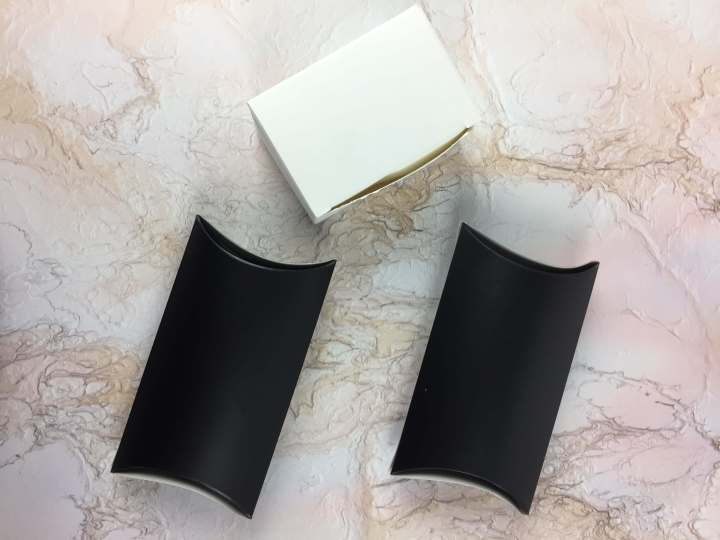 These little boxes were also packed in!
The first thing I opened was the Kraken, so I knew the rest of the unboxing was just going to be amazing! Coelacanth and Yeti represent!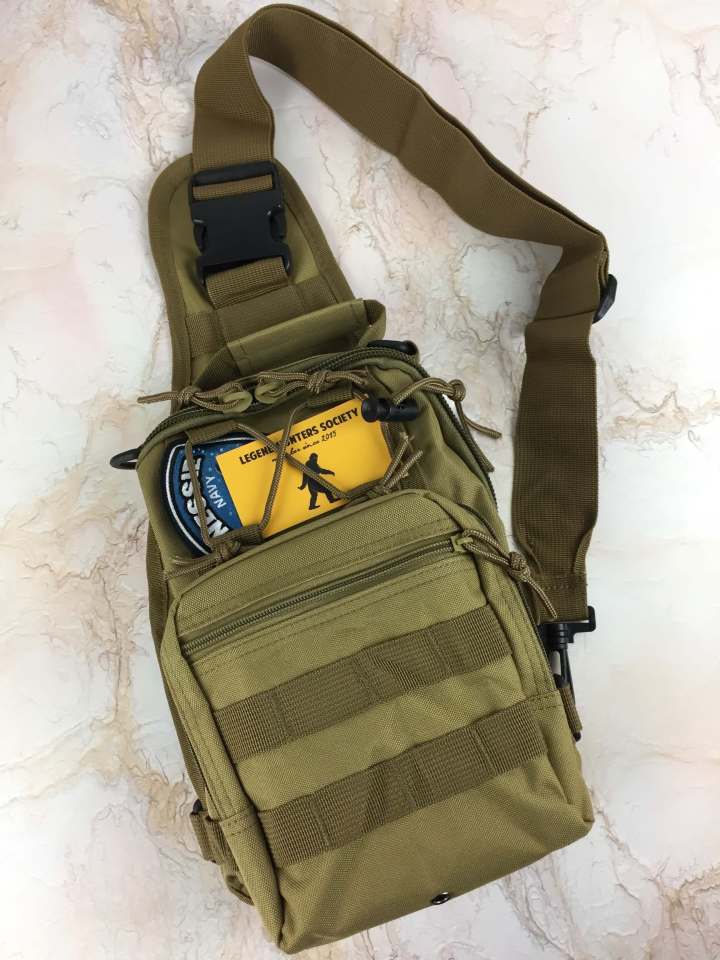 Decorate-Your-Own Shoulder Sling Rucksack With Adjustable Strap Placements: This by itself is a cool item – perfect for adventures and young teens attracted to the lure of the Army/Navy store. This was the only other item in the box so I knew the rest of the adventure was inside.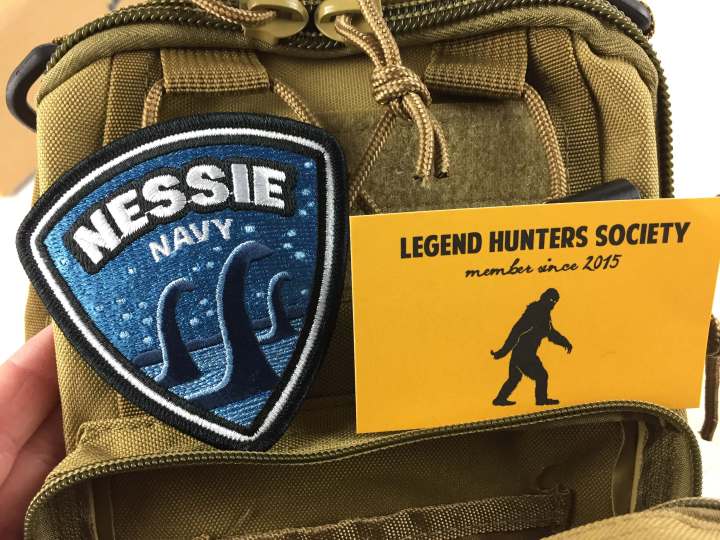 Coghill Cartooning Nessie Navy Embroidered Patch ($7)
In addition to the kids' Legend Hunters Society card there was this awesome Nessie Navy patch. I love the design! It's perfect for a decorative start on this bag – your kid can use their imagination and probably come up with more!
This cryptic envelope with a chalkboard front was in the front pocket.
Inside I found a quick word hunt – presumably to get us comfortable with the vocabulary we will need for our cryptozoology adventure as well as a reference guide.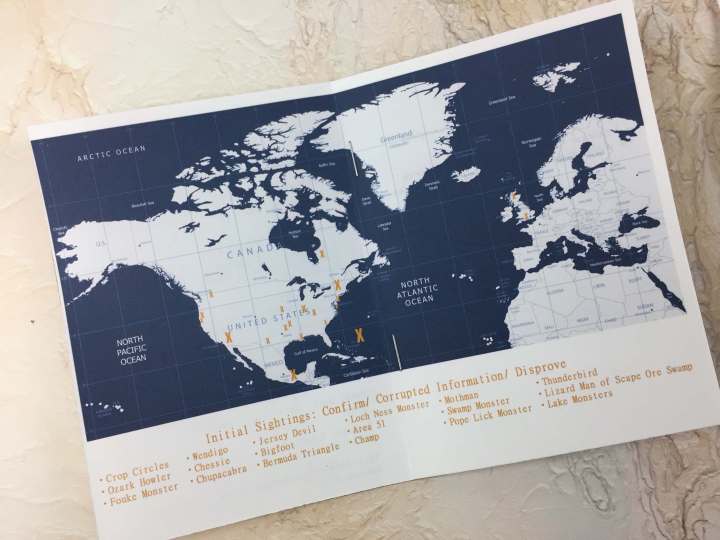 Oh it's the full version of the map we left at the hotel! This one has more details and clues – which is a good way to start this open-ended adventure of imagination. 
 Purple moss?! That's crazy. The field noted have more clues to look up, follow, and ruminate upon.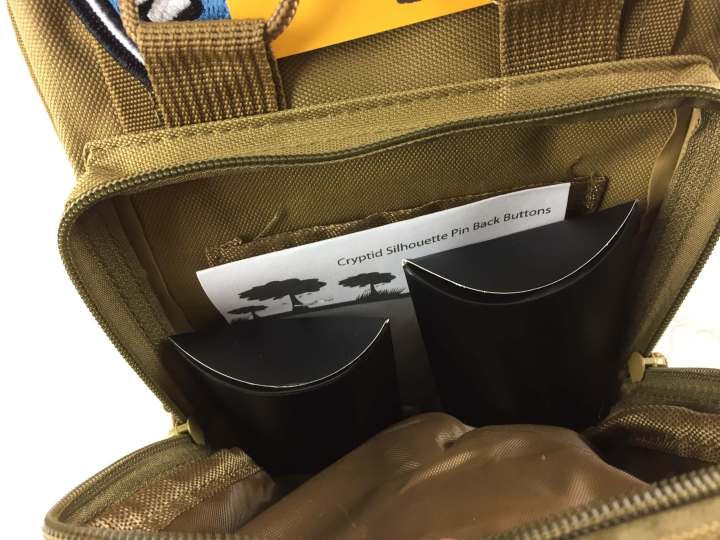 The next pocket of the rucksack had more boxes and another item!
PearsonMaron Cryptid Silhouettes Pin Pack: We got Loch Ness, Bigfoot, Chupacabra, and Jackalope. For adult X-Files fans these are all pretty easy to explain to the kids, but we let them do the work – we encourage them to Google, ask Siri, and ask Echo! These will be perfect to decorate the rucksack!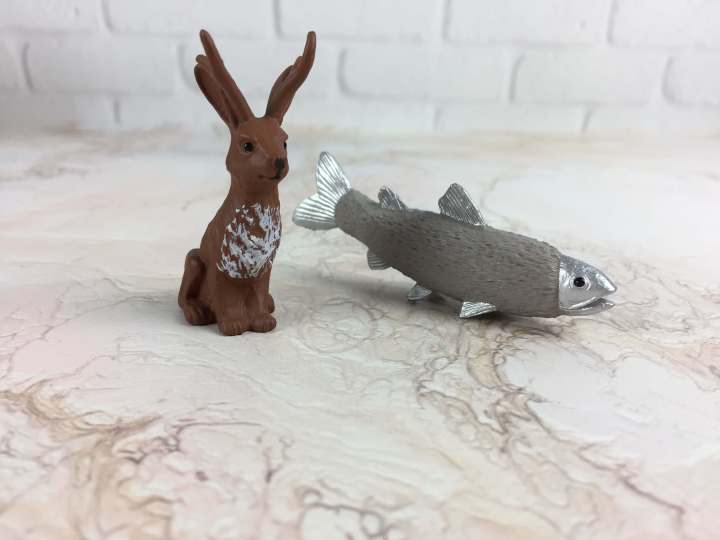 Along with a vinyl Jackalope and Furry Trout! I can't wait to see what the kids think of and do with these!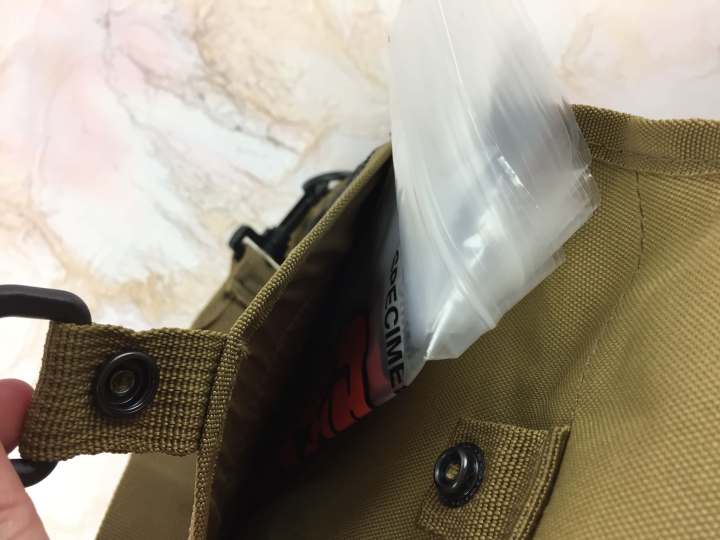 I turned my attention to the back of the pack.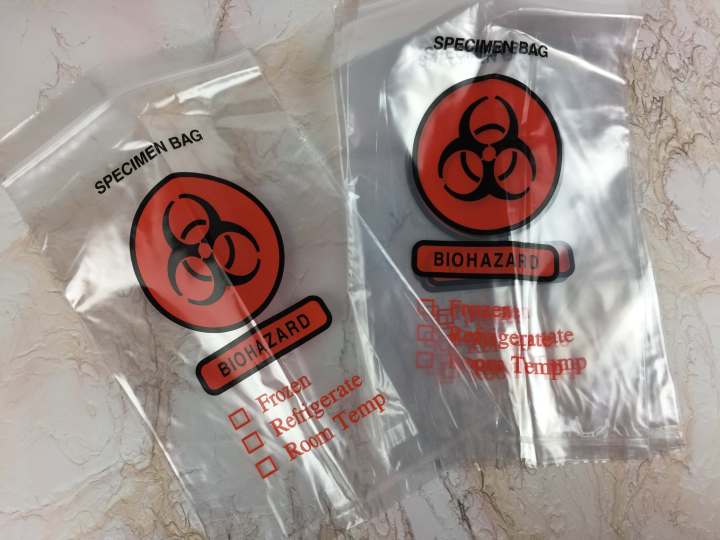 Specimen bags! How funny! They're the perfect item to collect evidence of legendary creatures!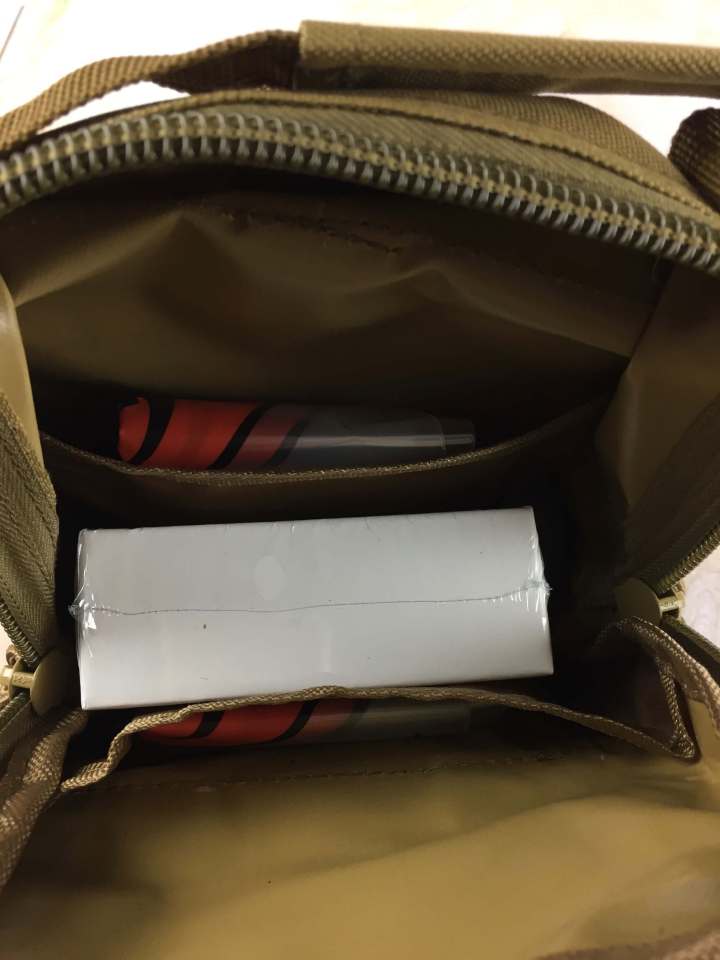 I opened up the main pocket and was puzzled by the presence of what appeared to be even more specimen bags!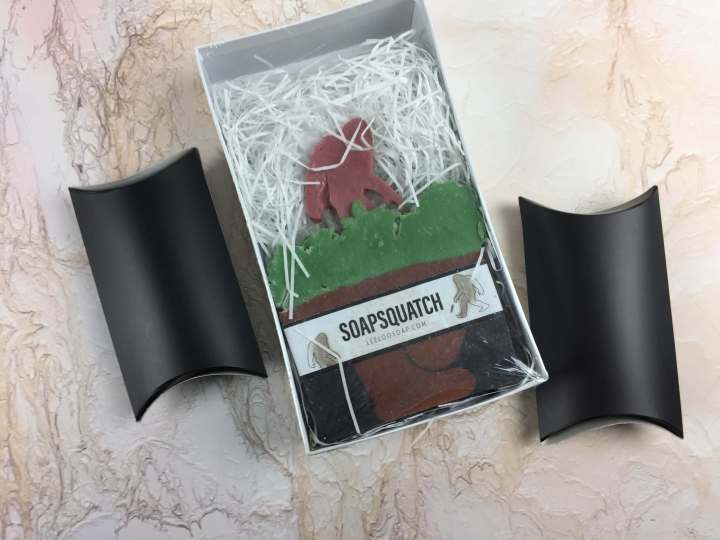 LeeloSoap Soapsquatch ($12)  To be honest the soapsquatch was too delightful to unbox – I really wanted my kids to experience this box so I left it in the package. It's a triple layered soap scented with fresh pine needles, citrus, strawberries, cedar and vanilla and you can see what it looks like out of the box here. They have mermaids, unicorns, and aliens, too! I'm for sure getting additional soaps for a funny Christmas gift.
A few extra cryptids – Big Foot and Loch Ness Monster.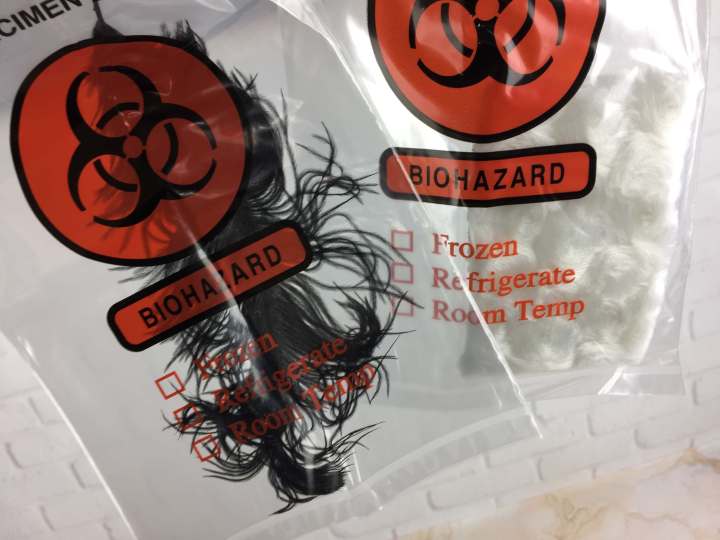 Specimen Bags with Bigfoot hair, Mermaid moss, Yeti hair, Pegasus feather, and more! I actually SQUEALED when I pulled these out! It appears that I have evidence already of these fantastical creatures!

And yes, purple moss!
Safari LTD Cryptozoology Designer Hand-Painted Figures: Here's the whole crew –  Jackalope, Loch Ness Monster, Bigfoot, Kraken, Yeti, Furry Trout, and Coelacanth. (p.s. one of these is real!)
My eyes just bugged out in wonder and delight the whole time I was unboxing this – it was as if I was unboxing a lost story, or a story yet to be told, or a story in the telling. And this is the kids box! I cannot wait to hear their adventures, read their stories, and see what imaginative ideas this box sparks once they open it! I'm half-tempted to save the entire box for Christmas but my lucky husband has 2 days at home with the kids next week, so I know exactly what will keep them busy – and this will, easily, for hours and hours. There's so much to discover – from what each cryptid or creature of lore is and the background – to learning how to look up GPS coordinates – to determining corrupted/false information.
I'm still puzzling over some of the clues in the box myself – but looking forward to hearing my kids' hypotheses, as well as getting the adult Wonderful Objects box for fall! In one week I'm giving my kids this box and asking them "What if you were a legend hunter?" The anticipation is killing me!
NOTE: This box is SOLD OUT – if you want to grab this for a holiday gift (a year of this? yes please!) you should subscribe now.Save $10 on any plan with code HELLOWONDER10!
Visit Wonderful Objects Kids Box by Wonder and Company to subscribe or find out more!
The Subscription
:
Wonderful Objects Kids Box by Wonder and Company
The Description
: The Wonderful Objects Kids Box is a story-making experience directed by your child. Unfolding across quarterly mystery boxes, unexpected deliveries, and exciting clues, Wonderful Objects encourages children to ask "What if…?" and invites them to turn their answers into something magical.
The Price
: $72.00 per quarter