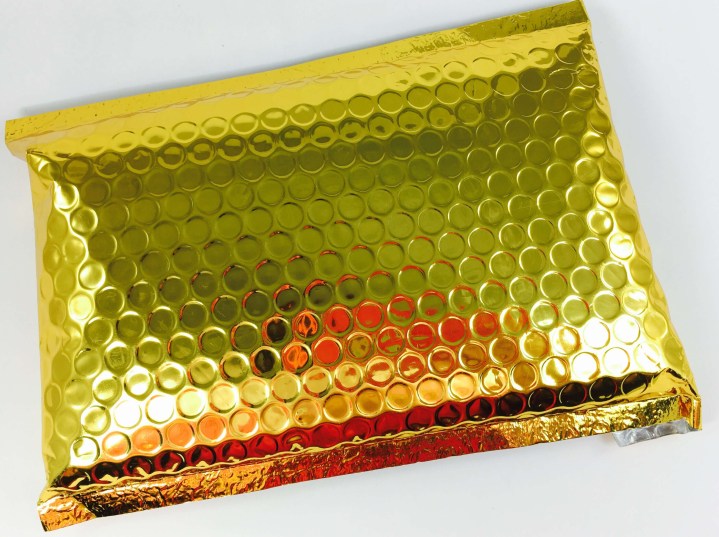 W.I.N. (What is Next?) Beauty Kit is a monthly beauty subscription that sends the best in Asian beauty products in a cute bag. It is $14 a month and free shipping is included. Here is a little info on this new subscription from their website:
Asian beauty and skincare is now increasingly recognized all over the world for its revolutionary, effective, innovative, and even "fun" products. With major beauty retailers spotlighting asian brands, the increased exposure has also resulted in an increased accessibility of products in the global market. But this change has also raised new questions for us – which products work? What should we get? Where should we get it?
W.I.N. aims to answer those questions by curating the best and introducing those products to us one sample at a time!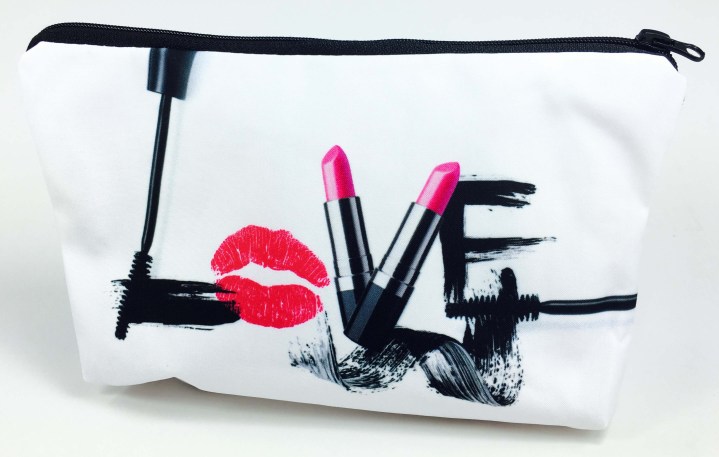 My products arrived in a shiny gold bubble mailer and inside was a bag, which contained this month's products and an info card.
Everything in the bag! New this month was the inclusion of makeup products.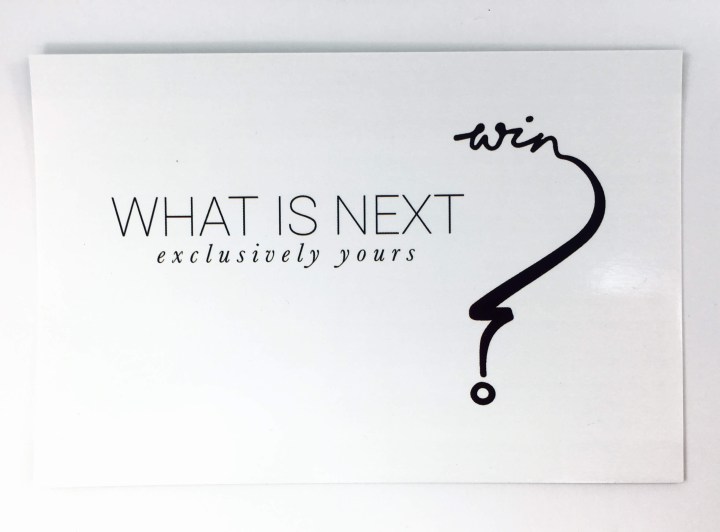 I love product info cards and they are especially important when dealing with products that may not have instructions in English.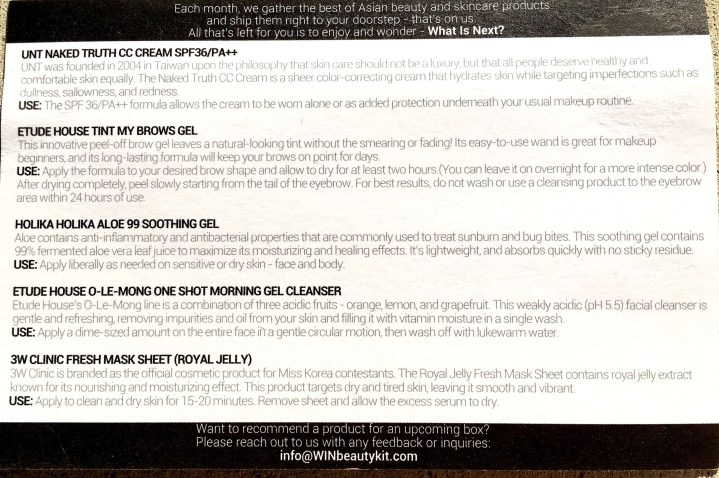 Some of the products this month had instructions and ingredients in English, which is becoming more common with Asian beauty products. Still, this lets me see at a glance how to put the items to use.
W.I.N. Beauty Kit includes 5-6 samples (with at least one being a full-sized product), a collectible bag, and a product usage card. I really liked the design and size (a bit bigger than an Ipsy bag) and have already put it in my purse! No brand is given and there isn't a tag inside. (It looks like some subscribers may receive a different design with the word "FLAWLESS".)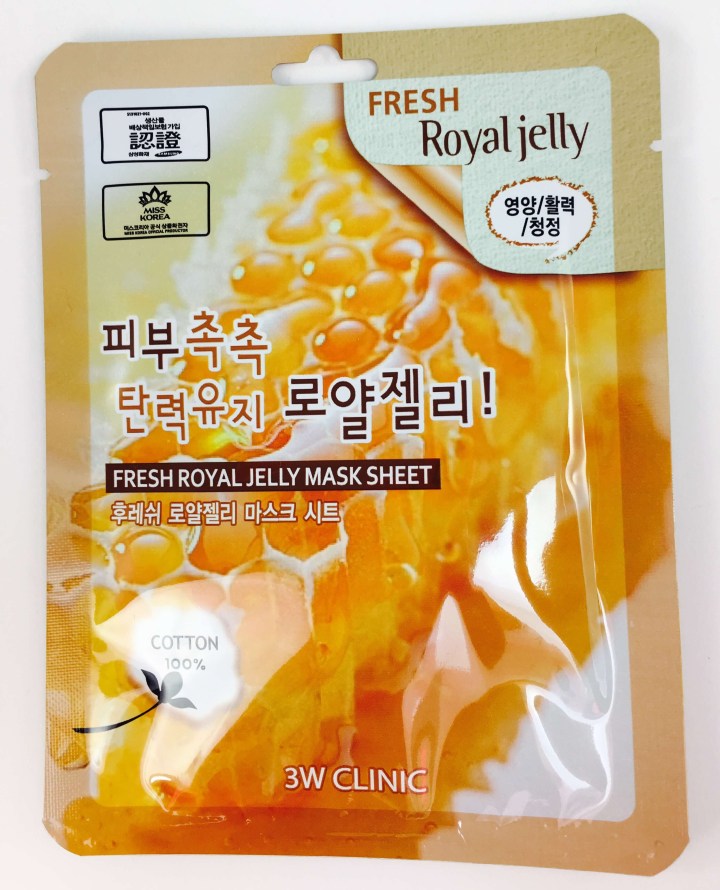 3W Clinic Fresh Royal Jelly Mask Sheet ($1.02) was a little hard to unfold so I could place it on my face but when I finally figured it out I noticed that it had a cooling feeling that I enjoyed, but the strong fragrance had me removing it before the 20 minutes was up. Royal jelly extract is supposed to help with nourishing and moisturizing the skin.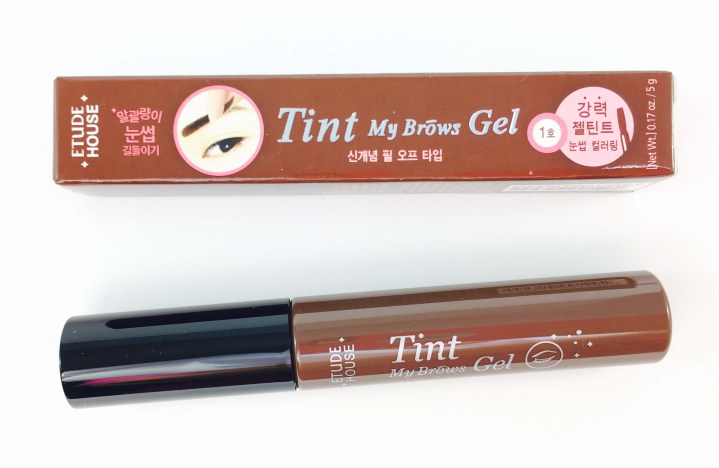 I am going to pass the Etude House Tint My Brows Gel in #1 Brown ($11.04) along to my daughter, who is obsessed with having perfect arches and who has darker hair than I do (this shade is their darkest offering). This product has a floral scent and is supposed to be applied to the brows and left on for 2 hours before peeling off, like a mask.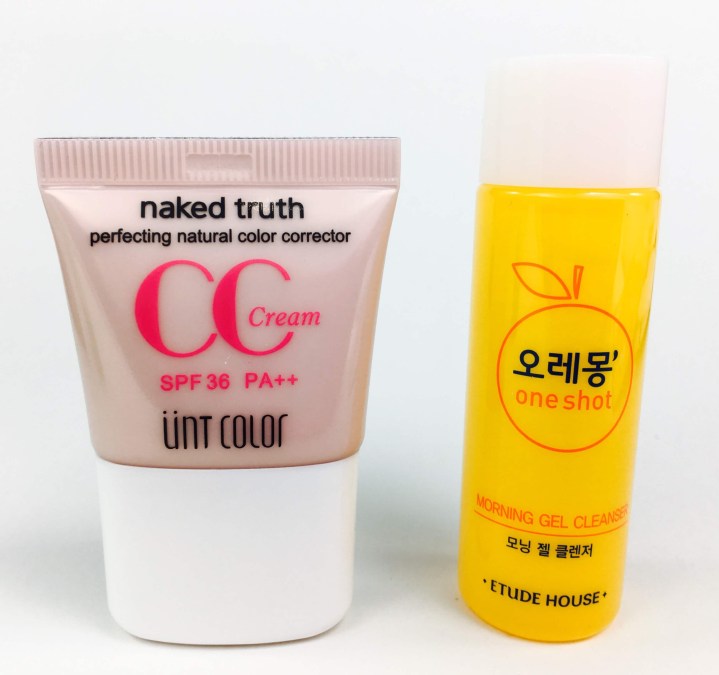 ÜNT Color Naked Truth CC Cream SPF36/PA++ ($4.57) is a "perfecting natural color corrector", which means it is supposed to adjust to your skin color! I was certainly surprised when it came out white but as I rubbed it around it magically changed before my eyes. I asked my coworkers to alert me if my skin started turning weird colors but it looked fine all day long, plus it has SPF.
There was a second product from Etude House and this one was O-LE-MONG One Shot Morning Gel Cleanser ($1.46). This product is mildly acidic and has orange, lemon, and grapefruit extracts and smells good. It didn't lather at all but I think that is the point, since makeup should have been removed the night before, right?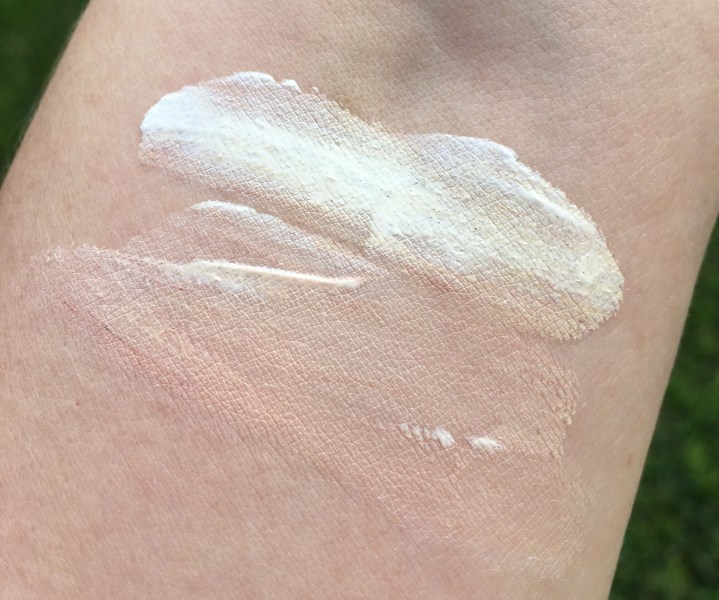 Here's the CC Cream swatched on my inner arm. It started out white but then did a pretty good job of blending into my skin tone.
I didn't get a chance to try out Holika Holika Aloe 99% Soothing Gel (no size given, $5?) for it's intended purpose, as a skin soother following too much sun or a bug bite. I love the packaging, it looks like an aloe leaf! It smells green and clean and was non-sticky.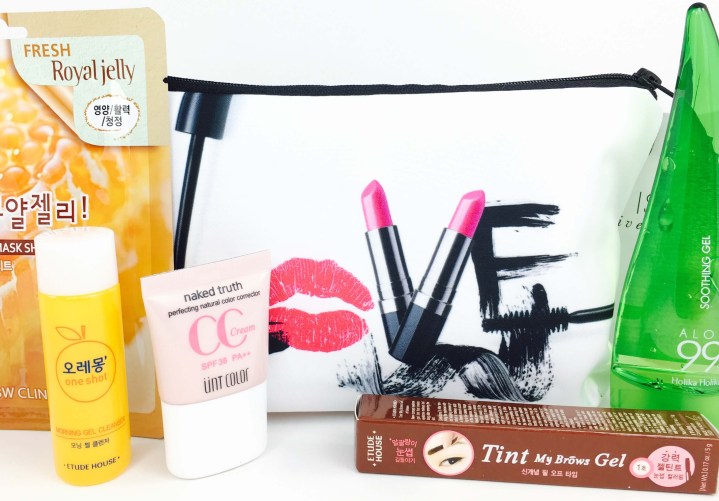 This was another nice collection from W.I.N. Beauty Kit! My October kit had a value of $23.09 , which is more than the price paid for the subscription and doesn't include the bag itself. I like that they included makeup products but I can see how the color choices may not work for everyone. I can't wait to see "what is next" for November!
What did you think of W.I.N. Beauty Kit?
Visit What Is Next (W.I.N) to subscribe or find out more!
The Subscription
:
What Is Next (W.I.N)
The Description
: What Is Next (W.I.N) is a monthly subscription service featuring curated samples of Asian beauty and skincare products that are highly popular in east Asian countries such as Korea, Japan, and Taiwan.
The Price
: $14.00 per month