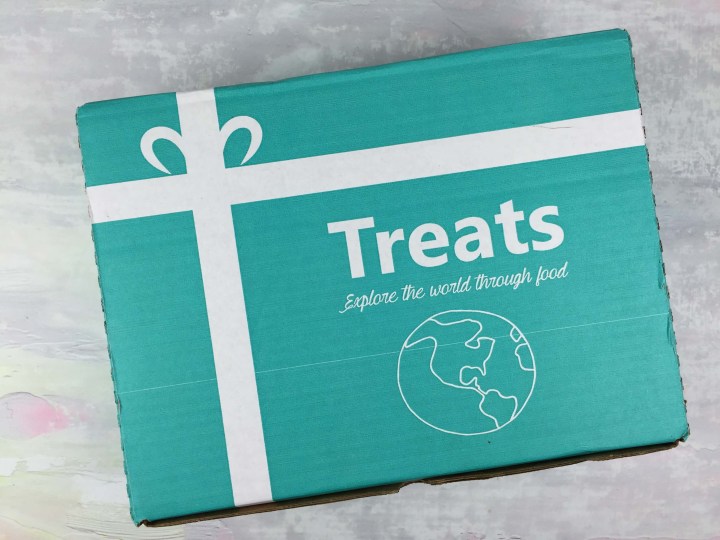 Let's go to Italy this month! Treats is a monthly snack subscription full of snacks from around the world. You can expect to receive eclectic and interesting snacks that you've never sampled before (unless, of course, you've lived in the featured country recently)! The Standard Pack offers 4-5 snacks, while the Premium box offers 8-10.  This, of course, is the Premium Box.  It's quick to enroll, and you'll get your first box within a few days of when you subscribe.
The packaging is simple and elegant. Tissue paper keeps the contents a surprise until you are ready to immerse yourself in the destination country's food culture. The box is crowned with a beautiful postcard welcoming us to this month's Treats destination.
The box is filled to the top with goodies!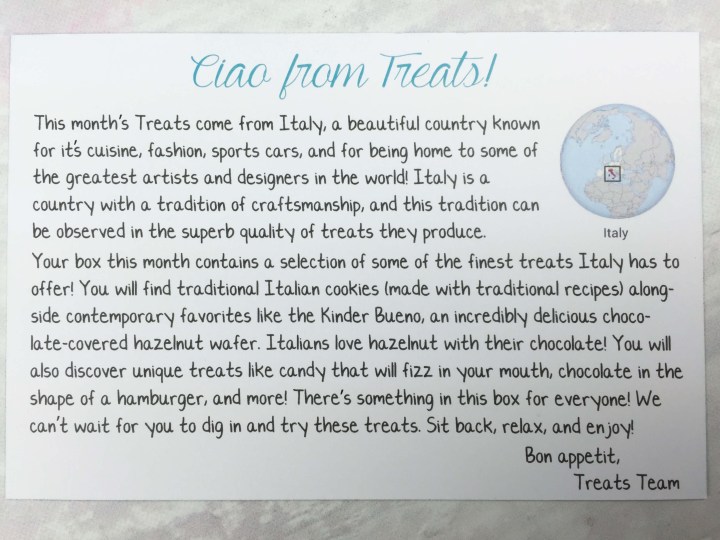 This month, we welcome a box from Italy! The back of the card has a welcoming message that points out some of the items with distinctly local and traditional character. FYI – this box was similar to one of their first boxes. I'm not sure if they're repeating countries, or if they're reusing the theme because their subscription has grown so much that most of their subscribers didn't get to experience the first box (I think it's the latter!).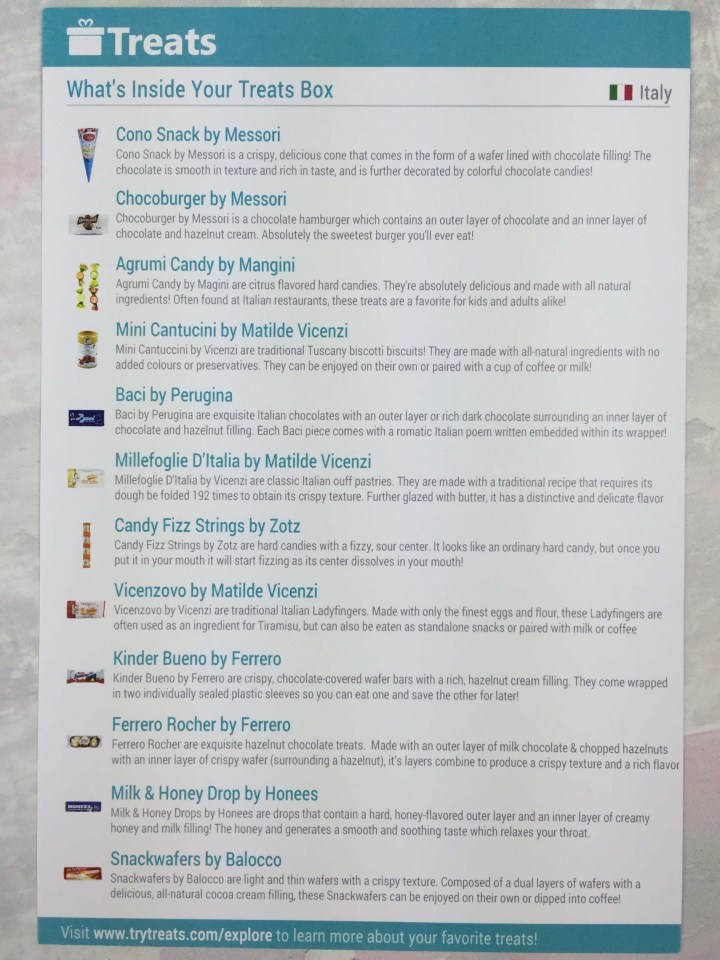 There is also a handy info card that gives the name and maker of each treat, as well as a short description of each.
Everything in the box.  The composition of each Treats collection depends on the local snacking culture, but there is usually a good mix of sweet and savory and individual and family packs — I think this is the first time I've ever seen a Treats composed entirely of sweets!
Zotz Orange Candy Fizz Strings:  I don't think I've ever seen Orange Zotz in the U.S.  A hard candy shell encases a fizzy, sour center.
Zotz Blue Raspberry Candy Fizz Strings:  This is the classic Zotz flavor!
Mangini Agrumi Candy:  Lovely, all-natural fruit hard candies.  The citrus flavors taste really authentic.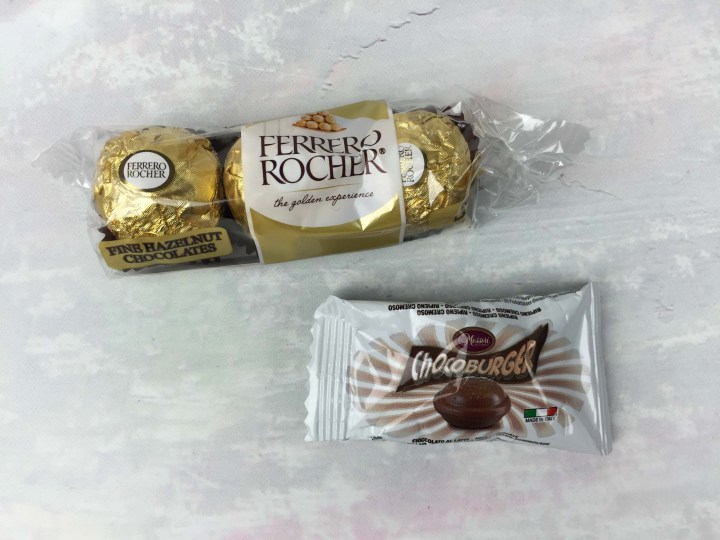 Ferrero Rocher:  These are very famous, and with good cause.   A whole hazelnut sits in the center, encased in a layer of wafer, chocolate hazelnut cream, and a chocolate and chopped hazelnut coating.  Other than Nutella, this truffle has done more to popularize the chocolate/hazelnut combo than any other treat.
Messori Chocoburger:  This little chocolate looks a bit like a hamburger, complete with sesame seed bun.  The inside is stuffed with delicious hazelnut creme!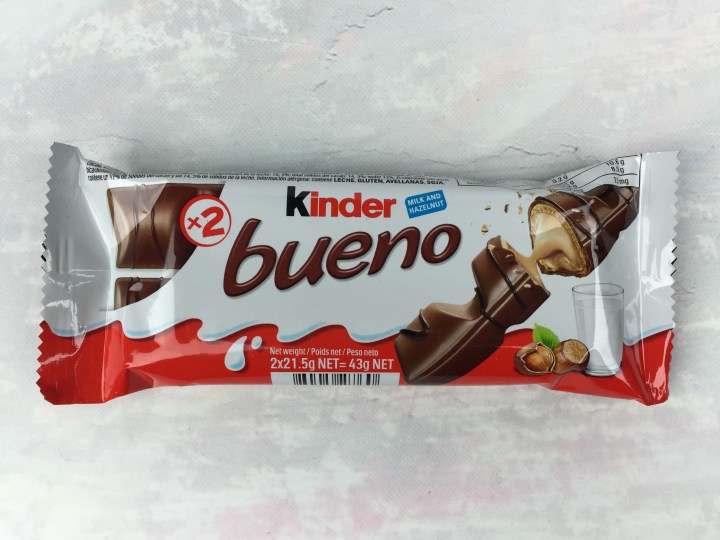 Ferrero Kinder Bueno:  This bar combines, what else, chocolate and hazelnut!  You get two segmented logs, each with pods filled with hazelnut creme and wafer.  I've always thought of Kinder as German chocolate — it was actually developed by the German branch of the Italian company Ferrero in 1967, then introduced to the Italian market the next year.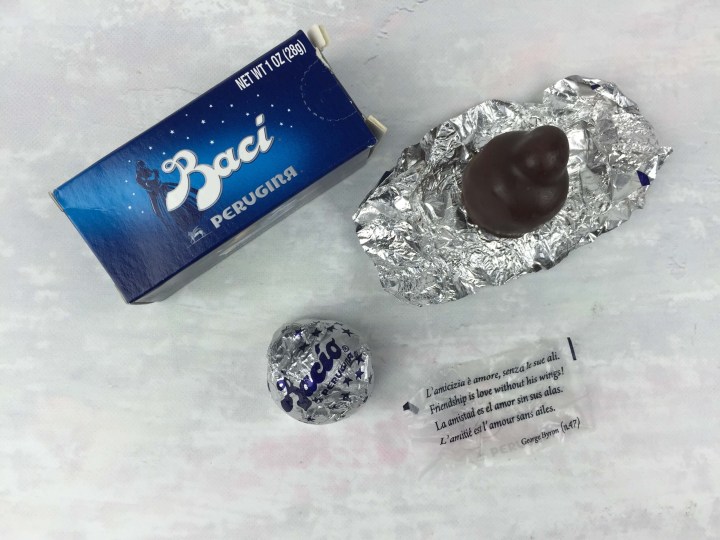 Perugina Baci:  These delightful little domes are filled with a chocolate and hazelnut filling and coated in dark chocolate.  They stand out from the other chocolate and hazelnut combos because of the darker chocolate and the inclusion of a short Italian love poem in every wrapper.
Balocco Snack Wafers:  Cocoa cream layered between crispy waffled wafer cookies.
Honees Milk & Honey Drop:  The milkiness of the filling doesn't really stand out, but the honey taste is very pronounced and delicious.  The outer shell is a hard candy with a mild caramel taste (perhaps it's intended to be honey, but it taste like a normal candy shell and doesn't have the same true honey flavor as the center.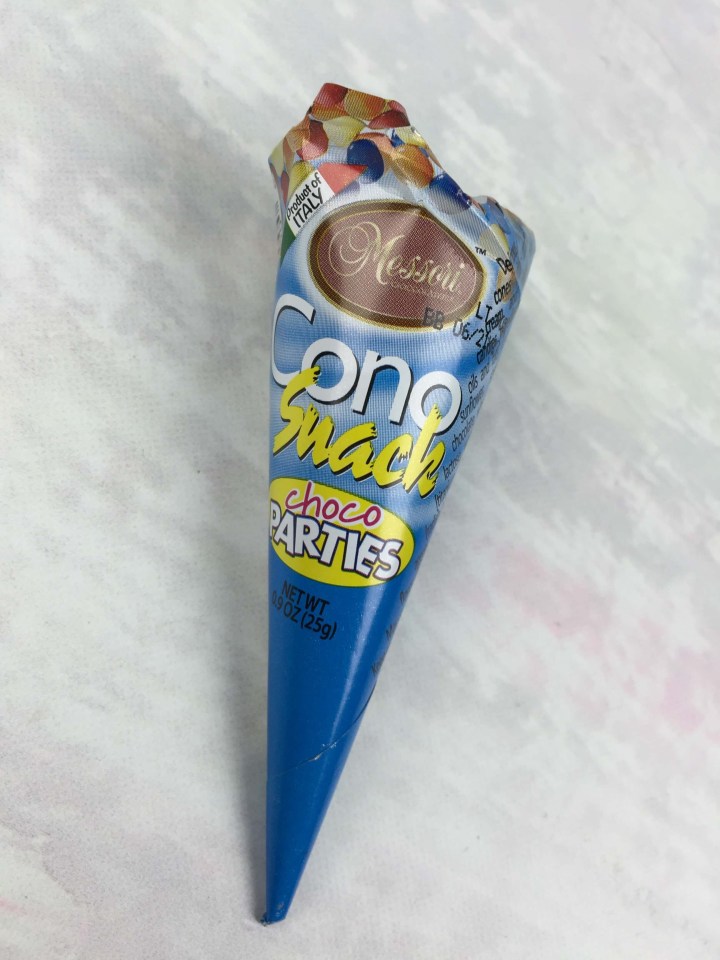 Messori Cono Snack:  A tiny waffle cone filled with chocolate filling.  The top is capped with a slab of chocolate dotted with M&M-style candies.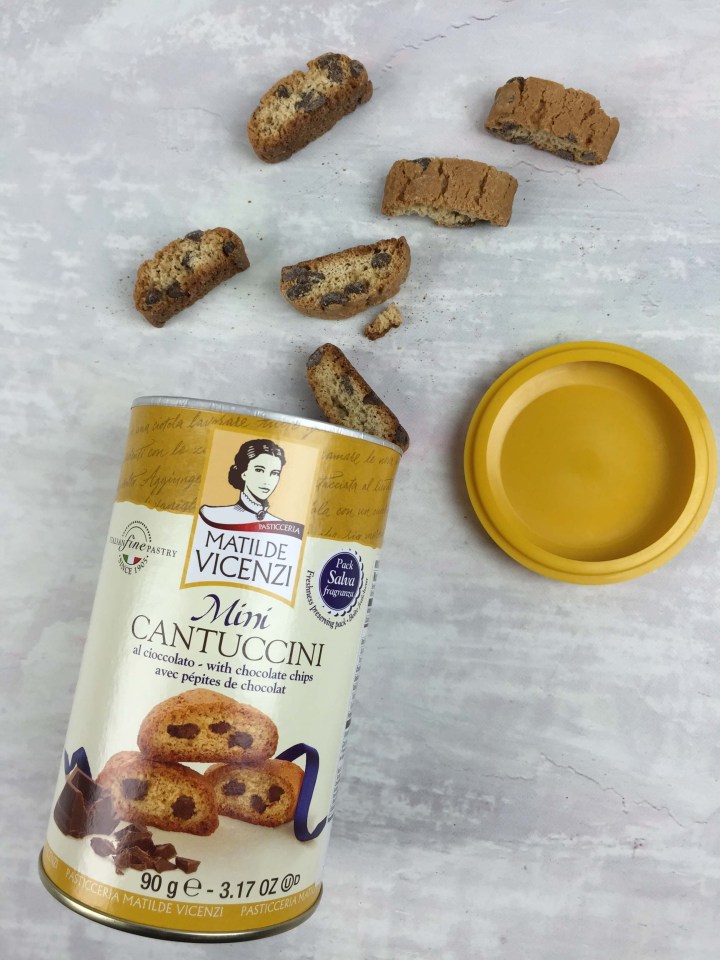 Matilde Vicenzi Mini Cantucini:  This mini cookies are essentially slice biscotti, very crunchy and well-suited for drinking with a hot beverage or milk.  The chips are made of good quality chocolate.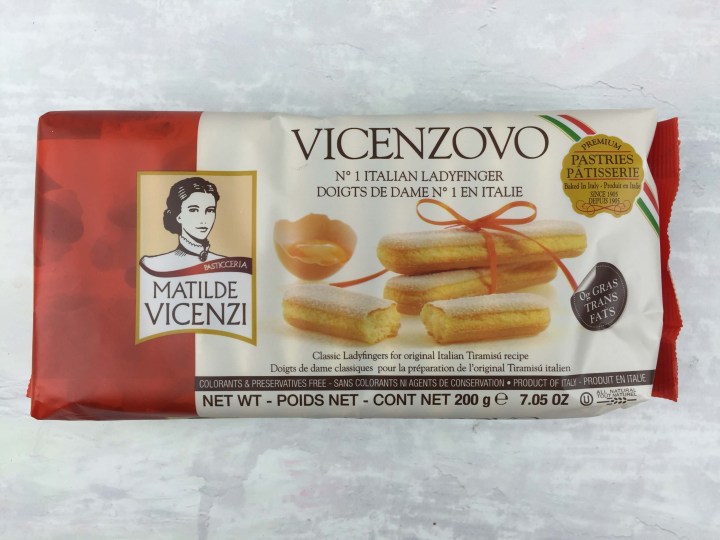 Matilde Vicenzi Vicenzovo:  These lady fingers are made in the style of tiramisu biscuits.  The egg flavor is very pronounced, with a very rich taste.  They are dry (hence the suitability for tiramisu) and crunchy, with a light sugar coating.  This pack held two two separately wrapped rows of ladyfingers.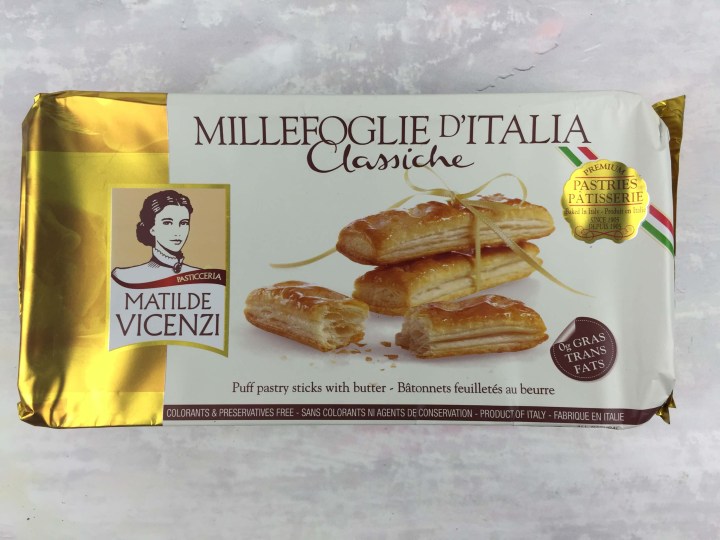 Matilde Vicenzi Millefoglie D'Italia:  Puff pastries with a flaky texture and lovely butter flavor.  The top has a sugar glaze or wash of some sort, making it shiny and crispy.  They came in a big, resealable tub.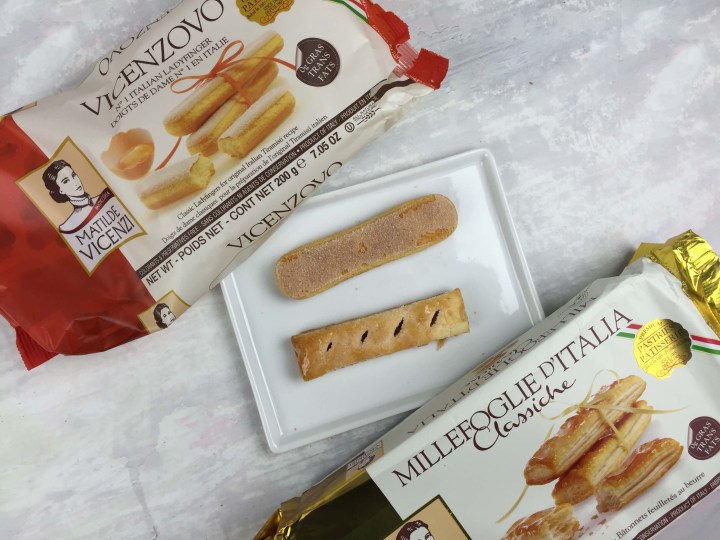 These were big packs of pastry!  They were packed densely and each measured about 4″ in length.
Italy was definitely worth revisiting.  You can tell that Italians love chocolate and hazelnut, especially together, and they have an appreciation for hard candies and crunchy baked treats as well!  We like getting both lots of variety and couple family-size packs in each box — It makes the subscription great for exploring and sharing.  Treats is one of our very favorite discover-foreign-foods boxes because nearly everything is appealing (nothing too weird included merely for shock value – like squid peanut balls, yick!).
Have you tried Treats yet? What did you think of the box? You can save 15% on your first month with coupon code HELLO15.
Visit Treats to subscribe or find out more.
The Subscription
:
Treats
The Description
: Treats is a subscription service for international snacks. Every month they will prepare a box of snacks from other countries and ship it straight to your door. Explore the world through food, a new country every month!
The Price
: $12.95 per month for the standard pack, $24.95 per month for the premium pack.  Shipping to Canada is $11.62.