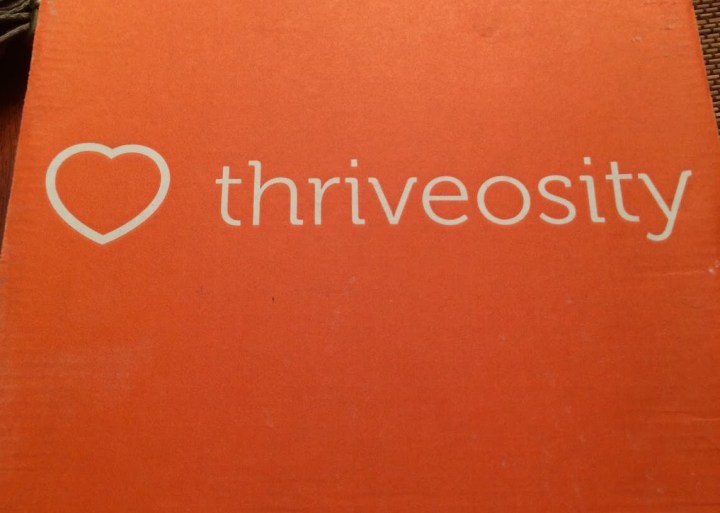 Cancer. The Big C. That dreaded diagnosis after your loved one has been feeling under the weather for a bit too long that brings in the thunderstorm of tears and flash flood of dread. Standing on the sideline watching your loved one deteriorate from the treatment or struggle to return to health after chemotherapy can lead to feelings of helplessness and a strong desire to find a way to help, however small it may be.
thriveosity  is designed to provide a bit of comfort and encouragement to the cancer patient in a physically and emotionally challenging situation with the intent of helping them thrive. They offer one, three, and six month subscriptions tailored to meet the needs of its recipient. This review is for the Woman's box, but they also have boxes for Men, Boys, Girls, and Teens, with a Caregiver box coming soon according to their website.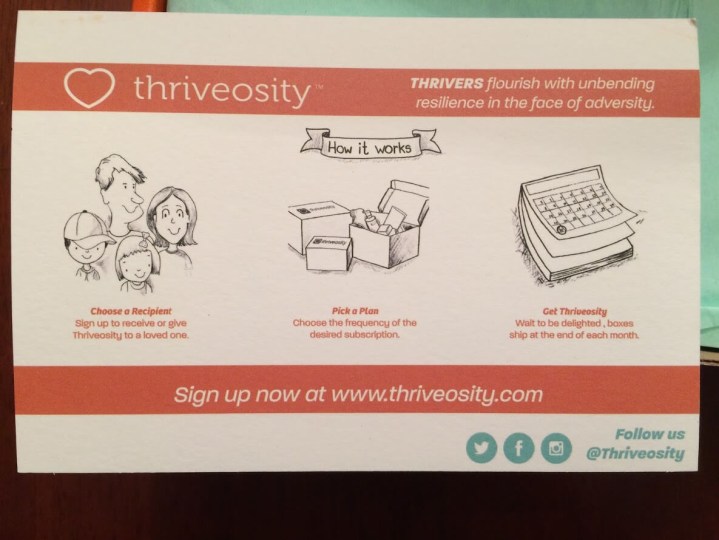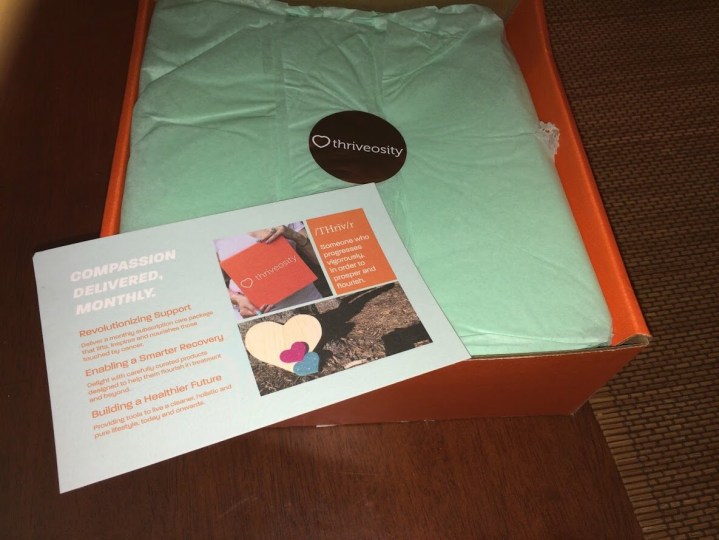 The orange thriveosity box arrived with contents neatly packaged and carried a card explaining the box's purpose inside..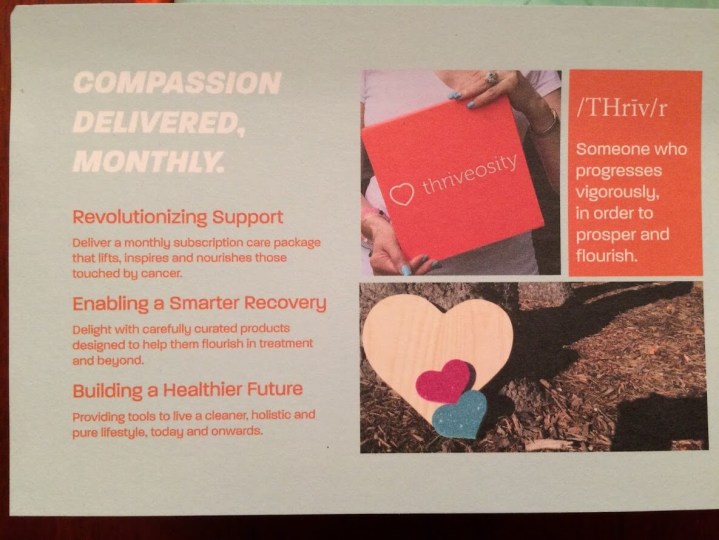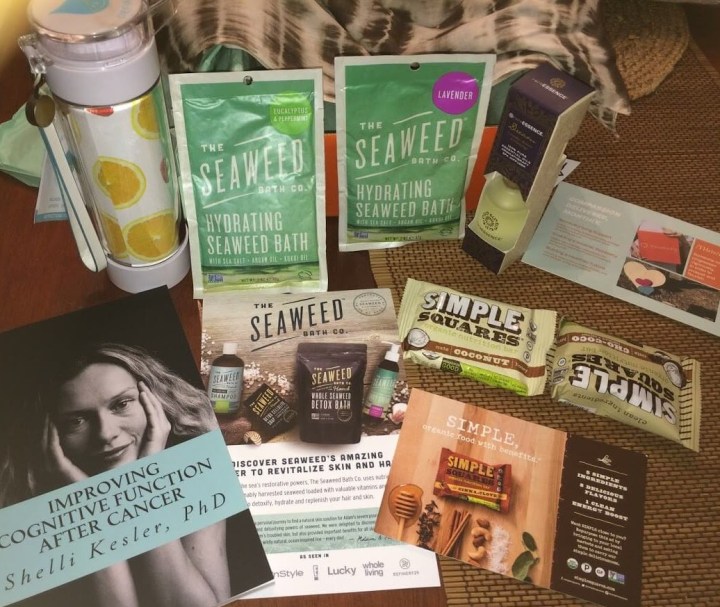 The box was filled with healthy snacks, a water infusion bottle, bath sea salt , scented oil, a handmade scarf, and a very informative book.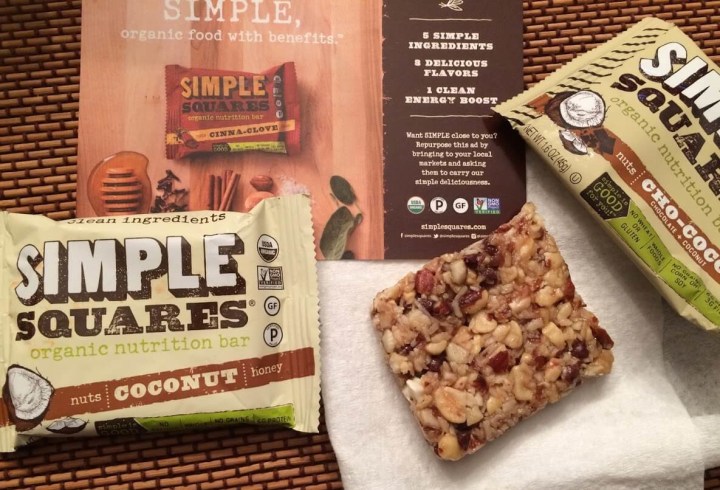 NUTRITION
First, we'll take a closer look at the snacks. Included were two Simple Squares Organic Nutrition Bars ($29.99 for a box of 12 on their site). They were very fresh and soft. Their website states they are  "Healthy on-the-go nutrition. Paleo, organic, Non GMO, gluten free, nutrition bars." They also happen to be very tasty. Their simple ingredient and gluten free nature make them good candidates for this type of box as patient's stomachs can be very sensitive while undergoing treatment and during recovery.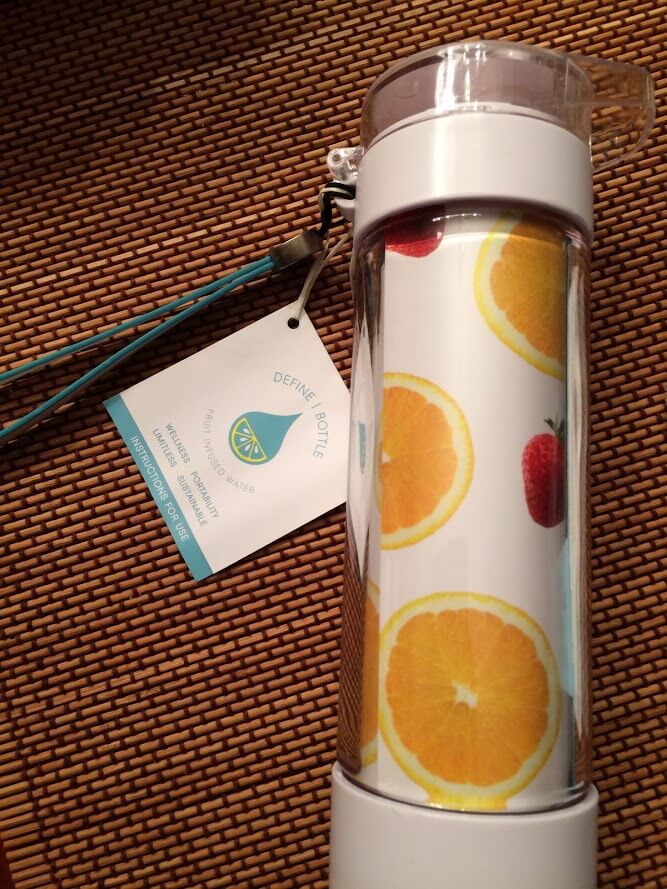 The next food related item was a portable water infusion bottle by Define Bottle. It is designed to allow you to put in slices of fruit to flavor the water, and carry around with you. The intent of the bottle is to give you an alternative to the sugary drinks so widely available today while on the go.
It has a wide opening at top for easy cleaning and space for the addition and removal of fruit and citrus.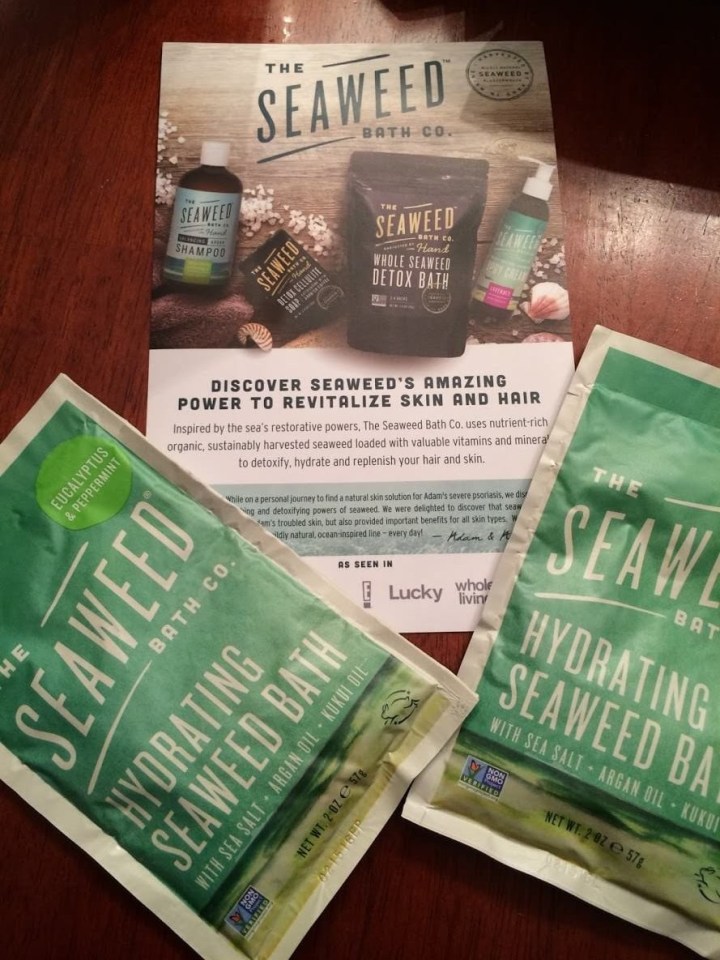 STRESS RELIEF
The next part of the box centered around relaxation. Going through cancer treatment is very draining to the body. It is also very frustrating on the recovery end as a patient struggles to get better, but is still a far cry from the energy levels enjoyed before illness struck.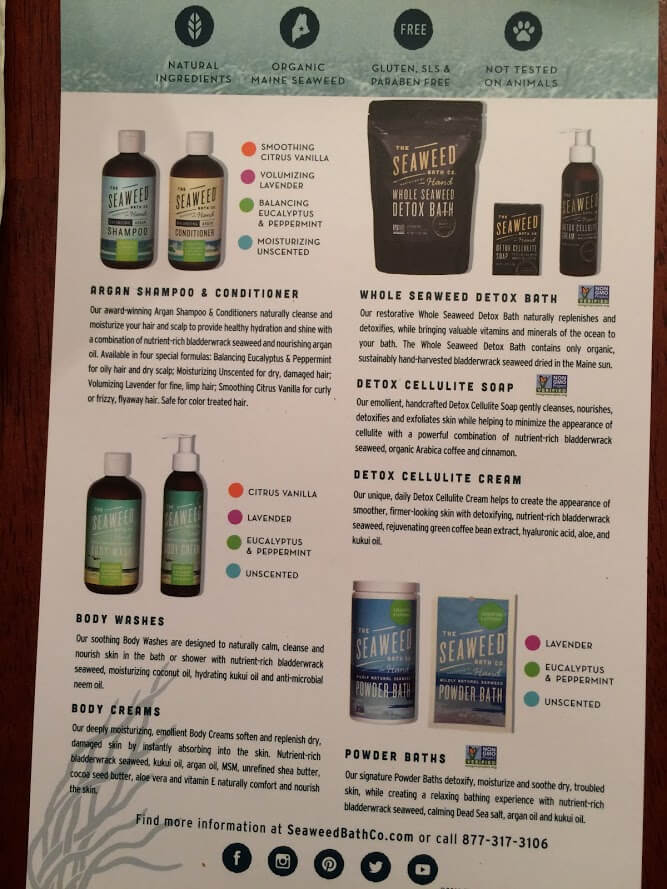 The Seaweed Bath Co. Bath Salts and rareESSENCE Dream Aromatherapy Oils were included to help the patient focus on themselves and try to relax.
The back of the box states that the oil will last approximately 4-6 months. It will be beneficial not only for the patient, but for the caregivers who also get to enjoy the relaxing benefits of essential oils.
PEACE OF MIND
Part of the struggle of recovery includes affects to not only the body, but the mind. The book Improving Cognitive Function After Cancer included in this box goes into detail on the types of changes the mind undergoes when cancer is present and chemotherapy is utilized. A condition named "ChemoBrain" is discussed, and the first few chapters go into technical detail on what is causing the changes. Side effects such as foggy brain, depression, difficulty in decision making, and lack of analytical reasoning are just some of the things patients can experience. Before reading this book, I thought dementia might have been triggered early in my loved one's mind. Instead, I learned that cancer affects more than just the part of the body in which it is spreading.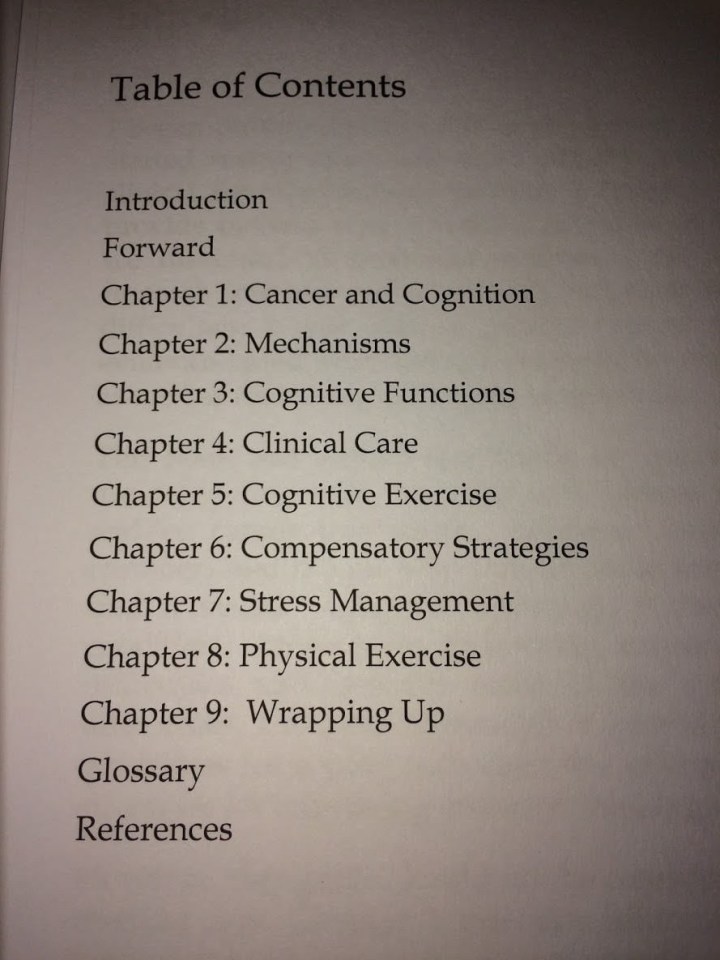 The latter half of the book explains what patients can do to help their minds begin to recover faster. These things include playing games, exercising, active journaling, and seeking help from a medical professional if depression or decision making skills are severe.The information I learned from this book helped me have conversations reassuring my mother that she was not losing her mind. I was able to share parts of the contents with her that reassured her that the effects were temporary and with time she would begin to feel better and think more clearly. It is a struggle for both the patient and the caregiver when something as simple as "what do you want to eat for lunch?" cannot be answered. This books provides tips for helping make decisions and should be read by more than just the patient.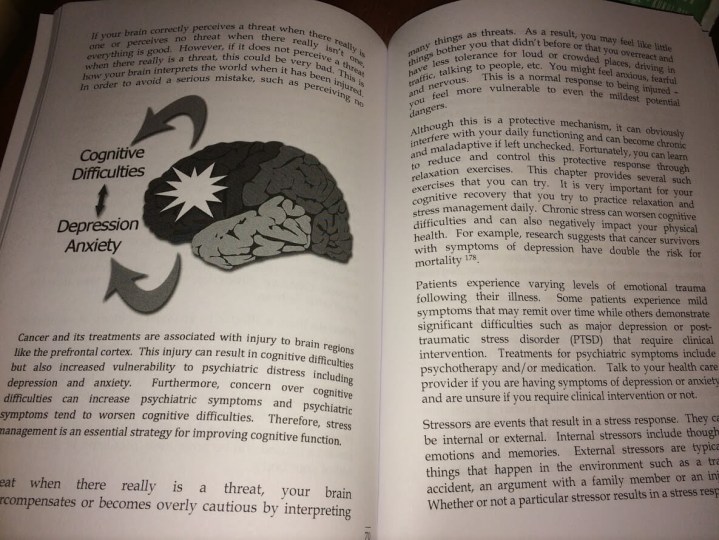 The first few parts of the book were very technical, and frankly a bit hard for me to get through. I believe they are particularly important however to at least skim through as they help facilitate conversations with the oncologist. One of the seeds from which this book came was the lack of knowledge surrounding "ChemoBrain" and the steps taken to help patients and doctors recognize it as an issue. The second part of the book was more about what to do to help things get better, which is in essence the point of thriveosity.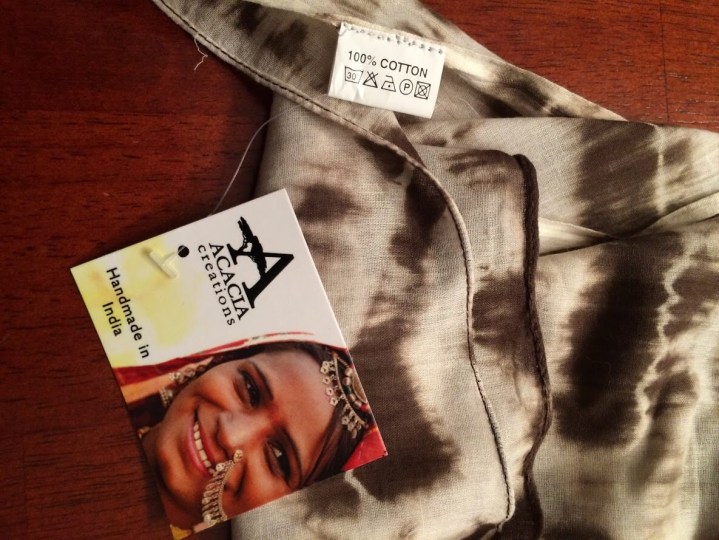 SELF ESTEEM
The final item in the box I attribute to helping a patient feel less insecure. Hair loss is a very common side effect to chemotherapy. A lovely handmade scarf was included in the box that can be worn around the head or also around the shoulders. Feeling cold or hot suddenly is not entirely uncommon. My mother travels with a blanket even during the summer as she knows her doctor's offices will be too cold to handle. This scarf adds an added layer of protection to the top of the head or shoulders as needed.
It is 100% cotton, made in India, and sold by Acacia Creations which describes themselves as being beyond fair trade. "The mission of Acacia Creations has always been to improve lives in a long-lasting and sustainable way.  We go beyond fair trade by creating jobs, providing training, and giving back to communities through our education and healthcare initiatives. "
Feel good knowing this box will not only help the person you send it to and those around them, but will make a positive impact to the world around us with its organic and free trade components as well.
Coupon: Save 25% off your first order, across any length subscription. Use code HELLOSUBS25.
Visit thriveosity to subscribe or find out more!
The Subscription
:
thriveosity
The Description
: The thriveosity box is a monthly care package for those who have been impacted by a cancer diagnosis. (boxes available for men, women, teens, children and caregivers). Boxes include 3-5 products, across five product categories that were identified by cancer thrivers as challenge areas as a result of cancer and its treatments: Nutrition, Cognition, Skin-Care, Aromatherapy, The Basics (comfort items and essentials).  A portion of every single thriveosity box sold will be donated to dedicated to impacting cancer research, patient education and advocacy, including StandUp2Cancer and American Cancer Society.
The Price
: $55.00 per month