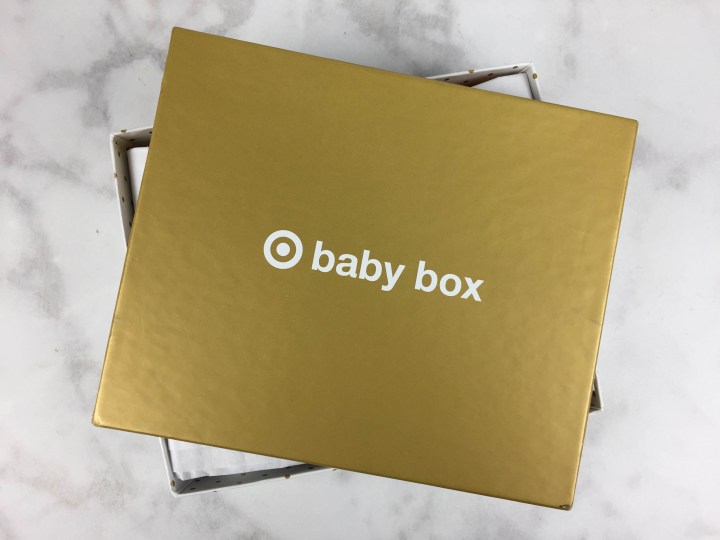 This month Target launched the Target Baby Box! With a promised value of $30 and a sale price of $7, it was available only for a few hours – this box sold out quickly.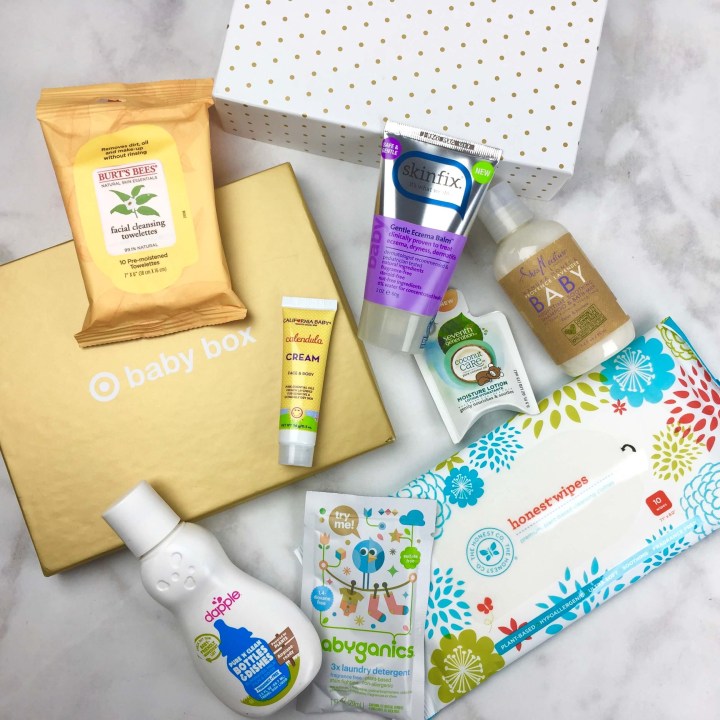 Sign up for the daily or weekly newsletter or…
Notify Me about Target Baby Box
click on the box for notifications so you never miss another Target Baby Box! You'll get email notifications when we post about it (see the details about Hello Subscription Notifications!)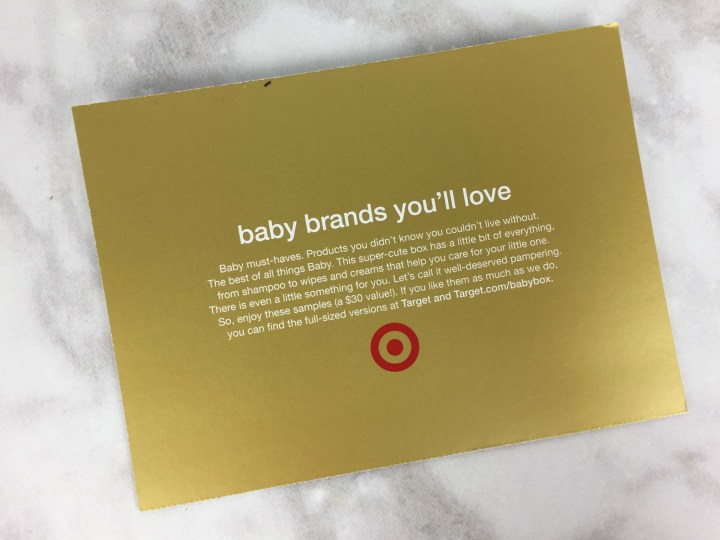 Score the best of all things Baby in Target's Baby Box. This super-cute box has a little bit of everything, from shampoo to wipes to creams that help you care for your little one. There's even a little something for you. Let's call it well-deserved pampering. So, enjoy these samples (a $30 value!). If you like them as much as we do, you can find the full-sized versions at Target and Target.com/babybox.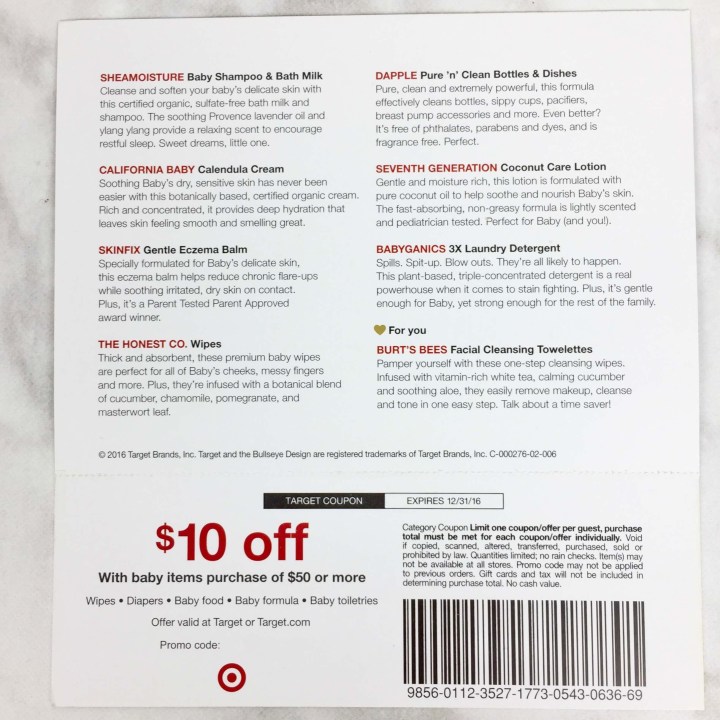 The information card gives brief details on each item, and there's a $10 off $50 coupon too.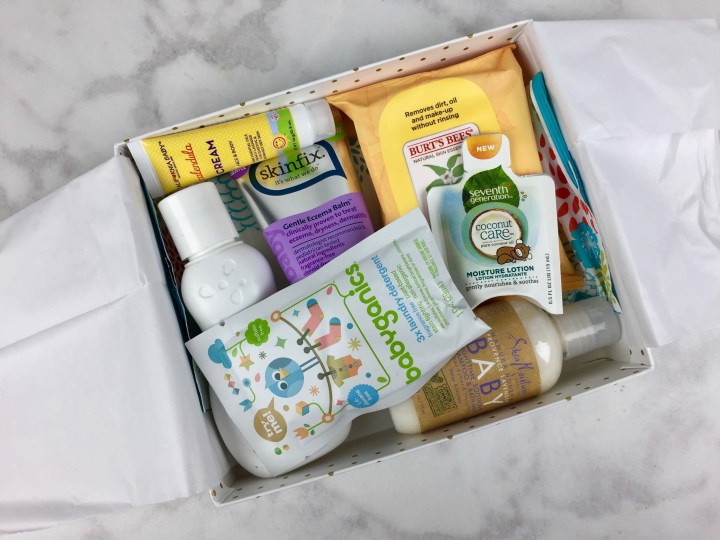 This little box was #1 adorable (gold lid with gold and white swiss dot pattern on the bottom!) and #2 packed full!

Babyganics 3X Laundry Detergent, Fragrance-Free (25¢) This plant-based stain-fighting detergent is fragrance free and has no sulfates, optical brighteners, chlorine, phthalates, phosphates, or dyes. I haven't done laundry yet but we'll try it out – there's always some sort of nasty thing to get out of clothing around here! The Amazon reviews say that it's great for sensitive skin, eczema, and cloth diapers!
Seventh Generation Coconut Care Lotion (60¢) Coconut oil based, this non-toxic moisturizing lotion is healing and non-greasy and smells pretty yummy. I love yummy babies.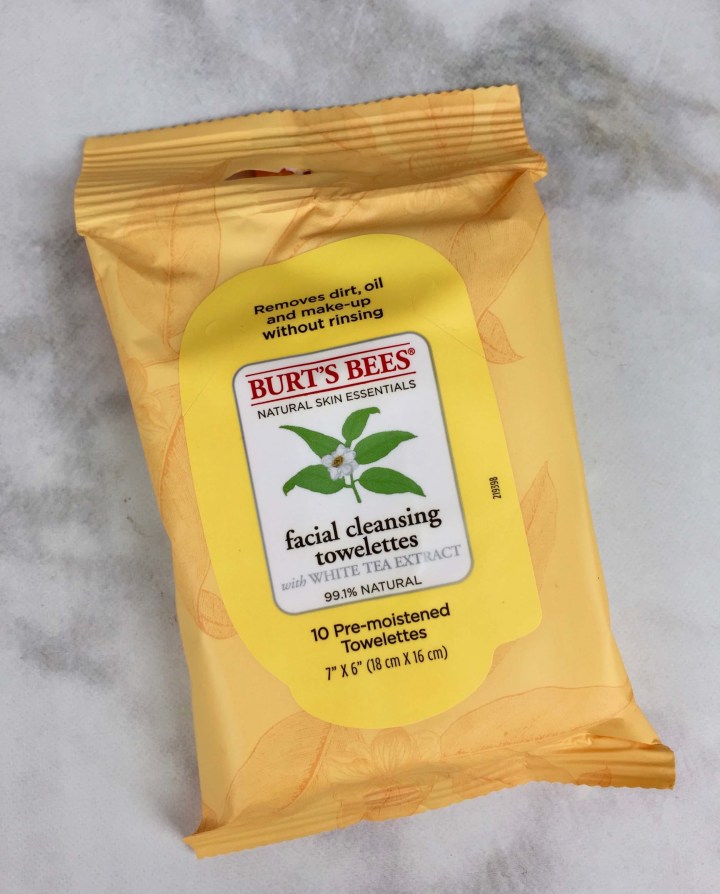 Burt's Bees Facial Cleansing Towelettes ($1.79) The "For You" item in the box (whether you're mom, dad, or another caregiver)! This gets your face cleansed and refreshed – no rinsing required! Infused with white tea extract, calming cucumber and aloe, they smell fantastic and I love them.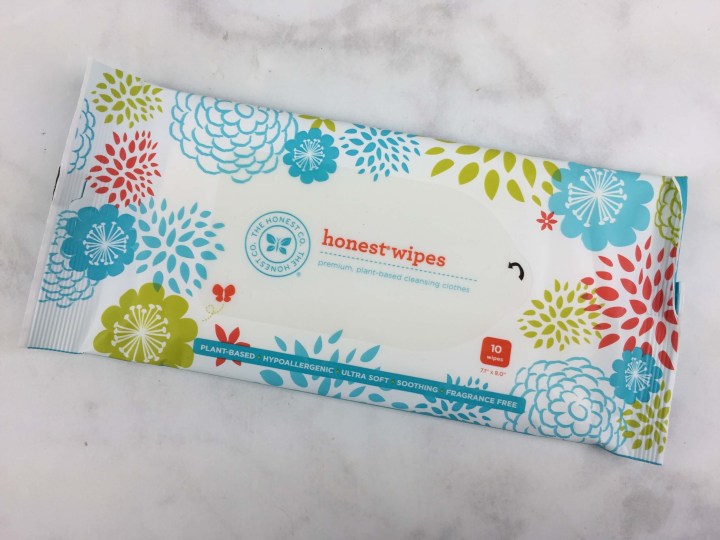 The Honest Co. Wipes ($0.99) These super-strong but gentle wipes already have a firm spot in my family's arsenal against mess.  They are fragrance-free but still smell great because of the cucumber and chamomile!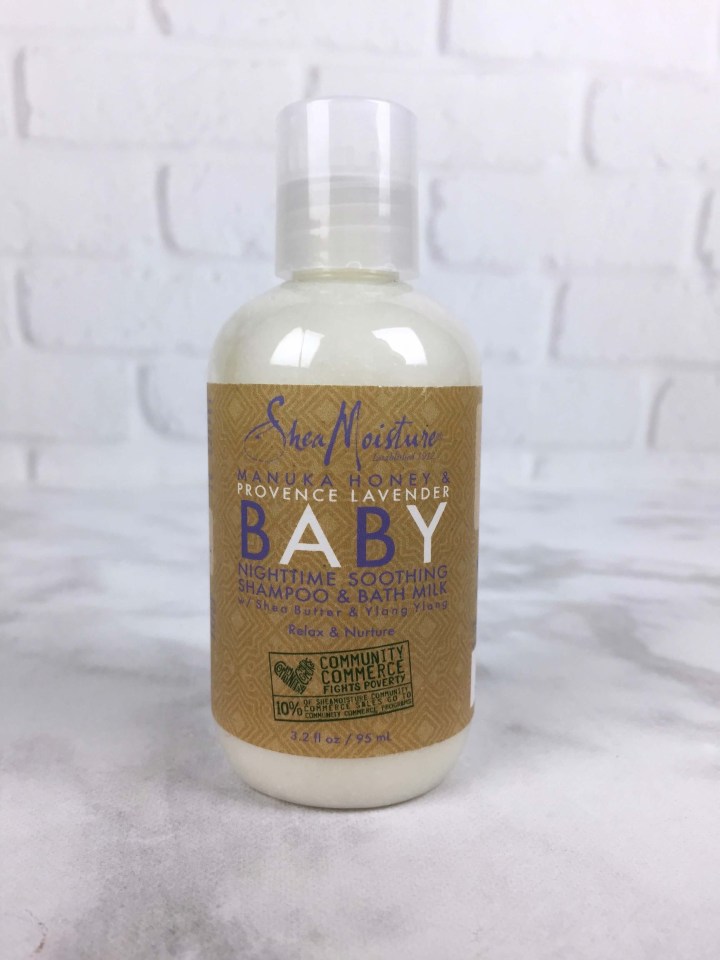 SheaMoisture Baby Shampoo & Bath Milk ($2.46) Made with Manuka honey, ylang ylang, and Provence lavender, this night time body wash and shampoo for baby smells so good and is organic and sulfate-free! It's super moisturizing with the shea butter and honey too. My baby smelled delicious after a bath in this (my baby is really a toddler now, he just turned 2! but all of them are my babies!).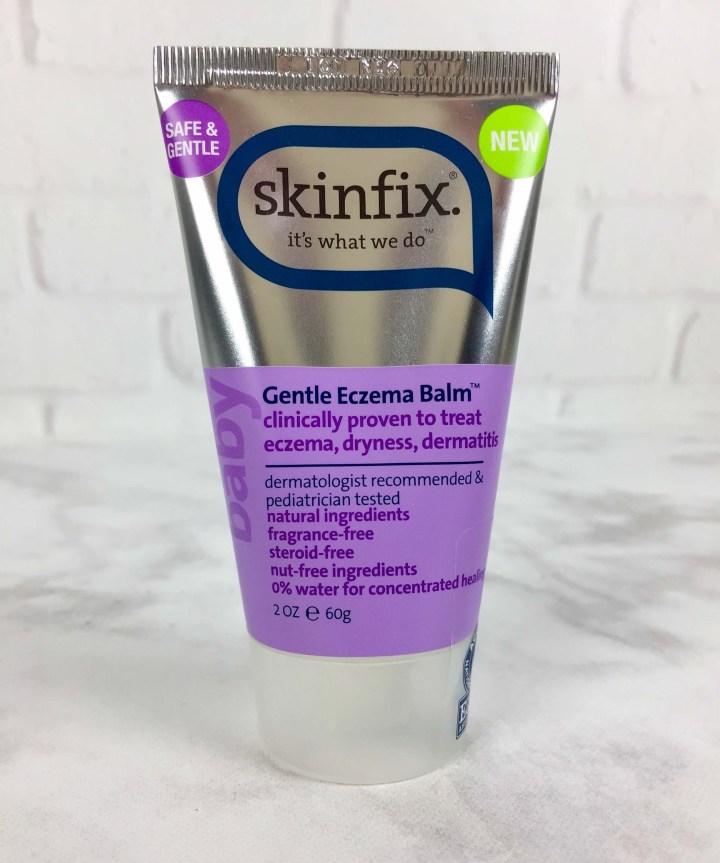 Skinfix Gentle Eczema Balm ($18.99) I know this one is going to be a real help to parents and babies – this full-size balm is water-free with 2% colloidal oatmeal for helping heal eczema! It's free of steroids, nut ingredients, fragrance, soy, gluten, parabens, and phthalates and we will be using it on my child's drool rash.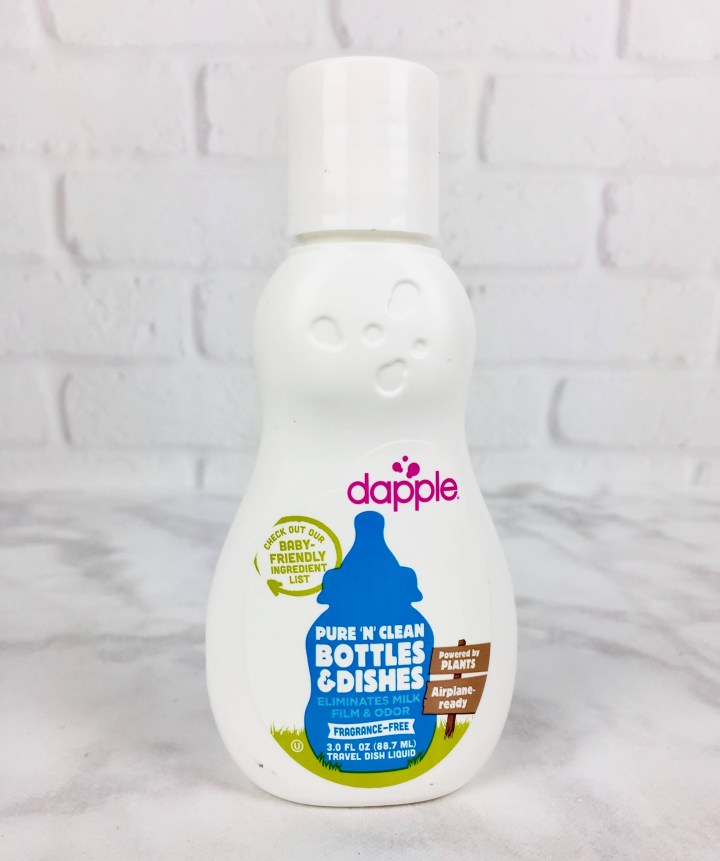 Dapple Pure 'n' Clean Bottles & Dishes Dish Liquid (89¢) Eliminates milk film and odor and is fragrance-free! Where have you been all my (mom) life?! What a great product to include for new parents! Bonus – this little bottle is travel-sized so you can take it on the plane! The ingredients are super baby friendly: Free of SLS, SLES, artificial fragrances, dyes, parabens, phthalates, and other terrible things.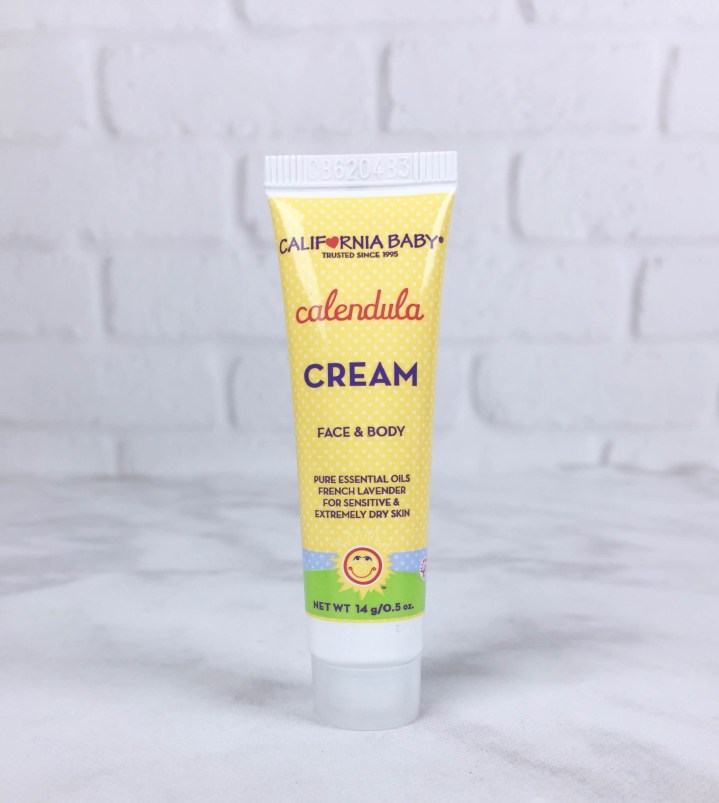 California Baby Calendula Cream ($3.39) I discovered and fell in love with this exact product when my almost 8 year old was a baby. Calendula is a miracle and really does heal all sorts of skin ailments that seem to occur frequently on babies. It works on extremely sensitive skin as well, and is hypoallergenic. This cream is light and fluffy, and also uses aloe for additional healing.
This was such a great box! There was about $29 in value – for $7 that's a really great deal, plus there was the $10 off $50 coupon for Target, and we know we're using that! I particularly loved that the prices of the full-size items were reasonable and that absolutely every item was selected with the health and well-being of baby in mind. I hope that Target offers the Baby Box again soon!
What did you think of the October Target Baby Box?
B sure to sign up for the daily or weekly newsletter so you don't miss the next box!