Sun Basket provides chef-developed and nutritionist-approved recipes focused on helping people create delicious, healthy meals using quality ingredients and globally-inspired flavors.  Recipes are created by Chef Justine Kelly, formerly of The Slanted Door.  Meals are between 500–800 calories per serving and use certified organic produce and responsibly sourced meats and seafood (free from antibiotics and added hormones).  Pick and choose 3 recipes between the following meal plan menus for your weekly selections:  Chef's choice, Paleo, Gluten-free, and Vegetarian.  You can also opt for the Rise & Shine menu which consists of two dinner recipes and two 5-minute breakfast recipes.  Sun Basket is now providing 20-minute meals as part of the weekly selection for those short on time, as well as a globetrotter meal that highlights an international destination!
Sun Basket included this label on the outside of the box.  This information is useful if you have concerns about where your food is sourced.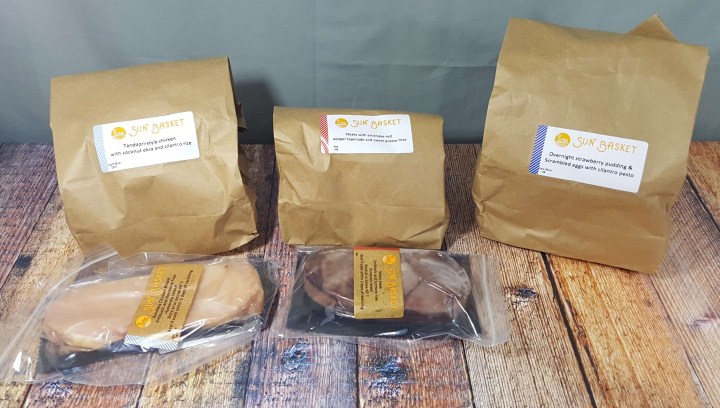 Food is well insulated, and recipes are separated into individual bags (with color coded labels).  Meals are packaged to stay fresh in the box for up to 8 hours after delivery.  Immediately refrigerate ingredients after removing from the box.  Note from Sun Basket, recipes with delicate greens and fresh mushrooms are best used within 4 days of delivery.  Sun Basket provides most of the ingredients needed for your recipes, but there are a few pantry staples that you'll be asked to add such as olive oil, grapeseed or sunflower oil, plus salt and freshly–ground pepper. Occasionally, you'll be asked for wine or butter as an optional recipe item. All Sun Basket packing materials are either recyclable or compostable.

With the launch of Sun Basket's Globetrotter series, each week includes an information card on the featured destination.  This week, we are traveling to India.  The card highlights culinary fare featured in each region of the county.
My recipes for the week.  I changed from my regular Chef's choice menu and got the Rise & Shine – 2 dinners and 2 breakfasts.  The front of each card outlines start-to-finish timelines for the meals, calorie content, and servings.  On the back (not pictured) are step-by-step directions, as well as ingredients/quantities so that recipes can be repeated if desired.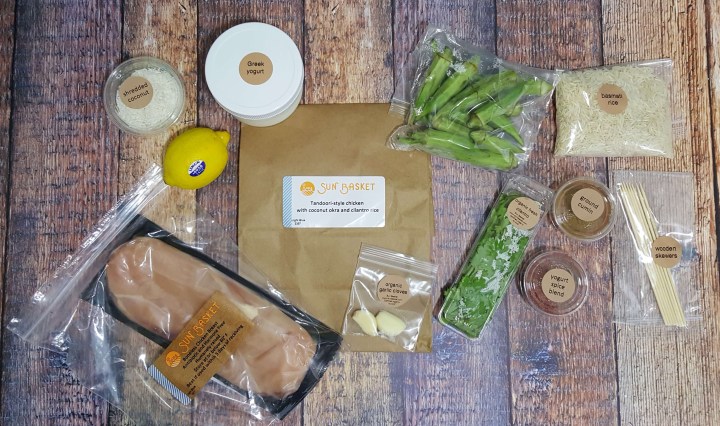 Tandoori-style Chicken with Coconut Okra and Cilantro Rice: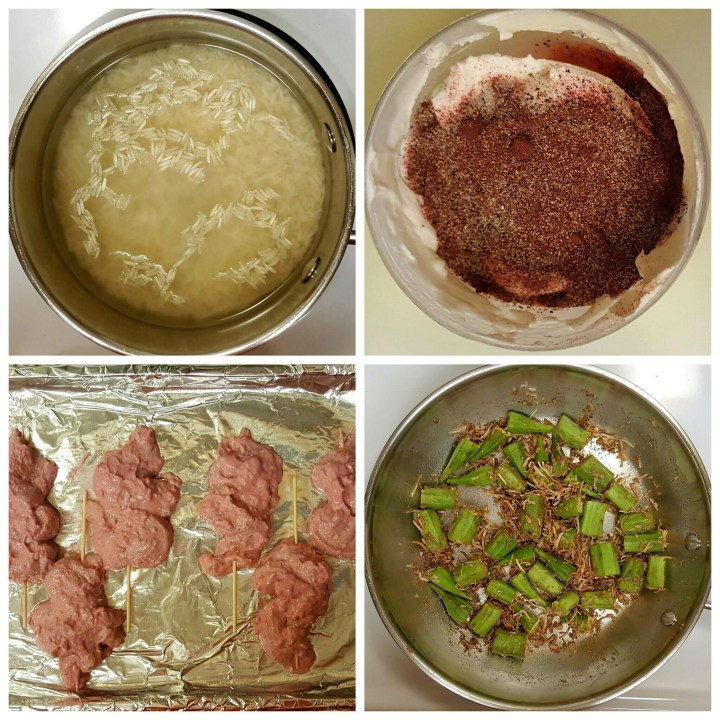 Making the meal:  Cook the rice, prep the chicken and yogurt sauce, roast the chicken, and cook the okra.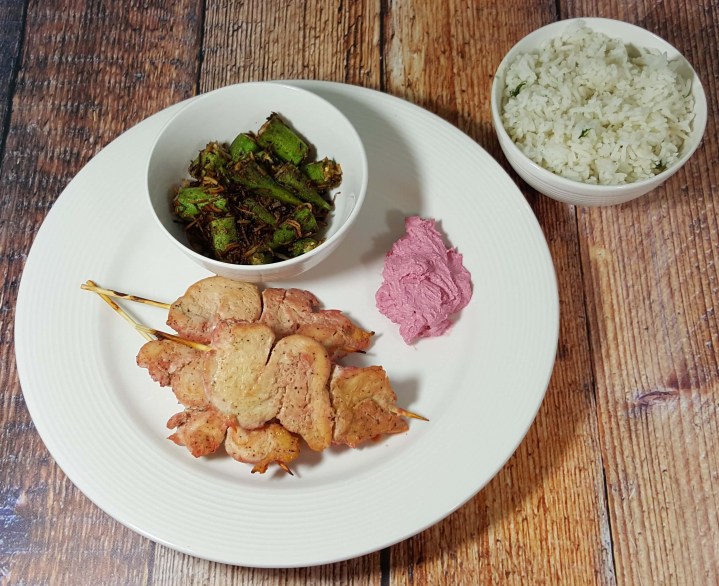 This was a very filling meal.  I was afraid that I wouldn't like it because of the coconut okra; I only like coconut in candy (weird, I know).  However, the okra was my favorite part!  The dish was fairly close to authentic – I have an Indian coworker who brings me tandoori chicken from time to time.  The only issue was that I over-cooked the chicken, and it turned out dry.  Thank goodness for the yogurt sauce because it added some moisture and tang to the dish.
Steaks with Artichoke-Red Pepper Tapenade and Sweet Potato Fries:  

Making the meal:  Prep and cook the sweet potatoes, make the tapenade, and cook the steaks.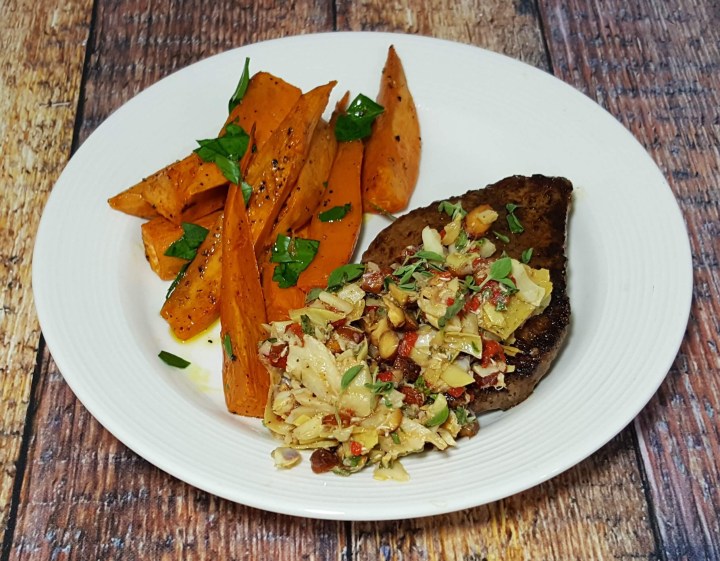 This was a fairly easy meal to prepare, with the sweet potatoes taking the most time.  I grew up in meat & potatoes home, so this was a perfect combination.  The tapenade added a slightly salty and tart finish to the steak, which helped to cut through some of its richness.  The sweet potatoes balanced the flavor of the dish and gave me the carbs I need when eating a good piece of meat.  We were a happy (and full) household after this meal.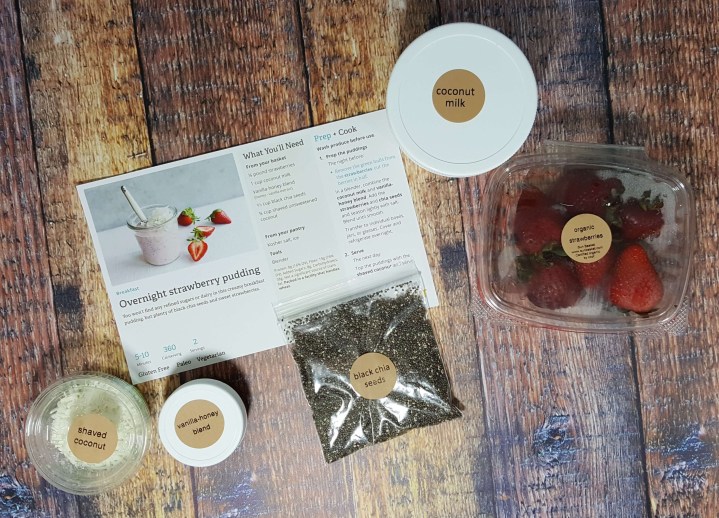 Breakfast 1 – Overnight Strawberry Pudding: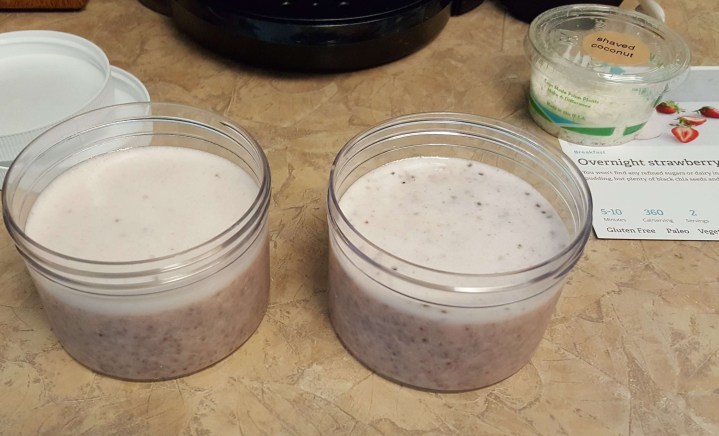 No prep pictures of this breakfast.  Basically, everything (except the coconut) gets thrown into the blender.  Then pour into serving dishes and wait until the next day.  Top with coconut and enjoy.  The strawberries that I received for this were bruised and in poor condition.  I contacted Sun Basket, and they gave me a $10 credit towards my next box as an apology.
I am not a big fan of coconut and was happy that the strawberries masked most of the flavor.  The texture is like pudding, but the chia seeds were not pleasant for me.  I didn't like the mouth feel of this.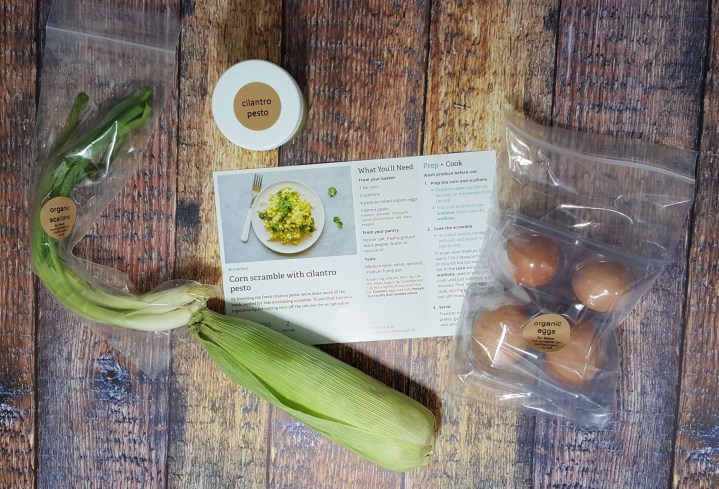 Breakfast 2 – Corn Scramble with Cilantro Pesto: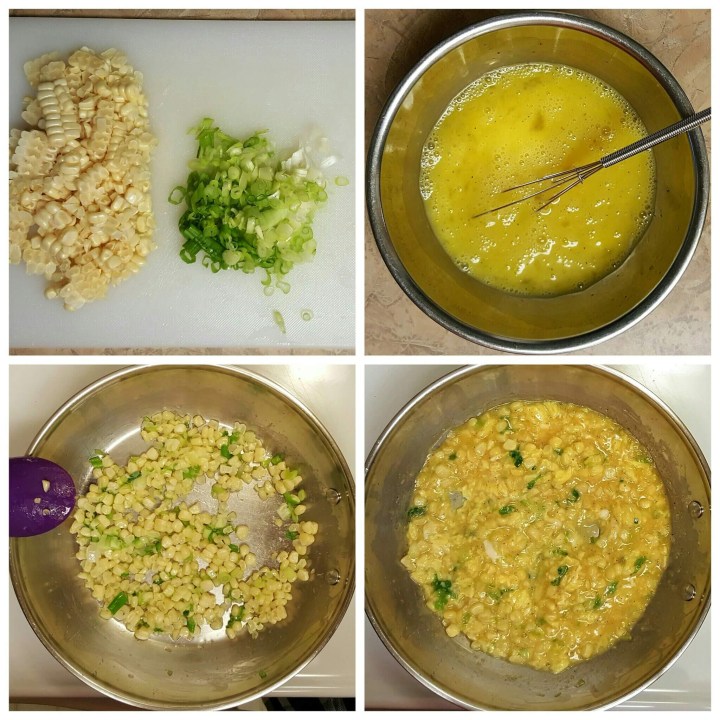 Making the meal:  Prep the corn and scallions, whisk the eggs, cook the veggies, and cook the scramble.
I loved this and don't know why I never thought to add corn to my eggs.  Since this was a soft scramble, the eggs were creamy.  The corn added sweetness and crunch, while the pesto gave some salt and A LOT of garlic.  I was going to make this with a side of bacon but that would have made this too rich, so I opted for a plain bagel.  Definitely making this again!
The Rise and Shine plan was a nice change up and took away my weekend breakfast dilemmas.  I think I'll be adding in some breakfasts going forward.  I like that Sun Basket makes meal planning easier – simply pick a plan, choose your meals, and wait for the ingredients to come.  No need to come up with a menu and write out a shopping list!  Plus, if you like a meal, the recipe card has measurements and easy-to-follow directions to help you make it again.
Sun Basket meals breakdown to $11.49 per person, which is similar to eating out at a casual restaurant.  There is also a $5.99 weekly delivery fee.  You can choose between the 2-person or 4-person plans (weekly $74.93 and $143.87, respectively).  Skip or cancel at any time.  Sun Basket has an expanded delivery area.  However, they do not deliver to the following states:  AK, HI, IA, KS, LA, MN, MO, MT, NE, NM, ND, OK, SD, TX, and WI.  They only deliver to parts of AR.
Have you tried Sun Basket yet or any other meal service? Save $30 on your first box – about half off! Use this link to get the deal.
Visit Sun Basket to subscribe or find out more!
The Subscription
:
Sun Basket
The Description
: Sun Basket is a new healthy meal kit service that delivers organic ingredients and delicious, easy-to-make recipes for cooking at home. Sun Basket makes it easy to cook healthy, with Paleo, Gluten-free and Vegetarian options, plus healthy breakfasts. Get 3 recipes per week for 2, 4 or 6 people, delivered to your door in recyclable packaging that can be shipped back – free- for reuse.
The Price
: $68.94 every week