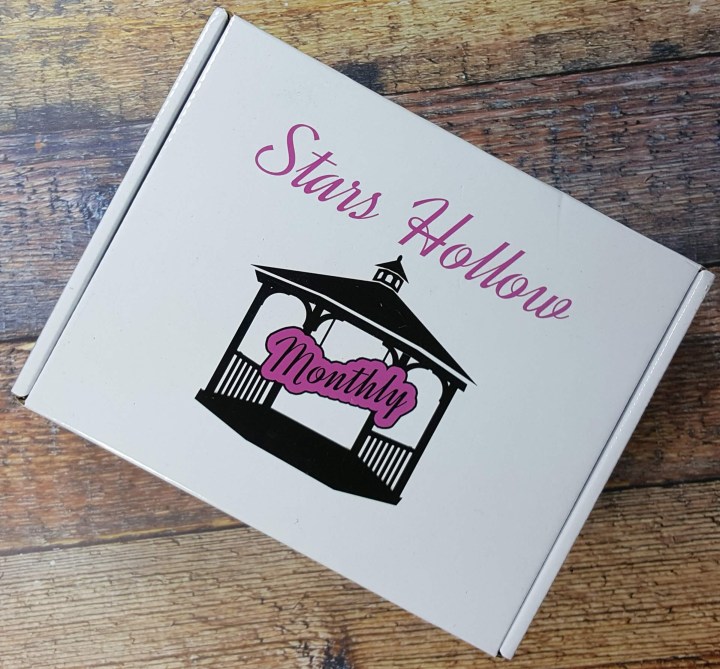 Stars Hollow Monthly will feature 3-5 products which are inspired by the Gilmore Girls and the fictional town of Stars Hollow. (Inspired by, meaning items that relate to, are inspired by, or are artistic renderings of the show and its inhabitants/characters.)  For $29.95, you can expect anything from tee shirts (on occasion), home decor, fashion accessories, bath & body items, and much much more. The goal for the Stars Hollow Monthly Box is to send subscribers items they will adore as fellow Gilmore enthusiasts, but also items anyone would enjoy – high-quality items that won't gather dust in a drawer somewhere.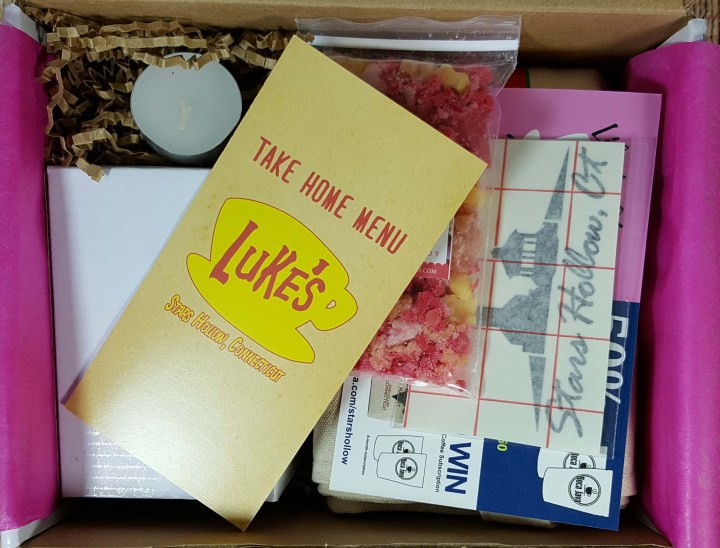 OMG, the scents coming out of this box are amazingly yummy!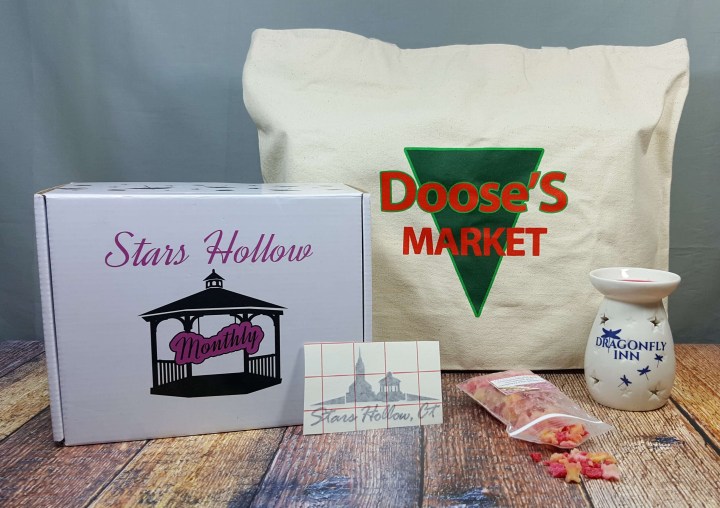 Here's the September Stars Hollow Monthly Box.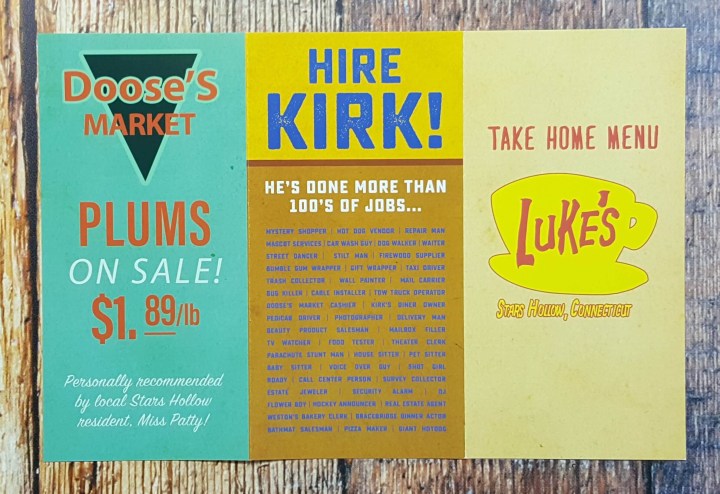 Luke's menu is actually a fold out information sheet for the box. Since Luke is a creature of habit, the outside of the menu hasn't changed (someone please hire Kirk).
The inside of the menu contains a list of the box contents with pricing, as well as discount codes for some of the items. I love seeing this each month – the familiarity is like going home.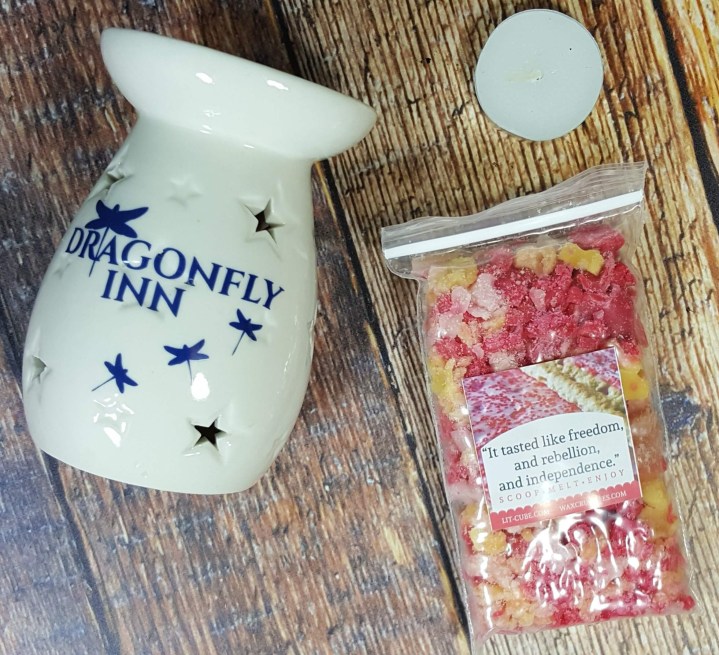 *EXCLUSIVE* Dragonfly Inn Wax Warmer ($24.95):  Thanks to Stars Hollow Monthly, I have a small collection of Dragonfly Inn decor.  I could probably do up a room in a B&B style and use the pieces as accents throughout…  Hmm, that might be fun. Now, onto the Dragonfly Inn Wax Warmer. This is an adorable warmer featuring the Dragonfly Inn logo. It has a deep wax well and cute star cutouts. An unscented tealight candle was also included.
*EXCLUSIVE* "Poptart" Scented Wax Crumbles™ ($6.00): These crumbles are the source of that delicious aroma coming out of the box. The scent is "poptart" but reminded me of something fruitier like Starbursts. It has great throw, and little is really all you need to fill a room. Plus, did you read the label? That's was Lorelei describing her first poptart. Check out the Wax Crumbles website – I was in tears reading some of the fun fragrance names.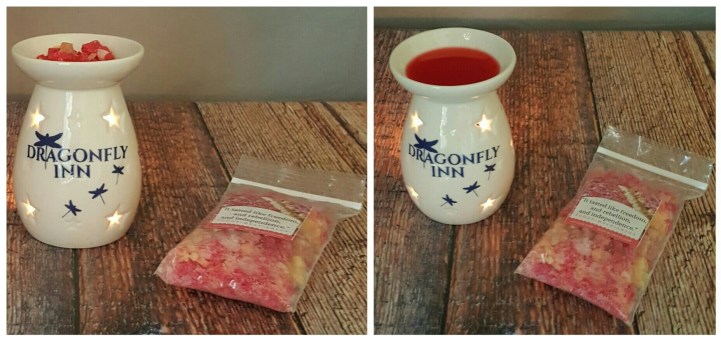 Here's the warmer in action.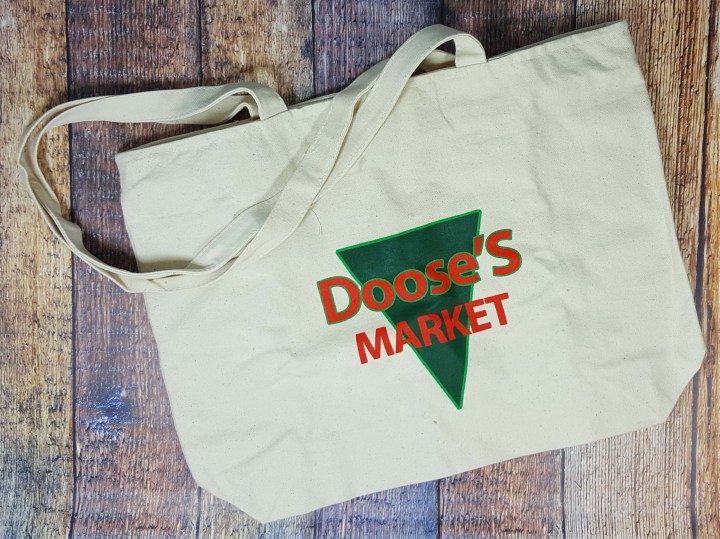 *EXCLUSIVE* Doose's Market Cotton Tote Bag ($19.95): I have a collection of reusable tote bags – mostly because they have to be replaced every so often. I really like cotton totes because they hold up well to washing. This bag has the Doose's Market logo and is very roomy. My favorite part is that it as a zipper closure, so it can be used for more than groceries at my local market.
This has a fairly wide base and plenty of room.  Even with the Stars Hollow Monthly box inside, the bag still has a lot of space for other items.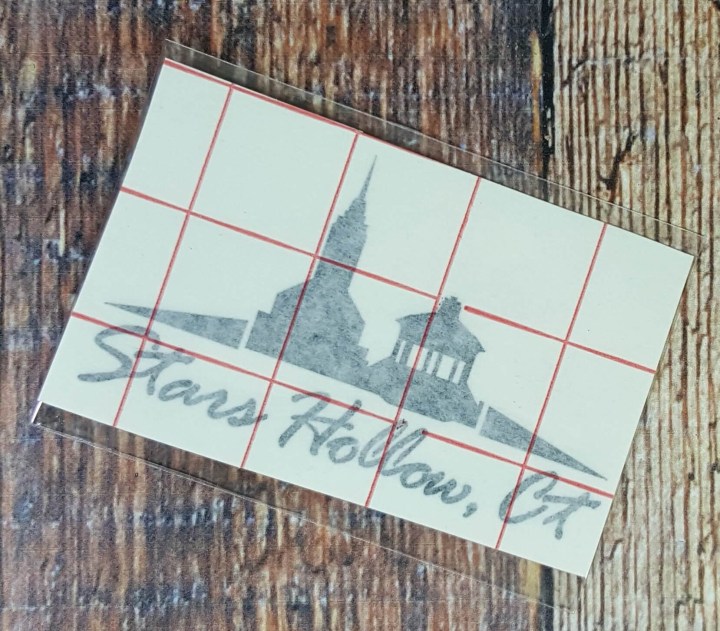 *EXCLUSIVE* ShaileyAnnDesign Stars Hollow Vinyl Decal ($5.95): A vinyl decal showcasing the Stars Hollow church and gazebo. I need to find somewhere to put this up. You can find more Gilmore Girls inspired items on the ShaileyAnnDesign site.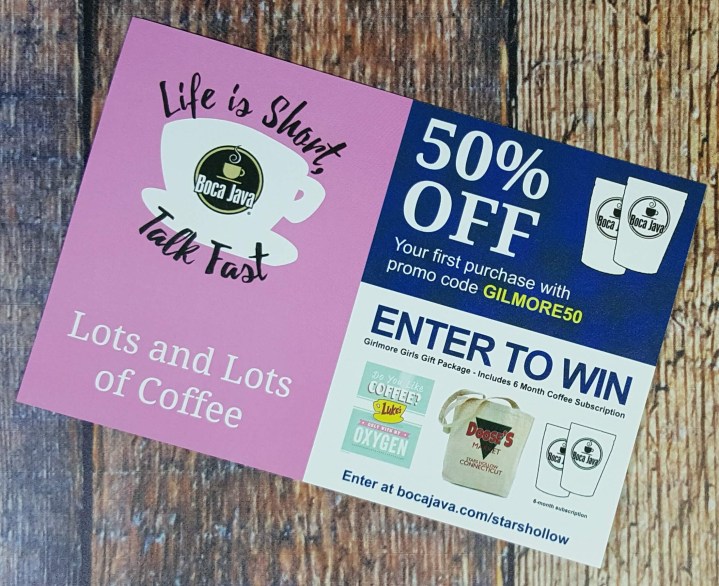 And here's a coupon for Boca Java coffee. This was featured in last month's box.  Get your coffee on like Lorelei and Rory.
The September Stars Hollow Monthly Box  had a value of $57.  The Dragonfly Inn warmer and Wax Crumbles were my favorite item this month – I love anything that makes the house smell good and is reusable (will have to get some more melts, though). And, the Gilmore Girls new series is so close! Are you loving the Stars Hollow Monthly Box as much as I am? Leave a comment below and share your thoughts.
Visit Stars Hollow Monthly to subscribe or find out more!
The Subscription
:
Stars Hollow Monthly
The Description
: Stars Hollow Monthly will feature 3-5 products which are inspired by the Gilmore Girls & the fictional town of Stars Hollow. *Inspired by, meaning items that relate to, are inspired by, or are artistic renderings of the show and its inhabitants/characters.* You can expect anything from tee shirts (on occasion), home decor, fashion accessories, bath & body items, and much much more. Our goal for the Stars Hollow Monthly Box is to send our subscribers items they will adore as fellow Gilmore enthusiasts, but also items *anyone* would enjoy- high quality items that won't gather dust in a drawer somewhere. (as opposed to kitschy fandom stuff)
The Price
: $29.98 per month