Our Southern Hearts is a monthly subscription box that introduces you to great, Southern artisan products such as jewelry, home decor, tasty treats, bath products & more. Ya'll know we enjoy new things.
Each monthly box is $39.95 per month with free shipping. Each box will have a retail value of $45+ and contain 3-5 items.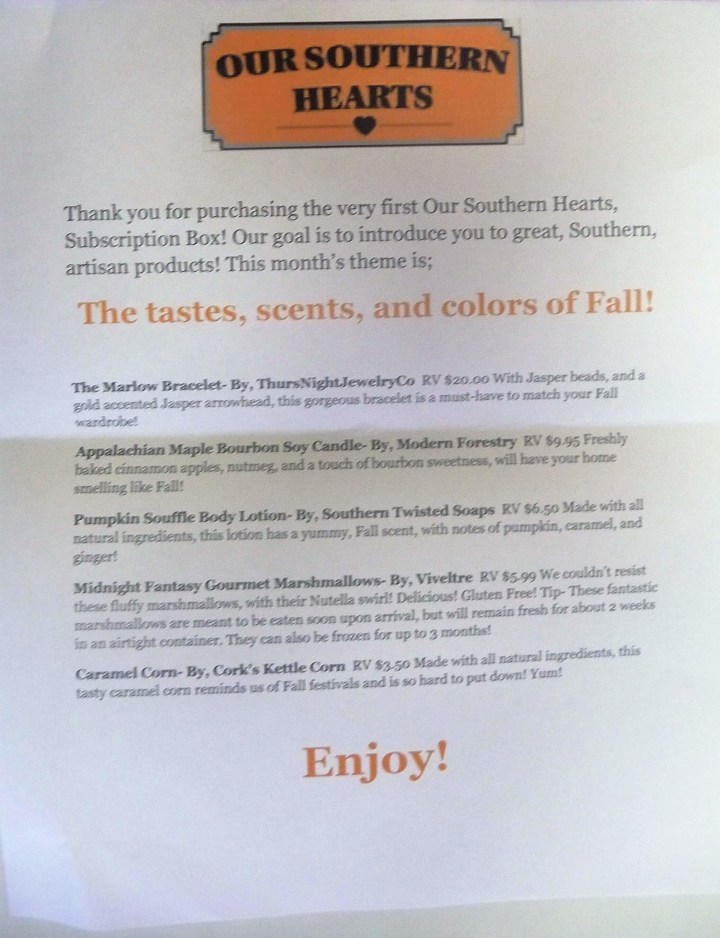 Each box includes an insert to tell which products you received. This month's box theme is The Tastes, Scents, and Colors of Fall!
This box is right up my alley. I love the South and the beauty of its people and crafts.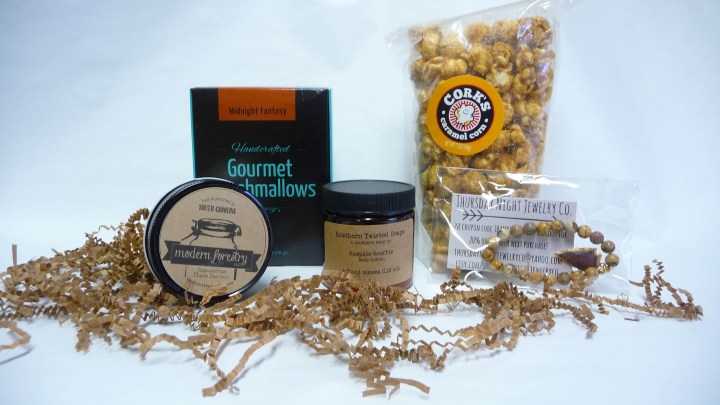 Alright, ya'll let's get down to it! My first item is…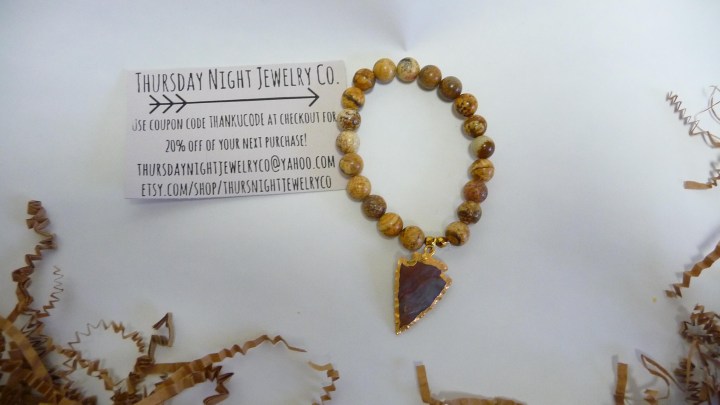 The Marlow Bracelet by ThursNightJewelryCo ($20). This a gorgeous beaded bracelet (jasper beads) with a gold accented Jasper arrowhead. GO NOLES!!! Ooops, sorry I couldn't help it! I absolutely love this bracelet. It has great fall tones to go with your fall wardrobe.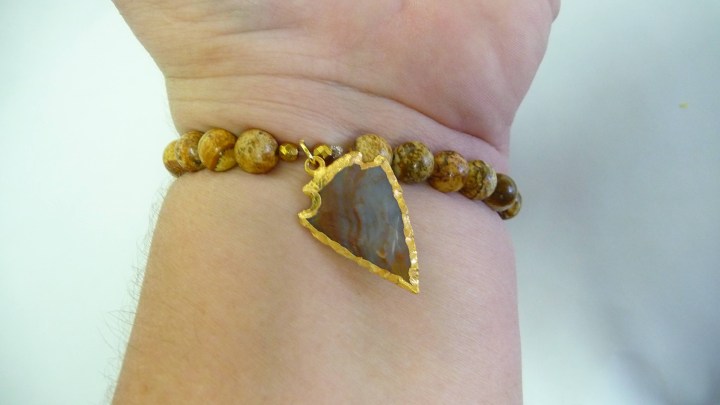 What do you think?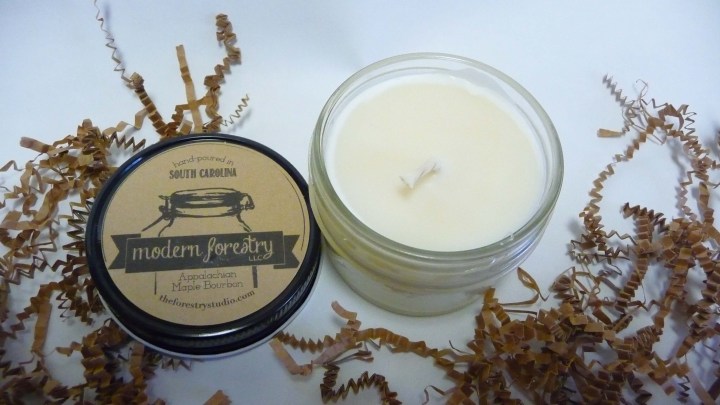 The next item is a Soy Candle By Modern Forestry ($10). The scent is Appalachian Maple Bourbon. It smells like baked apples, maples, and bourbon.
It's a small candle with a great scent. It reminds me of a scent you would find up in the mountains. Now there are no mountains here but I would love to live on one someday. It is definitely a good addition to my home for the fall.
This is Pumpkin Souffle Body Lotion by Southern Twisted Soaps ($6.50). This time of year everyone and every place smells like PUMPKIN and just about every Southern home has pumpkin pie on Thanksgiving.
It has a great pumpkin scent with a hint of caramel and ginger. It goes on smooth and is made with all natural products. No greasy feel to it, which I love. Definitely will be looking into seeing what other scents they have.
My youngest absolutely loves Pumpkin. So he was thrilled there was something pumpkin related in the box.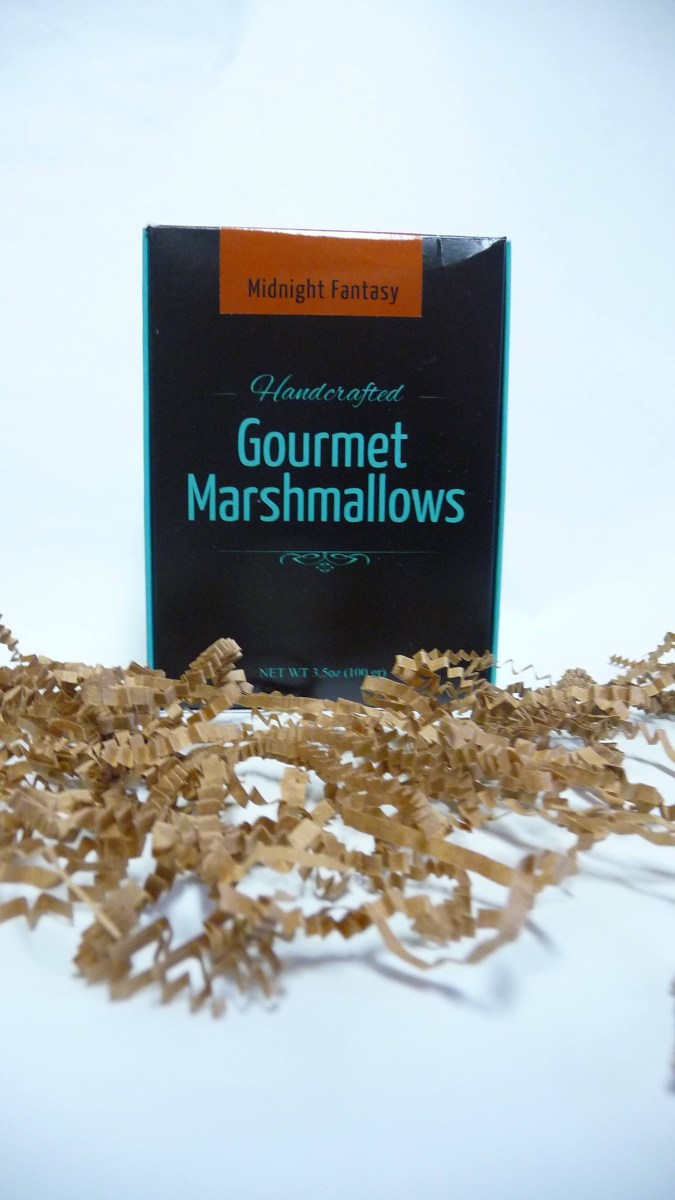 Oh my, the next item would be great with a large cup of hot chocolate or maybe a smore. It is Gourmet Marshmallows By Viveltre ($5.99). I received Midnight Fantasy flavor. This DELICIOUS marshmallow was fluffy and contained NUTELLA. So if you love Nutella this is definitely the marshmallow for you.
I'm sorry I did not get a picture of the marshmallows themselves but the insert did say to eat them as soon as they arrived. Well, I try to follow directions, LOL! There were 6 in the pack and each marshmallow was 1″x 1″. Pretty big size and oh so soft.
Okay, my last item has always been a favorite go-to snack for me and you won't find any Southern fair that doesn't have it… Caramel Kettle Corn.
This is Caramel Corn by Cork's Kettle Corn ($3.50). I had to force myself to get this picture before the bag was opened. This caramel corn was so good. I hid it in my room from my boys but my best friend found it and let me tell you, she did not leave me much. HAHAHA! Luckily I had a bit before she got there.
Yes, I am a Southern girl through and through. I absolutely enjoyed this box and can not wait to see what their next box brings. The items in my box had a value of $45.94. Let me know what you think of this new box.
Visit Our Southern Hearts to subscribe or find out more! Take $6.00 off your first box! Use coupon code  HELLOSUB.
The Subscription
:
Our Southern Hearts
The Description
: Our Southern Hearts is a unique, lifestyle subscription box that features products made exclusively by Southern artisans and craftsman. Every month, you will be treated to handmade accessories for you and your home, tasty treats, beauty products, and more!
The Price
: $39.95 per month