Snack Sack is a monthly subscription service that sends boxes to your home that are filled to the brim with a combination of organic, non-GMO, gluten-free, all-natural, vegan, and fair-trade snacks! They offer 1, 3, or 6 month terms that automatically renew until you cancel and you can also order 1, 2, 4, 8, or 12 boxes a month! One box per month is $24.95.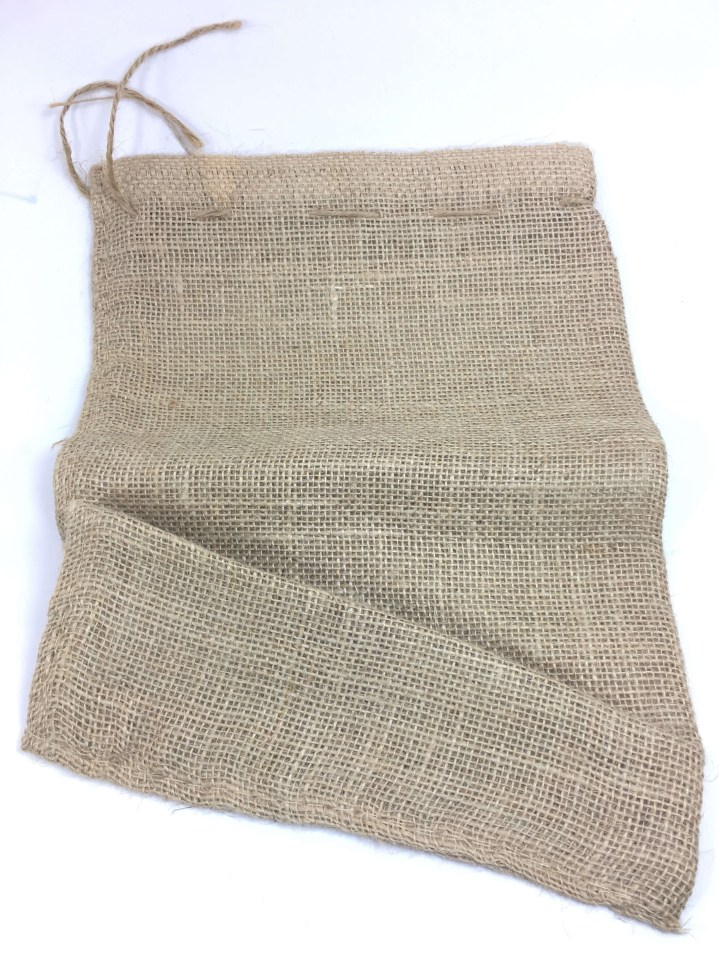 Lying on top of everything was a burlap sack. I realize this is part of the name but I have no use for it and it left unappetizing threads that resembled hair all over the snacks.

Each month the box arrives with a list of its contents. I love how easy Snack Sack makes it to find the gluten free, vegan, and non-GMO snacks! Snack Sack sends between 11-15 snacks a month.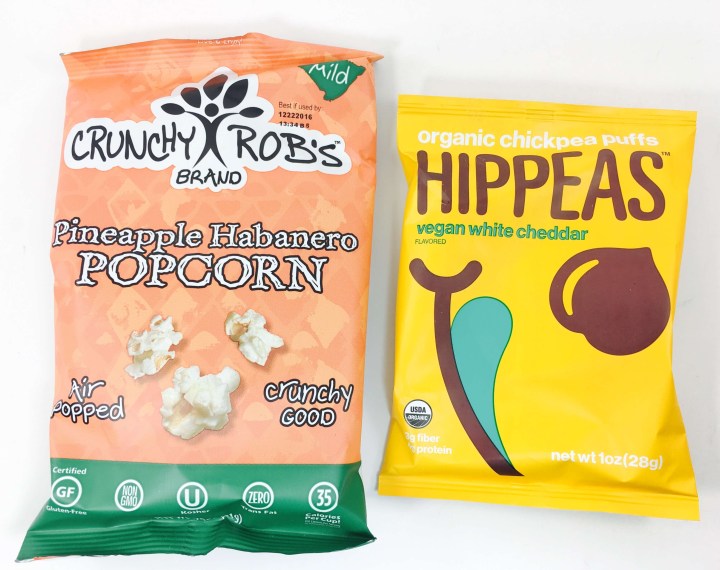 Crunchy Rob's Pineapple Habanero Popcorn is a bit sweet and just a touch spicy and my family loved it. I brought the Hippeas Organic Chickpea Puffs in Vegan White Cheddar (currently unavailable) to work and we all agreed that they were crunchy and Cheeto-like but that they also had a gritty texture.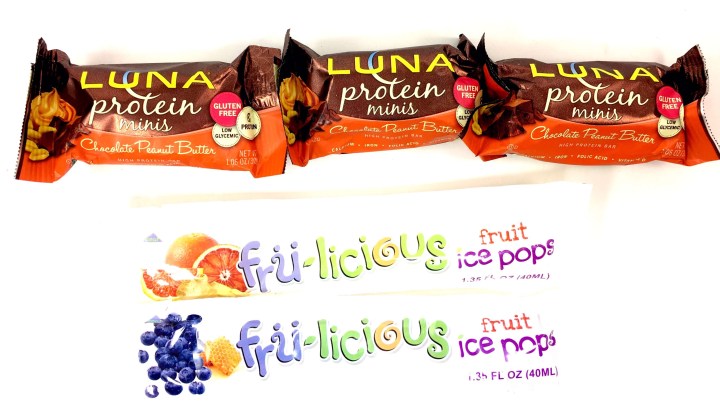 I used to eat Luna Bars all the time but switched to LäraBars at some point so it was nice to have some to try again. I received 3 Chocolate Peanut Butter Minis, which are dense and have two great tastes that taste great together. (Unable to find online so I linked to the full-sized bars.) Frü-licious Fruit Ice Pops are from Italy and came in two different flavors: Blueberry Honey and Blood Orange Ginger. I thought they were refreshing and tasted good without being overly sweet, plus they use fruit and vegetable extracts for coloring.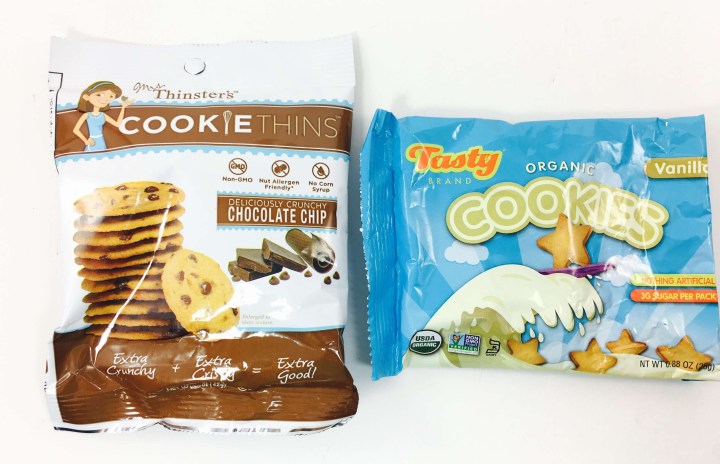 My family LOVED Mrs. Thinster's Cookie Thins and agreed that they tasted just like crispy Toll House Cookies! They are carried by many stores around the country and I am going to check my local grocery next time I go shopping. Tasty Brand Organic Vanilla Star Cookies are a good alternative to animal crackers and are made with sweet potato for extra nutrition and are sweetened with agave.
Authentic Italian Veggie Pasta Chips in Spinach-Broccoli-Kale definitely had a healthyish taste to them but were crispy and my husband enjoyed them. Everly Peach Mango Drink Mix is one of those items that I choose not to drink since citric acid (the first ingredient) does something weird to my tongue. I did give it a try but it has an aftertaste from stevia and I will be passing the rest along to a friend who I know will enjoy them.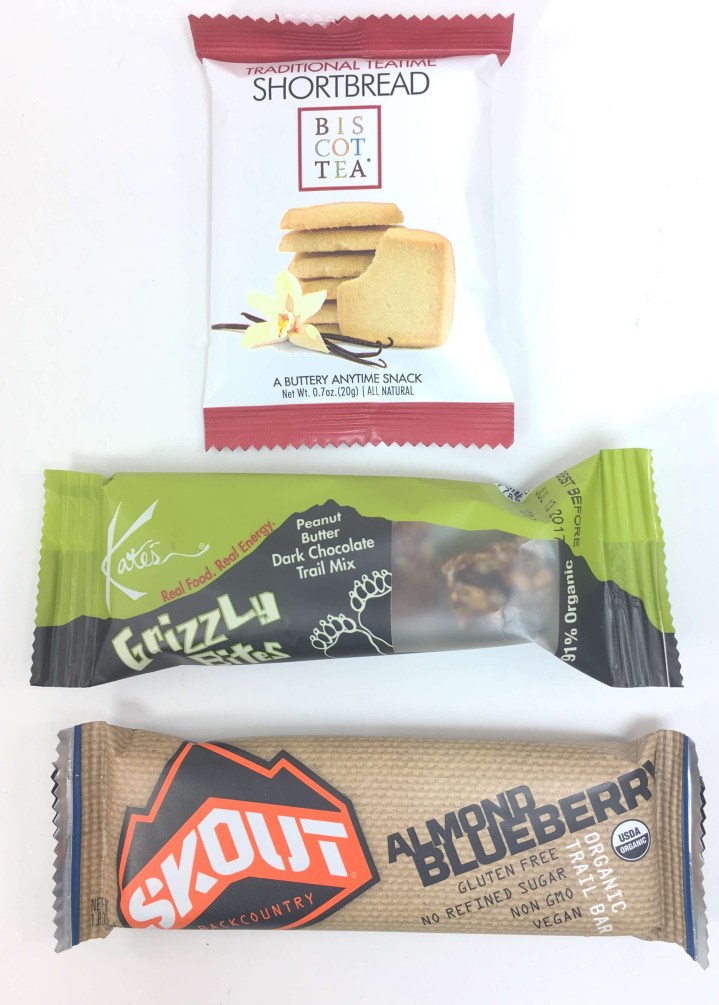 Biscottea Traditional Teatime Shortbread was buttery, crumbly, and everything a shortbread cookie should be! Hard to believe such a short ingredient list can become something absolutely delicious. Kate's Real Food Grizzly Bites are just that – bite sized morsels of oats, honey, peanut butter, and chocolate plus other delicious ingredients that you just pop in your mouth while on the go. Finally, Skout Organic Almond Blueberry Trail Bar is full of good for you ingredients like almonds, blueberries, oats, and lemon peel and is sweet and chewy and will hold up well in your backpack or purse.

I had a great time trying all the snacks in my very first Snack Sack! They sent a variety of items and I loved that I could choose based on what I had a hankering for at any time. Plus, I hadn't heard of most of these brands before and enjoyed finding some new favorites. As for the value, it is hard to price items like this without a trip to the store to see how much the individual packs are, plus buying them by the case would get expensive pretty quickly. If you enjoy a variety of snacks that are healthier than the vending machine choices at your office, then give Snack Sack a try and let me know what you think!
Have you tried Snack Sack yet? Get 15% off the entire lifetime of your subscription! Use coupon code HELLO15.
Visit SnackSack to subscribe or find out more!
The Subscription
:
SnackSack
The Description
: Monthly surprise delivery of delicious all-natural & organic snack foods. We curate a delicious assortment of gluten-free, non-gmo, & vegan goodies. Sent from beautiful Colorado directly to your doorstep.
The Price
: $23.00 per month