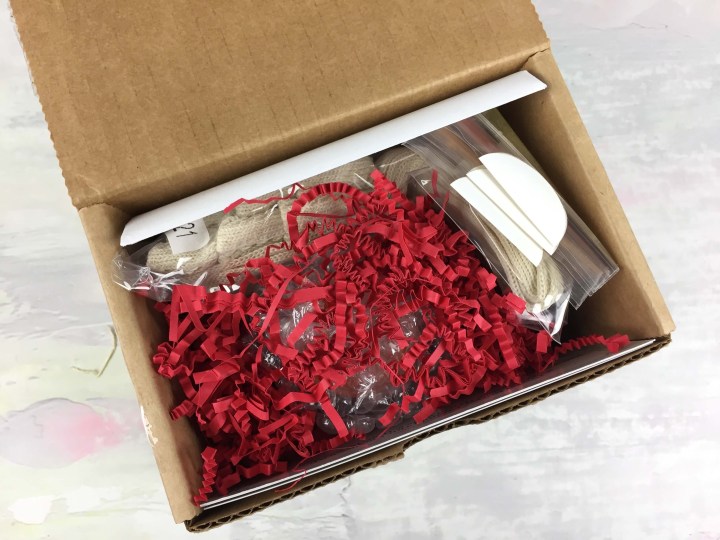 Serendipity by LLB is a bi-monthly subscription that provides a little something extra in between regular Little Lace Boxes, as well as a fun way to deliver serendipitous discoveries right to your door. It's $12.99 per box, but you can save $10 on an annual subscription with coupon HelloTen!!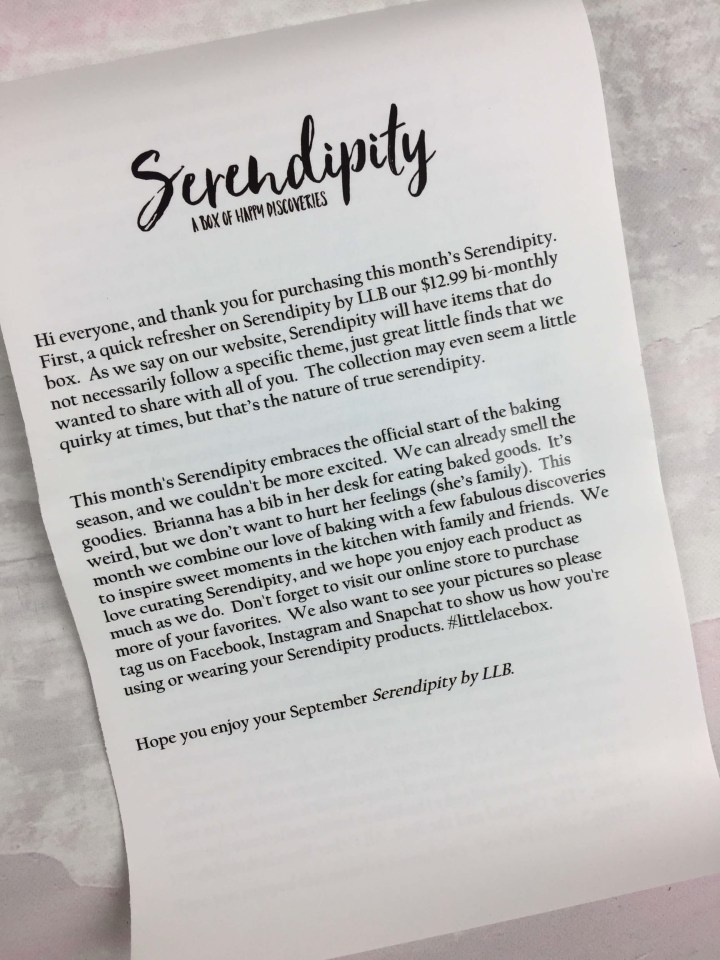 This subscription isn't meant to have a theme and is a box (or bag) of really fun surprises. However, this month seemed to have more of a theme and Little Lace Box said the September Serendipity celebrates the baking season!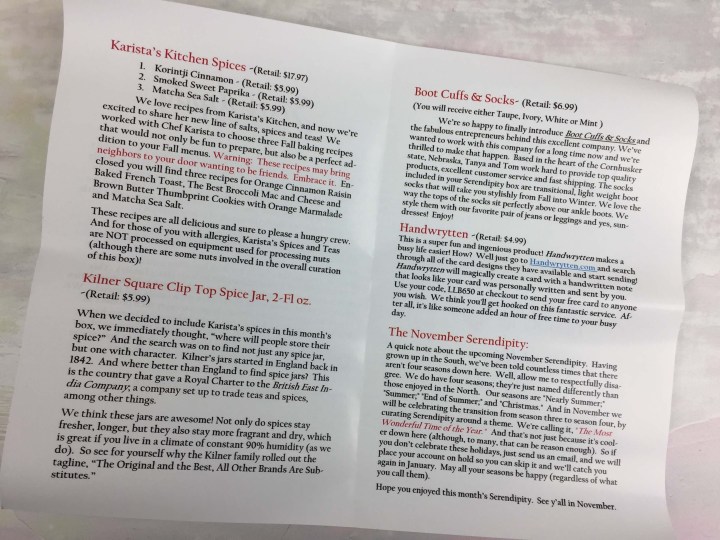 The information sheet gives quite a substantial amount of information for an inexpensive subscription, which is nice! There's a note that the November box is themed "The Most Wonderful Time of the Year" and if you don't celebrate Christmas you may want to skip that box (in which case just email in to the LLB girls).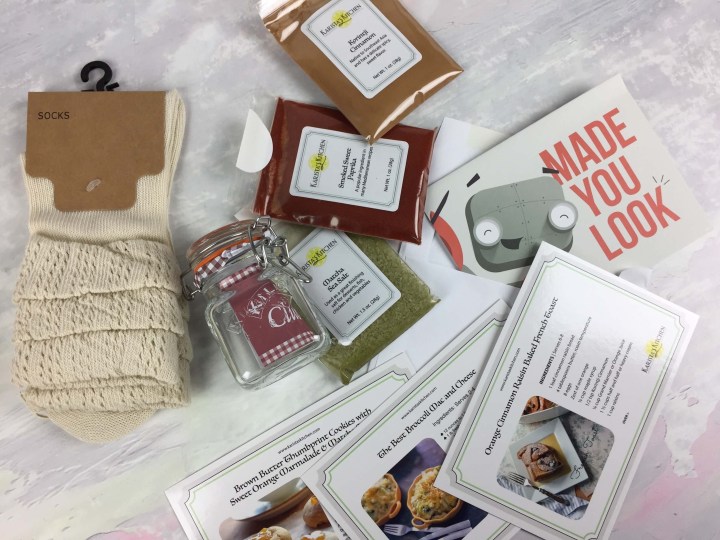 Everything in the September Serendipity by LLB! Looks like fall!
Karista's Kitchen Matcha Sea Salt, Smoked Sweet Paprika, and Korintji Cinnamon  ($5.99 each)
Karista is a food blogger and pro recipe writer and has her own line of spices. These are super fresh and I loved that they sent global fall flavors – the warm spice of real cinnamon (Korintje is the only kind I buy), smoked paprika, and matcha salt. I think the latter is super interesting and I thought it would be great for truffles or maybe even cheesecake??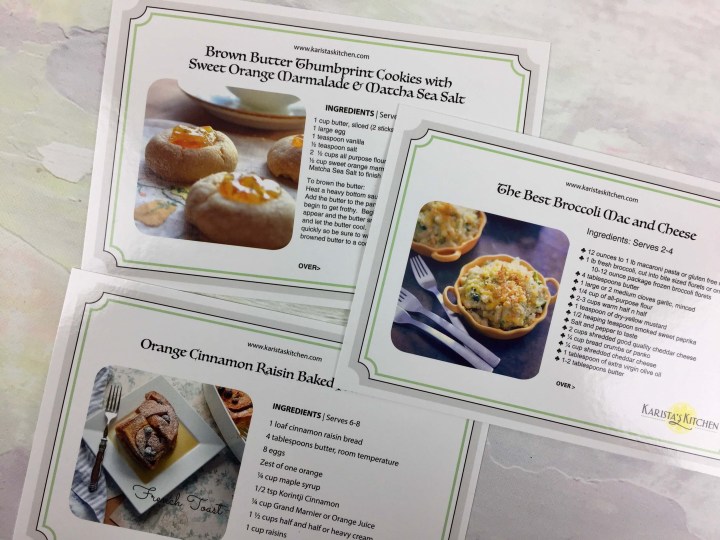 Recipes were included that use and highlight each of the spices: Brown Butter Thumbprint Cookies with Sweet Orange Marmalade and Matcha Sea Salt, the Best Broccoli Mac and Cheese, and Orange Cinnamon Raisin Baked French Toast. The french toast recipe got cut off but it was available on the blog!
Kilner Square Clip Top Spice Jar ($5.99) This adorable little traditional spice jar was included too!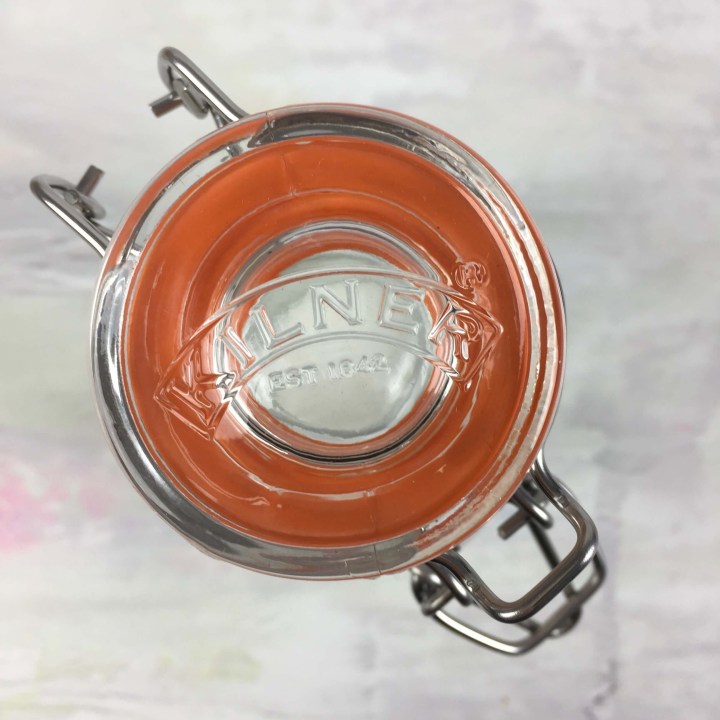 The jar is about 2 oz and will store any of the spices from the box.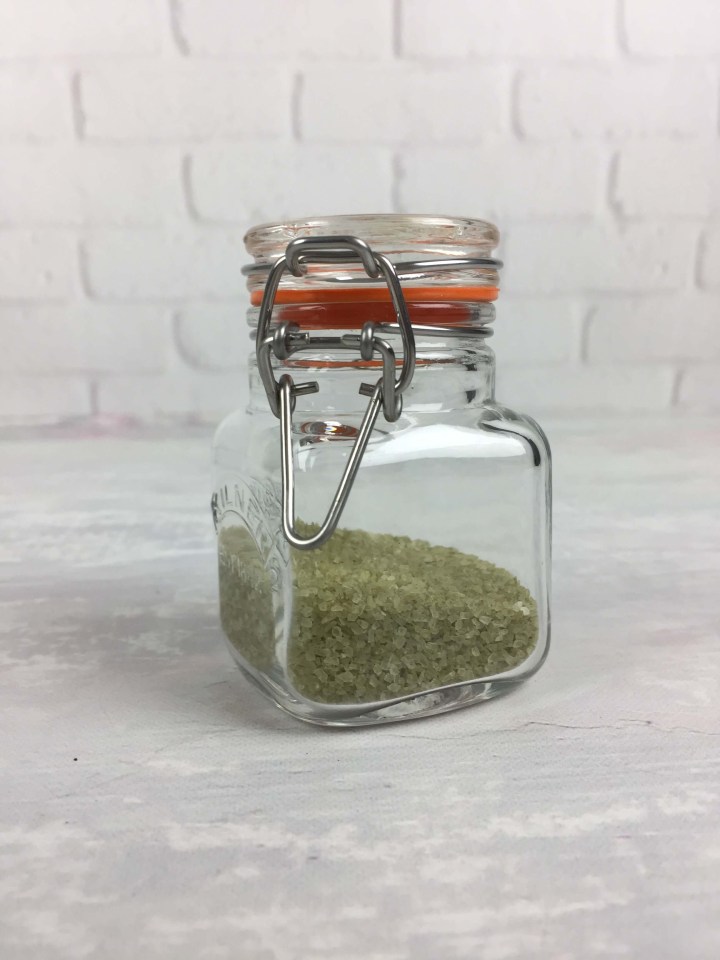 It's got quite a lot of room and will perfectly store any spices that you like to pinch and sprinkle, like salt!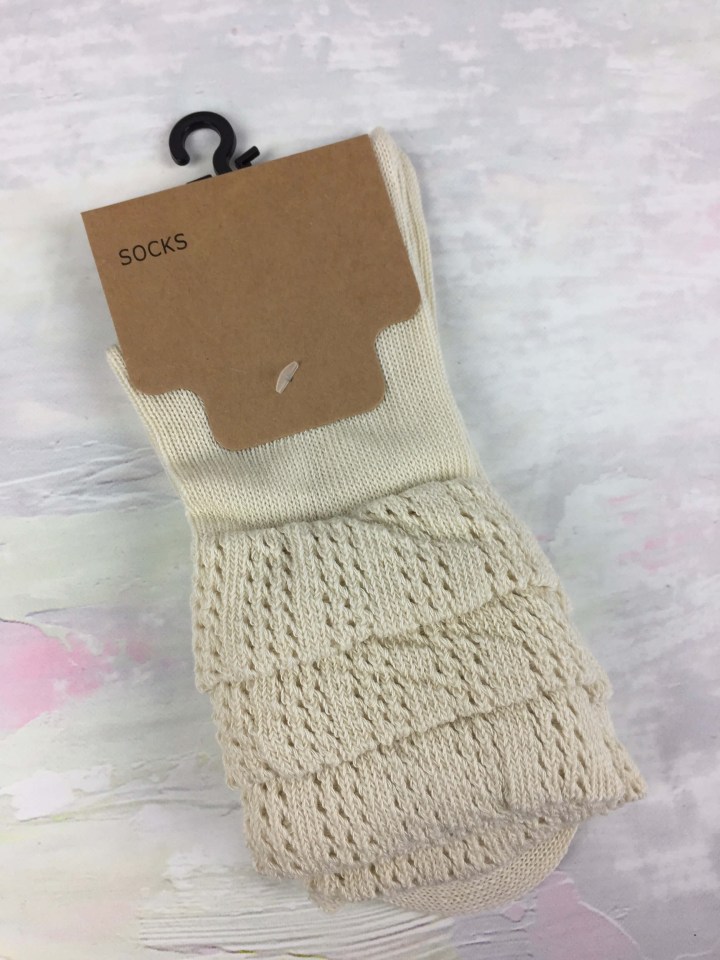 Boot Cuffs & Socks ($6.99) subscribers received taupe, white, ivory, or mint!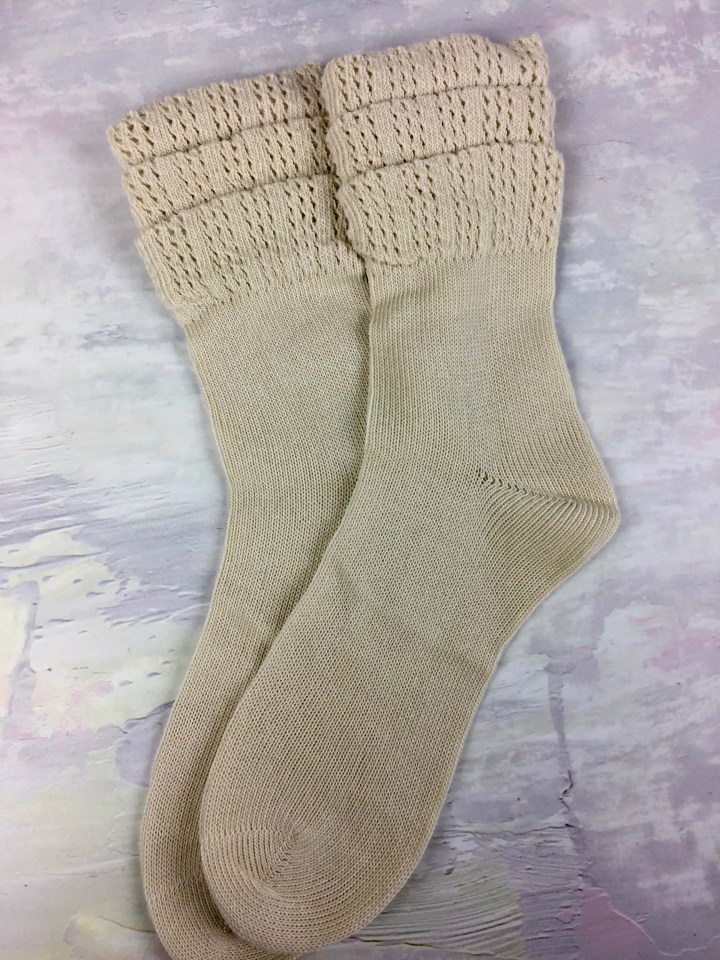 I don't know if I have seen boot cuffs that are also socks! I think this pair is great for Basic-ing up a fall outfit! Make sure you bring your vest and plaid blanket scarf!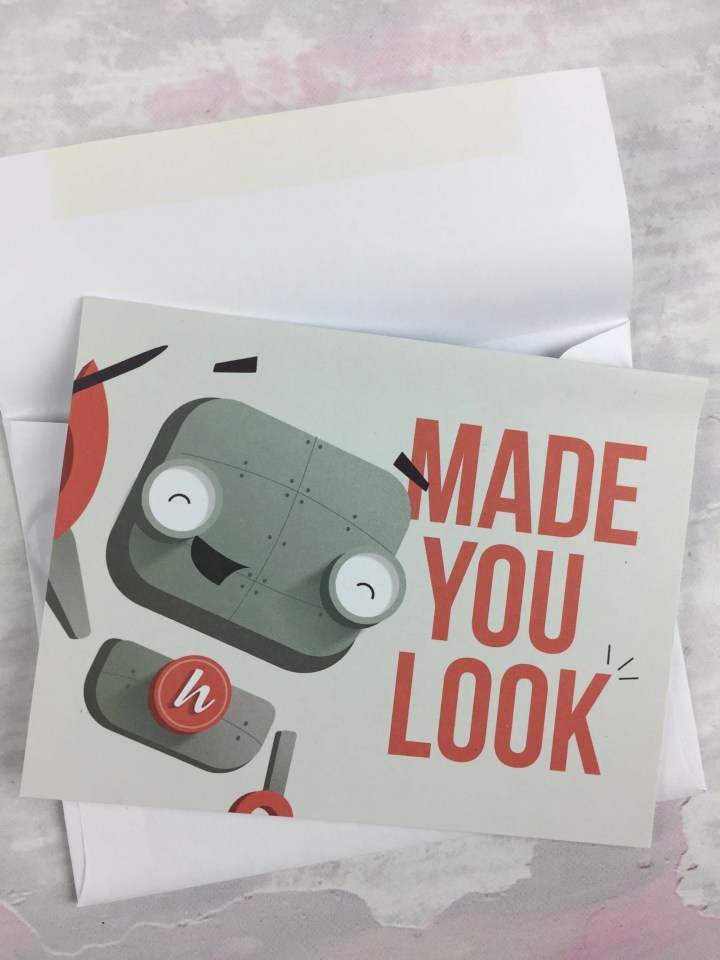 Handwrytten Card ($4.99) This is from a company that will employ their autopen on your behalf – sending what appears to be handwritten messages to your pals (or… your clients) for just a few dollars.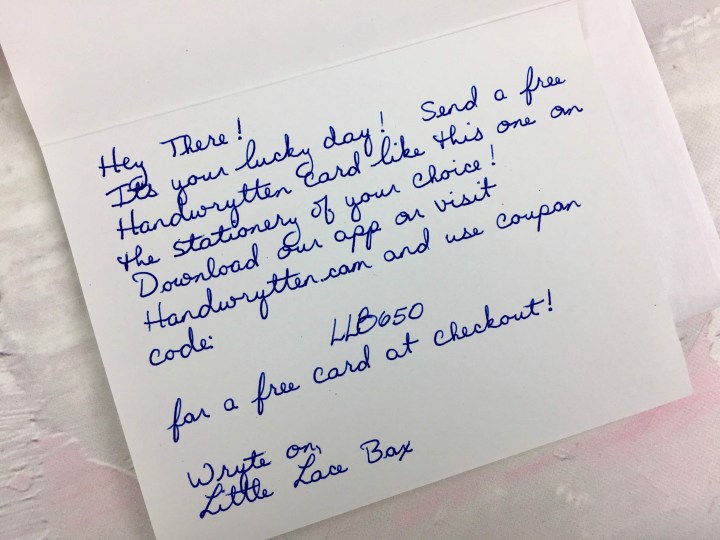 The coupon code is good for a free card at checkout. At first I was grumpy that the card was a bit bent, and also that it was written in, but then I realized that the former didn't matter and the latter was kind of necessary, so you could actually see it. Bond is a similar company. They both need to hire my grandma and take samples of her handwriting, which is beautiful. Anyways, I think this is a great idea for those needing to send bulk handwritten holiday cards, like real estate agents!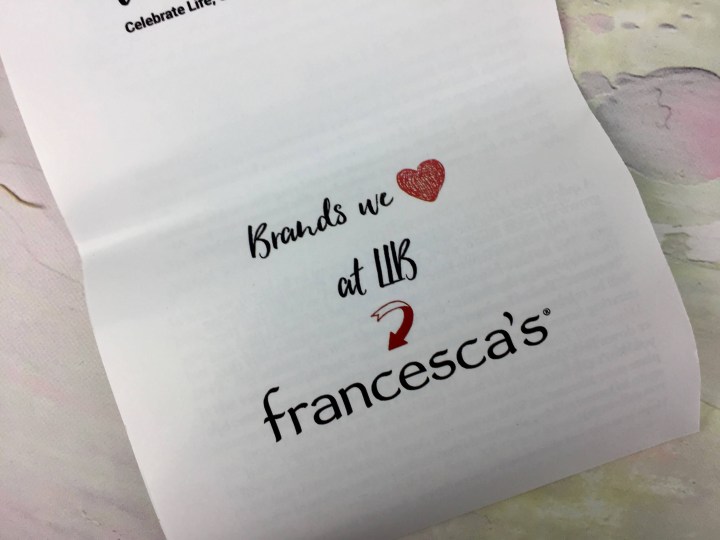 LLB loves Francesca's – I wish I knew more about why!
This box – about $33 in value – is nice for the price, but I wish it had a bit more, especially as the spices were pretty pricey.  I do love getting a little box of bits and bobs though – I think this subscription overall is fantastic and is just perfect for that inexpensive subscription fix.
You can save $10 on an annual Serendipity subscription with coupon HelloTen!!
Use the codes below to save on the regular Little Lace Box subscription.
Save $15 on an 6 month subscription (3 boxes). Use coupon code HELLO15.

Save $20 on an annual subscription (6 boxes). Use coupon code HELLO20.

Take $10 off your first box. Use coupon code HELLO10.
Visit Serendipity by LLB to find out more or to subscribe!
The Subscription
: 
Serendipity by LLB
The Description
: Get a fun surprise of delightful odds and ends in the "off" months of Little Lace Box in a dazzling red pouch!
The Price
: $12.99 every other month