Rescue Box is a monthly subscription box that is catered to either a dog or a cat.  Each subscription box has high-quality toys, delicious treats, and other tail-wagging products. This company was created as a way to give back to the animal rescue community. Your subscription helps animals in animal shelters while you give your fur baby a nice treat.
My Ginger and I received a great box this month.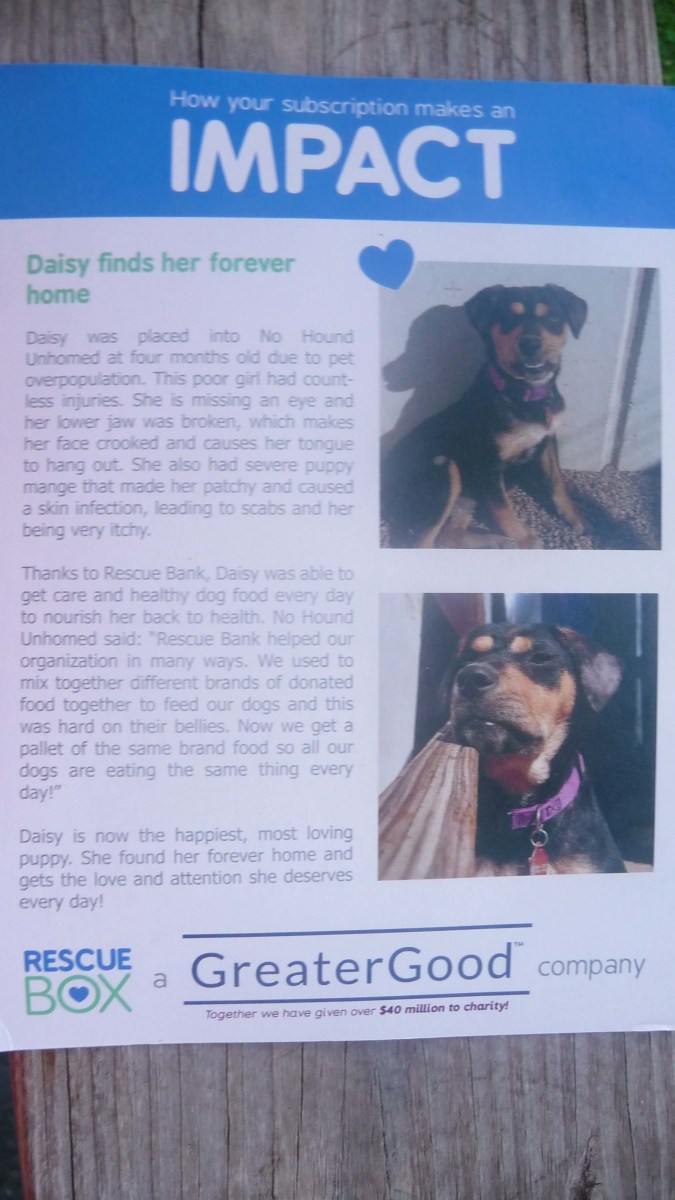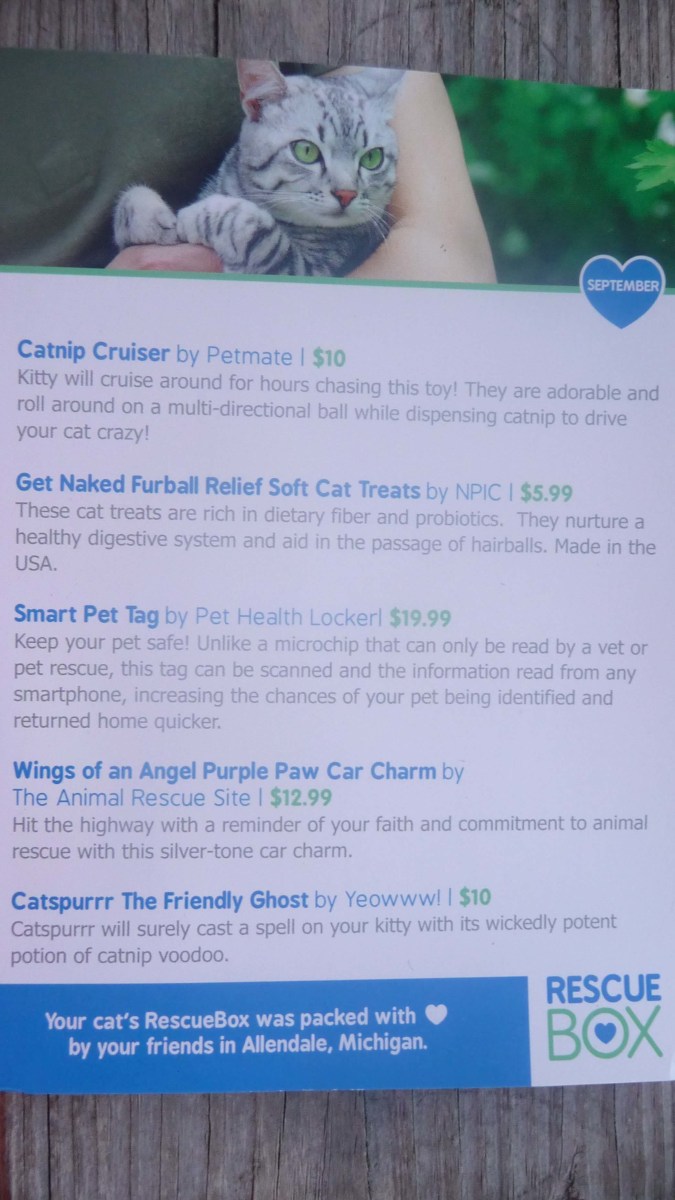 Also in each box is an insert that describes each product and on the other side there is a story about a rescued animal and how your donation makes an impact.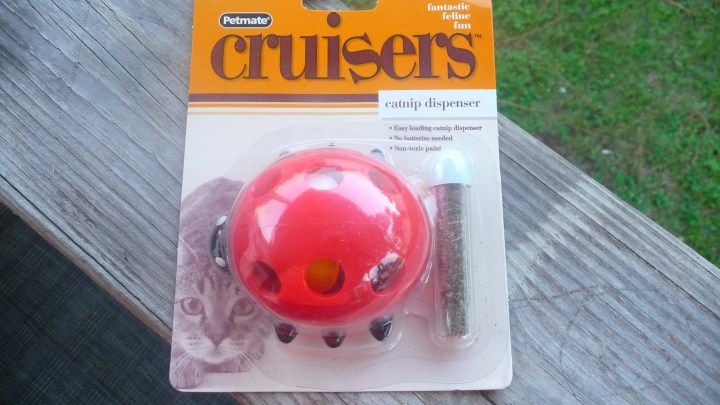 The first item in out box is the Petmate Catnip Cruiser ($10). It is a toy that rolls around in multiple directions while dispensing catnip. Ours came in a cute lady bug shape . There was also a small tube of catnip with a replaceable top (love that part).  I must say I think Ginger has a catnip problem. She goes gaga over the stuff and she loved this toy.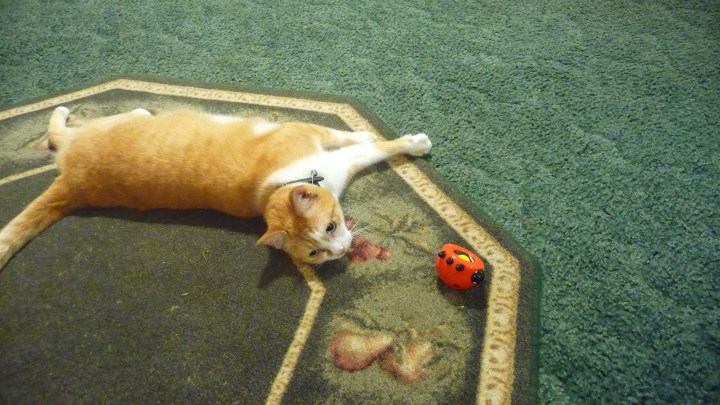 After one day this toy has disappeared. I think she hid it so I couldn't take it away from her. Silly Cat!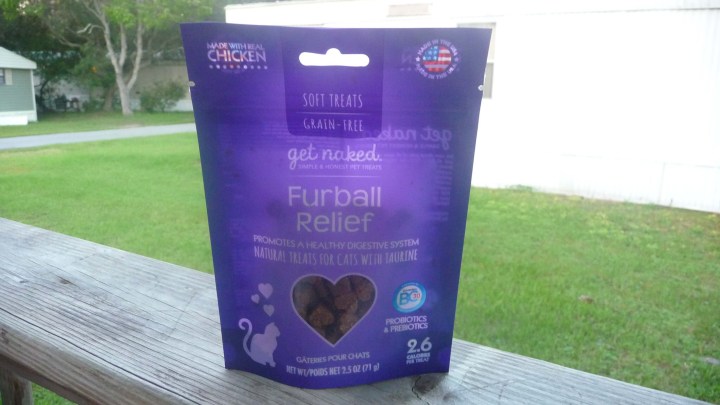 Our next item is the Get Naked Furball Relief Soft Cat Treats by NPIC ($5.99). I was excited to see this item in our box. Ginger has a very finicky tummy and does have fur ball issues.  These soft treats include Ganeden BC30 (a patented strain of Bacillus coagulans) that helps improve digestion. Added natural vegetable oils aid in the passage of fur balls through the digestive system.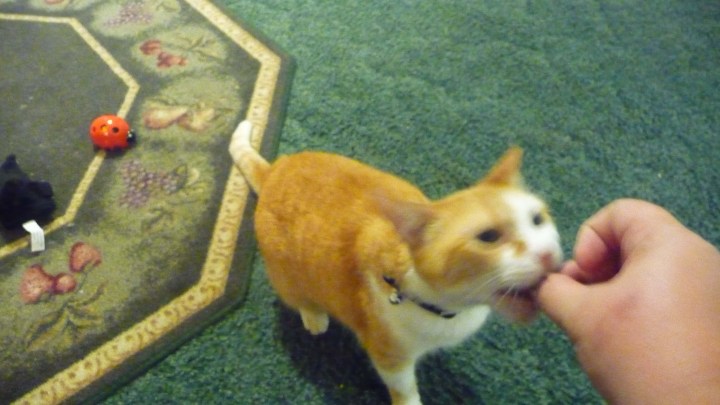 She loves the taste of these. It has helped the last couple of days with her hairballs. I will definitely be looking for these on my next shopping trip.
Sorry for the  blurry picture but she would not sit still for this one. I had to stop her after she ate 6 in a row.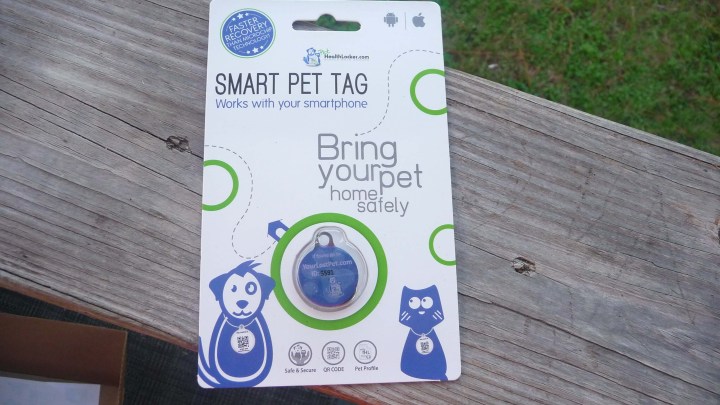 Next is an item any pet owner should have, a Smart Pet Tag by Pet Health Locker ($19.99).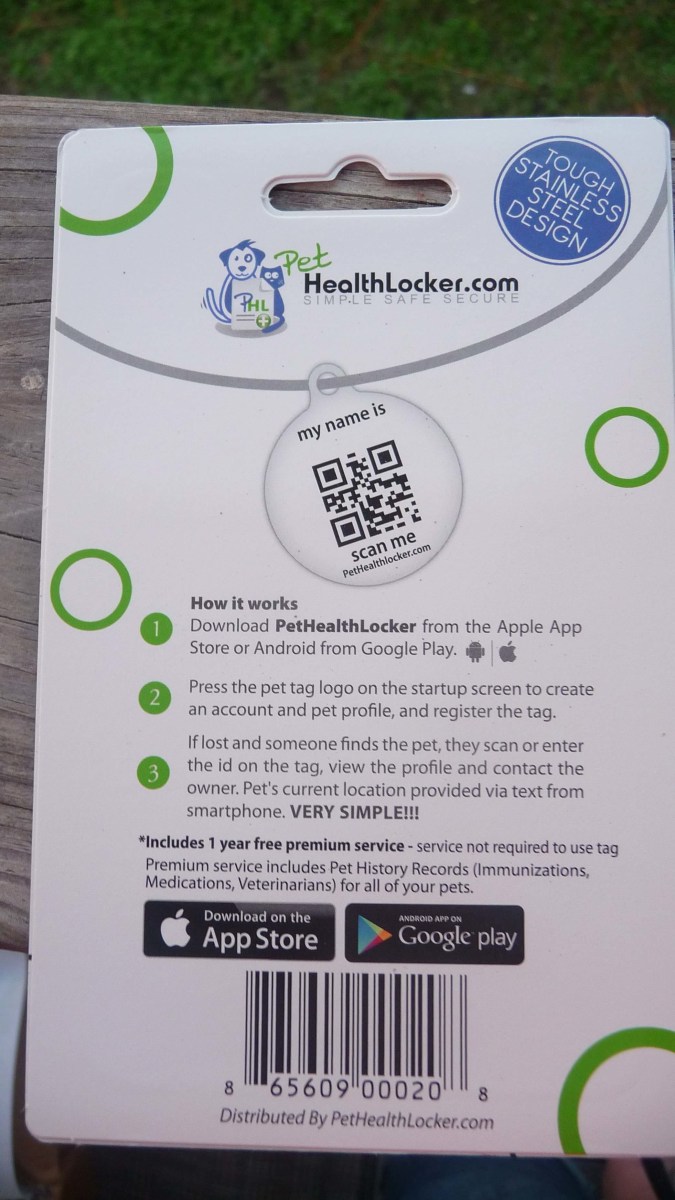 This little tag has a scannable side that can be accessed by any smartphone unlike  microchips that can only be read by vets or pet rescue. The app is free to use on your phone. You customize your account with your pet's information and a special message to any one that may find you fur baby.
You can even get pet's location with the gps on your phone. How neat!!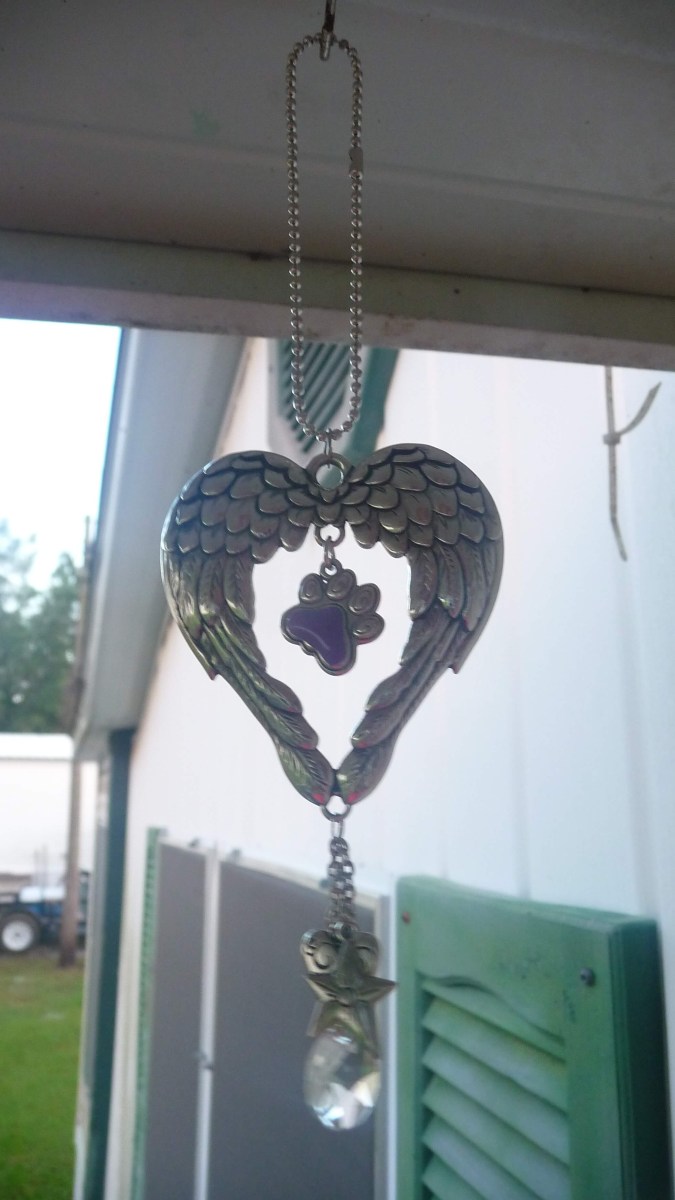 There was a darling little piece that we found in the box, it was a Wings of an Angel Purple Paw Car Charm by the Animal Rescue Site ($12.99)
Isn't it cute? It's now proudly displayed on my rear view. It is silver in color and has a purple paw charm and a couple of silver charms. Here is another plus, each item you buy funds the value of at least 14 bowls of food for shelter animals in need. We got to take care of our furry friends.
Last but not least (especially by Ginger) is the Catspurr the Friendly Ghost by Yeoww! ($10.99).
With Halloween just around the corner this is a great little "treat" for you little kitty. It is a catnip toy in a shape of a ghost.  You probably already guessed it, Ginger took to this toy very quickly.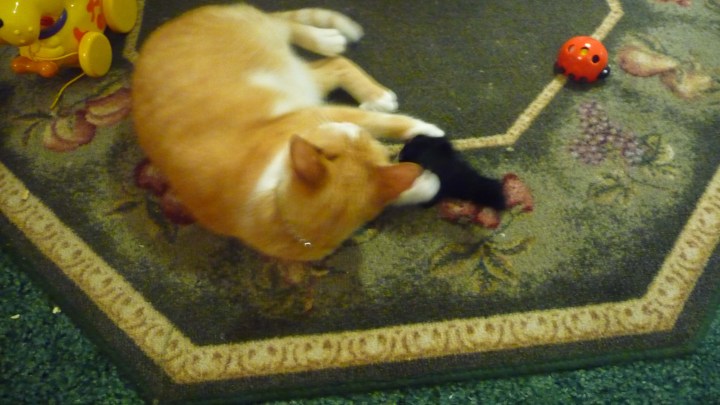 I think I may need to find "meetings" for my cat, I believe she has a catnip addiction. It's not a pretty sight either. LOL!
We enjoyed reviewing this box very much. I love to see my little ball of orange fur happy. I know you like to see your fur babies happy too. Let Ginger and I know how you and yours enjoyed the box and what was their favorite item.  Now let me go find that catnip!!!
Our box was $29.99 with items totaling  around $58.00. Great price and you are helping other animals in need.
Visit Rescue Box to subscribe or find out more!
The Subscription
:
Rescue Box
The Description
: RescueBox is a monthly subscription of toys, treats, chews and more, that will make your pet fall head over paws in love with you! From treat lovers, to strong chewers, we hand-pick each box with your pet in mind. We put a great deal of thought into the making of each box and only use the highest quality products! We work with our charitable partners who are on the ground tirelessly helping animals that need your help the most.
The Price
: $29.95 per month