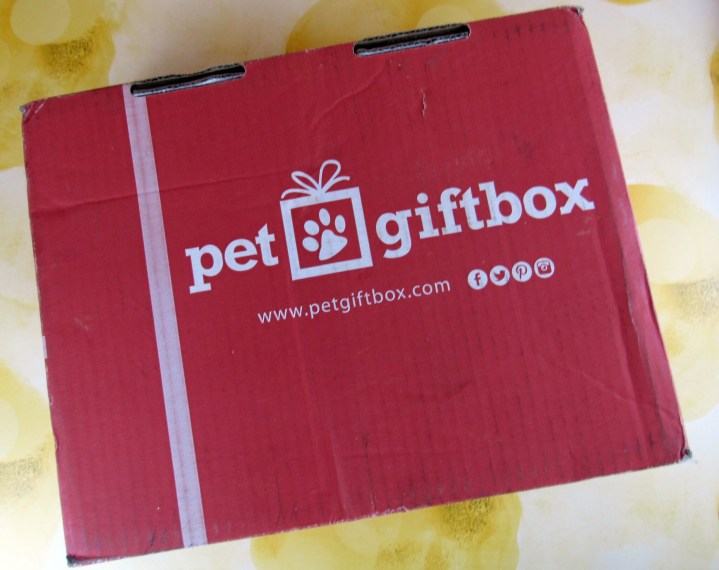 PetGiftBox is a monthly pet subscription box for dogs or cats. You'll get fun toys and a treat for your furbaby/BPF (Best Pet Friend) based on their size and weight.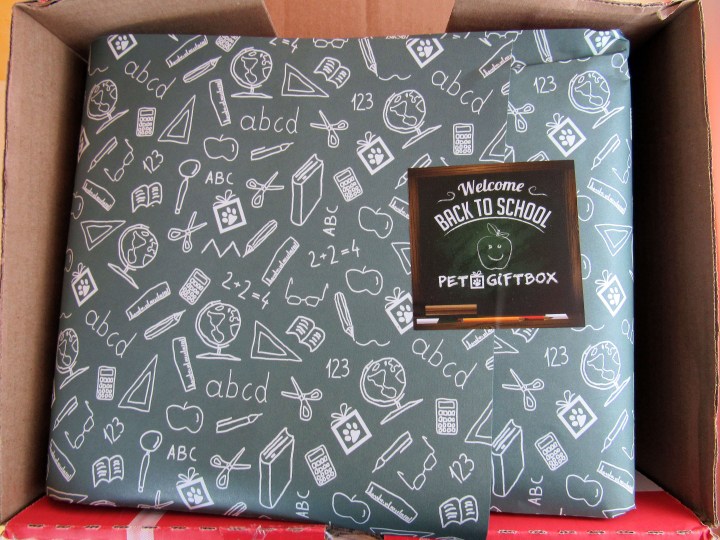 The doggies are heading back to school!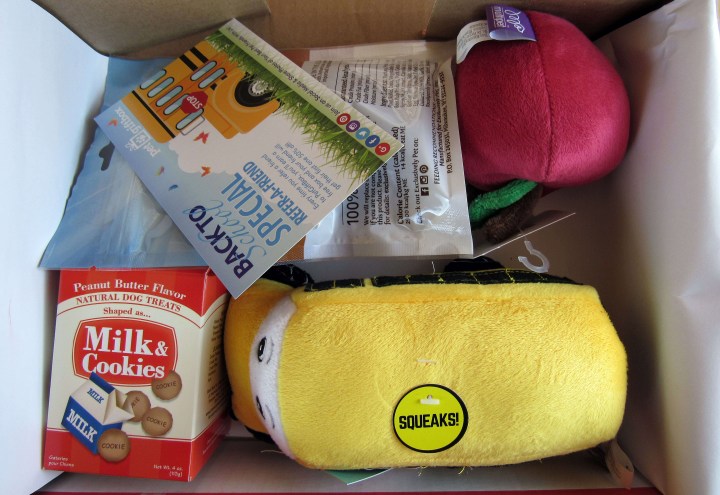 The box looks like a lot of fun! The pups are going to love it!
The September theme is Back to School.  The information card contains the items, description, and prices.
The September 2016 box will have the doggies prepared for school. Daisy will be the one getting straight As and making sure everyone behaves. Bella will be the smart dog that flunks out because she is doing it her way regardless of the rules. Odie's favorite class is lunch.
The Exclusive Pet GiftBox Bark To School School Bus ($12.99) is a soft 7″ plush toy with a squeaker in it. The Paw Print Tail Lights are adorable.
The Exclusive PetGiftBox World's Best Teacher's Pet ($7.99) is a soft plush toy with a squeaker. The apple itself is 4″ high with the leaf adding another inch. I have concerns about giving it to my heavy chewers because it feels like it will be destroyed very quickly.
Both toys were made by Multipet for PetGiftBox. They are adorable choices for the box but not durable toys. They will not last long because Daisy decided they are not babies.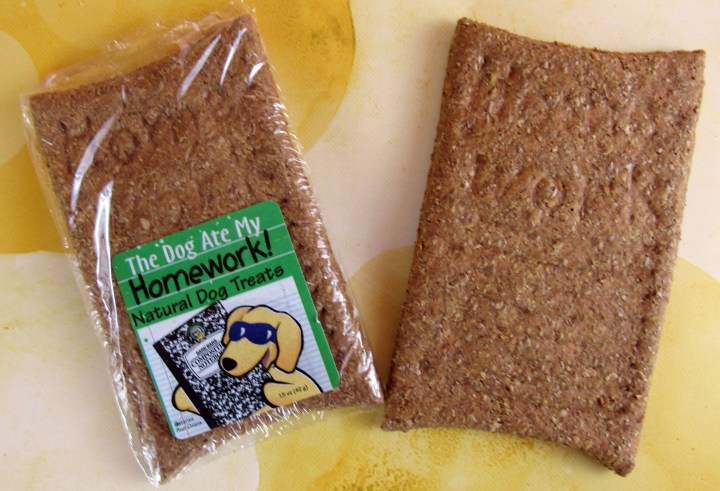 After riding the bus and giving your teacher an apple, it is time to turn in your homework. My dog ate my homework once in fifth grade. My teacher did not believe me. The Dog Ate My Homework Natural Dog Treats ($1.50, 2 cookies, 3 oz) have homework and lines imprinted on the cookies. The dogs happily ate them because the cookies have peanut butter in them.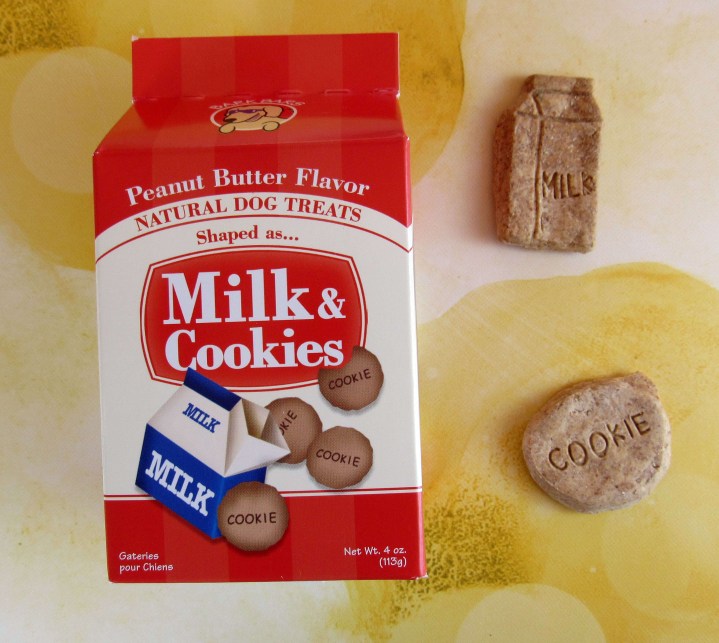 It's time for milk and cookies! BarkBox Peanut Butter Flavor Milk & Cookies ($5.99) hit the right spot with all the dogs. I read the ingredient labels closely because of Daisy's chicken allergy. Both the Homework Treats and Milk and Cookie treats have almost identical ingredients. It worked out great for us because there was no chicken in the treats.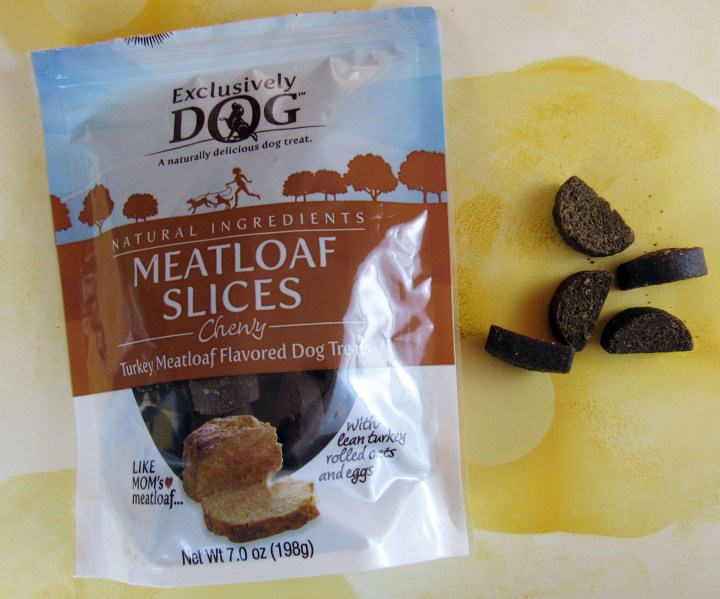 The doggies are ready for lunch period. Today's special is Exclusive Dog Meatloaf Slices ($7.59, 7 oz) whose first ingredient is turkey. Bella and Odie enjoyed their delicious meal. Daisy decided to revisit the other treats in the box because the meatloaf slices have chicken in it. I am happy to see Exclusively Dog in PetGiftBox because it's an excellent brand.
Daisy and Bella are our four-legged reviewers. My sister took the outdoor pictures. She said Bella refused to wear her butterfly costume.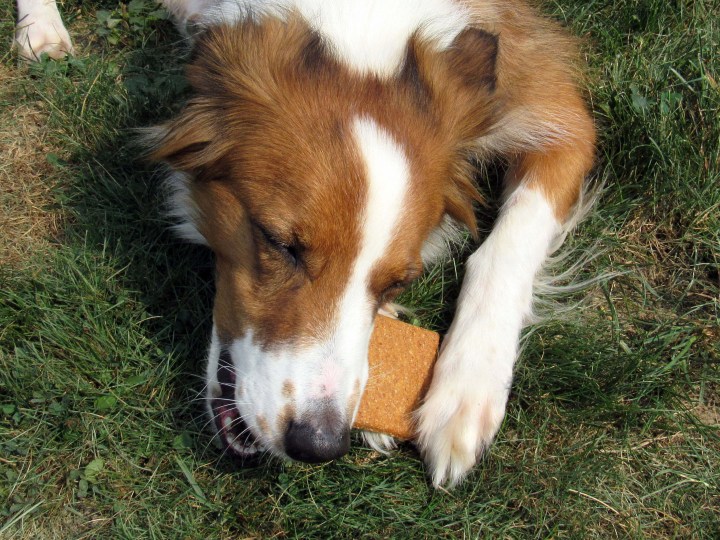 Daisy is eating her homework. She loved the cookie and ate every last bit.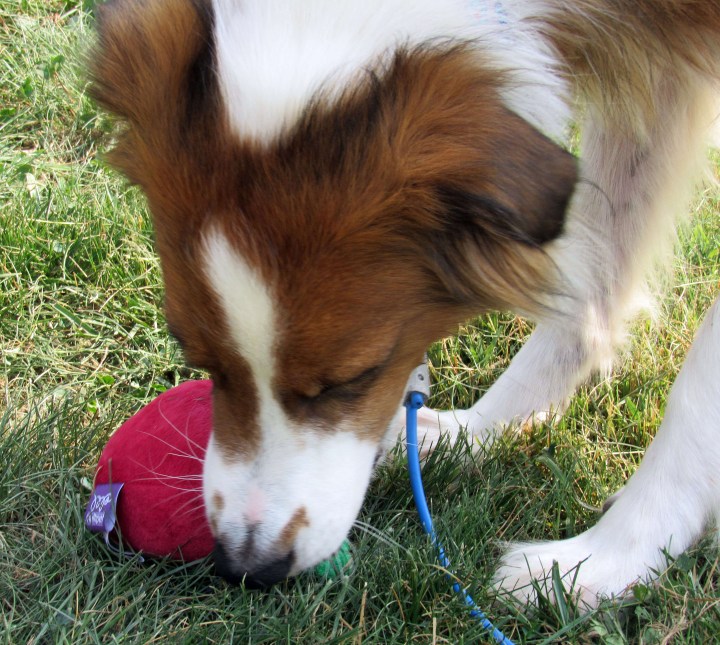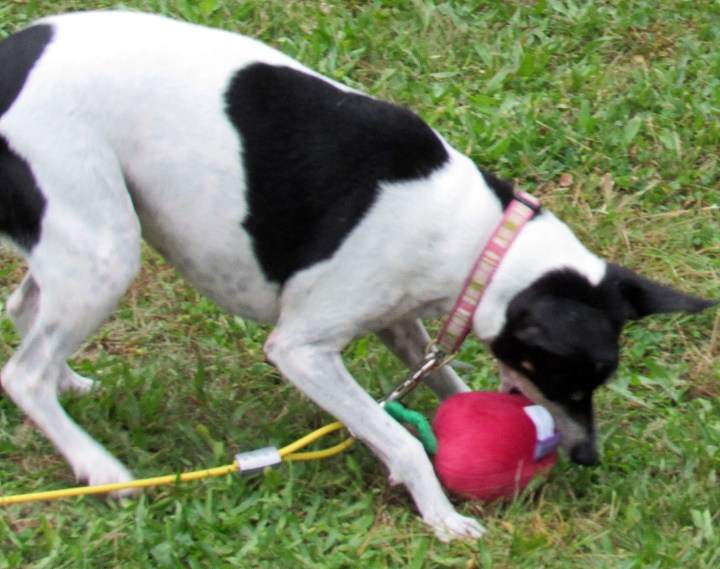 Daisy checked over the apple while Bella is ready to tear it apart. Check out Bella's ears. She means busy when it comes to the apple toy.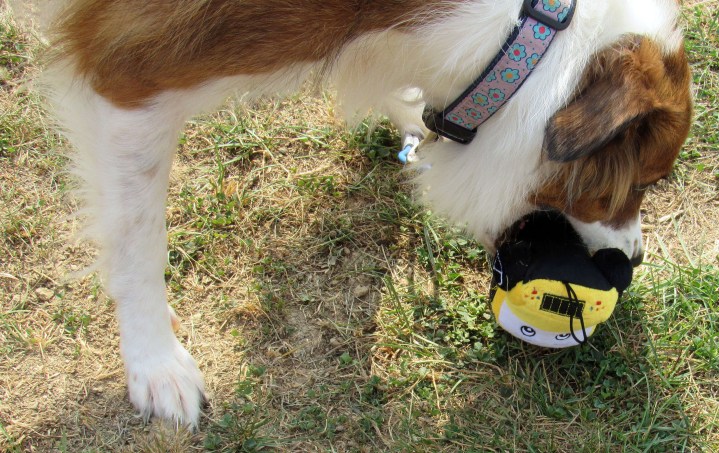 Daisy carried the toy a little bit and then gave it a sniff over. It did not meet her qualifications for being a baby.
Bella is a little larger than our male cats. She can tell that the bus is a great toy to destroy.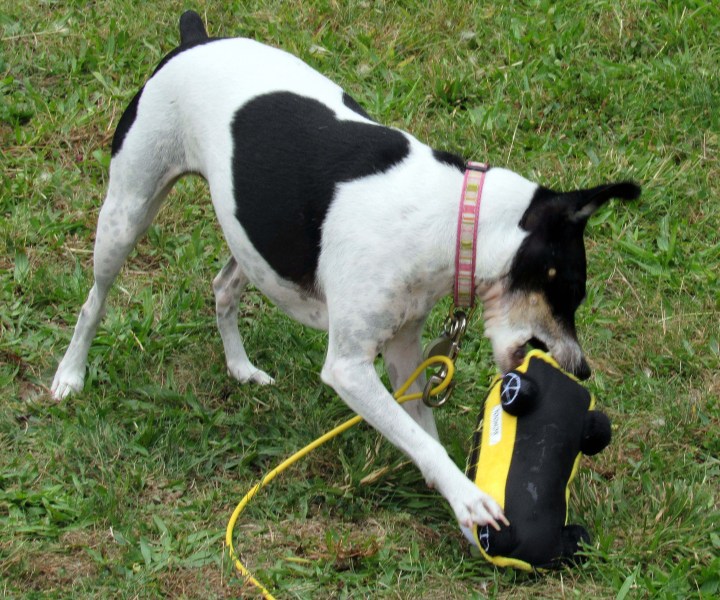 She's checking to see if she can rip it apart.
Her ears tell us that she is up to no good. She is readying herself for toy destruction. My sister took it away because they are not to destroy toys until after I write the review.
The September Pet Gift Box had delightful toys that reminded both my husband and I of our long ago school days. The dogs enjoyed their treats and toys. Daisy was satisfied because two treats were chicken-free.  I am not too happy with the toys because I think they will be destroyed in minutes by my heavy chewers. They would last forever if Daisy decided they were babies. The value is over $36.00 which is great for a dog box. It's my opinion that it's best to order a longer term subscription to receive the best value for your money.  The subscription price is $28.99 monthly and decreases to $18.99 monthly for a 12-month subscription.
Visit PetGiftBox to subscribe or find out more! Save half on your first box. Use coupon code mommysplurge.
The Subscription
:
PetGiftBox
The Description
: Pet Gift Box tracks down the best treats and toys – and delivers them to your doorstep every month! In fact, they are downright dogged about finding the most purr-fect, the latest and greatest, in high-quality products.
The Price
: $28.99 per month