Meowbox is the original cat subscription box filled with fun and unique toys as well as healthy goodies. For $22.95 per month, you receive 4-6 items in the box. All edible items are sourced from Canada or the US with special attention to finding treats that are handmade, local, or grain-free. Wait until you see the kitties enjoying the box!
Writing my kitties names is a nice touch! Puss in Boots is the orange cat with white paws. Zelda is a calico. Little Lamb is a mostly white fluffy cat. Puss in Boots decided to participate in the review this month. The Meowbox is sealed with a feather.
Do  kitties like pizza? We will soon find out!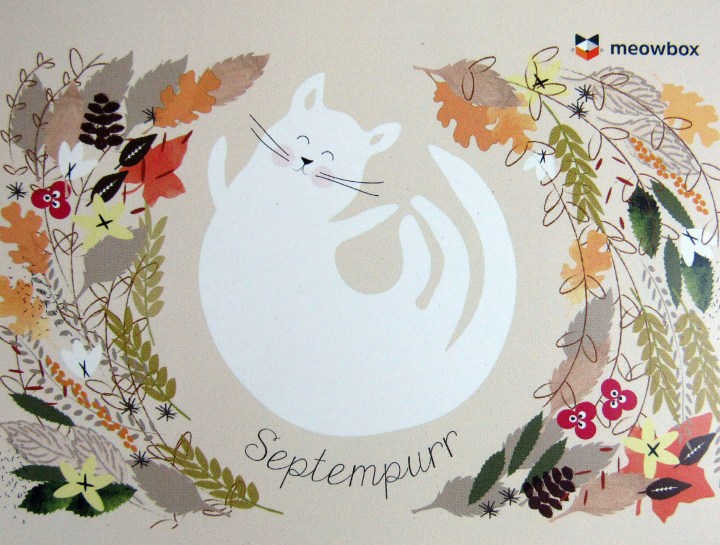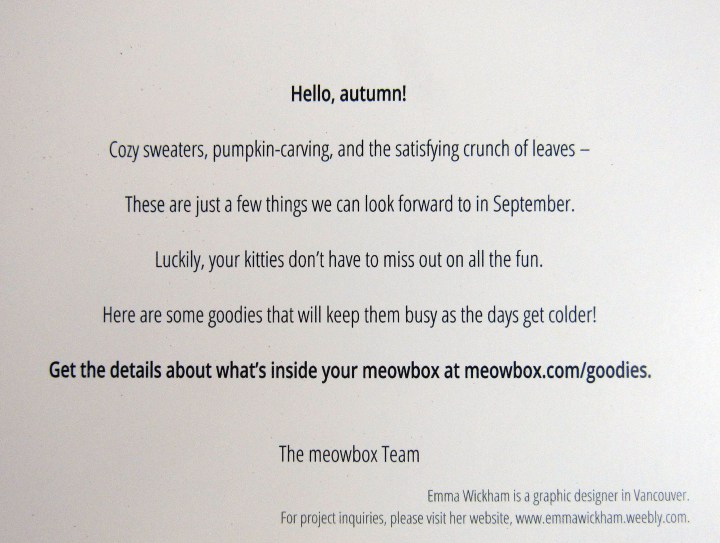 I feel the same way about autumn! Check out what possible items were included in the September Box. The digital artwork is by Emma Wickham, a graphic designer in Vancouver.
Here are the items for the September MeowBox. The cats are going to love the toys.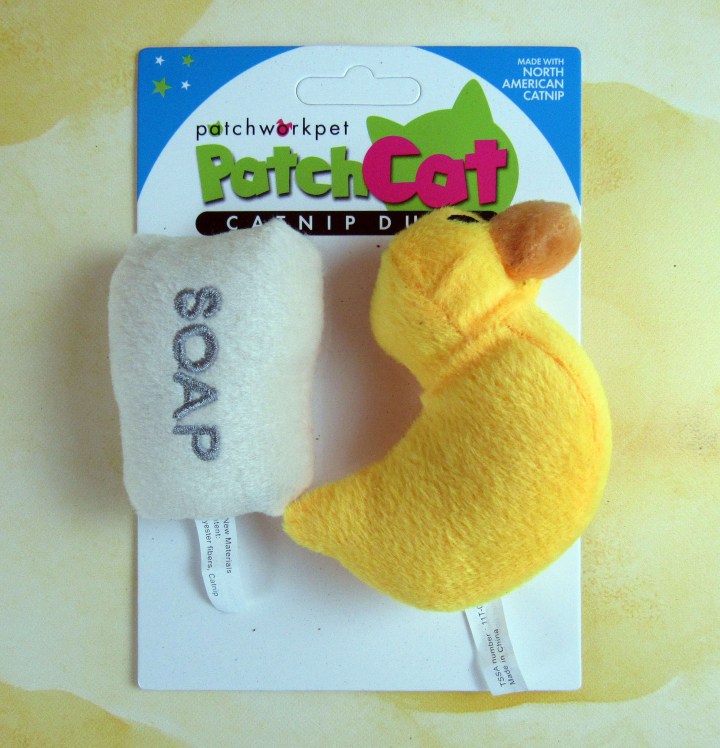 The adorable Patch Cat Catnip Duos BathTime Set ($6.00) is purrfect for the kitty that needs soap and a ducky to keep him company during his bathtime. It is made with North American Catnip and has double-stitched seams to prevent it from escaping. TigerLilly, a new kitty that joined the clan, loved the duck toy.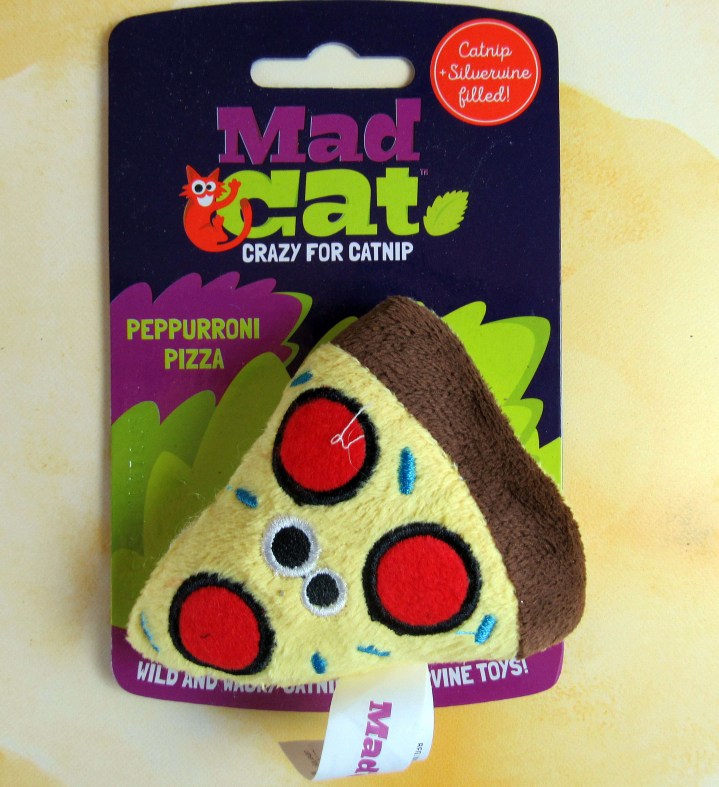 The kitties went mad over the Mad Cat Pepperoni Pizza Slice ($6.00). It has catnip and silvervine, a catnip alternative, in it. It was their favorite toy.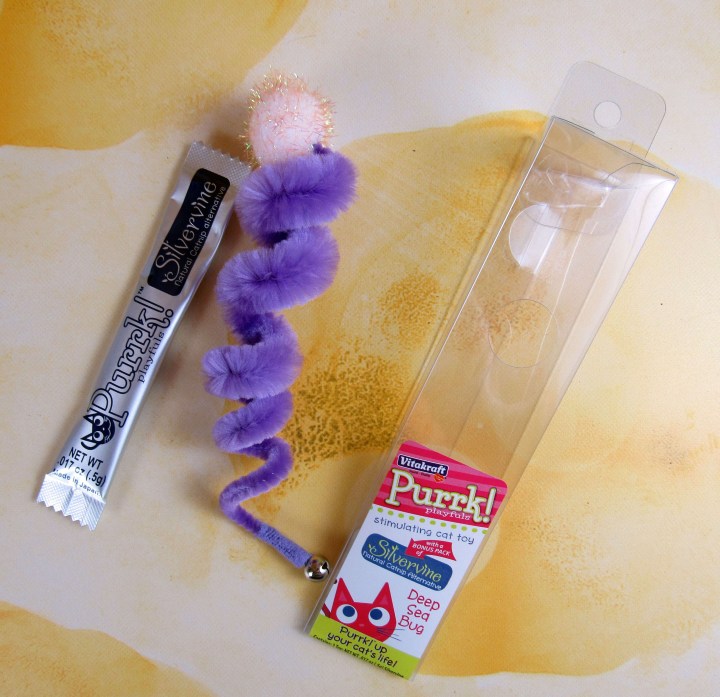 The Vitakraft Purrk! Silvervine Deep Sea Bug ($3.96) comes with a silvervine packet to sprinkle on the toy. I haven't used it yet because they were content to play with the toy without the silvervine. The toy is made in Japan.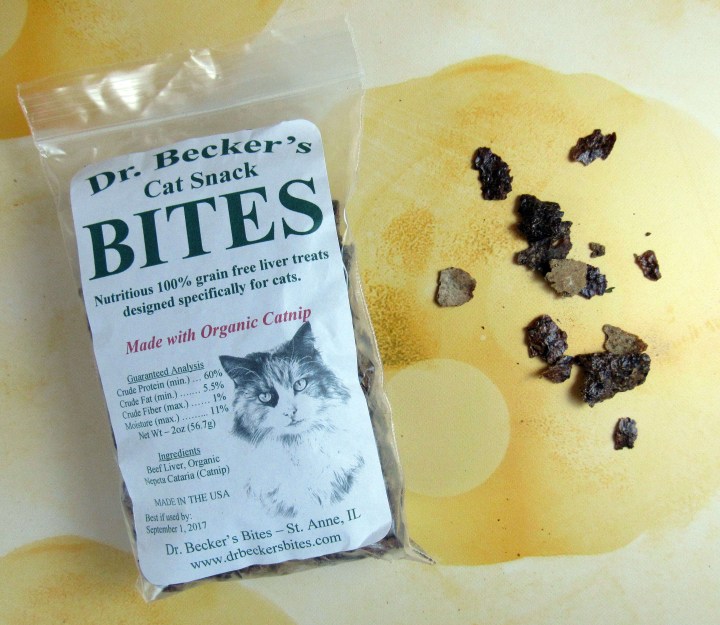 The Dr, Becker's Cat Snack Liver and Catnip Treats (appx $5.00-$7.00) were a hit with the kitties. They thought they were meowvelous! The treats are made in the USA with beef liver and organic catnip.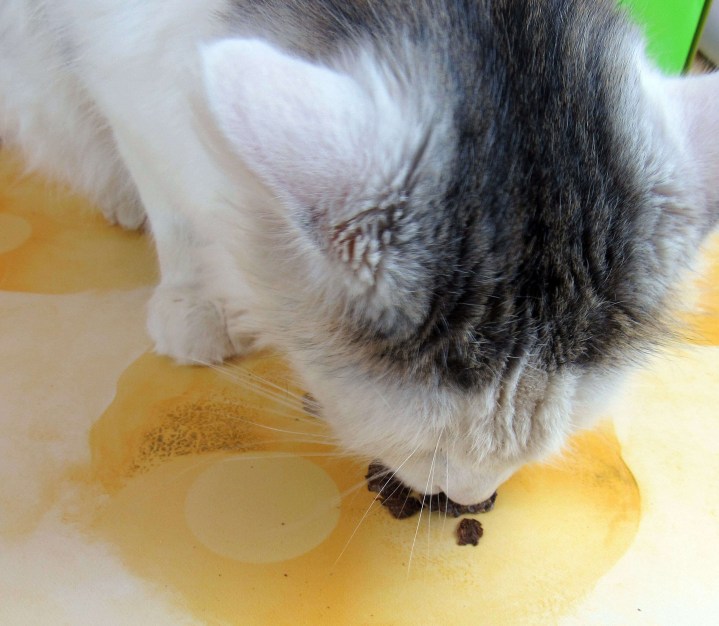 Little Lamb was sleeping until I opened up the treats. He found them to be tasty.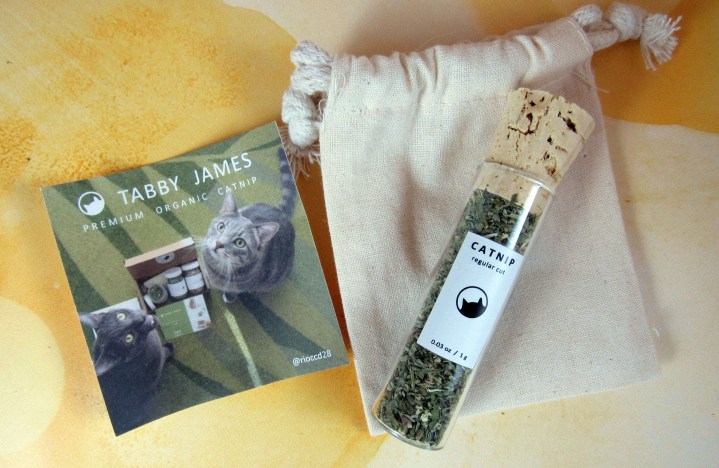 Time for catnip! The Catnip Regular Cut Sampler ($2.66) and catnip pouch ($3.00) are what the kitties need after a hard day reviewing Meowbox. The organic catnip is sourced in the Pacific Northwest. Catnip is the one plant I can't grow because the cats mow it down shortly after it sprouts.
Time for cat pictures! The kitties are on an old comforter and are photographed in natural lighting.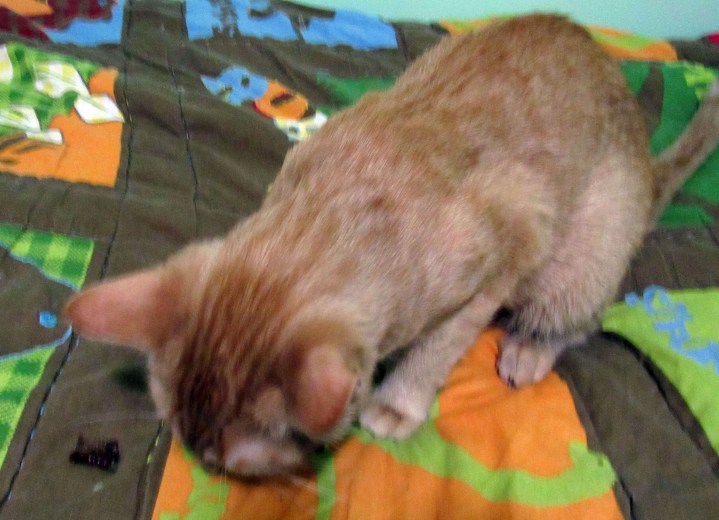 Tiger Lilly was found abandoned in the city taking care of her babies. Her babies were adopted out but not her. She is now a member of our family. She is enjoying the treats. She blended into the family with no issues leading me to believe she was in a multi-pet, young child home at one time.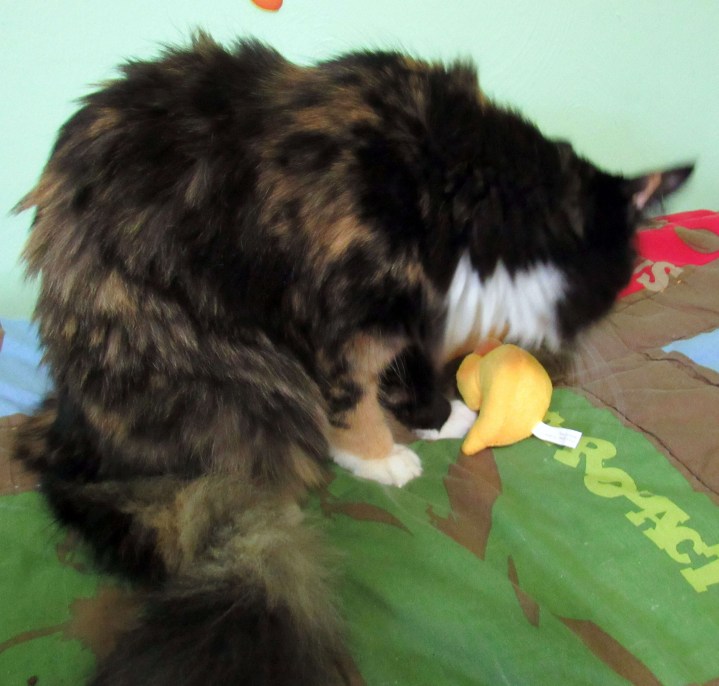 Whisker is playing with the soap and duck.
Little Lamb loves pepperoni pizza!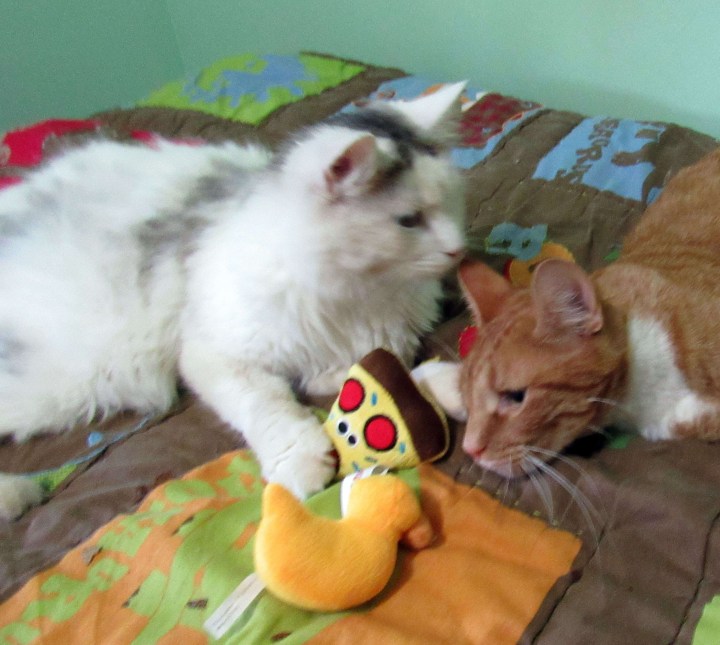 Puss in Boots wonders what toys his best friend enjoys.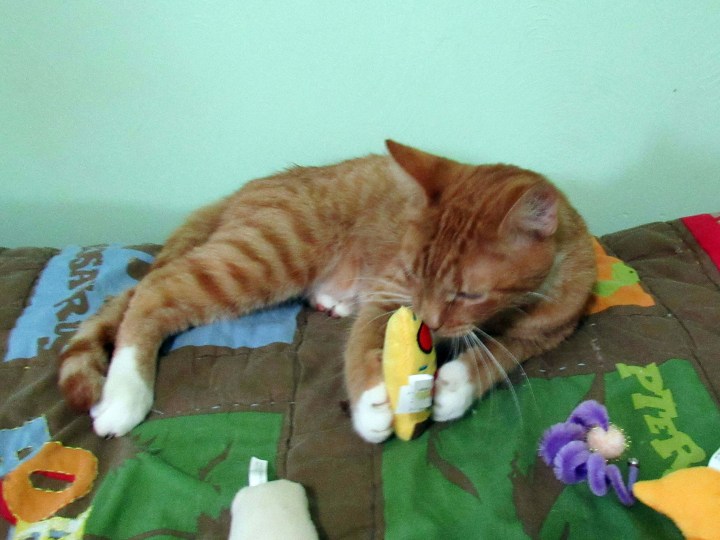 He loves the pizza toy!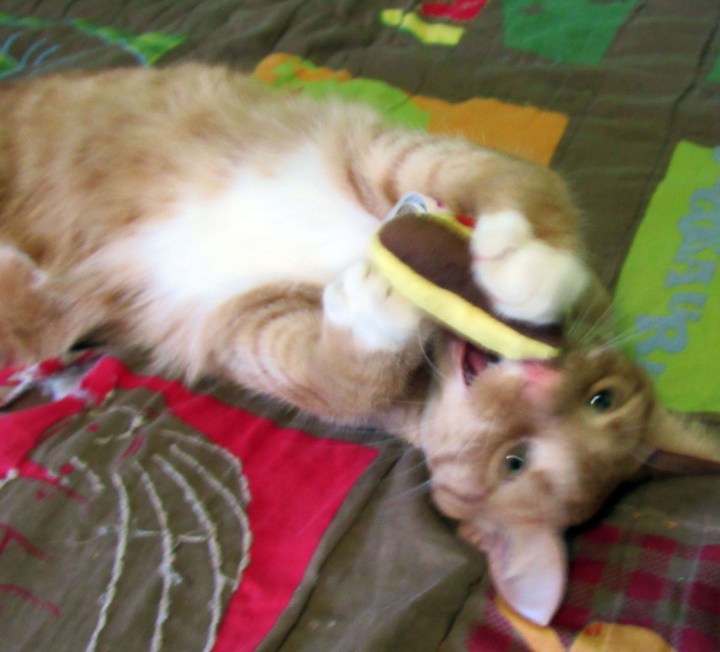 Yum! Yum!
Sylvester, Tiger Lilly, and Puss in Boots are enjoying their beef liver treats.  Tiger Lilly carried away the duck after snack time was over.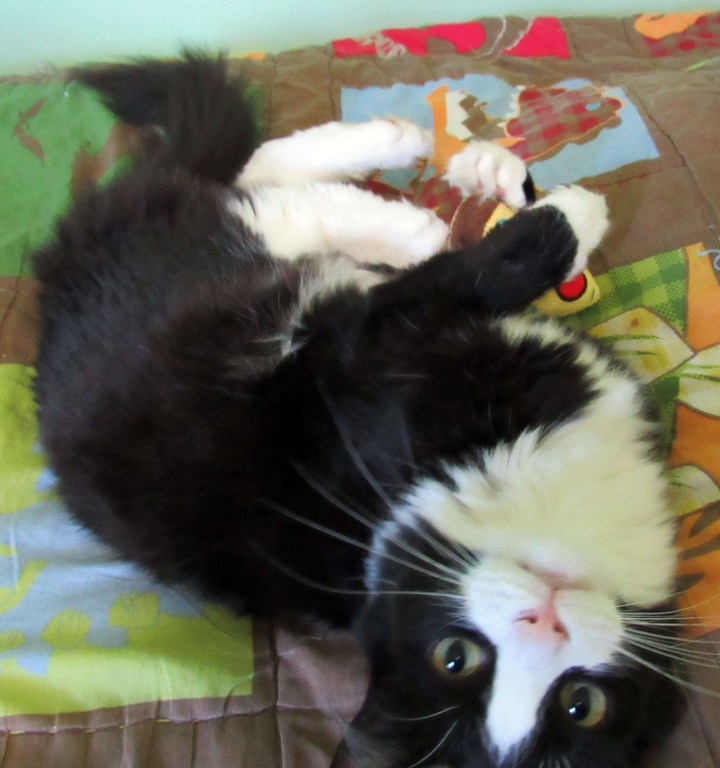 Sylvester loved the pizza toy too.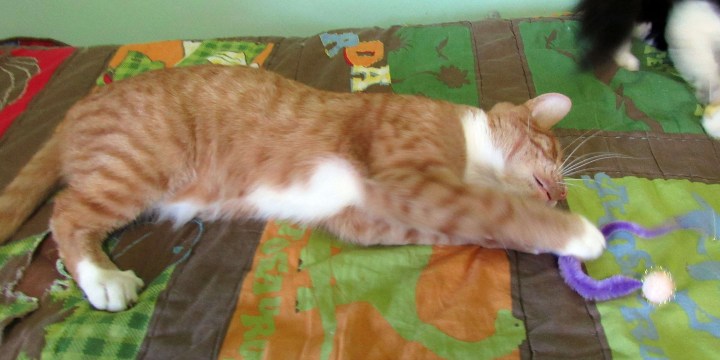 Puss in Boots threw the Sea Bug up in the air and rolled around with it.
The cats thought that the September Meowbox was purrfect.  They enjoyed playing with their treats and toys. I noticed that they go crazy over the silvervine filled toys. The September box value is over $26.00 which is a few dollars above the subscription price.  Meowboxes ship for free, so there is no additional shipping charge. They also offer an option to receive it every other month. Meowbox also donates a can of food for every box sold. A can tracking number will be sent to you so you can track your can and find out which shelter received it. Our kitties thought the box was purrfect and hope that your kitties agree!
Visit meowbox to subscribe or find out more! Save 10% on your subscription! Use coupon code HELLO10.
The Subscription
:
meowbox
The Description
: meowbox is a cat subscription box, full of surprises, delivered to your door every month. Your meowbox is brimming with yummy treats and fun toys, specially selected for quality and uniqueness, to cater to your cat's discriminating taste. With every meowbox you buy, they give a can of food to a shelter cat.
The Price
: $22.95 per month