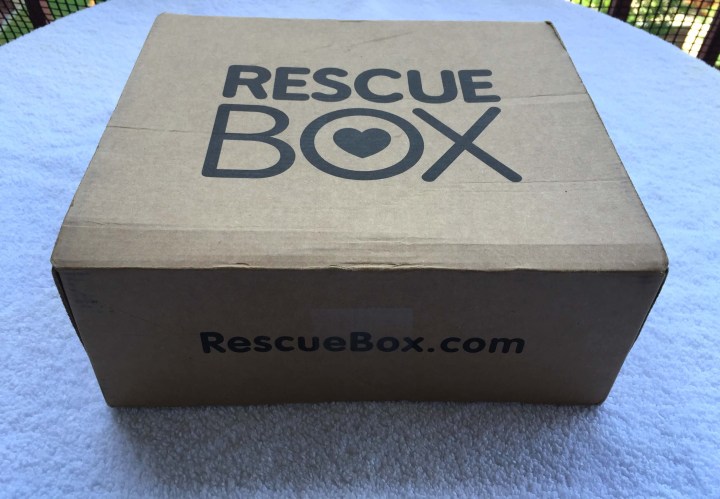 Rescue Box is a monthly subscription of dog toys, treats, chews and other goodies. It allows you to both spoil your pets and help homeless pets in need. Rescue Box donates portions of each purchase to its charity partners Greater Good, A Shot At Life, and Rescue Bank, who donate food and vaccines to animal rescues and shelters. The positive impact a Rescue Box subscriber can have on helping homeless pets grows the longer one subscribes. For example, a one month Rescue Box subscription helps to vaccinate 2 shelter pets and provide 5 pounds of food. A 12 month subscription, on the other hand, helps vaccinate 120 shelter pets and provide 300 pounds of food.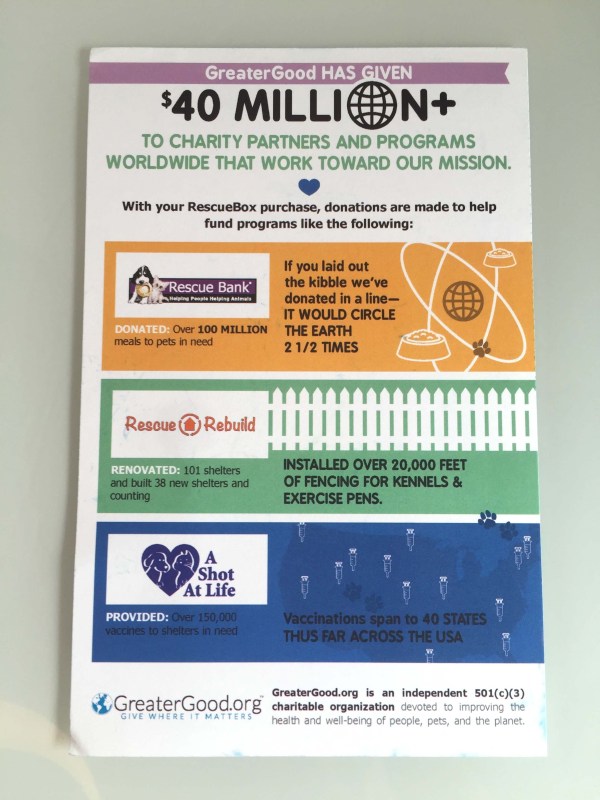 Subscribers can read about the real impact their purchases have in helping homeless animals. Each Rescue Box includes a card containing the photo and story of a shelter dog or cat who was helped by one of the many non-profit animal rescue groups who receive financial donations from Rescue Box.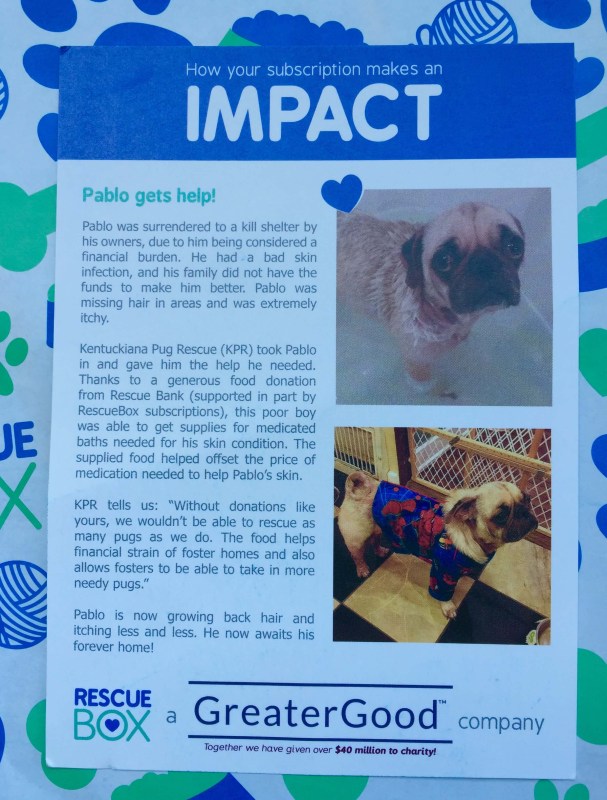 Rescue Box costs $29.99 for a 1 month subscription.
The enclosed information card describes the month's items and includes their retail prices.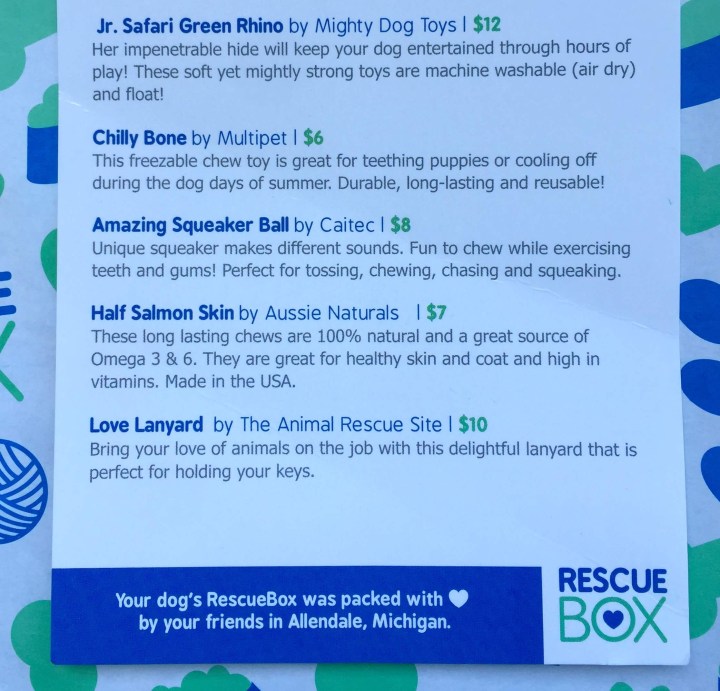 All the goodies in this month's Rescue Box!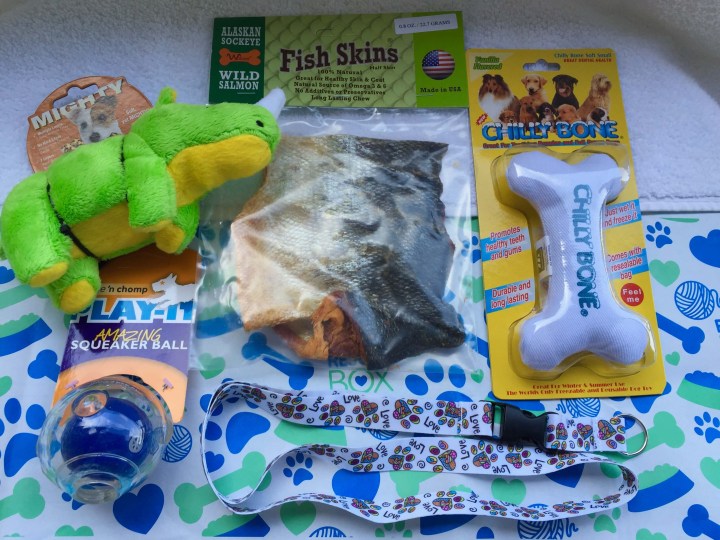 Jr. Safari Green Rhino ($12).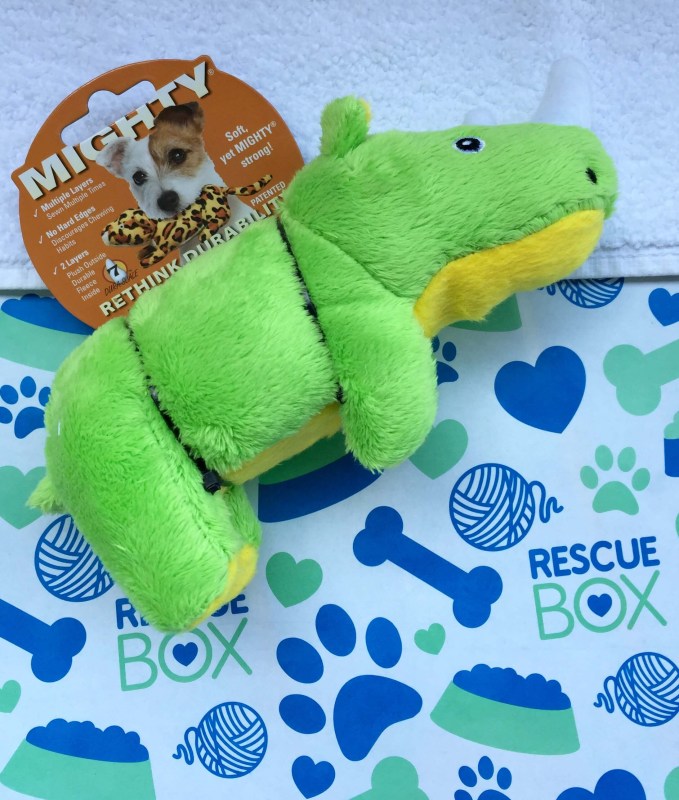 My power chewer absolutely loves the green rhino toy. I was pleased to find that it really is "impenetrable" as described. He sits and chews on it for hours and it is still intact and holding strong.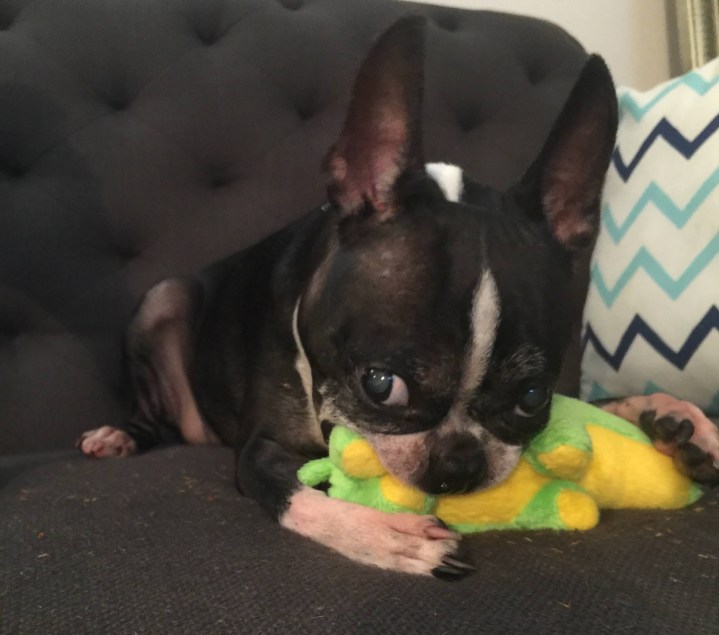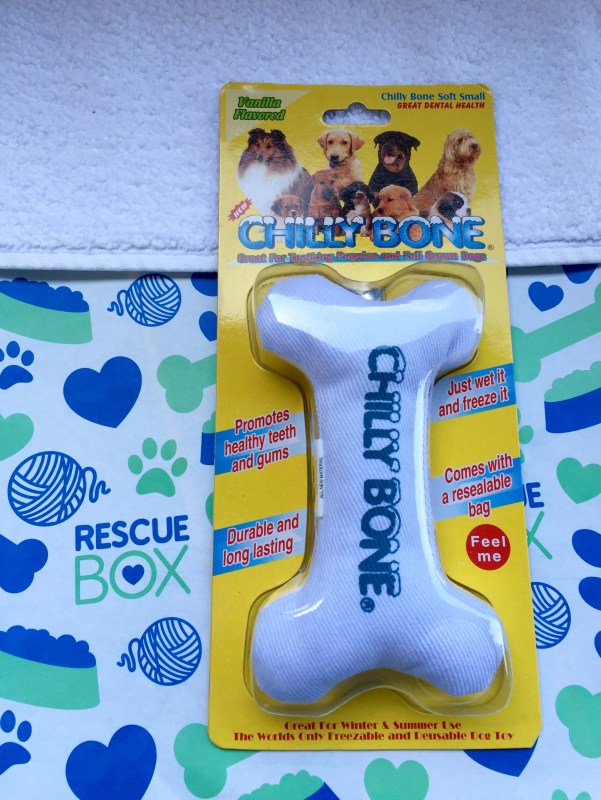 Chilly Bone ($6). Initially my dog was suspicious of this chew toy. Even on the last scorching days of summer, when it was frozen straight out of the freezer he sniffed it but wasn't interested in trying it. To be fair, he's a rescue pup so I don't know what prior exposure he has had to frozen items. He has never shown interest in ice cubes or even frozen yogurt. This toy may be well received by dogs who are not wary of frozen items.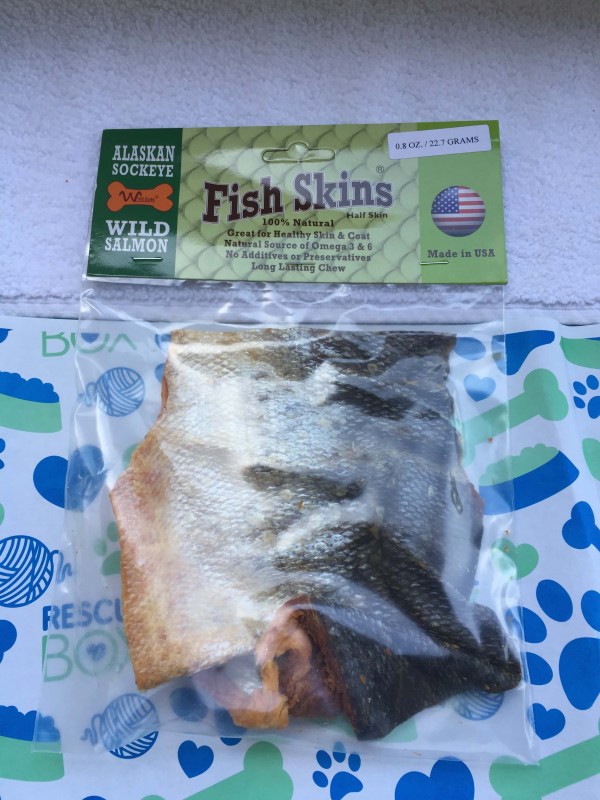 Half salmon skin ($7). The 100% Alaskan Sockeye salmon skin was a huge hit with my two dogs. They immediately fought over it when I opened the package. To keep the peace I cut it lengthwise down the middle so each could enjoy half of it. It kept my power chewer busy for about an hour, while my other dog tried to eat the whole thing at once in a matter of minutes. If your dog is one who gulps chew treats rather than sits and chews them (like one of mine) pay careful attention while they are enjoying this treat. It can become a choking hazard if a dog tries to swallow large portions of it. Or cut it into smaller pieces that are safe to swallow.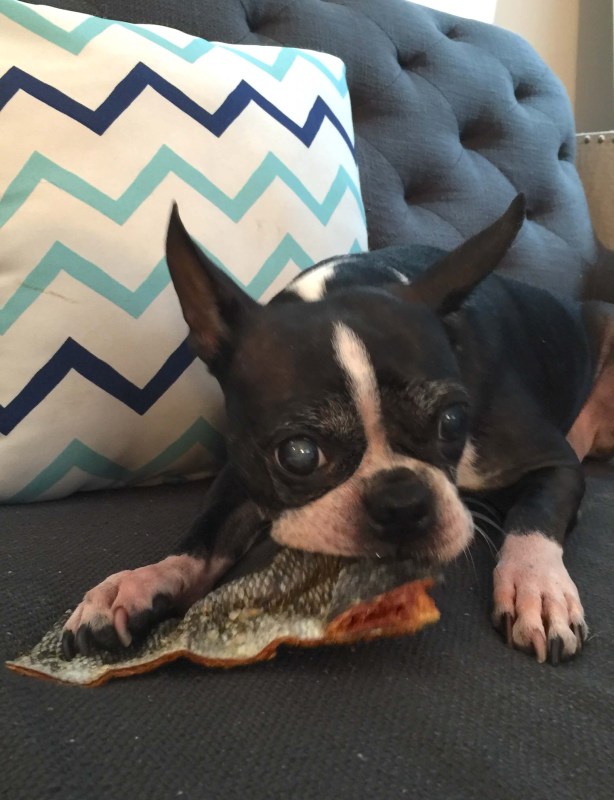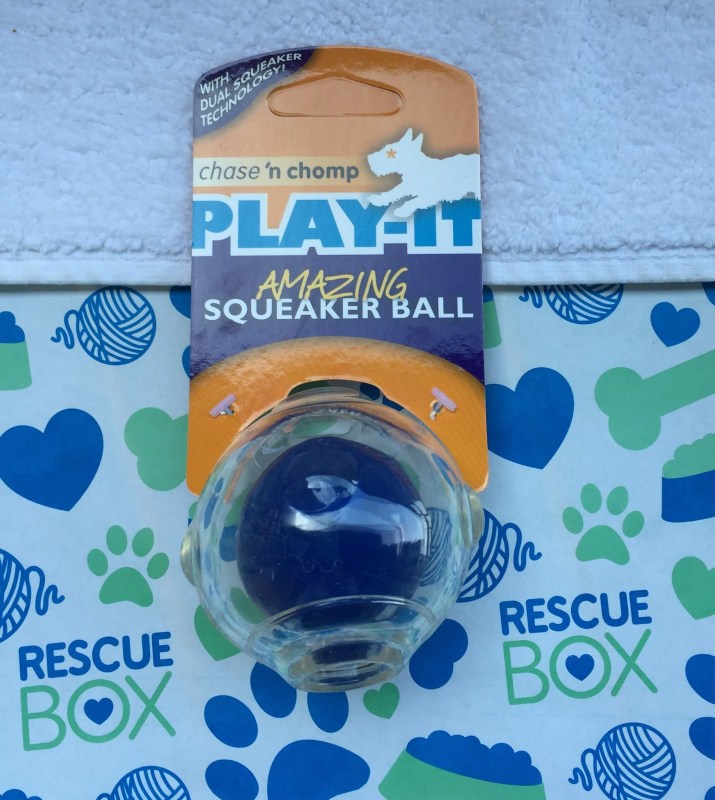 This ball has a clear rubber shell over a smaller ball with a squeaker inside. You can insert small treats inside, but I tried that and they fell out easily without my dog having to try for them. My small dog will chase it once or twice but prefers to sit and chew on the clear rubber shell.
This month's item designated for dog parents was a ribbon lanyard designed to hold keys. The lanyard has a cute paw print design. I don't currently have a need for a lanyard, however, so this item didn't thrill me.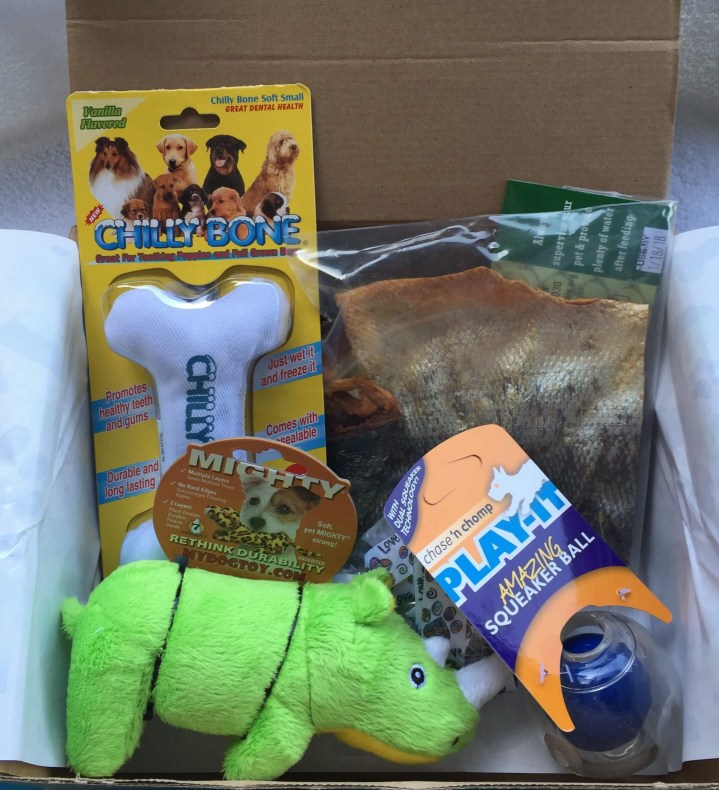 The total value of the September Rescue Box is $34, a few dollars more than the retail price of $29.95. The prices noted on the enclosed product card indicate that the total value is $43, but I found that three items had somewhat inflated prices. The prevailing price of the half salmon skin is round $4 on multiple websites; the Amazing Squeaker Ball is $5; and the Love Lanyard is being sold on the Animal Rescue Site (who are owned by the same company who owns Rescue Box) for $6.95.
Overall my dogs loved 2 of the 4 items in this month's Rescue Box (the rhino toy and salmon skin) and liked 1 item (the Amazing Squeaker Ball), while the remaining two items were only so-so (Chilly Bone toy and Love Lanyard). Despite that mixed assessment, the two items they loved were huge hits, and even putting aside the Love Lanyard, the remaining items have a value that is almost the retail price of the box. We look forward to next month's box!
Visit Rescue Box to subscribe or find out more!
The Subscription
:
Rescue Box
The Description
: RescueBox is a monthly subscription of toys, treats, chews and more, that will make your pet fall head over paws in love with you! From treat lovers, to strong chewers, we hand-pick each box with your pet in mind. We put a great deal of thought into the making of each box and only use the highest quality products! We work with our charitable partners who are on the ground tirelessly helping animals that need your help the most.
The Price
: $29.95 per month