How to Be a Redhead Subscription Box is the brainstorm of two sisters, Adrienne and Stephanie Vendetti.  The box is to help redheads "to feel confident, look amazing and rock their beauty."  The products range from samples to full-size and the box ships the first week of the month. Even the box comes bright big and RED!  There is no mistaking what is going to be in here.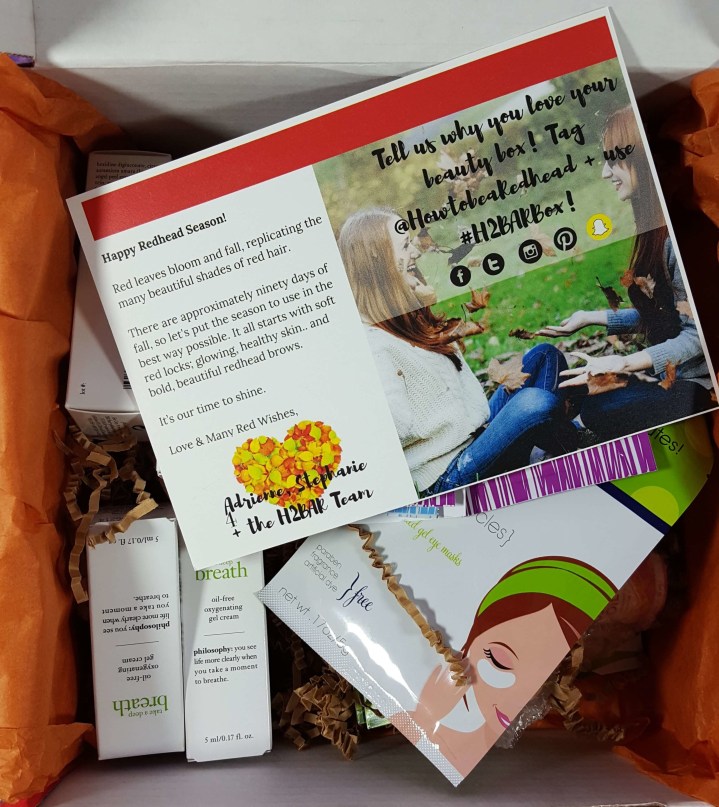 First look in my box and I loved the color scheme this month. Normally there is Red tissue paper but this month for fall we get a lovely burnt orange color with some brown squiggles. The theme for the October box is "Redhead Season"  I always say fall colors are my colors so I totally go with what they are saying.
The information card lists the items, description, discounts, and prices for some of the items in the box.
Everything in my October 2016 box.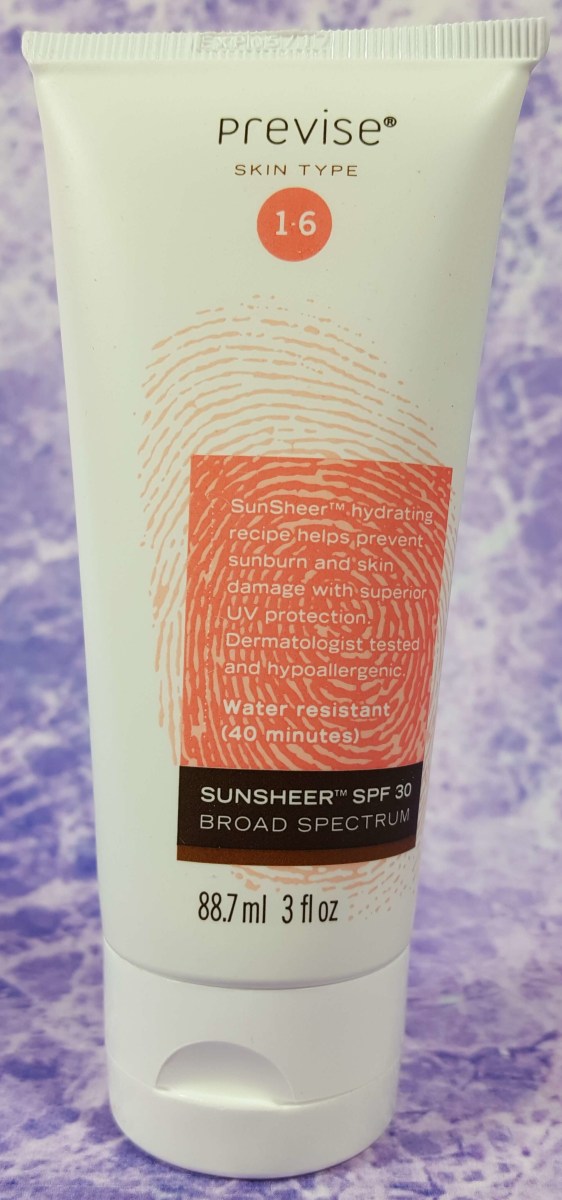 Previse Skincare SunSheer SPF30 Sunscreen Moisturizer ($36) – As a two time melanoma survivor I'm always wearing sunscreen and I love getting new brands for me to try.
SunSheer™ is our Broad Spectrum, SPF 30 sunscreen moisturizer. Crafted to help block harmful UVA and UVB radiation, our recipe includes multi-action antioxidants and licorice root to help boost hydration. Help fight wrinkles, brown spots and skin cancer with SunSheer physical sunscreen.

We do not use artificial pore clogging silicone and petroleum stabilizers. To maintain a sheer and protective coverage, SunSheer occasionally needs a little shake before use.
Nelson J Moisture Healing Line Travel Set (an assorted pack of 6 is $15.00) – These are travel size 100% Argan Oil derived moisturizing treatments.  I love the presentation of these wrapped together with some cute hair ties.  I'm adding these into my to go bag for my next trip.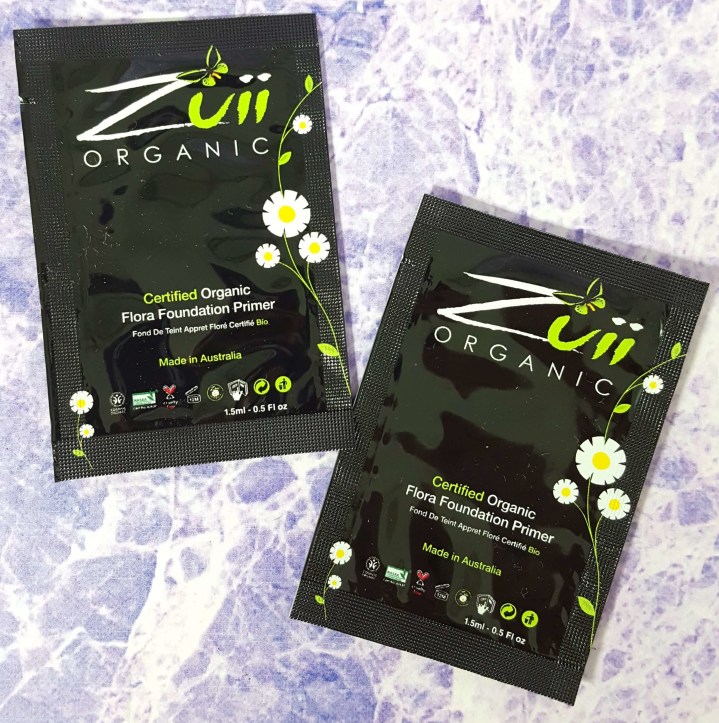 Zuii Organic Flora Foundation Primer (we received samples however a full size of 1fl oz is $38.50) – This is actually an area I need to get better at. I always wear a moisturizer but I don't always prime my face before putting on makeup.  A primer will help you create and even canvas before you apply your foundation.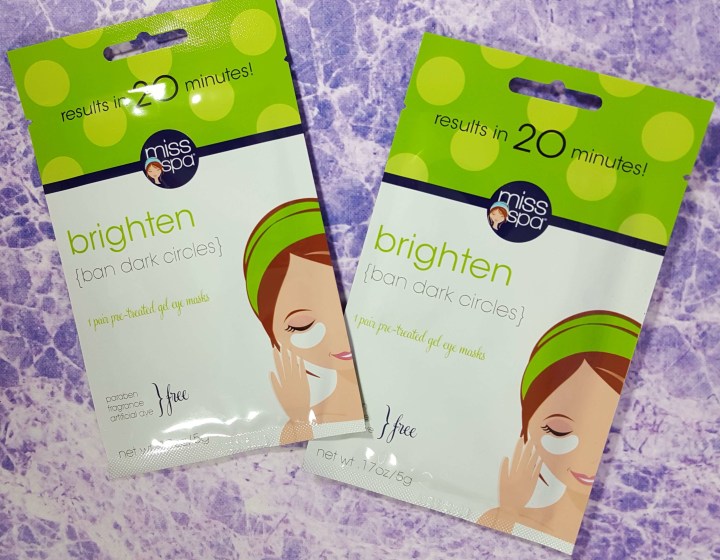 Miss Spa Brighten Under Eye Mask ($4.00) – Do I need these? I'm a mom so do I need to say anything else? These are great and will help to illuminate and brighten up your under eye area to reduce the appearance of dark circles.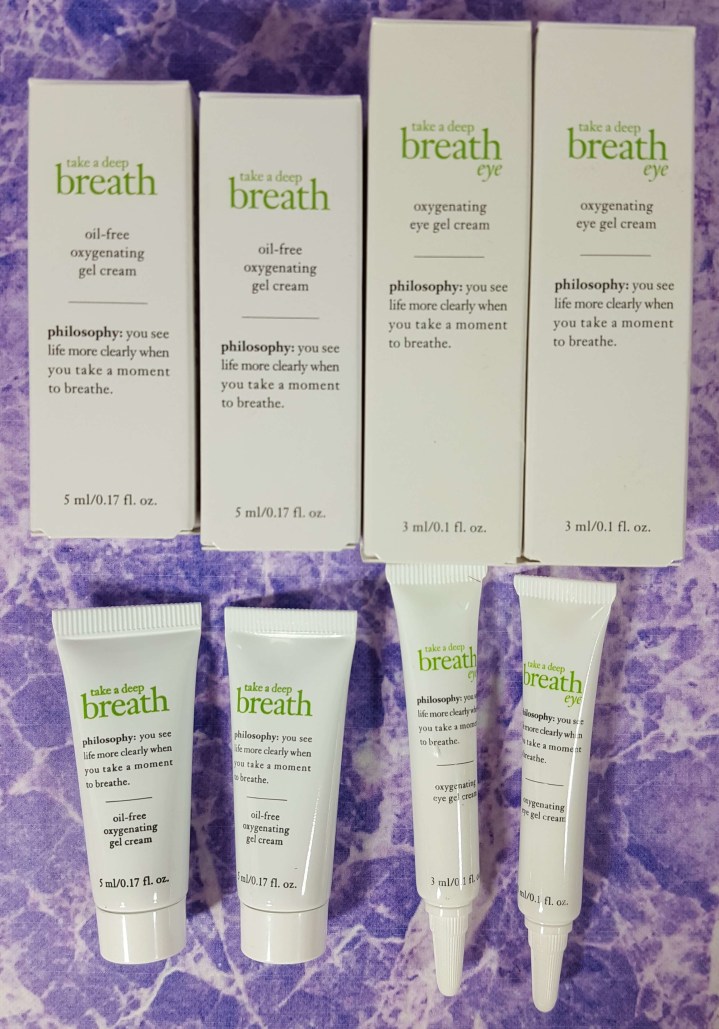 Philosophy Oil-Free Oxygenating Gel Cream ($4.76 each ) and Philosophy Oxygenating Eye Gel Cream ($8.40 each) – I love Philosophy products and had not tried these yet.  I used the moisturizer and eye cream today and they are great. They went on easy and don't feel slimy or greasy at all.  I'm loving them so far and can't wait to see how they do after a couple more days.

Just For Redheads Ginger Auburn Brow Stick ($13.99) – This is the third and final product from Just for Redheads that How to Be a Redhead has included in their boxes.  My brows are actually pretty dark and  very full so I don't use brow pencils however my sister will love this and she is more a true redhead then me.  We have loved all the other products we've gotten from Just for Redheads before and this a great color just not something I will use.
Levan Rose Jojoba Oil ($3.49) – Jojoba Oil is a great all around oil that can be used for man different things such as removing makeup, moisturizer, dry, fizzy and split ends hair, chapped lips, cuticles, and acne.
InstaNatural Sample Vitamin C Moisturizer (samples) – Vitamin C is a good all over moisturizer that helps reduce the appearance of fine lines and wrinkles. These are smaller sample sizes so I will probably pass this on to someone who travels more then me and would like the smaller sizes.
Another box and again it is interesting for me. Last month we got a lot of hair products and this month we got mostly moisturizers.  While I will use them they just aren't that interesting and I really wish that they would mix up the different items each month so we get a variety of types of things. The value in this box is awesome with it costing only $18.90 and it being worth over $90 and I do love finding some new to me companies and products though so I'm happy with my box each month. I just wish they would mix it up a bit more.
Are you a redhead? What do you think of the September How to Be a Redhead box?
Visit How to Be a Redhead to subscribe or find out more!
The Subscription
:
How to Be a Redhead
The Description
: Get 'Redhead Friendly' Approved Products Delivered To Your Door Every Month. The How to be a Redhead (H2BAR) team now works meticulously to find products that meet the 'Redhead Friendly' seal of approval and is proud to deliver them to the doorstep of every redhead each month. The products range from samples to full sizes.
The Price
: $18.90 per month