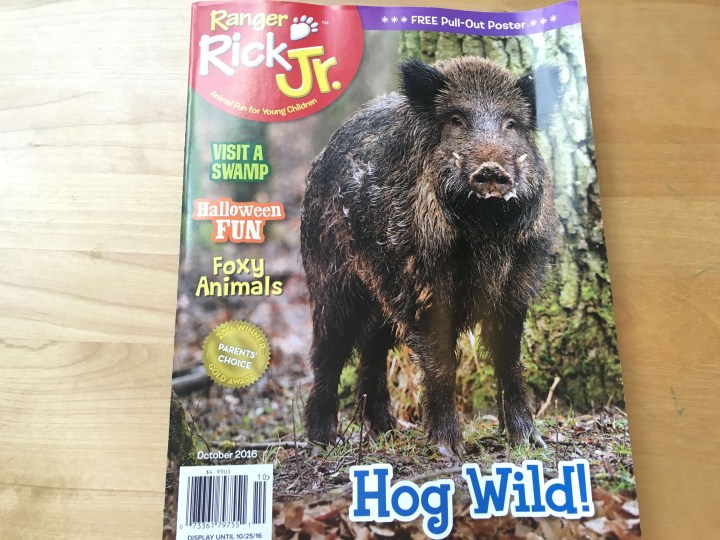 Ranger Rick Jr. is a magazine subscription for 4-7 year old children. With each $15 yearly subscription, your child will receive 10 magazines full of animal facts, pictures and other educational content. For those who are interested, Ranger Rick also produces their eponymous magazine for 7-12 year olds as well as their newest magazine, Cub, 0-4 year olds. All proceeds from the sale of the Ranger Rick family of magazines help support the National Wildlife Federation.
Inside each magazine, you'll find a Table of Contents detailing that issue's features.
Each month will include multiple features that offer large photographs of animals as well as facts about them.
There are also plenty of games to entertain young children.
Each month contains a short story designed to get young children reading.
There is also another more extensive story that teaches children something about the outdoors. October 2016's story taught children about owl pellets. This was an awesome tie-in to the owl pellet activity we did in this subscription box!
My son always enjoys the activities at the back of the magazine. This month's activities included a word search and a matching game.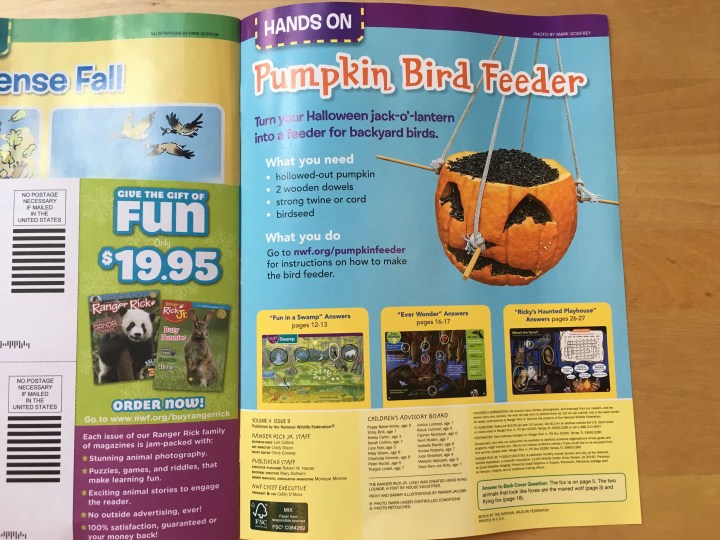 Finally, each issue typically includes a craft suggestion that promotes fun outside. This month's selection was a seasonally appropriate used jack-o-lantern bird feeder!
My son loves his Ranger Rick, Jr. subscription! He insists that we read it cover to cover as soon as it arrives. I like that it helps foster curiosity about the natural world while also supporting age appropriate learning goals.
Have you tried any of the  Ranger Rick Jr. magazines? What do you look forward to most in your subscription?
Visit Ranger Rick Jr. to subscribe or find out more!
The Subscription
:
Ranger Rick Jr.
The Description
: Ranger Rick Jr., for kids 4-7, is filled with awesome animal photos, stories, games, activities. Ricky Raccoon and Sammy Skunk host young readers as they explore 36-pages of pure animal learning fun! Every Ranger Rick Jr. is bursting with riveting wildlife photos, tons of animal facts, games, puzzles and activities, ideas for outdoor fun, etc.Ranger Rick Jr. publishes 10 times a year: Dec/Jan, Feb, Mar, Apr, May, Jun/Jul, Aug, Sep, Oct, Nov.
The Price
: $15.00 per year