Purr-Packs is a monthly cat subscription that is run by a team of dedicated kitty owners that specializes in finding new and innovative products for your cats. They realize that one size does not fit every cat family and offer four different plans with customization available. The Slim Pack contains 4-5 toys. The Teaser Pack contains 5-7 items and includes toys, treats, and surprises. The Fun and Love Pack contains 7-9 items and includes toys, treats, and surprises. The pack can be customized with flavors, colors and more. The Multi-Cat Mega-Pack includes at least nine items that are toys, treats, and surprised. It also can be customized by flavors, colors and more. All treats are made in the USA and each size pack is gift ready. Purr-Packs donates at least 10% of all retail subscription profits to local and national rescue and/or adoption programs.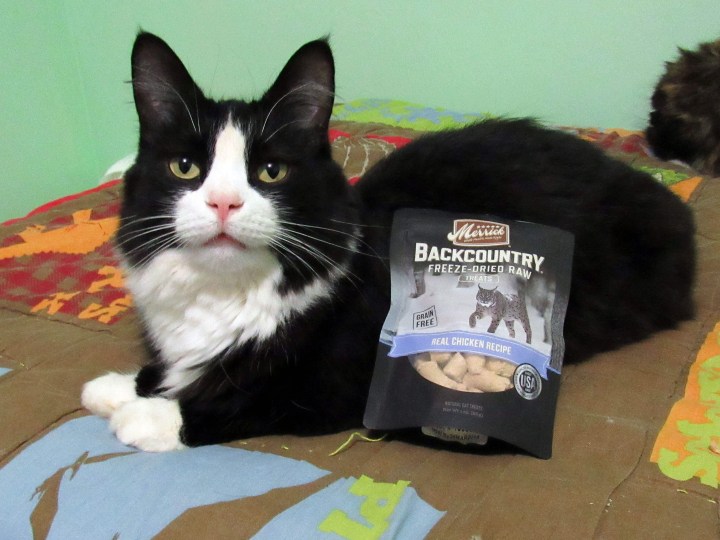 The Merrick Backcountry Freeze-Dried Raw Treats – Chicken (1 oz, $2.49) were a hit with the kitties. Merrick explains that none of their ingredients are sourced from China. Most items are sourced from the USA with a few exceptions such as lamb from New Zealand. The Made in the USA treats were a big hit with the kitties.
The cats love their scratch pad with catnip (approx $10.00). They use their scratching pads often.
Time to see what the kitties think of their Meowlloween Box. They are laying on an old comforter in natural light. My flash did go off a few times which is why the kitties have their eyes closed in a lot of the photos.
Tiger Lilly is the newest addition to the clan. She was found out on the streets with babies. She ended up living with us because her babies were adopted but not her. I wonder about her back story because she is comfortable in a multi-pet, young children household.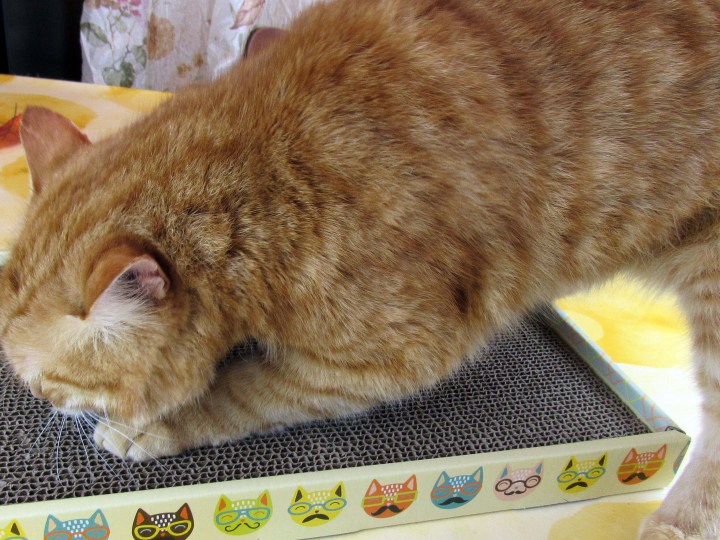 Garfield came by to test the scratching pad. Then he laid on top of the information card and did not want to be disturbed.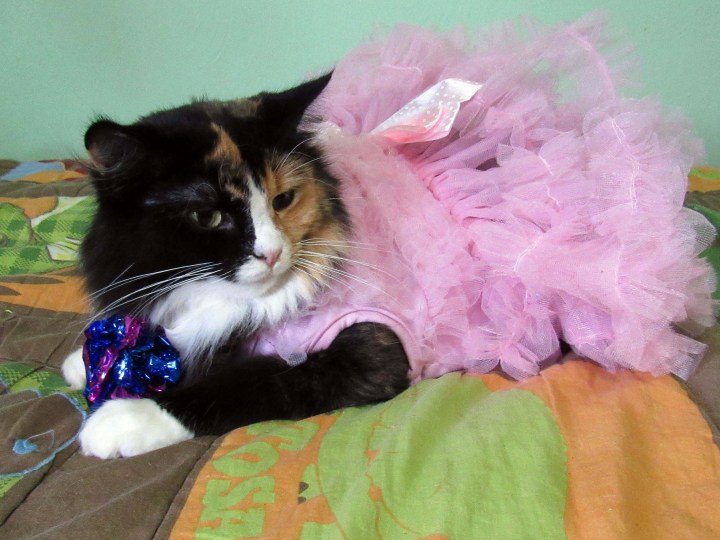 Whiskers is posing with her ball.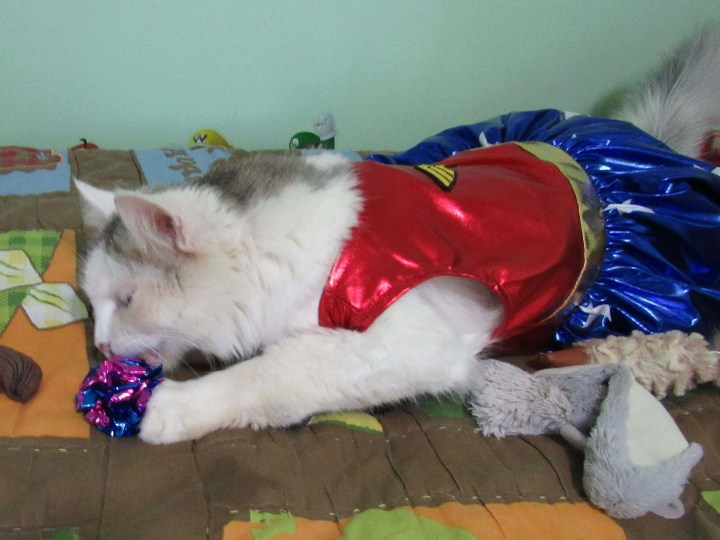 Wonder Cat decided it matched his outfit.
Sylvester played with the Meowstache most of the time. He rolled around with it.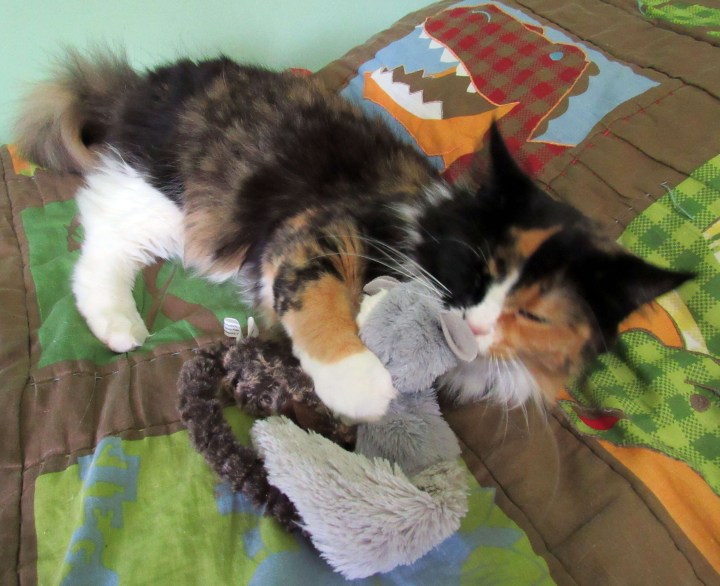 Whiskers played for a few more minutes and then left. She tends to bathe the cats instead of playing with toys.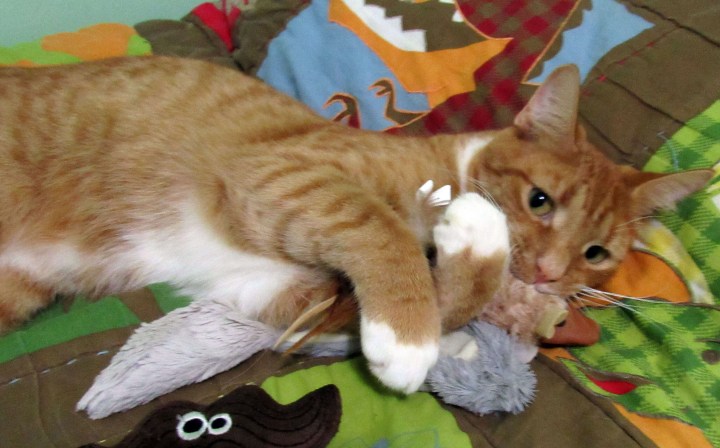 Puss in Boots is happy to take his grandmother's place.
He has one paw on the other Meowstache and the feather toy in his mouth. He also claimed the flat squirrel.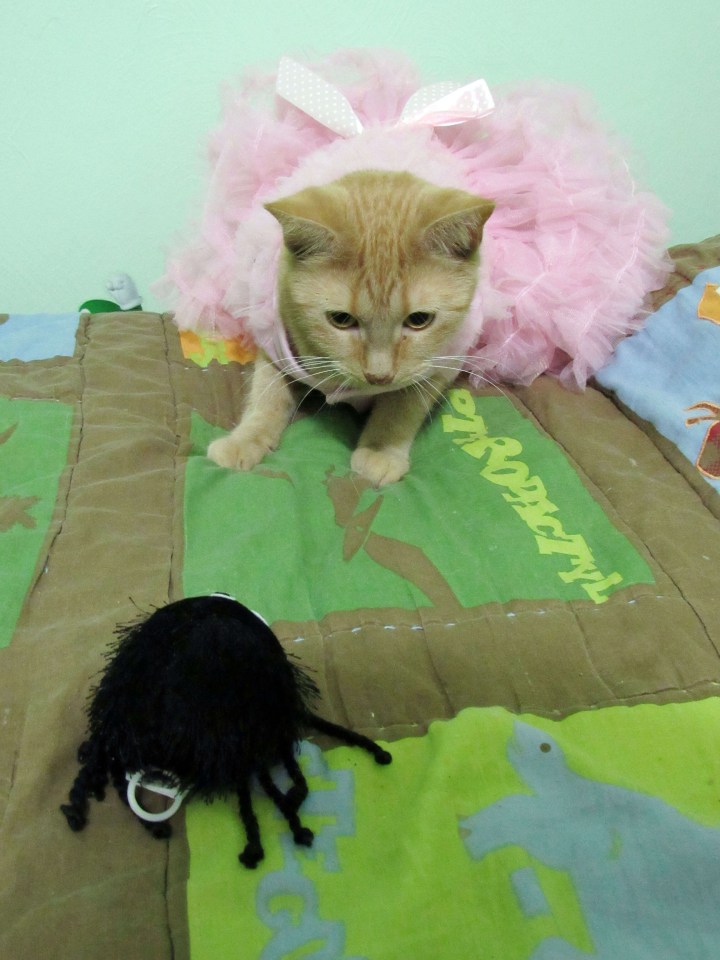 Tiger Lilly is no princess in distress. She is ready to pounce and destroy the spider.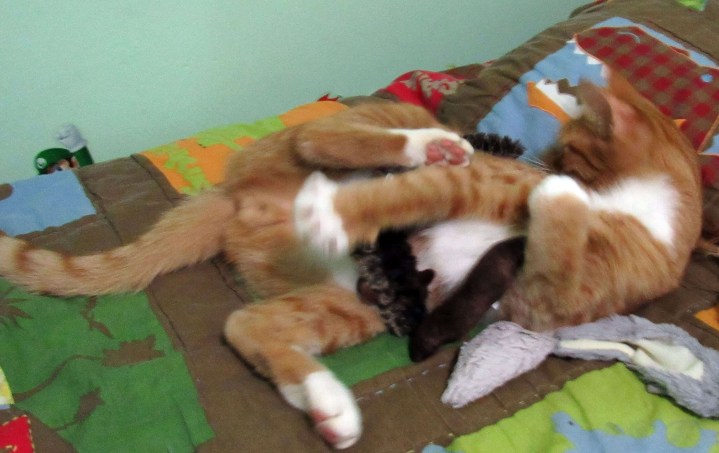 Puss in Boots is all paws as he plays with his toys.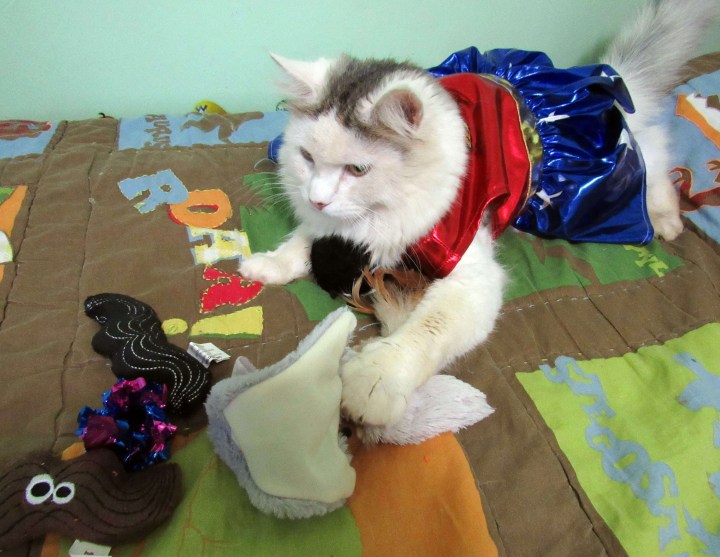 Wonder Cat is wondering if the Lasso of Truth can be used to bring all the toys closer to him.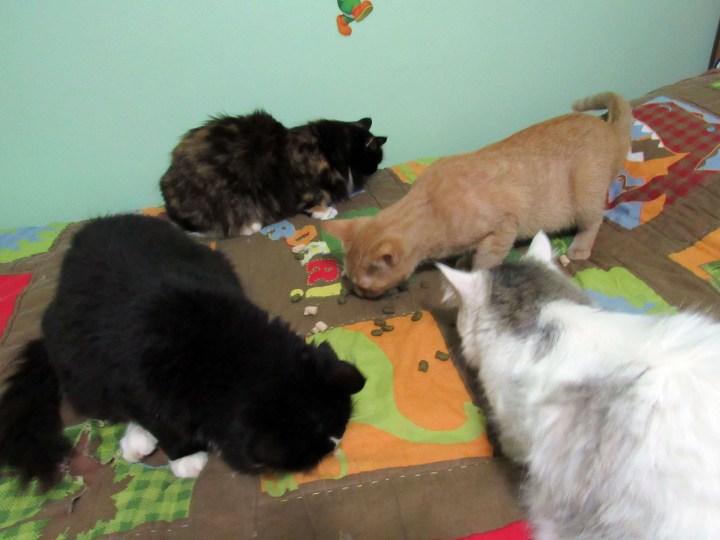 From left to right – Sylvester, Whiskers, Tiger Lilly, and Little Lamb. Garfield and Puss in Boots also took a snack break.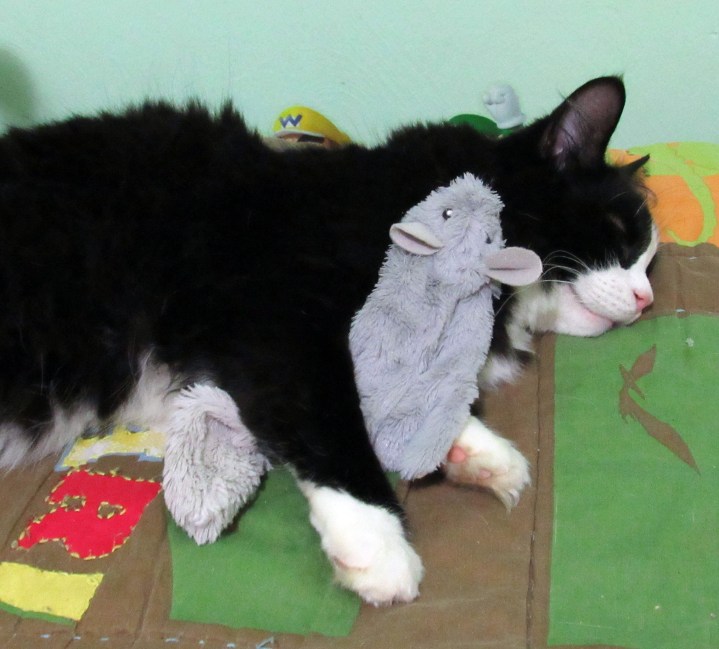 Look at Sylvester's smile! He is tuckered out after a hard day of reviewing.
The kitties purr which is the new Boo. They had a meowvelous time with the October Purr-Packs box. The treats were yummy to their tummies. The cats enjoyed playing with their toys. The value of the box is over $40.00 which is great. It's the purrfect box for the kitties to enjoy.
What do you think of Purr-Packs? Use coupon code Hello20 to save 20% on your first box!