Pop In A Box is a monthly Funko POP! vinyl figure subscription. Every month you will receive the number of POP! figures you order (starting at $9.99 per POP!). SURPRISE!
In all seriousness they have a totally awesome and exhaustive Pop tracker that you should sign in to use if you have any sort of Pop collection (we have quite a few). Shipping is always a flat $4.99 but you can get as many as 12 POP!s a month.
You can block Pops from being sent, rate pops in their tracker, and if you track your collection with their tracker and subscribe you will not receive any dupes. They do give away figures randomly to subscribers.

When you sign up you can add POP!s to your collection, thumbs up and down (never get a thumbs down, more likely to get a thumbs up). Everything that you Thumbs Down will be in the Pop Grave, and you can pull them back out if your tastes/fandoms change. Thumbs Up will place the Pops on your Wish List.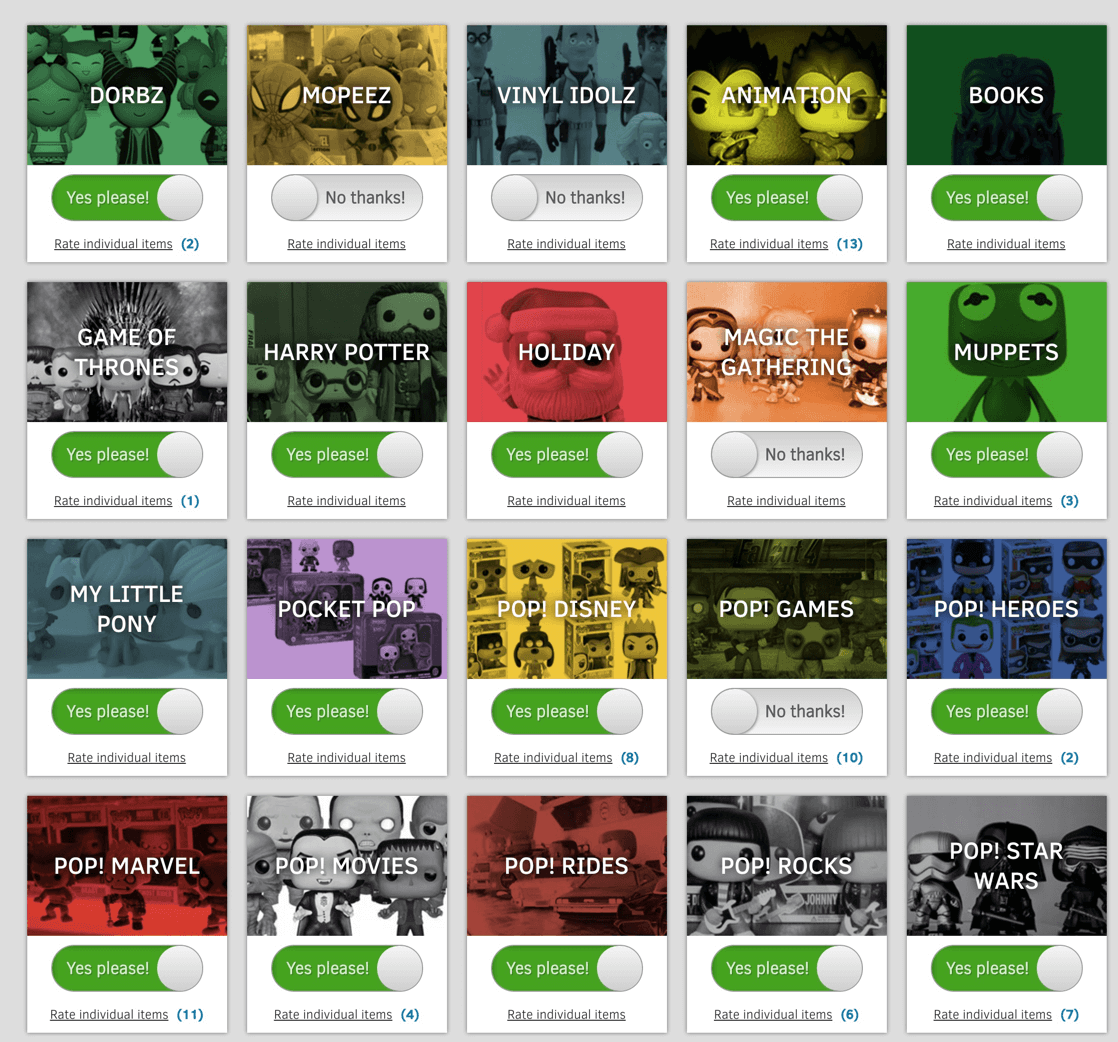 And you can block entire categories from being shipped! Find this screen in "Customise Plan."
I find it fun and easy to do the thumbs up & down a couple times a week, and I suggest filling out your collection and blocking any POP!s you hate and marking any POP!s you really want before actually subscribing. FYI – the easiest way to thumbs up/down all at once is go to Manage Collection and check out the individual collections so you can do it all from one screen. Once you're signed up you'll get a new pops email whenever they add new pops to the shop – and then you'll know it's time to do thumbs up/down.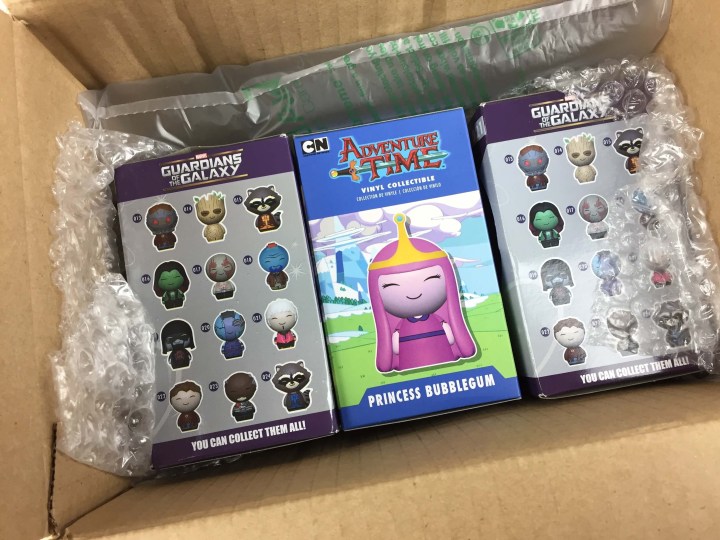 There's not a lot of fanfare with this box – here's my contents! I have found that the boxes are always in great condition but we take them out because our kids play with them.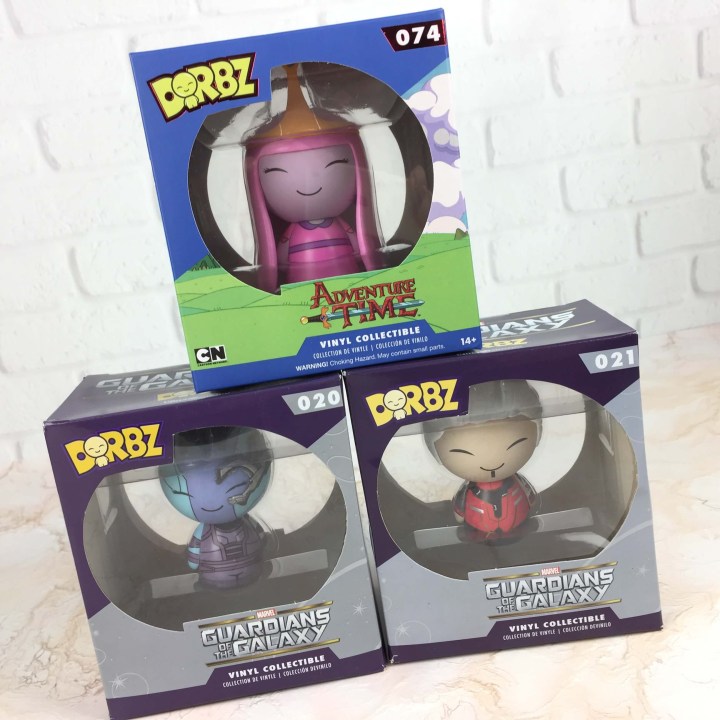 The POP!s were from the Marvel and Cartoon Network.
Note – when you receive your Pops from PIAB they will not be added to your collection. They don't track what you get, so when you get them, add them to your tracker so you don't receive them again (and don't forget to add all the other Pops you get to your tracker too).
Funko POP! Dorbz Adventure Time Princess Bubblegum Vinyl Figure ($12.95) I had this one as a thumbs up – we are aiming for more girly Pops to balance our collection.
I am not sure we could get girlies than this!
Funko POP! Dorbz Marvel Guardian of the Galaxy Nebula Vinyl Figure ($6.89) Welll you can't really tell from the Dorbz but Nebula also adds some girl to our collection!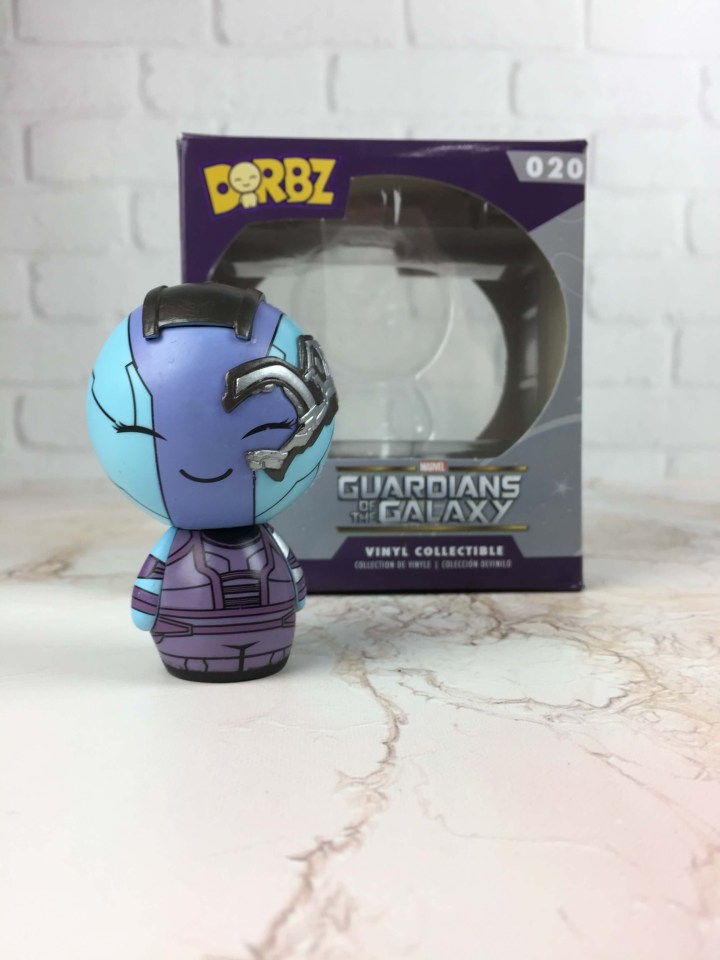 She's a total badass alien super villain but looks really cute as a Dorbz!
Funko POP! Dorbz Marvel Guardians of the Galaxy The Collector Vinyl Figure ($6) Ah, the perfect Funko for my collection. 
 I will add the Collector to my Collector collection!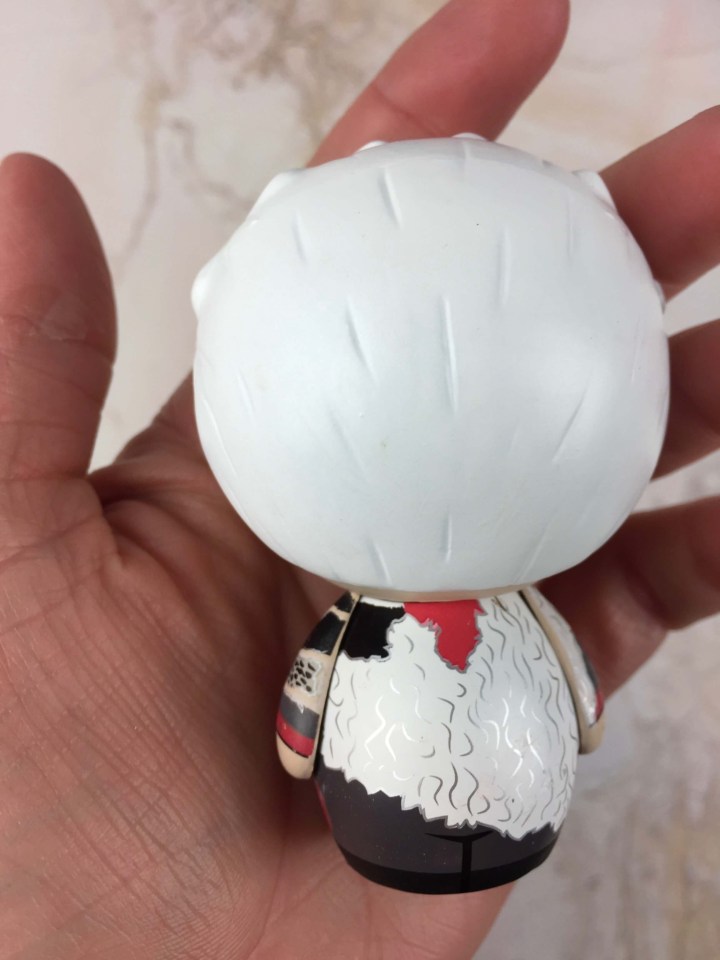 I thought the detail on the back of this one was great!
Fun month, but I'll probably turn off Dorbz because we have received quite a few of them recently and they are lower value than the Pops.
You will find that not all the POP!s you receive will be as cheap as on Amazon, so if you want something specific, you may do better checking out the Funko availability on Amazon, but you do have the chance of hitting it big with this subscription with a big or rare POP (is it my turn yet?). It's definitely a fun way to collect! It's easy to cancel and you can make out great if you get the big 12 Pop! box because the per-POP price goes down quite a bit. That may be a better idea (indulge big then skip a few months) than going for the 2 Pop box!
Have you tried Pop In A Box? Save 20% on your first month's plan! No coupon required, just use this link to subscribe.
Visit Pop In A Box to subscribe or find out more!
The Subscription
:
Pop In A Box
The Description
: Pop In A Box is the perfect way to start or add to your POP! Vinyl figure collection. With RARE & EXCLUSIVE POP! Vinyl figure collectable being given away every month, your collection will grow at a pace that suits you… This subscription offers a complete Funko POP! Vinyl figure tracker, ratings to get only pops you like (as long as you thumbs up/down everything!).
The Price
: $14.98 per month