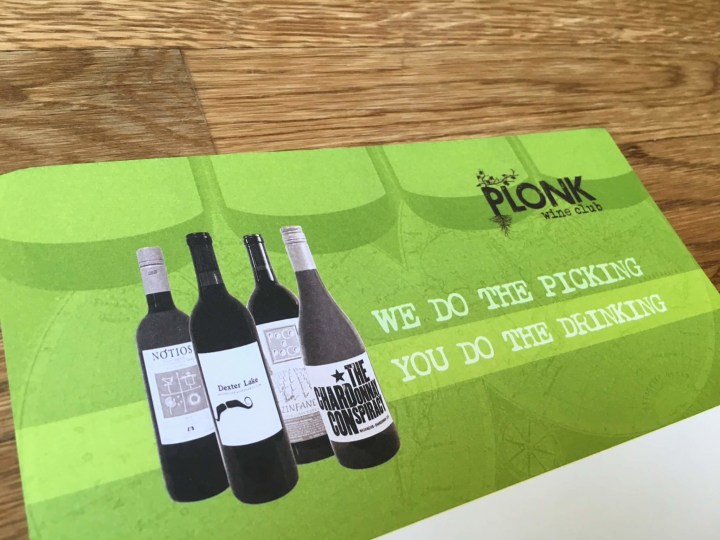 Plonk Wine Club is a wine subscription box offering 2, 4, or 12 bottles per month in either a red, white, or mixed shipment. Plonk specializes in curated artisanal, small batch, rare, and sustainably grown boutique wines.
October is just the best. Here in the South, it's finally started to feel like fall, and it was a great weekend to hang out with the family and feel unscheduled. Being unscheduled these days usually means a request to hunt Pokemon, so after catching a bunch in the park (so many Growliths!), it was time to put the kids to bed and binge-watch Luke Cage with my husband. And drink some wine, of course!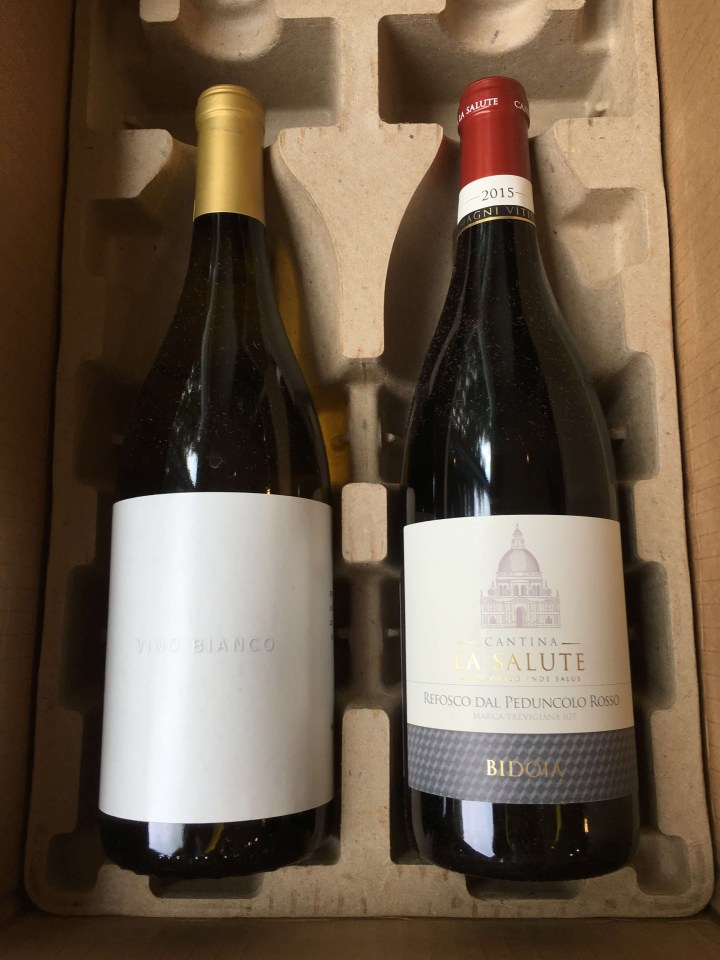 This month, I received the 2-bottle mix. Plonk prides itself on finding small batch, organic, and other interesting wines that you might not discover on your own. Each wine comes with informative tasting notes and recipe ideas.  The recipes seem a little ambitious this month – please let me know if you've ever made a whole baked fish in a salt crust. I mean, seriously. We had grilled chicken and sweet potatoes. But, if you so desire, you can get full recipes at the Plonk website.
The first wine was the 2013 Channing Daughters Vino Bianco. This white blend is from Long Island, where some cool Alpine (think Reisling and Muscadet) wines are being made. The Vina Bianco includes Sauvignon Blanc, Pinot Grigio, Tocai Friulano, and Chardonnay. Here's a nerd note for you: I'd never heard of Tocai Friulano, so I looked it up.  According to Wikipedia, it's actually now called Sauvignon Vert in Italy (no genetic connection to Sauvignon Blanc), because the European Court of Justice ruled in 2007 that the name Tocai Friulano was in violation of a treaty with Hungary as too easily confused with the Hungarian wine Tokaji. Long Island does not care about treaties between the EU and Hungary! They will call it Tocai Friulano if they want to.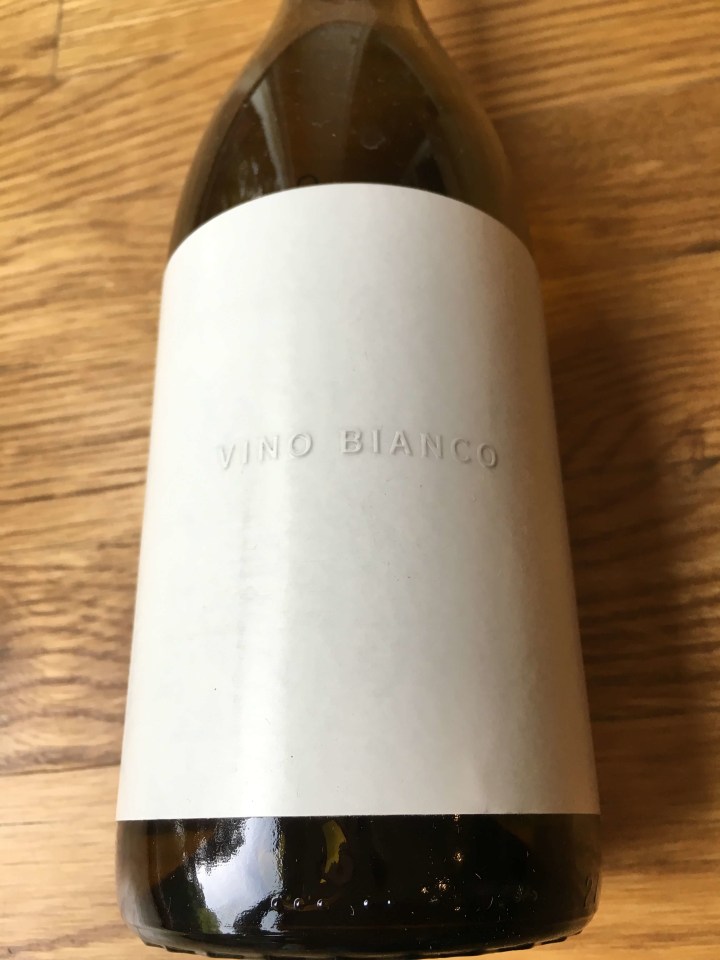 This wine is a light gold color in the glass.  It is a bit oaky on the nose, with a lemony-pear undertone.
The Vino Biano starts and finishes like a good Chardonnay, with a nice medium body and a hint of apple/pear flavor.  What's funny, though, is between the first taste and the finish, there's a bit of Sauvignon Blanc minerality to this. It's a weird but neat contrast to the finish, which gets just barely oaky. Overall, the impression is of fruit, but there is no sweetness whatsoever to this wine. I thought it was just terrific. It would go well with a lot of different foods, other than maybe a fat steak. The dryness would cut the heat of Mexican, Indian, or Chinese food, and the fruit would complement anything from light apps to grilled chicken. We drank it very cold to start but it held up fine sitting out – the oak got a little more pronounced as it warmed up, but never overwhelmingly so. I would take another bottle of this wine in a second.
Our second wine was the 2015 Cantina La Salute Bidoia Refosco, which is a mouthful of Italian words. This varietal doesn't have much of a following outside of Italy, so I was excited to try it. It's characterized by fruit and acid, which should make it a great early-fall wine.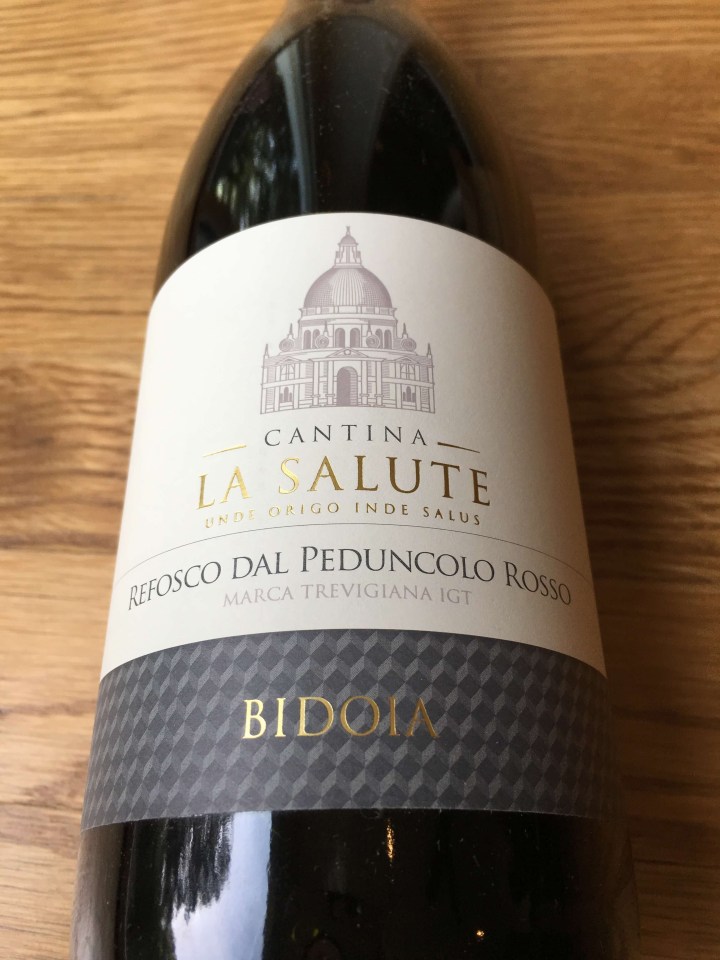 This wine was a very pretty dark purple in the glass, lighter on the rim. It had cranberry and sangria-fruit on the nose and an extremely light body.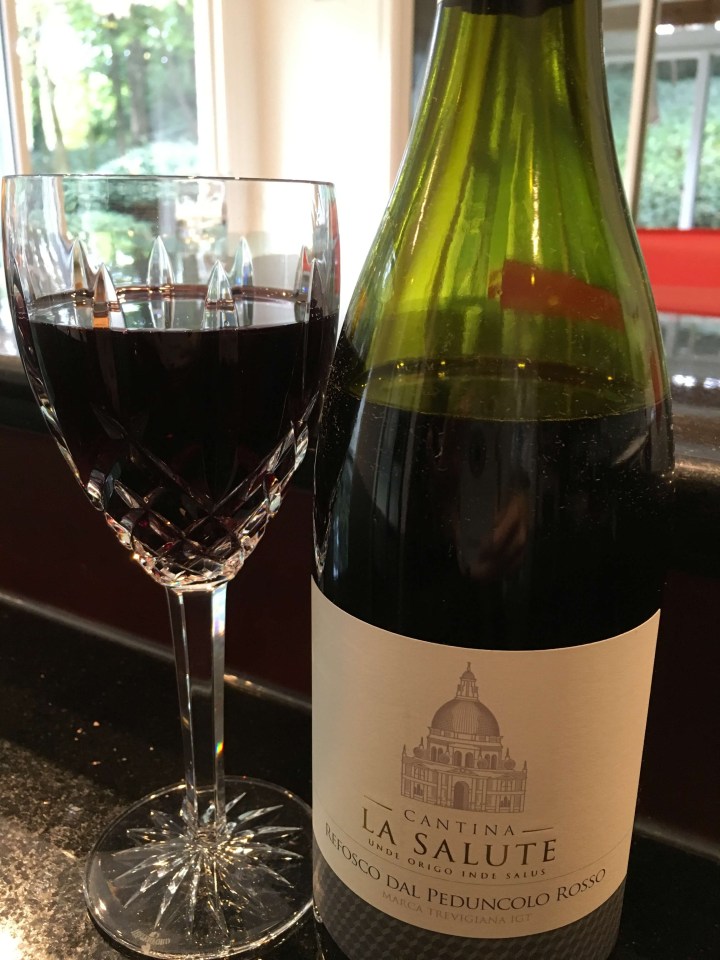 There is nothing particularly complicated about this fun wine – it's a berry explosion as you drink it, contained by a nice acidity and light tannins to keep it from being sweet. The finish was quick and clean, with a raspberry flavor to it. The La Salute is incredibly easy to drink – it's one of those that could get you in trouble if you don't pay attention to how much you've had. It's a bit like a Beaujolais Nouveau in its uncomplicated fruitiness, and your Pinot Noir-drinking friends will feel right at home. A nice food wine and would actually be a decent choice at Thanksgiving. We served this off-chill, which was fine, but it was also good somewhat colder out of the fridge the next day. Thumbs up!
And that was our October Plonk selection! It went too quickly! We're really enjoying the thoughtful selections we get through Plonk. And our cat likes the packaging.
I can't wait to see what we get next month!
What do you think about Plonk? If you want to give it a try, you'll get a free bottle in your first box – use coupon code HELLOPLONK (excludes 2 bottle 3 month clubs)!
The Subscription
:
Plonk Wine Club
The Description
: Plonk Wine Club is one of the top rated wine clubs of the month. Included in each subscription is 2, 4 or 12 bottles delivered to your or your gift recipient's doorstep every month. Detailed tasting notes and expert recipe pairings delivered with every wine shipment, and a Complimentary issue of Imbibe magazine.
The Price
: $50.00 per month