The Planner Addict Box is a monthly subscription box for planner nerds. The box is filled with planner products you can use for any type of planner. You can expect products from well-known designers, Etsy shops, and Planner Addict Box exclusives. Planner addict has had a lot of exclusives recently and then things created just for them from Etsy shops. I love that it is so unique.
When you first open your box you will see a tissue paper wrapped around the contents of the box – and in a great detail, the tissue and squiggles coordinate with the color theme of that month's box. For a decorating crafty box, that is such an awesome detail. The theme for my October box is "Life Starts All Over Again When It Gets Crisp In the Fall". The tissue paper was a beautiful burnt umber color – totally me. I am a fall color person all over and I couldn't wait to see what coordinated with it.
The information card tells you the companies that are included in the box and their links so you can shop their sites for more goodies from them.
Everything included in this month's box.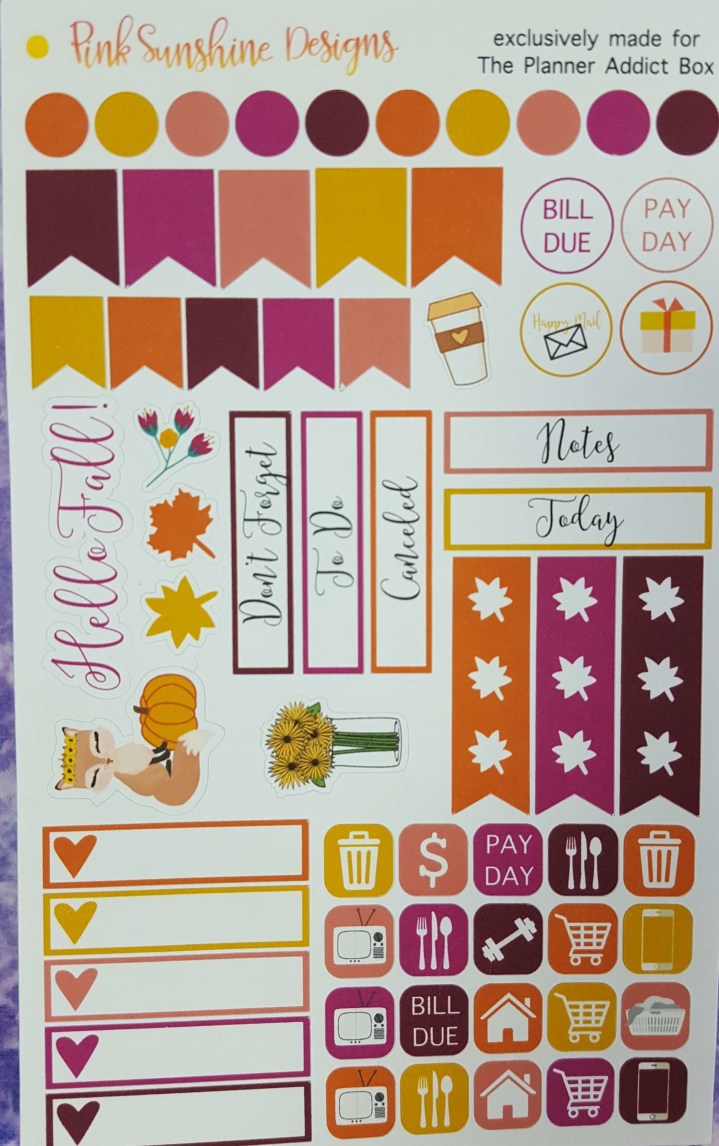 Pink Sunshine Designs Stickers (This is an exclusive to Planner Addict but similar ones go for $3.50) – These colors are beautiful. They are so vibrant and just scream Fall.  I love that there are lots of regularly used everyday-type stickers like laundry, groceries, TV, and bills along with some blank squares and a couple cute embellishment stickers. These will really add to a layout.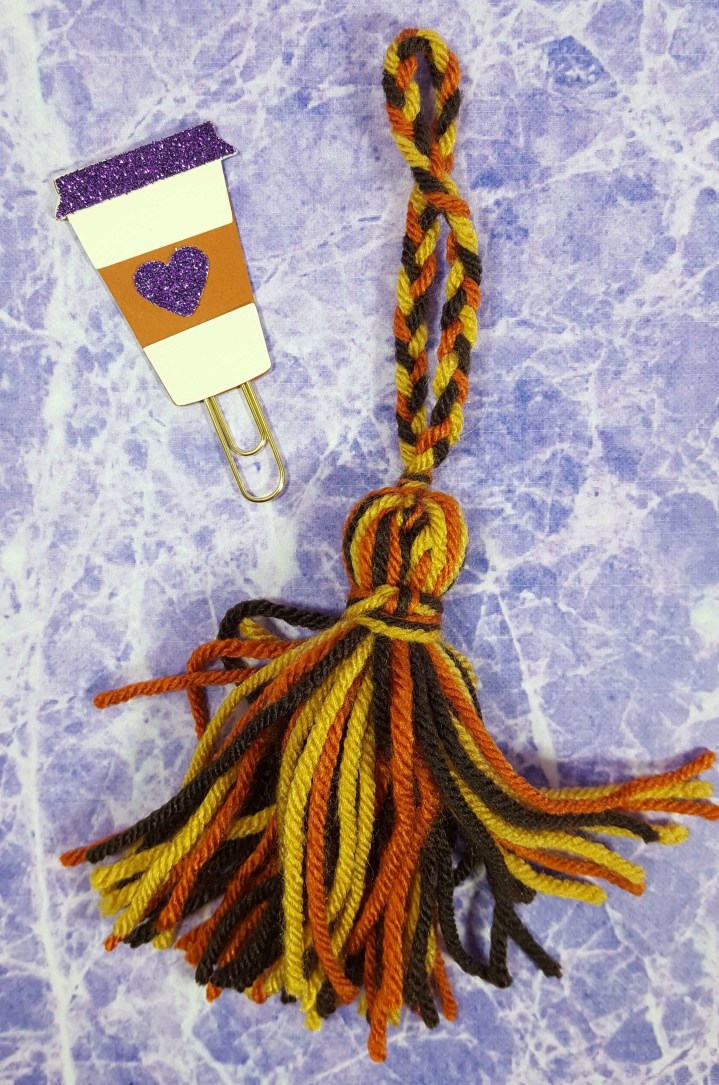 Coffee Cup Paperclip By Laf Designs (I don't see this saying on their page but other clips are for $2.99) – Nothing says fall more than a nice hot cup of coffee, cider, or hot chocolate. Before getting this box, I was not a bit paperclip fan but now I'm obsessed. I keep them to mark all kinds of pages and keep all fun things together.
Fall Colored Planner Tassel By Berry Sweet Plans (I don't see this saying on their page but other tassels go for $2.00) – These colors have me obsessed. The colors are really fall and remind me of the 1970s. Well, they remind me of the pictures of me and our house decorations from the 70s.  I love it and plan to hang it off my bag.
Washi Tape And A Chipboard Coaster – I've said before that you really can never have enough washi tape and I'm not taking it back. I love the leaves in this one, and of course the colors. The coaster, on the other hand, is pretty but I'm not sure if I will use it as a coaster. I'm thinking I need to punch something out of it and use it on a scrapbook page.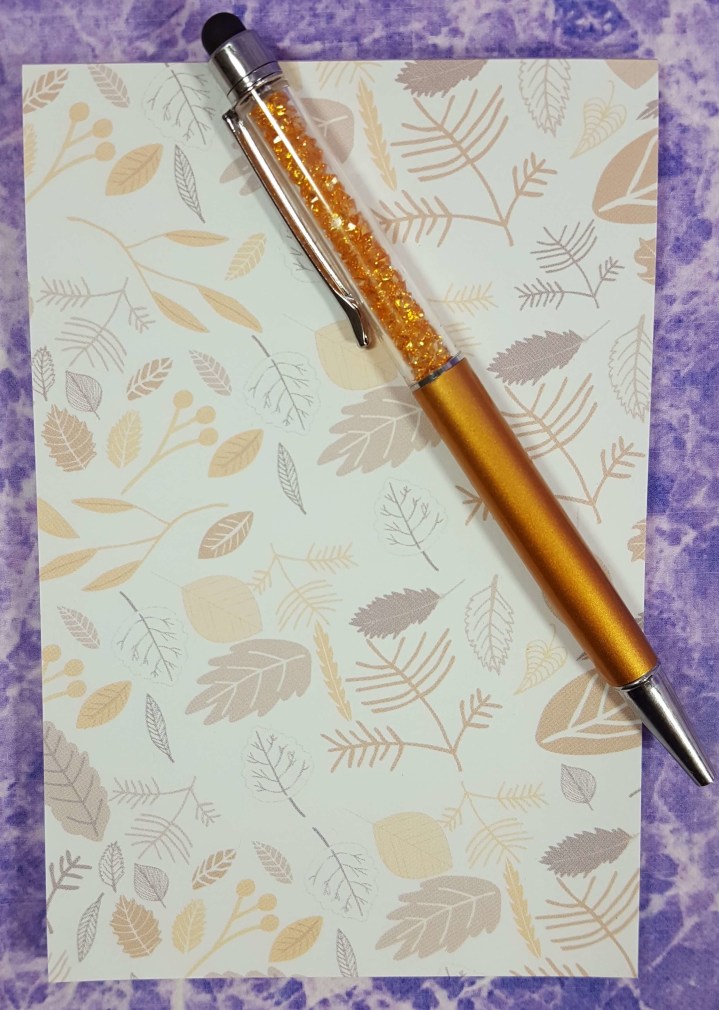 Planner Addict Notepad And Pen – Every month, Planner Addict sends a new pen which makes total sense with it being a box for a planner. I have a great collection of beautiful pens that I rotate through now and this one is gorgeous with all of its gold beading. The notepad is very pretty and has a great fall design. The design is really muted so you will be able to write over it and have someone read it without issues.
Planner Addict Bag – How cute is this bag? It is a nice small size and will hold a planner easier without too many extras in there.
This is an interesting month for me with Planner Addict Box. I love the theme and the color scheme but I wish we would have gotten more then one sheet of stickers. Most months we get a couple sheets and with me really loving these colors I was hoping for more. I do really like all the other items and will use them all I just really wanted more. I guess that isn't really a problem with the box and more an observation and a wish for me. I did discover three new to me Etsy shops that I'm going to look over for some more items with this theme. Like I said, I loved the colors.
Have you tried Planner Addict Box? Do you love this color scheme as much as I do?
Visit Planner Addict Box to subscribe or find out more.
The Subscription
:
The Planner Addict Box
The Description
:Get the fun of "planning made pretty and get handpicked planning supplies sent straight to your door every month for you to enjoy! You can expect products from well-known designers such as Heidi Swapp, American Crafts, Amy Tangerine, and some Planner Addict Box exclusives.
The Price
: $15 per month + 3.75 shipping