Parasol Co. Diaper Subscription offers beautifully designed diapers starting at $70 per month on a subscription. You can choose to get both diapers and wipes (4 giant packs of dipes, 3 packs of wipes + 2 travel wipes packs for $85 per month), or just diapers only (4 giant packs for $70 per month). Switch between the two options at any time.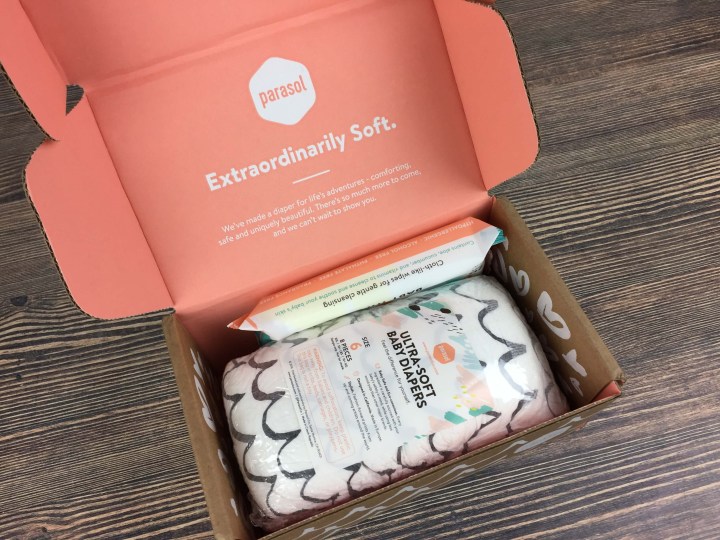 These diapers are clearly aimed at Honest Company's diaper subscription with the beautiful designs! (Check out our Honest Company Diaper Bundle reviews too!)
Everything in my trial box! The trial pack comes with 8 ultra-soft diapers from the Delight Collection, and a travel pack of wipes (20! Honest has only 10). There's a $5 shipping charge and you can sign up here. When you sign up your subscription will start 15 days after you sign up (not 15 days after you receive your trial), but you'll get a reminder email.
So let's talk wipes! As I mentioned, Parasol includes double the wipes than Honest Company travel packs, and I love that, because 10 isn't enough.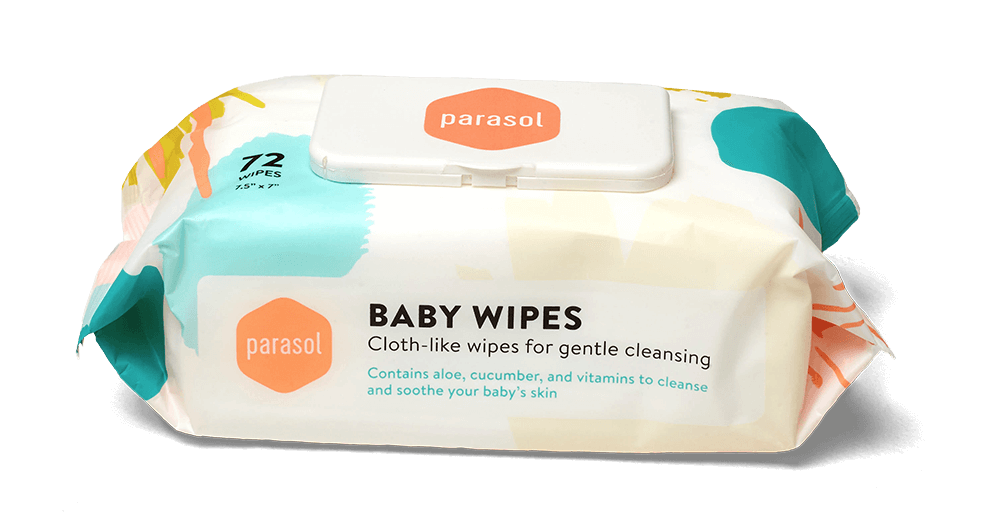 I was surprised to see that their normal wipes packages have the plastic closure top that I prefer – they never dry out.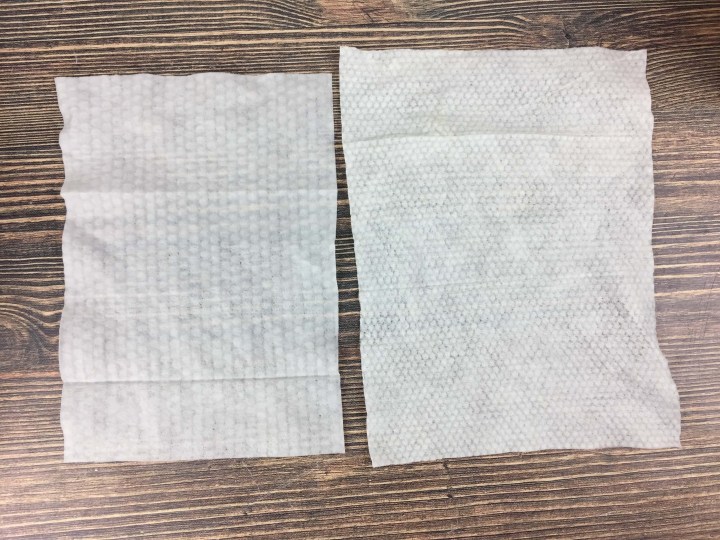 Parasol on the left, Honest on the right. The design is slightly different and the Honest wipes are a bit larger, but they're about the same thing, period: cloth-like, baby-safe wipes. Naturally scented with cucumber, a soothing blend of chamomile, oat and marshmallow extracts plus moisturizing aloe vera and Vitamin E. 
It's really hard not to make comparisons! The wipes are formulated, designed and manufactured in the USA using domestic and imported components.
Now to the diapers. The trial pack includes designs from the Delight collection, but in the subscription or individually you can order diapers from other collections. I love the abstract ones from Dream!
Our launch collection was created by Ashley Goldberg, an amazing artist whose prints balance sophisticated colors with elegant, yet daring designs.

It was important to me to create a collection of patterns that are timeless but whimsical. Playful but restrained. Colorful but organic. A beautiful collection that has all the elements parenthood does: love, fun, thoughtfulness, intention, and just the right amount of spontaneity.
If you aren't a parent/grandparent/caretaker, you can always get a pack of emergency diapers to keep tucked in with the emergency tampons in the guest bathroom. Otherwise you're going to want to test these out!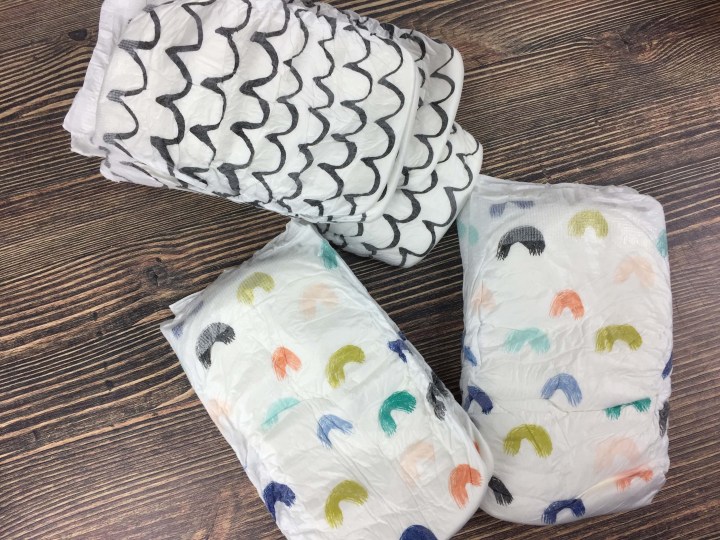 The diapers are manufactured in Europe with a thin design and a soft top sheet.  They're hypoallergenic, latex-free, chlorine-free, use lead- and heavy metal-free inks, fragrance-free, and lotion-free. They are PETA Cruelty-Free and Vegan. As far as I know nothing in them is made in China. They do use wood pulp, but claim to use less, to be more eco-friendly.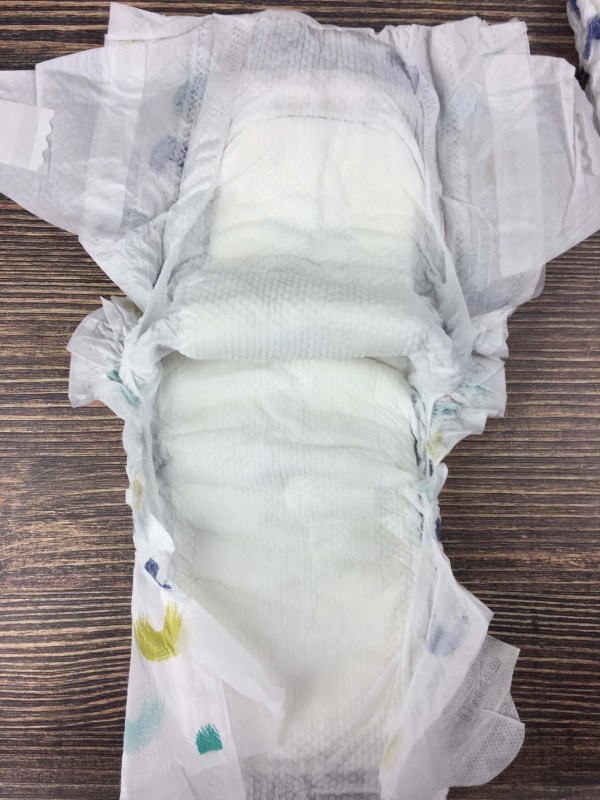 The main claim to fame for this diaper is the ultra-soft top sheet. I didn't have any conventional brands around but I'd venture a guess that it's pretty close to Pampers, except with an eco-friendlier (and cuter) design. It's super soft! There's inner elastic bands for catching solids of course and a comfort ruffle on the outside, like any premium diaper!
Yes, they are super cute, and fit well! I love those little chubbos!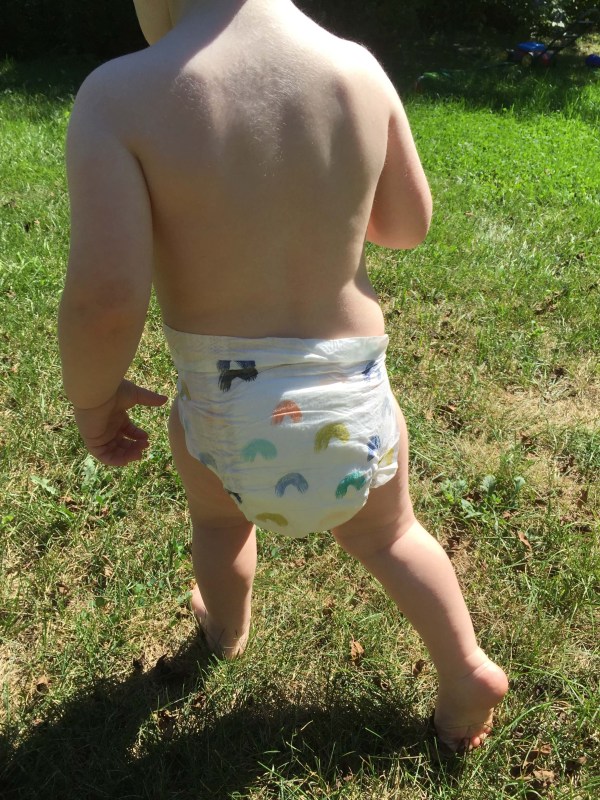 Once you get to the actual subscription, you'll want to know the details on those "giant packs":
Parasol notes: Our Size 1 and Size 2 diapers tend to run a little smaller than other brands, while our Size 3 and Size 4 tend to run a little larger. My big boy is size 6 all the way so I can't provide more information than that! Except for size 1 you get a lot more diapers in an Honest Company bundle than a Parasol bundle, and fewer wipes, but you do get those fabulous 20-count travel packs (I would seriously subscribe to a just-travel-packs bundle). I think both brands of diapers are great and would recommend either. For new parents, or parents wanting to test out eco-friendlier diapers, I'd sign up for trials on both, test out, and select my favorite. The most important thing with diapers is to get the ones that work best for your baby, and then put them on auto, because it's no fun to run out of diapers!
Visit Parasol Co. Diaper Subscription to subscribe or find out more!
The Subscription
:
Parasol Co. Diaper Subscription
The Description
: Look forward to a big box of joy every month, filled with our beautiful diapers and velvety wipes you can't get anywhere else. Bold, beautiful and easy? That's how we like to do things.
The Price
: $70.00 per month